Rice packing machine
| | |
| --- | --- |
| Model | TH-320 |
| Bag Style | Back seal/3-side seal/4-side seal |
| Packaging Speed | 32-72bags/min or 50-100bags/min |
| Power Consumption | 1.8kw |
| Weight | 250kg |
| Dimensions | 650*1050*1950mm |
Rice packing machine belongs to a kind of food packing machines, and also a sort of granule packing machine. The granule packaging machine plays an important role in the packaging industry. The machine can be not only used for packing rice but also suitable for other granular materials, such as millet, crops, beans, etc. In the Henan Top Packing Machinery Co., Ltd, we also have an extremely professional team to design the packing machines and provide good after-sale service, which ensures that the customer saves the cost and at the same time improves the efficiency and quality. With the continuous progress and development of society, different packing machines appear to meet the market's requirements. Following the tendency, We also have a liquid packing machine, powder packing machine, vacuum packing machine, chain granule packing machine, and multi-head weigher packing machine.
Various types of rice packing machine for sale
The rice packaging machine refers to various types of granular packing machines for sale. Different types of granule packing machines are available in our company. We supply the equipment for small and big rice packaging.
Type1: Vertical rice granule packaging machine
There are two models of this type of machine, TH-320, TH-450. Both models are small automatic vertical packing machines. This kind of equipment applies to the back center seal, 3-side seal, and 4-side seal bags.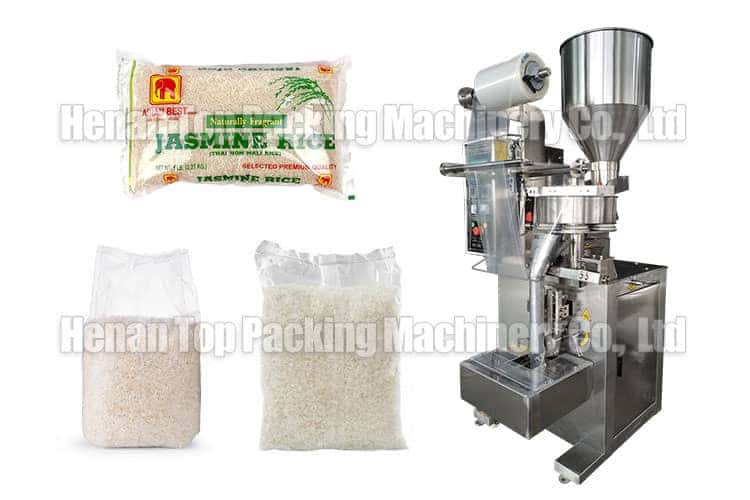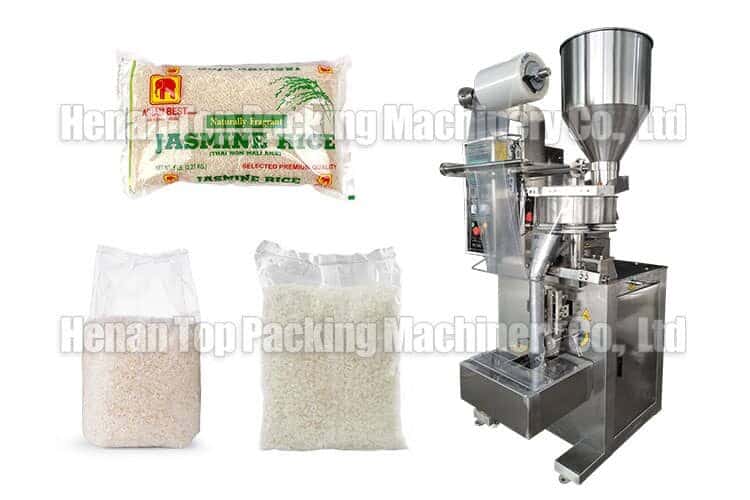 Technical data of automatic granule packing machine for rice
| | | |
| --- | --- | --- |
| Type | TH-320 | TH-450 |
| Bag Style | back seal/3-side seal/4-side seal | back seal/3-side seal /4-side seal |
| Packing Speed | 32-72bags/min or 50-100bags/min | 20-80bags/min |
| Bag Length | 30-180mm | 30-180mm |
| Bag Width | 20-145mm(need to replace the former) | 20-200mm |
| Power Consumption | 1.8kw | 1.8kw |
| Weight | 250kg | 420kg |
| Dimensions | 650*1050*1950mm | 750*750*2100mm |
Though they are the same type of packing equipment, their packaging volume is different. And the turntable on the machine also will have some differences for different packaging weights. Our professional staff will adjust the machine according to customer's needs and requirements.
Type2: Multi-head weighing and packing machine
The packing equipment consists of a multi-head combination scale and lapel packing machine. There are 10 head and 14 head combination weigher for choosing. It adopts an irregularly weighing method and 14-head weigher working more efficiently than the 10-head one. It is an ideal packing machine for granules and puffed food.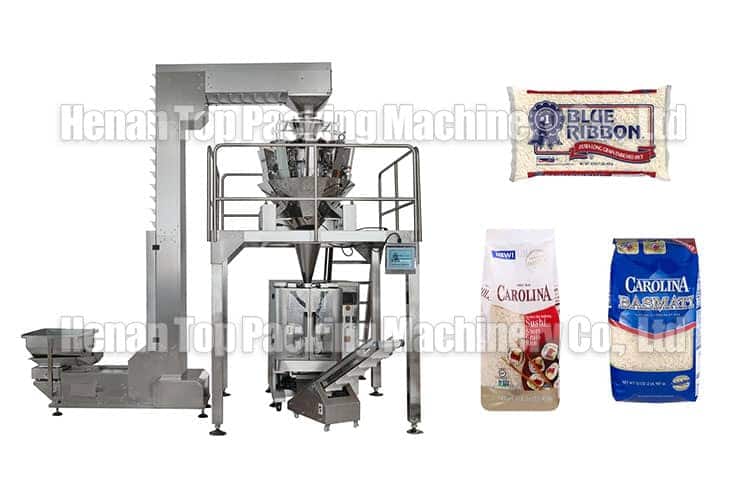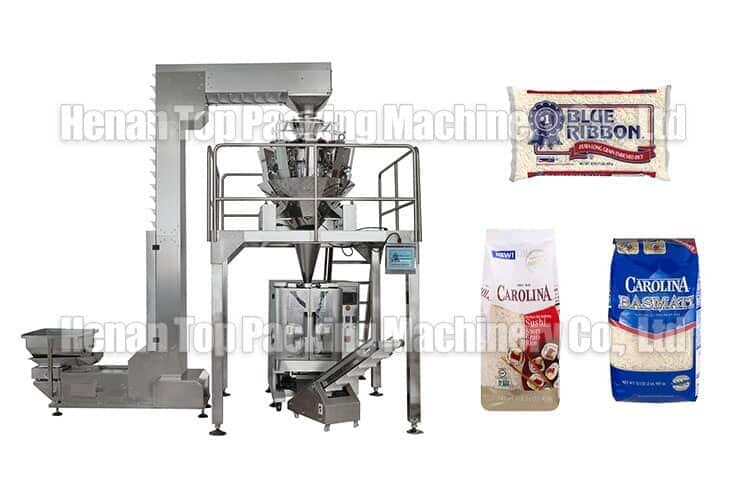 Multi-head weigher rice packing equipment parameter
| | | | |
| --- | --- | --- | --- |
| Model | TH-420 | TH-520 | TH-720 |
| Packaging bag types | Back seal | Back seal | Back seal |
| Packaging speed | 5-30bags/min | 5-50bags/min | 5-50bags/min |
| Power consumption | 220V, 2.2KW | 220VAC/50Hz | 220VAC/50Hz,5KW |
| Dimension | (L)1320*(W)950*(H)1360mm | (L)1150*(W)1795*(H)1650mm | (L)1780*(W)1350*(H)1950mm |
| Bag length | 80-300mm | 80-400mm | 100-400mm |
| Bag width | 80-200mm | 80-250mm | 180-350mm |
| Air consumption | 0.65Mpa | 0.65Mpa | 0.65Mpa |
| Gas consumption | 0.4m3/min | 0.4m3/min | 0.4m3/min |
The height of dimension is the lapel packaging machine part, not including the height of the multi-head weigher. Different multi-head scales' height has some differences. The final height of the total set of packing machines should add other parts together.
Type3: Commercial rice vacuum packing machine
A commercial brick shape rice vacuum packing machine is a special packaging machine for rice and other grains. It need to match brick mold working together. Lots of the sizes of brick molds available, 500g, 1kg, 2kg, 5kg, etc. In the vacuum room, two sealing strips are there for sealing bags. Vacuum sealing can effectively extend grain shelf life and slow down food spoilage. Besides, it is low cost, simple operation, and convenient to move.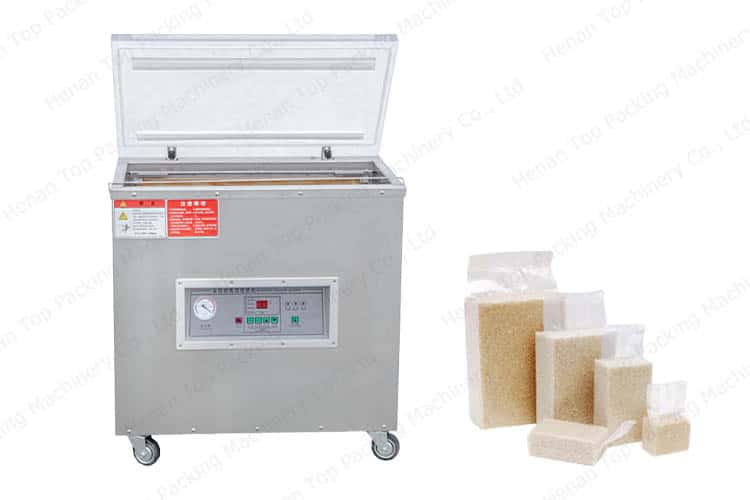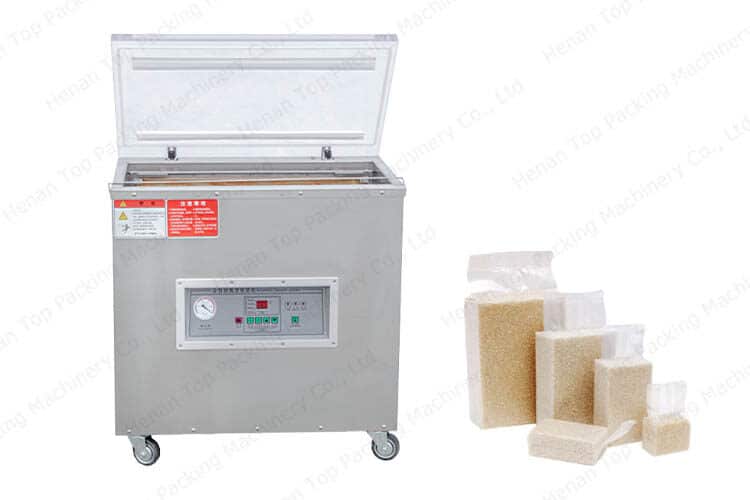 Parameter of rice brick shape vacuum packing machine
| | | |
| --- | --- | --- |
| Model | 660 | 850 |
| Voltage | AC220V/50Hz | AC220V/50Hz |
| Motor power | 1000W | 1000W |
| Sealing power | 1200W | 1600W |
| Number of sealing bar for each chamber | 2Pcs | 2Pcs |
| Ultimate vacuum Pressure | 1Kpa | 1Kpa |
| Chamber's dimension | 680 (L)*210(W)*350(H)mm | 900(L)*210(W)*350(H)mm |
| Size of sealing scrip | 660(L)*10(W)mm | 850(L)*10(W)mm |
| Vacuum pump rate | 20*1m3/h | 20*1m3/h |
| Material for vacuum chamber | Stainless steel 201 | Stainless steel 201 |
| Dimension | 740*480*800mm | 930*450*800mm |
| Net weight | 88Kg | 100Kg |
| The center distance between two sealing bars | 280mm | 280mm |
The capacity of the vacuum room can be customized in accordance with the customer's needs.
Type4: 5-50kg rice packaging machine
The 5-50kg rice granule packing machine is a kind of 5-50kg granule filling machine and sealing machine. Setting up related parameters on its control panel, placing a packaging bag under its discharge hole, it will weigh the preset packaging weight and fill them into the bag. Then the conveyor belt can help the operator to seal the bag. The equipment adopts a quantitative weighing system, accurately and precisely. The sealing machine has a plastic bag sealer and woven bag sewing machine available.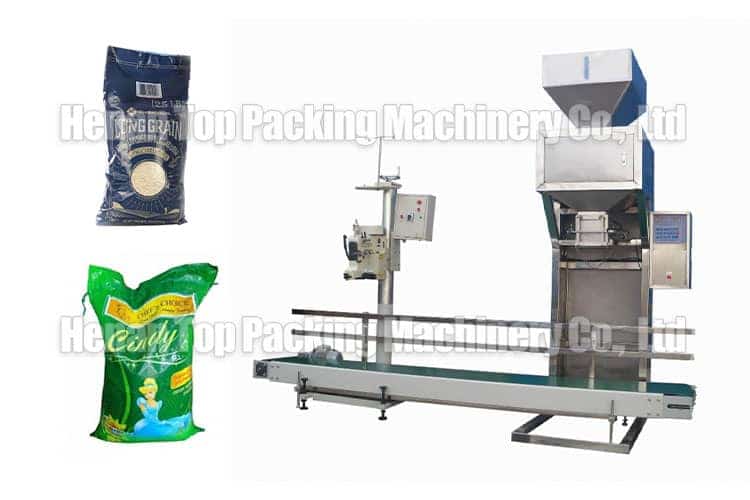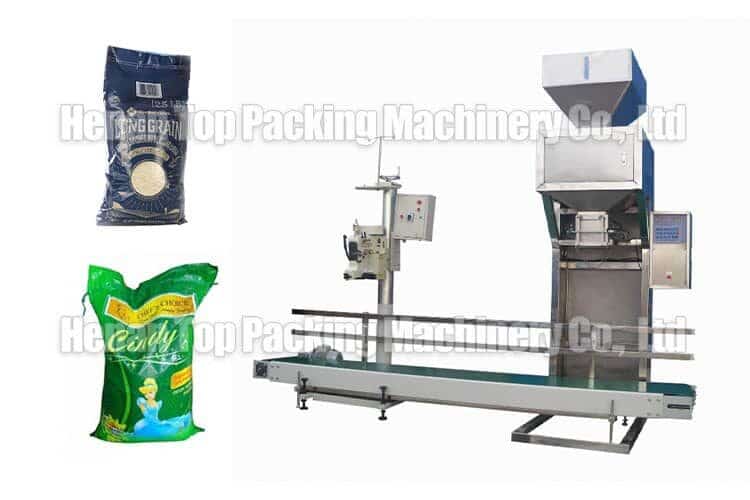 Features of the automatic rice packaging machine
The main machine is made of 304 stainless steel;
The machine adopts a PLC touch screen and simple-to-use interface, with photoelectric eye tracking and detection, which is beneficial for operation and positioning;
The machine has used the most advanced technology: a microcomputer chip to controller. When the machine runs. It will improve your sense of use due to the intelligence;
Automatic packing machine process: bag making, filling, sealing and cutting, counting;
The machine has a friendly operation, with low noise and long service life;
Various bag types: pillow bag, pillow bag with a hole, pillow bag with slot, gusseted bag, continuous bag, pyramid bag, 3-side seal, 4-side seal, back seal.
Structures of the machine: micro-computer touch screen, control circuit diagram, speed adjustment, hopper, measuring cups, bag former, sealing and cutting area;
OEM service is available, and we can make the corresponding adjustments according to your actual needs.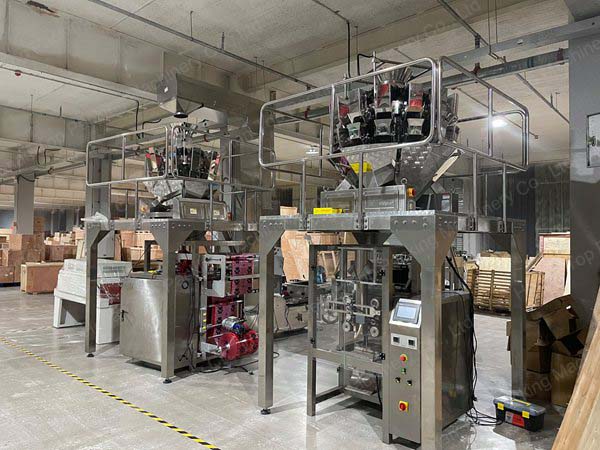 Do you know the price for the rice packing machine?
The rice packaging machine price is closely connected with machine technology content, production cost, manufacturer, and market requirements, etc. Technology is a key point to produce the machine. So the higher the technology content is, the more expensive the price is. Our company, founded in 1992 with nearly thirty-year development, have a set of the mature system to produce the machine, and for the developing company, the production cost is decreasing to some extent. We are manufacturer and supplier, with many-year working experience, and have skilled and professional team to design and produce the machine, which greatly reduces the production cost. Which kind of packaging machine the customer uses is associated with the market requirements. Rice packing machine is a kind of food packing machines, which means its necessity. The rice packaging equipment always has a position in the world market. If you want to know more information, don't hesitate to contact us for inquiring!
Why choose us? To get the best price!
Our company, Henan Top Packing Machinery Co., Ltd, has the specialized and well-experienced staff to cooperate and produce the rice packing machine; in this industry, we have been taking on this career for almost 30 years, which creates a perfect system to design and produce based on the customer's needs. We insist on providing high-quality products and good after-sale service, making the customer have an excellent sense of use. A set of strict quality control rules controls the product quality, which makes the company machine stand stably and deeply in the packing machine industry. And our company machines have been exported to more than 80 countries and religions, like the US, Canada, Australia, England, India, Pakistan, Malaysia, Philippines, Indonesia, Bangladesh, Kenya, Nigeria, etc. The location of the factory and company has a pivotal position in China, which is convenient to deliver to the destination by sea, land, and air.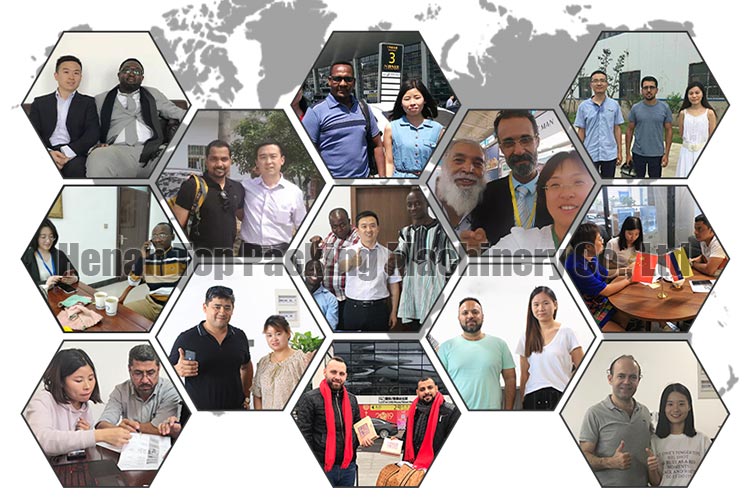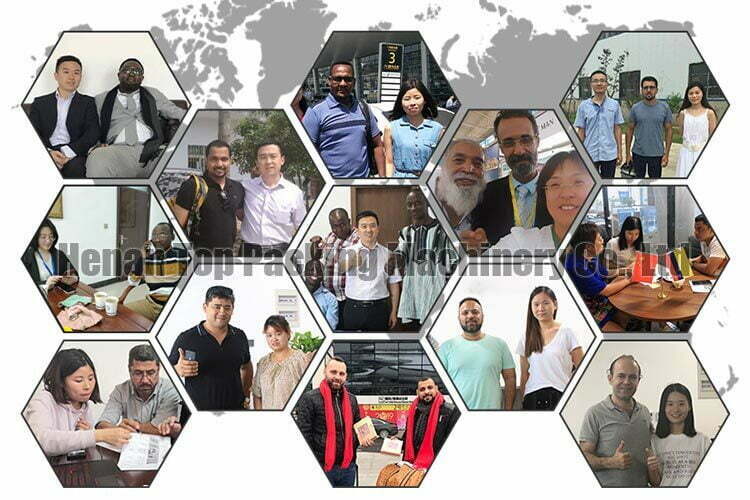 Get a free quotation now!
Rice packing machine for sale is available in our company. Based on your exact requirements, we will provide professional suggestions for you. The packing machine for the granular material includes a small vertical rice granule packing machine, a chain granule rice packing machine, and a multi-head weigher rice packing machine. Besides, vacuum rice packing machine has a widespread application in rice packaging for prolonging shelf life. Besides, we also have liquid packing machines and powder packing machines. All are available. Meanwhile, we provide customer service and we will manufacture according to your actual needs. Welcome to contact us for a free quotation and the best price!