Rice vacuum packing machine
| | |
| --- | --- |
| Model | 660 |
| Function | Rice vacuum |
| Voltage | AC220V/50Hz |
| Material | Stainless steel 201 |
| Dimension | 740*480*800mm |
| Weight | 88Kg |
Rice vacuum packing machine is a specific vacuum packer sealer, an ideal machine for rice brick. Vacuum packaging by this machine can effectively extend the food shelf life, resisting oxidation, insects, mildew, and moisture. It can package all kinds of powdery and granular material into vacuum packaging bags in the shape of bricks, such as flour, baking dry yeast powder, rice, tea, peanut, cashew nut, etc. A variety of vacuum rice brick bags and rice bricks molds are available, 250g, 500g, 1000g, 1500g, 2500g, and so on. We have two types of vacuum rice brick sealers for sale, TH-660, and TH-850. The number mains the length of sealing strips.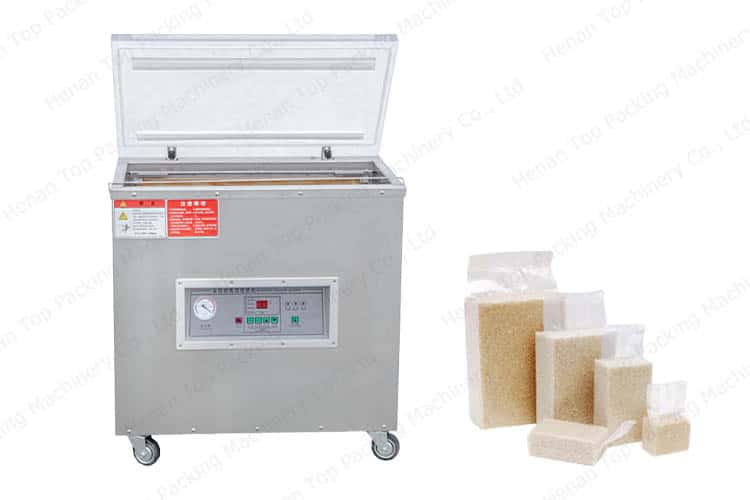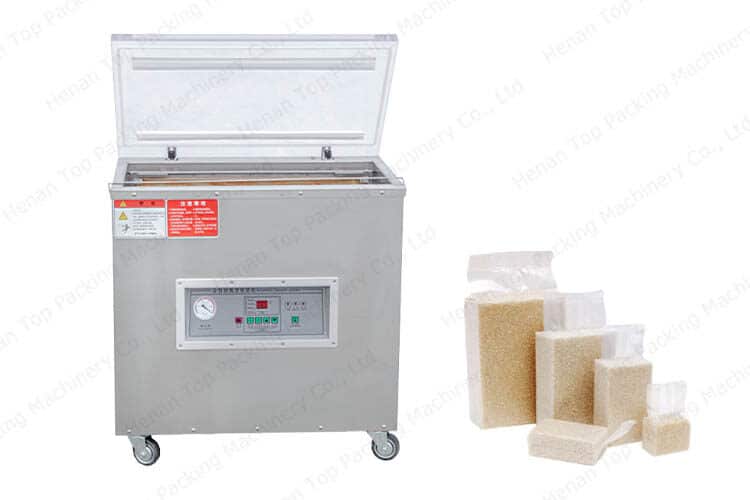 Main parts of rice vacuum packing machine
The machine is mainly composed of a control panel, a motor, a vacuum room, double sealing strips, an acrylic transparent cover, a vacuum pump, four wheels, etc. Firstly, we can set up the time of vacuum and sealing, and sealing temperature on the control panel. There is a vacuum gauge, the time display of vacuum, sealing, permanent temperature, and cooling. Secondly, its vacuum chamber is specially designed for rice brick vacuum packaging. The capacity is longer and deeper than an ordinary single chamber vacuum sealer. And its size can be customized according to the size of the vacuum bag. Thirdly, the vacuum packing machine for rice brick is equipped with sealing strips on the front and back. Two sealing strips have large processing ability and high efficiency. Besides, the acrylic plate is colorless transparent plexiglass. It has excellent transparency, and its light transmittance can reach more than 92%. This material is popular for its strong impact resistance, good toughness, excellent insulation performance, and lightweight.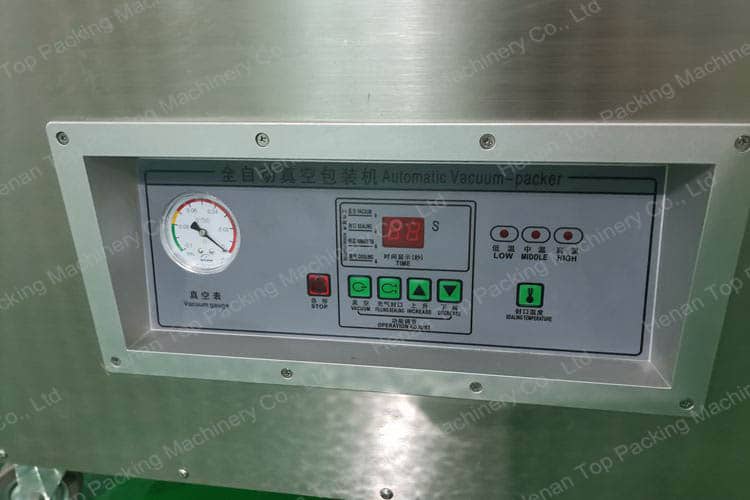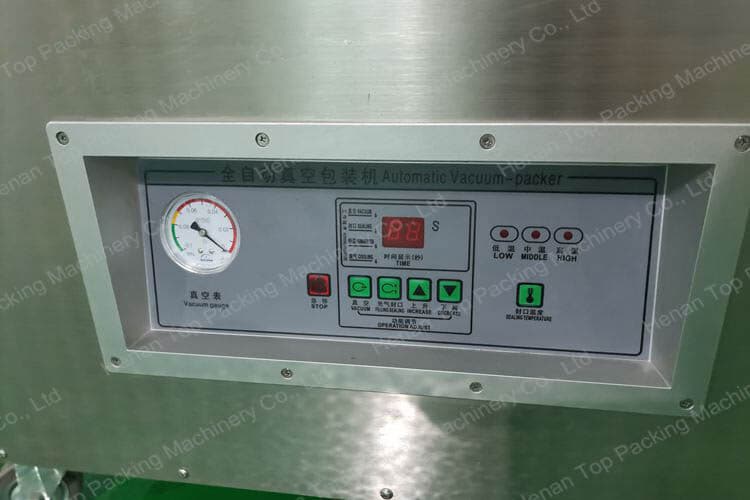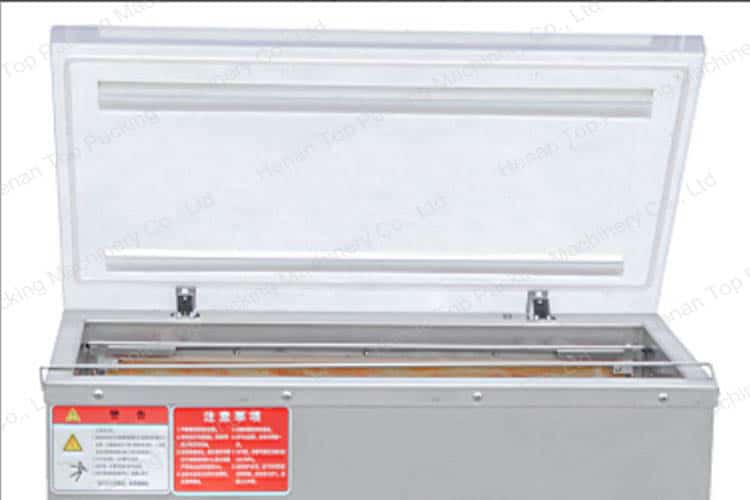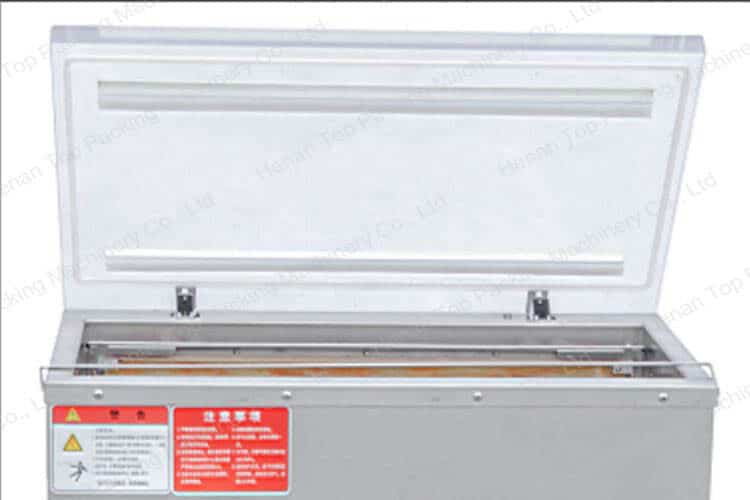 Characteristics & advantages of rice vacuum packing machine
Simple operation, compact structure, small occupied space, low cost
Both edge front and back are equipped with a sealing strip
Lengthen and deepen vacuum processing room, bigger processing capacity. And the length and depth of vacuum room can be customized based on customer's needs.
Adopt acrylic board as the cover of the vacuum packing machine. This texture is high transparency, good toughness, easy to see the processing situation when the machine works.
Long-lasting preservation, leak-proof sealing, effectively extending shelf lives
Be equipped with four wheels, moving conveniently and flexibility.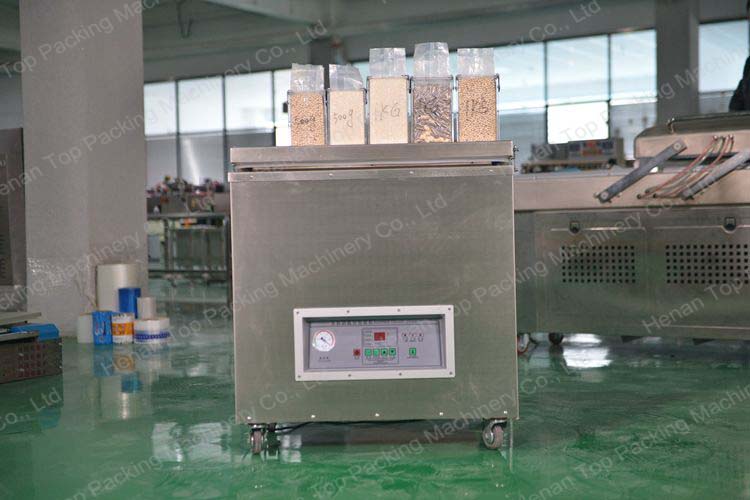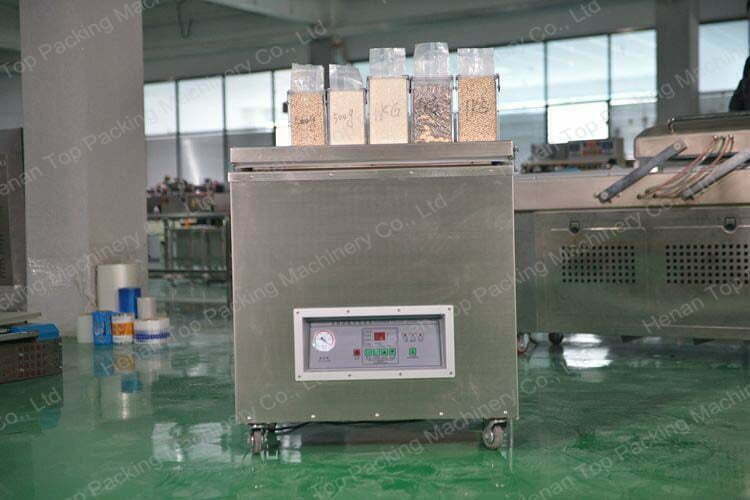 What raw materials can be packaged into brick shape by this machine?
The commercial brick shape rice vacuum packing machine applies to various grains, such as rice, millet, green bean, red bean, oat, wheat kernel, mixed coarse cereals, etc. Besides, the machine is also suitable for brick-shaped bag packaging of tea, lentils, peanut, cashew nut, baking dry yeast powder, flour, pistachio nuts, macadamia nut, badanmu, red dates, and so on.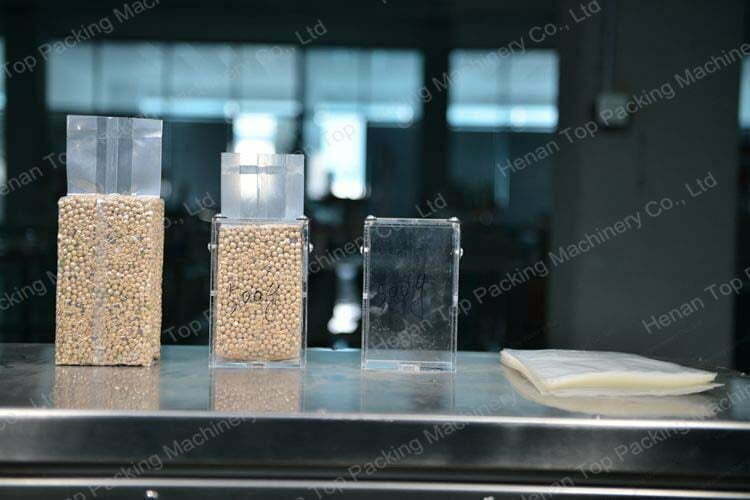 Technical data of vacuum packing machine for rice brick
| | | |
| --- | --- | --- |
| Model | 660 | 850 |
| Voltage | AC220V/50Hz | AC220V/50Hz |
| Motor power | 1000W | 1000W |
| Sealing power | 1200W | 1600W |
| Number of sealing bar for each chamber | 2Pcs | 2Pcs |
| Ultimate vacuum Pressure | 1Kpa | 1Kpa |
| Chamber's dimension | 680 (L)*210(W)*350(H)mm | 900(L)*210(W)*350(H)mm |
| Size of sealing scrip | 660(L)*10(W)mm | 850(L)*10(W)mm |
| Vacuum pump rate | 20*1m3/h | 20*1m3/h |
| Material for vacuum chamber | Stainless steel 201 | Stainless steel 201 |
| Dimension | 740*480*800mm | 930*450*800mm |
| Net weight | 88Kg | 100Kg |
| The center distance between two sealing bars | 280mm | 280mm |