Shrink packing machine
| | |
| --- | --- |
| Model | DQL-5545 automatic L sealer |
| Voltage | 220V/50-60HZ, 2.2KW |
| Packing capacity | 0-30pcs/min |
| Max. Sealer size | L+2H≤550mm, W+H≤35mm, H≤140mm |
| Sealing temperature | 140℃-180℃ |
| Thickness of film | 0.015-0.1mm |
| Shrink film | POF, PVC, PE |
| Machine size | 1760*900*1580mm |
Shrink packing machine or shrink wrapping machine is the equipment to wrap and seal objects through heat shrink film, widely applied to various objects, especially those products with boxes, such as books, notebooks, cosmetics, daily necessities, dishes, toys, toothpaste, toothbrushes, masks, woodwork, medicines, etc.
A set of shrink packaging equipment usually includes a plastic wrapping machine with an L-type heat cutter, and a heat shrink tunnel machine. The former is to package objects with plastic film loosely, and the latter shrink the film tightly. In order to package more pretty, it's better to provide the size of the object you want to package. Furthermore, we support customization services according to your requirements.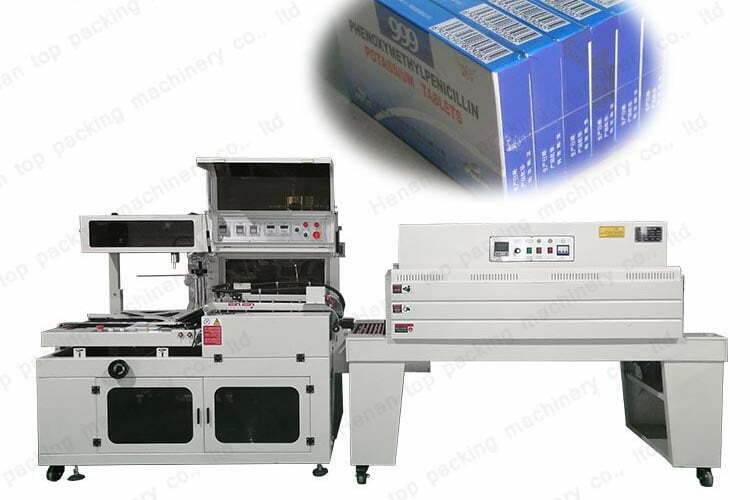 Shrink packing machine for sale
A set of shrink wrap packaging equipment in Henan Top Packing Machinery for sale includes a plastic film wrapping machine and a heat shrink film machine. These two machines compose a whole packaging process. Semi-automatic type and fully automatic type heat shrink wrap machines are available. The cutting and sealing machine is used to wrap the objects with plastic film, then the output conveyor belt will transport them into the heat tunnel machine for shrinking. The two machines that work together can finish wrapping, sealing, cutting, and shrinking automatically.
After installing the plastic film, setting up various parameters, and starting the equipment, the users just need to put materials on the input conveyor belt, operating conveniently and easily. Are you interested in it? Get in touch with us to get more details.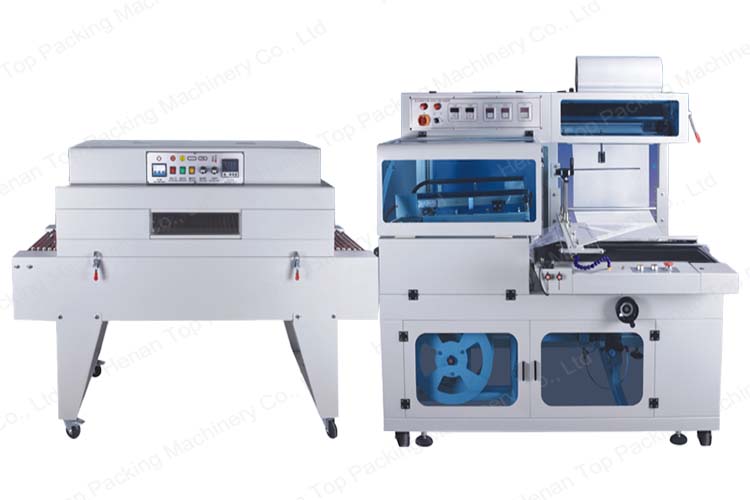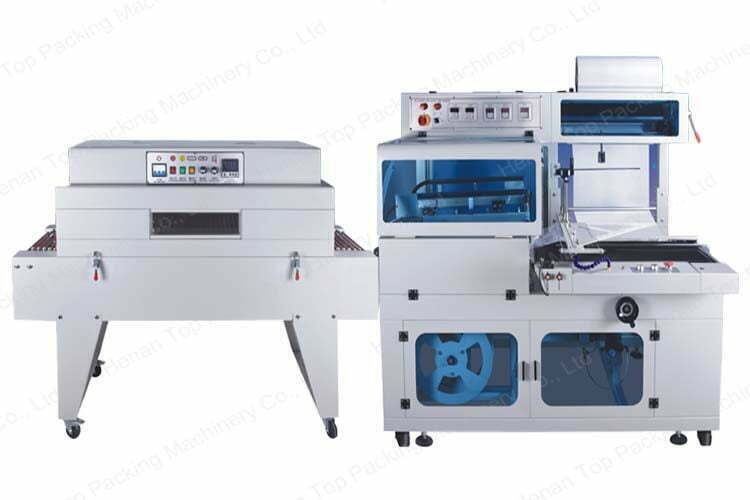 Features of shrink packaging machine
Simple structure, reasonable design, good appearance, affordable price, easy to operate
Automatically finish the process of plastic wrapping, sealing, cutting, and shrinking
Heat cutter with heat insulation cloth to avoid heat cutter touching film directly
Waste film wheel recycles the waste film when it runs, making working environment neat
Set the temperature according to the thickness of the film
Glass cover strengthens protection and reduce accidents
The length of power cable can be customized, and plugs can be customized to American standard, European standard, etc.
Customization service available
Working videos for heat shrink packaging machine
Wide applications of shrink packaging equipment
Shrink packing machine is suitable for all kinds of objects packaging, especially for boxed products. The equipment has wide applications in books, notebooks, stationery, toys, daily necessities, cosmetics, medicines, cookers, shoes, and decorations, such as hardcover books, hardback notebooks, magazines, postcards, toothpaste, toothbrushes, shampoo, shower gel, hair dye, jigsaw, masks, dishes, woodwork, and so on.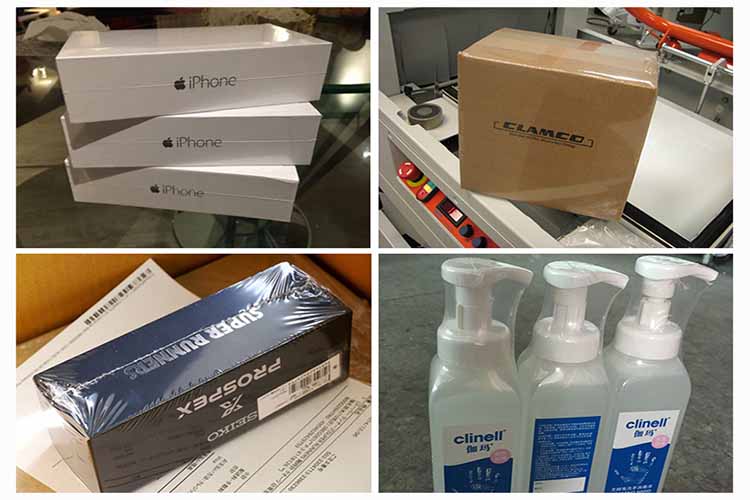 Shrink wrap machine structure
Shrink packing machine consists of plastic film wrapping sealer with a cutter and shrink wrapping packaging machine.
1. Plastic wrapping machine with heat cutter is composed of the control panel, film fixing device with a set square, feeding conveyor belt, handle control for the width of conveyor belt, waste plastic film wheel, output conveyor belt, etc. The control panel is used to set up vertical and horizontal sealing temperature, the time of sealing and cutting, the start button, etc.
The film fixing device pricks some small holes on the surface of the film so as to facilitate exhausting the air in the bag during the shrinking process. The triangle plate stretches the film smoothly, easy to see the position of the film. The waste plastic film wheel rolls the waste film around the wheel automatically. Through the output conveyor belt, the wrapped objects with the plastic film will be conveyed into the heat shrink packaging machine.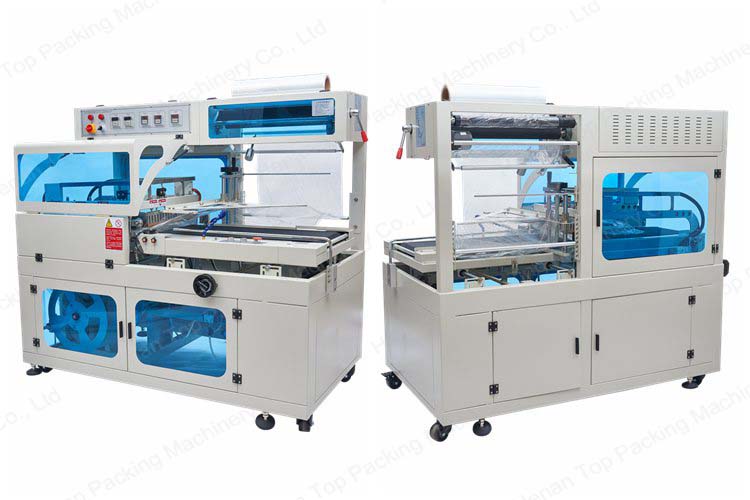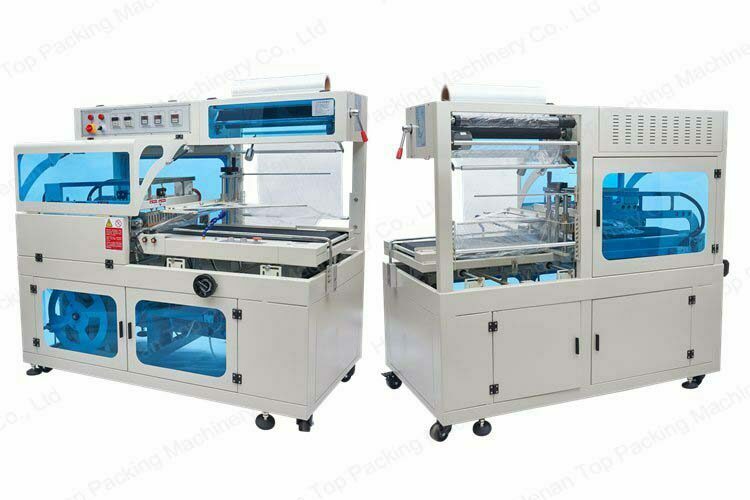 Automatic L sealer parameters
| | |
| --- | --- |
| Model | DQL-5545 automatic L sealer |
| Voltage | 220V/50-60HZ, 2.2KW |
| Packing capacity | 0-30pcs/min |
| Max. Sealer size | L+2H≤550mm, W+H≤35mm, H≤140mm |
| Sealing temperature | 140℃-180℃ |
| Thickness of film | 0.015-0.1mm |
| Shrink film | POF, PVC, PE |
| Machine size | 1760*900*1580mm |
2. Heat shrink wrapping machine includes control panel, shrink furnace, conveyor belt resistant to high temperature, conveyor motor, heating pipes, fan, etc. On the control panel, the operator can set up the total power switch, hot wind switch, heating switch, carry switch, carry adjust, temperature control, etc. The interior of the heat tunnel is equipped with heating pipes on both sides. The fan on the top side of the furnace works to circulate the hot air in the machine, making the internal temperature more even.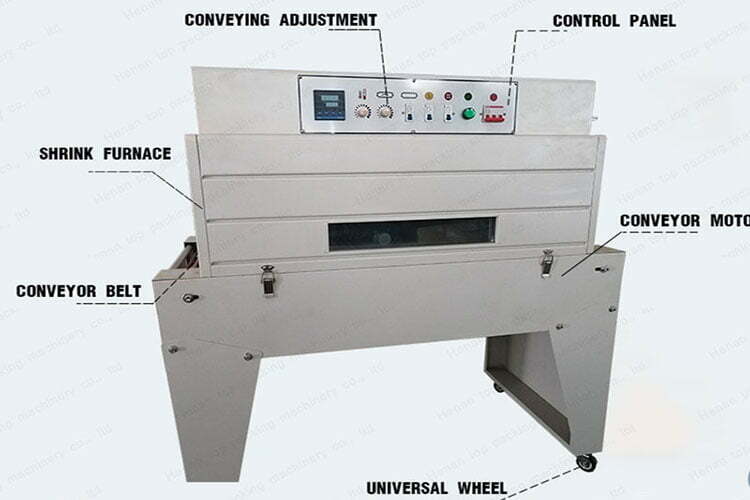 Shrink tunnel machine parameters
| | |
| --- | --- |
| Model | DSD 4520 shrink tunnel machine |
| Voltage | 220V/50-60HZ |
| Heating power | 12.8KW |
| Convey speed | 0-16m/min |
| Tunnel size | 1200*450*200mm |
| Conveyor loading | 10kg |
| Machine size | 1600*720*1400mm |
Cautions of shrink tunnel machine
Read the operation manual before use based on the safety considerations
Do not put your hands near it when machine operating
The shrink wrap machine must keep ground wire connected
Related machines in TOP Packing Machinery
If the objects are bottles or cans, you may also need liquid filler, paste filling machine, capping machine, coding printer, etc. While for those objects with boxes, a carton sealing machine may be what you are looking for. Besides, we also provide vacuum sealers, vertical packing machines, pillow packing machines, automatic packaging machines, etc. If you want to choose and purchase packaging machines, you can contact us for more information and the best price.
Frequently Asked Questions(FAQ) about Shrink Packaging Machine
1. What does a shrink wrap machine do?
Shrink wrap machine is important equipment in the packaging industry. It can complete the process of heat wrapping an item in plastic. Therefore, products can be easy and convenient to store and move. This wrap machine includes a heat tunnel and conveyor to use heat to the shrink wrap.
2. How much does a shrink wrap machine cost?
The shrink wrapping machine cost is varied due to many factors, such as machine model, machine material, shipping cost, components brand, etc. So we need to in accordance with your actual requirements to give you the best quote.
3. How does a wrapping machine work?
Firstly, products enter the heat tunnel via a conveyor. And then heat is used to shrink the film tightly in the tunnel. So it is necessary for you to measure the size of the products to suit the packaging film and tunnel.
4. What material is shrink wrap?
Shrink wrap can be finished with various materials. The four most commonly used materials are Polyethylene, PVC, Polyolefin, and Polypropylene.
What products is this machine suitable for?
This heat wrapping machine is suitable for various non-food products like books, toys, shoes, shampoo, cosmetics, beer cans, water plastic bottles, magazines, toothpaste, etc.
Conclusion
Shrink packaging machine or shrink wrapping machine make is a commonly used term in the packaging industry. It makes life and business easier for product manufacturers, retailers, and agents by providing an efficient and intelligent way to pack products. Heat shrink wrapping and sealing machines can apply to so many products in P.V.C, cellophane, clear thermo films, polyurethane, etc, making the products more attractive and easy to protect, ship, presentation, and storage.
Henan Top Packing Machinery Co., Ltd designs, research, and manufacture a great variety of shrink packing machines, with absolutely excellent performance and competitive price. Leave your requirements and start your business NOW.