Liquid filling machine is one kind of quantitative filling machine, filling evenly, simple to operate. The equipment is suitable for a variety of liquids that flow well, such as water, juice, milk, wine, beer, alcohol, vinegar, beverage, oil, lubricant, make-up water, etc. A variety of liquid filling pump models are optional. You can choose the most suitable filling device according to your needs about the volume you want to fill. Besides, we also support customization service based on your actual requirements.
Liquid filling machine for sale
There are two kinds of liquid filling machines in Top(Henan) Packing Machinery for sale, semi-automatic single outlet liquid filler, and automatic multi-head liquid filler. The former has the advantages of low cost, small occupied place, and wide applications, suitable for small business. The latter and other machines can compose a liquid packaging production line, like unscramble bottle machine, capping machine, labeling machine, coding printer, etc., working efficiently and accurately, suitable for mass liquid filling production.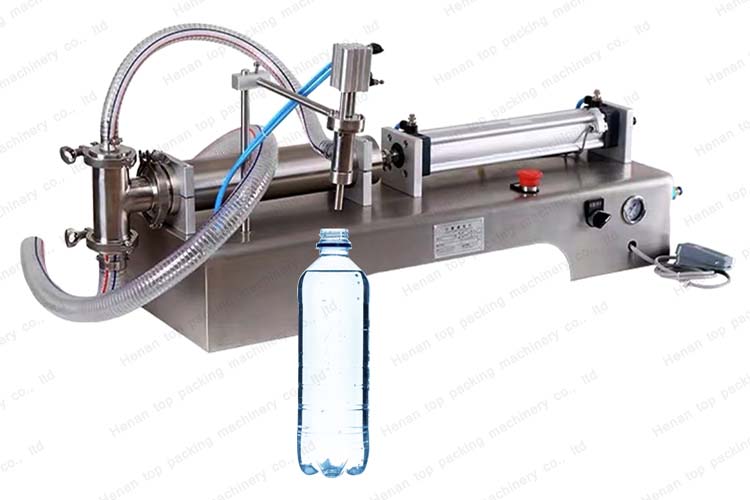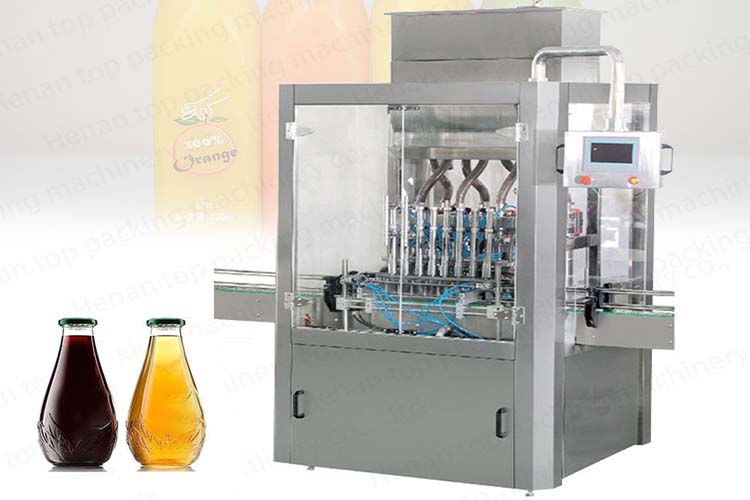 Semi-automatic single outlet liquid filling machine
Single outlet liquid filling machine is a semi-automatic piston filling machine, driven by a cylinder to extract and eject materials. The machine body is made of stainless steel, durable, and easy to clean and maintain. A scale is on the device to adjust the volume of filling, convenient to operate. Many sizes of liquid pumps are optional. The scope of filling pump models include 1-10ml, 10-100ml, 100-1000ml, 5-50ml, 50-500ml, 500-5000ml, 3-30ml, 30-300ml, 300-3000ml, 1000-5000ml, etc. You can choose according to your needs. The machine is popular with small businesses due to its characteristic of small space occupied, good quality, and low cost.
Single outlet liquid filling machine structure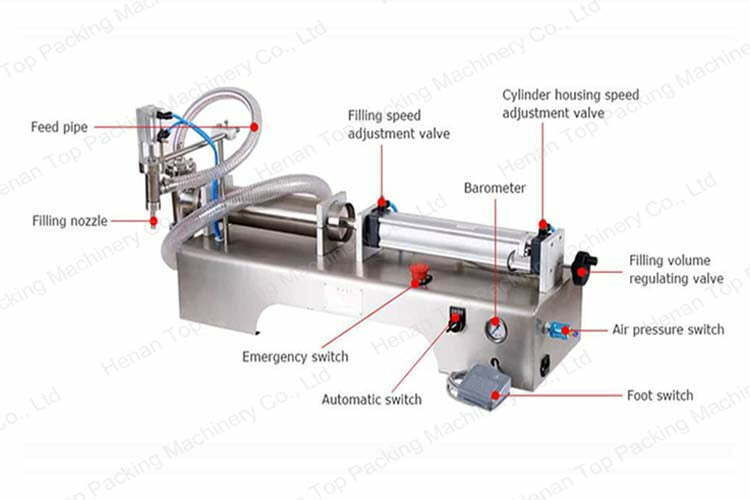 Automatic multi-head liquid filling equipment
Automatic multi-head liquid filler, as the name implies, it adopts multiple heads for filling, highly improving working production. Among them, 12-head liquid filling equipment can reach 3000 bottles/h. The minimum number of filling heads is two, and the number can be customized. You can choose based on your production scale. Besides, the linear filling head device is equipped with an anti-drip device effectively preventing the waste of materials. The filling scope pump models are 10-100ml, 50-500ml, 100-1000ml, 500-3000ml, 1000-5000ml, etc. Its filling result is accurate and even. It also can match with other machines to compose a production line, suitable for medium and large businesses.  
Multi-head bottle filling machine structure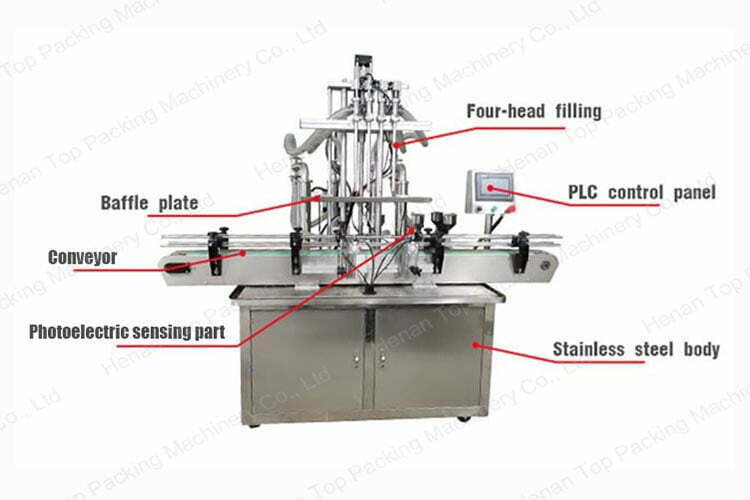 Features & benefits of liquid filling machines
Reasonable design, simple structure, quantitative filling, easy to operate
Various scopes of liquid filling pump optional, filling volume and speed are adjustable
The equipment body adopts stainless steel, durable and convenient to clean and maintain
Equipped with the anti-drip device to ensure filling accurately.
Semi-automatic liquid filler occupies small space, has low investment, low noise
Automatic multi-head filler can match with other machines to compose a whole production line, realizing full automation, improving efficiency, and saving labor.
Need to work with the air compressor together
Customization service available
Multi-head water bottle filling machine working video
Applications of liquid filling equipment
Liquid filling machines are suitable for filling liquid with good fluidity, widely applying to water, beverages, condiments, oils, daily necessities, medicines, cosmetics, chemicals, additives, etc. The equipment can fill mineral water, soda water, sparkling water, juice, milk, beer, wine, vinegar, liquor, alcohol, oral liquids, edible oil, olive oil, peanut oil, lubricant, make-up water, detergent liquid, hand sanitizers, shampoo, shower gel, disinfectants, antifreeze, pesticides, herbicides, and so on. For the viscous liquid filling, you need to use a paste filling machine.
Liquid filling machine price
Liquid filler price is related to the kind of machine, the size of the filling pump, the number of filling outlets, etc. Compared with semi-automatic single outlet liquid filler, automatic multi-head liquid filler price is higher because the latter needs more production cost. For different sizes of liquid filling pumps, the bigger one is more expensive. Besides, about multiple heads liquid filler, more filling heads also need higher cost. As a packaging manufacturer and supplier, we will do our best to provide high-cost performance machines. But as the saying goes, you get what you pay for. So it's better not to ignore quality and other properties because of the price. Get in touch with us to get more details.