Multi-head filling machine
Multi-head filling machine is equipped with multiple weighers or outlets to fill materials. It's one kind of quantitative filling machine. The machine can fill materials into bags, bottles, cans, etc. There are a variety of multi-head filling machines for powder, granules, liquid, or paste. Besides, the multi-head filling equipment can match with accordant packaging system to become packaging machines. Multi-head bag packing machines include the multi-head pneumatic pouch packing machine and multi-head combination packing machine. The pneumatic one is driven by pneumatic force, running stably. In addition, customization service is available according to your actual requirements.
Multi-head filling machine for sale
Pneumatic electronic scale filling machine
The electronic scale pneumatic filling machines are the double head, three head, four, and five head optional. Different kinds of materials can be put into different hoppers with scales to weigh different grams separately, and these materials can be put into the same bag, bottle, or can. For the same product, multi-head filling outlets can be set to take turns so as to improve production efficiency. It is suitable for various particles and powders, such as milk powder, coffee powder, flour, grains, scented tea, coffee bean, rice, millet, popcorn, snacks, nuts, seeds, puffed food, wolfberry, cereal, dried fruit, chestnut, dog food, trinket, hardware accessories, and so on. Besides, the weighing and filling machine can be equipped with a packaging system, completing weighing, bag making, filling, sealing, and cutting. The back seal and side seal are optional.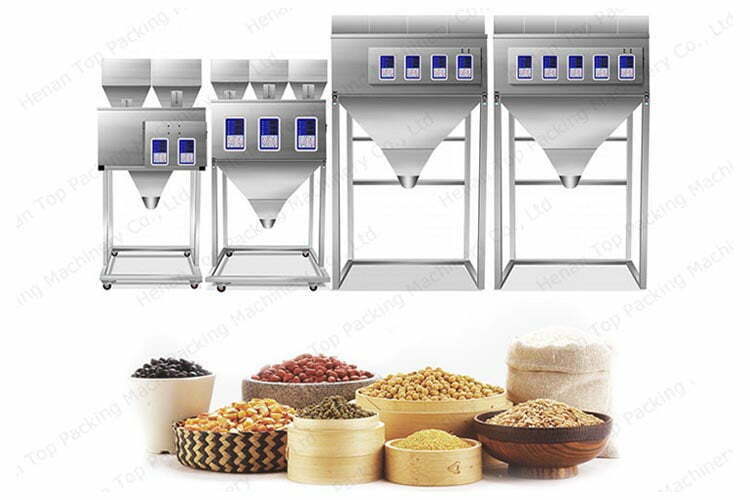 Multi-head liquid filling machine
Multi-outlet liquid filling equipment can be used independently or as one part of the production line. It can fill multiple bottles or cans at once time. The filling scope of pump models include 10-100ml, 50-500ml, 100-1000ml, 500-3000ml, 1000-5000ml, etc. And the number of filling outlets can be customized based on your needs. The multi-head liquid filler adopts an anti-drip device to ensure filling accuracy without dripping. Furthermore, it can match with other machines to compose a whole production line, like unscramble bottle machine, capping machine, labeling machine, carton sealing machine, etc. If you want to fill pastes, there are paste fillers that are equipped with paste pumps. And customization service is provided.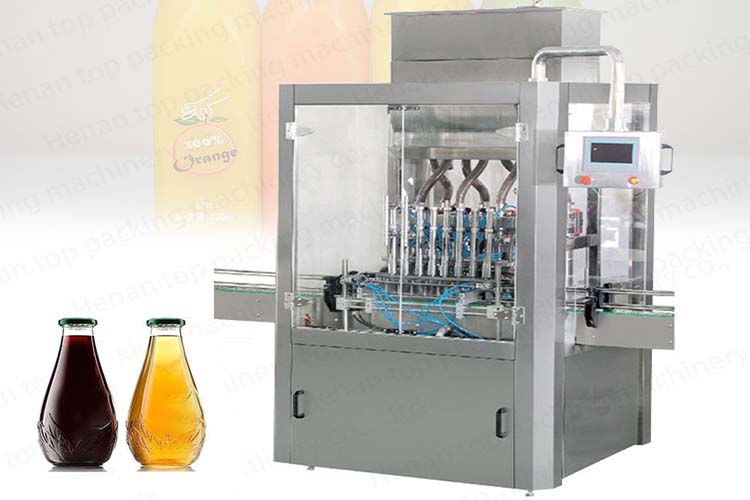 Pneumatic multi head pouch packing machine & chain bucket packing machine
Pneumatic multitrack pouch packing machines not only can set up filling outlets to take turns to fill the same material but also can weigh different kinds of materials different grams separately and package them into one bag. While the chain bucket packing machine itself does not has the function of weighing. It can match with several small desktop quantitative filling machines for granules or powders to package a certain weight of different materials, such as scented tea, grains, and other mixed products. Compared with the former, the chain bucket packaging machine requires more costs. Both of them can work together with supporting machines, like feeding machines, output conveyors, date printers, nitrogen filling devices, etc.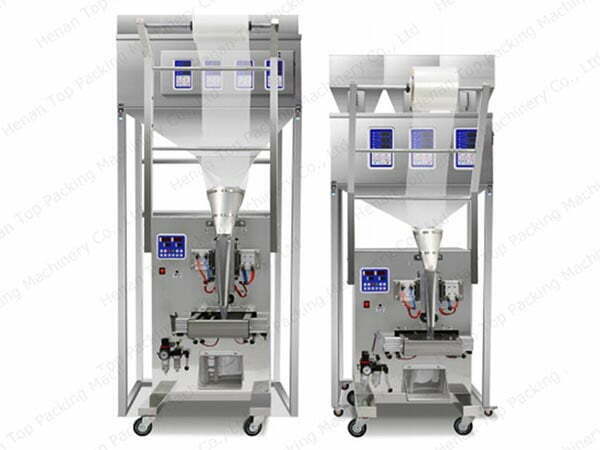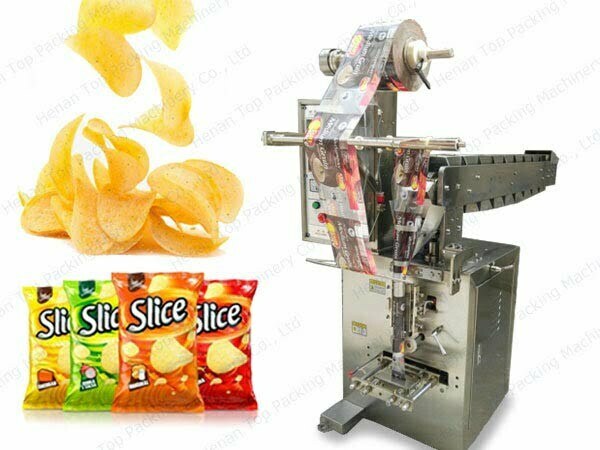 Conclusion
Multi-head filling machine is the equipment to fill material. The pneumatic multi-head electric scale weigher can take turns filling single material, or weigh different grams of materials separately and fill at the same time together. No matter powder, granule, liquid, or paste, there are correspondent filling systems and packaging systems available. As a packing machine manufacturer and supplier, we also provide pillow packing machines, vacuum packing machines, continuous sealing machines, capping machines, labeling machines, carton sealing machines, loading conveyors, output conveyor belts, coding printers, and so on. In addition, we support OEM services based on your specific requirements. Contact us to get more details and the best price, and we will reply to you as soon as possible.