Vacuum packaging machine
| | |
| --- | --- |
| Brand | Henan Top |
| Type | Desktop vacuum sealer; Single chamber vacuum sealer; Double chamber vacuum sealer; |
| Warranty | One year |
| Note | Custom service available |
Vacuum packaging machine for sale in Henan Top Machinery has the features of vacuuming, sealing, printing, and cooling automatic processing. It has a very wide range of applications because it can prevent products from oxidization, mildew, corrosion, and moisture. Vacuum packing machine is suitable for packing food, fruits, pharmaceutical, seeds, chemicals, aquatics, and electronic products. As one of the leading packing machine manufacturers in China, there is a complete range of types of vacuum packaging machine, such as single chamber vacuum packaging machine, double chamber vacuum packaging machine, etc. Besides, we have strong OEM capability to meet any of your specific requirements. In addition, we promise all our products with high quality and competitive price. Welcome to contact us for the best price.
Different types of TOP vacuum packaging machine for sale
Vacuum packaging machine is vitally important for the food packaging industry. There are three kinds of vacuum packing equipment for sale in TOP Packing Machinery Co., Ltd, single room vacuum packing machine, double room vacuum packing machine, and stretch film vacuum packing machine. Our vacuum packing machine can greatly reduce the amount of oxygen that surrounds it and limits the growth of aerobic bacterial and fungi. This means that food products can be stored for a much longer time. It is suitable for packaging fruits, meats, vegetables, seeds, chemicals, electronic products, etc. All our products have been passed strictly quality inspection system. Besides, we have highly skilled staff to make sure the rich products and fast delivery of our packing machines. Nowadays, our vacuum packing machines have been successfully exported to more than 50 countries and regions, such as the United States, United Kingdom, India, Malaysia, Philippines, Indonesia, Brazil, Kenya, Egypt, etc. Welcome to contact us for more information or a free quotation.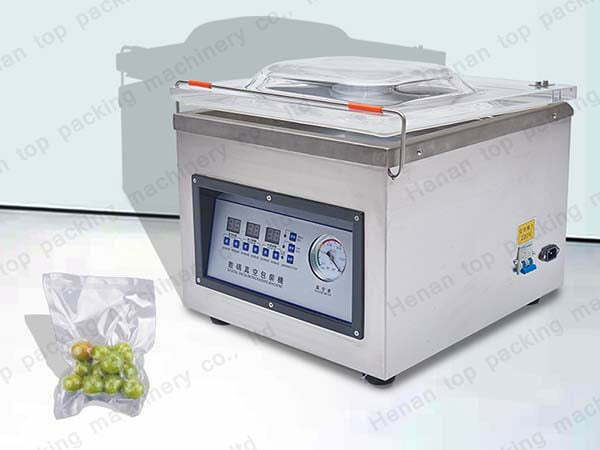 Benefits of TOP vacuum packaging machine for sale
There are lots of benefits to using a vacuum packing machine in home and commercial environments.
Simple structure, reasonable price, easy to install, operate, and maintain.
A wide range of applications. It is suitable for all kinds of flexible packaging materials, such as various aluminum foils, composite films, etc.
Automatic vacuum packaging machine for sale packing products, can prevent mildew, rot and avoid the invasion of moisture, can better ensure the freshness of product quality, prolong the storage time of food.
High performance. Advanced technology and durable material make our vacuum packing machines a long service life and stable performance.
Affordable price. Factory direct and convenient transportation conditions ensure the competitive price of our vacuum packers.
How to operate a vacuum packing machine?
Firstly, connect the power supply to make sure the unlocked and safe circuit of the vacuum packing equipment
Turn on the power switch and set the vacuum time according to your requirements
Set the sealing temperature and sealing time in accordance with the material of the vacuum bag
Put the product on the sealing strip
Press down the vacuum cover and begin to vacuum
When reached a certain vacuum degree, then begin sealing procedure
After sealing, it enters the cooling condition and then deflates, and the whole packaging is completed.
How to choose a suitable vacuum packaging machine for your business?
Packing speed. For the consideration of improving production efficiency, a double chamber vacuum packaging machine or multi-chamber vacuum packaging machine is suitable for your business.
Whether the packaging products need to be filled with other protective gases. You can choose a multi-function vacuum packing machine with an inflatable device.
You should consider requirements for the vacuity of packaging products. If the packaging items need to be well preserved under the condition of high vacuum degree, then the chamber vacuum packing machine is the best choice.
You should also take the requirements of ingredients and conditions of the packaging items to the vacuum packing machine into account.
Vacuum packaging products display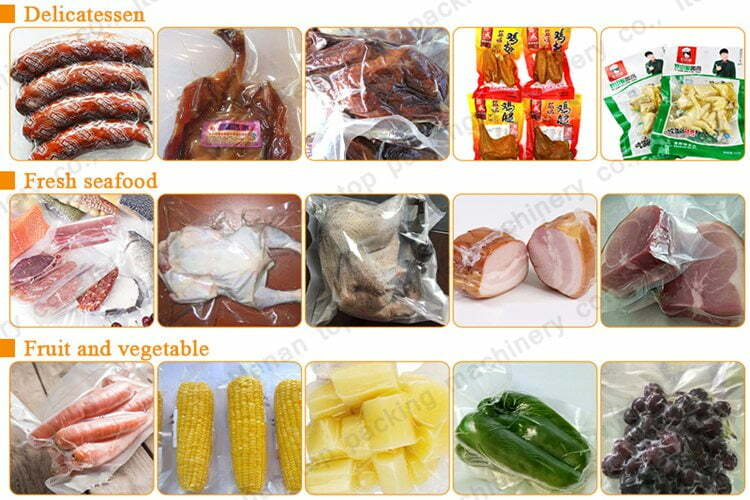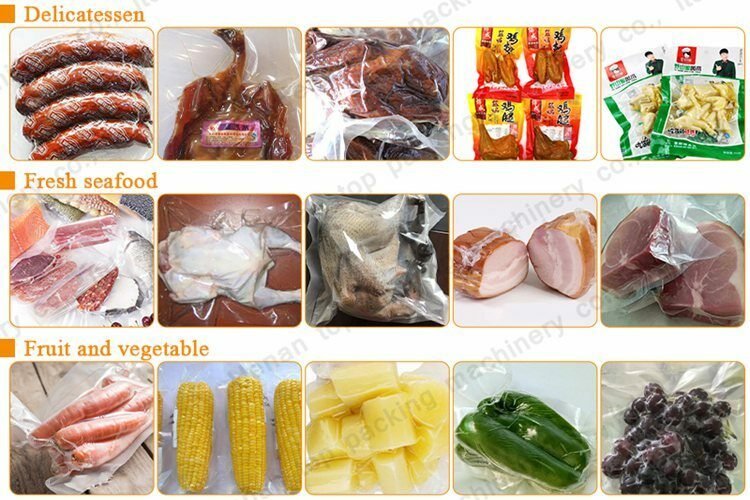 Warm prompt:
When choosing, the dry and non-corrosion materials such as solid, and granules, etc. You can choose aluminium alloy material vacuum packing machine. And the packaging products with soup, high content of salt acid material, stainless steel or aluminium magnesium alloy material vacuum packing machine is suitable for your business. The sealing ring is generally made of silicone rubber, black rubber, and a small number of low-grade products are made of foamed rubber. Because the silicone rubber has high-temperature resistance, corrosion resistance, good sealing performance, and long service life. While the foamed rubber has poor sealing, is easy to fall off, and short service life.
Where to find the best vacuum packing machine manufacturers?
In fact, there are so many vacuum packing machine manufacturers on the global market. So it may be difficult for many buyers to purchase a reliable vacuum packaging machine. Nowadays, China is the largest manufacturing country. All machines can be manufactured in China with good quality and competitive price. As one of the leading packing equipment manufacturers in China, our products enjoy the long-term quality assurance and fast delivery time. Are you looking for a reliable vacuum packing machine supplier? Get in touch with us for more details.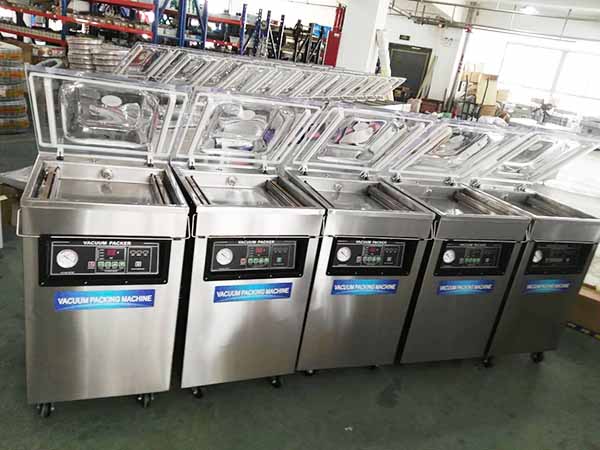 What is the best vacuum packaging machine?
There are lots of different types of vacuum packaging machines for sale on the market. Two of the most popular types of machines are the external suction model and the traditional chamber model. And chamber model consists of a single chamber vacuum packer and a double chamber vacuum packer. Different types of packing machines have different features and advantages. We should buy a vacuum packing machine according to our actual situation. Because the right one is the best. If you have problems choosing the right machine, you can ask our skilled managers for intimate and professional guidance.
How does a vacuum packaging machine work?
The basic working parts of a vacuum packer are a sealed chamber in which all air is pumped out, a pump with rotating blades to draw their air out, and an insulting strip to seal the vacuum bag inside the machine. There are different types of vacuum packaging machines, but the basic parts are the same. Depending on the power and size of the pump in the machine, the average time to complete the seal cycle is approximately 20 to 45 seconds. It is possible to improve the efficiency of the vacuum packaging process by ensuring that as many vacuum pouches as possible are placed on the insulation strip, without affecting the sealing process. Pouches can usually be placed on top of each other, depending on the types of pouches used.
Parameters of double vacuum chamber packaging machine
| | | | |
| --- | --- | --- | --- |
| Model | DZ-400 | DZ-500 | DZ-600 |
| Voltage | 380/50HZ | 380/50HZ | 380V/50HZ |
| Vacuum pump power | 750w | 1500w | 1500w |
| Sealing power | 900w | 1200w | 1600w |
| Number of sealing strips | 2pcs | 2pcs | 2pcs |
| Sealing chamber size | 440*490*40mm | 570*540*40mm | 670*550*40mm |
| Length of sealing strip | 400mm | 500mm | 600mm |
| Width of sealing strip | 12mm | 12mm | 12mm |
| Dimension | 990*545*950mm | 1255*590*950mm | 1450*550*1000mm |
| Weight | 180kg | 230kg | 285kg |
Technical data of single vacuum chamber packing machine
| | | | |
| --- | --- | --- | --- |
| Model | DZ-260 | DZ-500 | DZ-600 |
| Voltage | AC220V/50HZ, 110V/60HZ | AC220V/50HZ, 110V/60HZ | AC220V/50HZ, 110V/60HZ |
| Vacuum pump power | 370W | 750W | 750W |
| Sealing power | 200W | 750W | 1000W |
| Number of sealing strips | 1 | 1 | 1 |
| Sealing chamber size | 330*270*50mm | 520*520*75mm | 650*620*100mm |
| Length of sealing strip | 260mm | 500mm | 600mm |
| Width of sealing strip | 8mm | 10mm | 10mm |
| Dimension | 405*320*340mm | 650*580*980mm | 750*710*960mm |
| Weight | 20kg | 110kg | 140kg |
Desktop vacuum packing machine parameters
| | | | |
| --- | --- | --- | --- |
| Model | DZ-260A | DZ-260B | DZ-260C |
| Power supply | AC220V/50Hz 110V/60Hz | AC220V/50Hz 110V/60Hz | AC220V/50Hz 110V/60Hz |
| Vacuum pump power | 180W | 180W | 120W |
| Heat sealing power | 260W | 260W | 260W |
| Vacuum room size | 390*285*50mm | 390*285*50mm | 330*270*50mm |
| Material of vacuum room | Stainless steel | Stainless steel | Stainless steel |
| Machine size | 490*340*380mm | 490*340*380mm | 405*320*340mm |