Desktop vacuum packing machine
| | |
| --- | --- |
| Model | DZ-260A |
| Power | AC220V/50Hz 110V/60Hz |
| Vacuum pump power | 180W |
| Heat sealing power | 260W |
| Vacuum room size | 390*285*50mm |
| Dimension | 490*340*380mm |
Desktop vacuum packing machine applies to various food vacuum packaging, extending shelf life, slowing down food spoilage. It has the advantages of small occupied space, portability, low cost, and good sealing effect. This kind of tabletop vacuum packaging machine needs us to put the material to fill in pre-made bags manually, then place the pouch with material into the machine to seal. So the desktop vacuum packaging machine also can be called a desktop vacuum sealer.
Desktop vacuum packing machine for sale
Portable vacuum sealer for sale in Top Packing Machinery includes DZ-260 type, which subdivides DZ-260A, DZ-260B, and DZ-260C. The vacuum packing machine is made of stainless steel, durable, and not easy to rust. Vacuum pump adopts famous brand parts, extracting air fast and efficiently, working efficiently. Its cover is transparent, resistant to corrosion, spanning service time. If you want to choose and purchase a vacuum sealer that is more efficient, you can consider a chamber vacuum packing machine or a double vacuum packaging machine.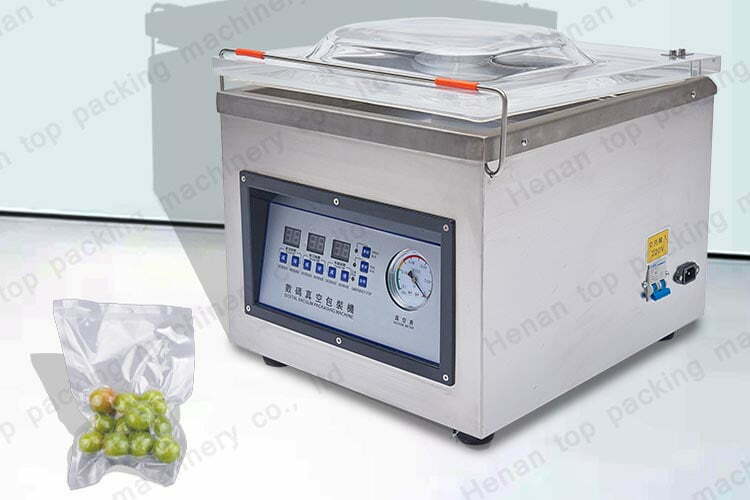 Table top vacuum sealer parameters
| | | | |
| --- | --- | --- | --- |
| Model | DZ-260A | DZ-260B | DZ-260C |
| Power supply | AC220V/50Hz 110V/60Hz | AC220V/50Hz 110V/60Hz | AC220V/50Hz 110V/60Hz |
| Vacuum pump power | 180W | 180W | 120W |
| Heat sealing power | 260W | 260W | 260W |
| Vacuum room size | 390*285*50mm | 390*285*50mm | 330*270*50mm |
| Material of vacuum room | Stainless steel | Stainless steel | Stainless steel |
| Machine size | 490*340*380mm | 490*340*380mm | 405*320*340mm |
Features of tabletop vacuum packing machine
Reasonable design, simple structure, good seal effect, simple operation, wide applications
Small size, portable, low cost, affordable price, suitable for small-scale businesses, low noise
Intelligent control panel adopts microcomputer system, easy to manage various parameters
The machine body is made of stainless steel, durable, good appearance
Vacuum room is a slope design, convenient to place material wet or with oil
Transparent vacuum cover, resistant to corrosion and rust, good sealing condition
Easy to operate and maintain, simple to disassemble the machine from its back part
Emergency switch can stop procedure when it runs as a safety precaution
Wide applications of desktop vacuum sealer
As one kind of vacuum sealer, the desktop vacuum packing machine applies to meat, fruit, vegetable, grains, spice, snacks, seafood, etc. It is suitable for beef, mutton, pork, fish, chicken, sausage, bacon, roast duck, apple, plums, peaches, orange, kiwi fruit, blueberry, lemon, pineapple, jack fruit, carrot, green vegetable, chili, cucumber, dried tofu, rice, oatmeal, soybean, green bean, red bean, black rice, black pepper powder, chilli powder, ginger powder, cumin powder, cardamom powder, tea, biscuit, dried fruit, corn, peanut, nuts, melon seeds, etc. For packaging bags, the common vacuum packaging bags are applicable usually.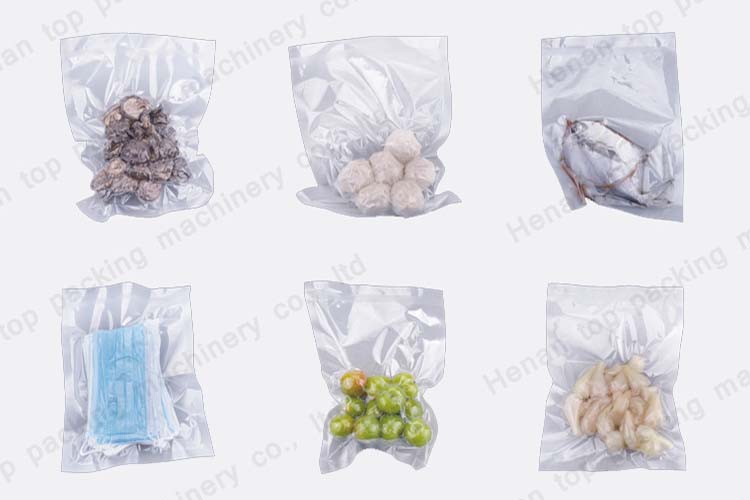 Desktop vacuum packing machine structure
Table top vacuum packing machine consists of a vacuum pump, control panel, a vacuum room, sealing strip, transparent cover, etc. Firstly, the vacuum pump is high power, fast pumping speed, high efficiency, and low noise. Secondly, the control panel manages vacuum parameters, displaying vacuum degree in the vacuum chamber, the time of vacuuming, sealing, cooling, etc. Thirdly, the vacuum room surface is slanted, convenient to put vacuum bag with wet or oily material. Besides, a sealing strip is used to ensure vacuum length and width. And the transparent cover makes the working process visible, easy to operate.
Related machines to vacuum packaging
Vacuum packing machines in Top(Henan) Packaging Machinery for sale include desktop vacuum packer, single chamber vacuum packer, and double chamber vacuum packer. Compared with the tabletop vacuum sealer, the vacuum room of a single chamber vacuum packing machine owns a bigger space for vacuum sealing and higher working efficiency. If you pursue larger production output, it's a good idea to choose the double chamber vacuum packing machine. Furthermore, we supply filling machines, labeling machines, date printers, etc., as well. In addition, we also support customization service according to your specific requirements. Get in touch with us for more details.