Biscuit packing machine
| | |
| --- | --- |
| Name | Biscuit flow wrapping machine |
| Model | TH-350 |
| Bag length | 100-600mm |
| Bag width | 50-160mm |
| Bag height | Max 100mm |
| Packaging speed | 5-200bag/min |
| Weight | 800Kg |
Biscuit packing machine is a machine used in the food industry to pack biscuits, bakery, or cookies into bags, boxes, or other containers. It can automatically finish the process of biscuits weighing, filling, sealing, and coding. To choose a biscuit packaging machine, wide consideration is quite necessary. Due to the different meanings of biscuits in western countries, biscuit shapes, and sizes are diverse. In most countries, biscuits are usually hard, flat, and unleavened. While in most of North America, biscuit refers to soft and leavened quick bread. Therefore, it's better to tell us which kind of biscuit you want to package in order to recommend more appropriate machines for you.
We have super-efficient biscuit packing machines for small hard and flat biscuits, and flow wrapping machines for both hard, and flat biscuits and soft, leavened ones. Besides, if you want biscuit vacuum packaging, we also provide this kind of equipment. Welcome to contact us for more details.
Quality & affordable types of biscuit packing machine for sale
Biscuit packaging equipment in Henan Top Packing Machinery mainly includes horizontal flow wrapping machines and multi-head weigher packing machines. They are totally different in appearance. The pillow packaging machine requires more working space in length. While multi-head combination scale packaging equipment needs higher space. Their packaging types have some differences though they both support back-center seal bags.
Type 1: Horizontal flow wrapping machine for biscuits
While the available pillow biscuit packing equipment is types of TH-250, TH-350, TH-450, and TH-600. They consist of conveyor belts, PLC touch screens, rolling film wheels, sealing, and cutting devices. It's also named flow wrapping machine and the packaging process is horizontal. The equipment is suitable for bakery biscuits in a flat bag or gusset pouches, and both are back seal packaging styles. Besides, also can package the biscuits in a plastic box into pouches.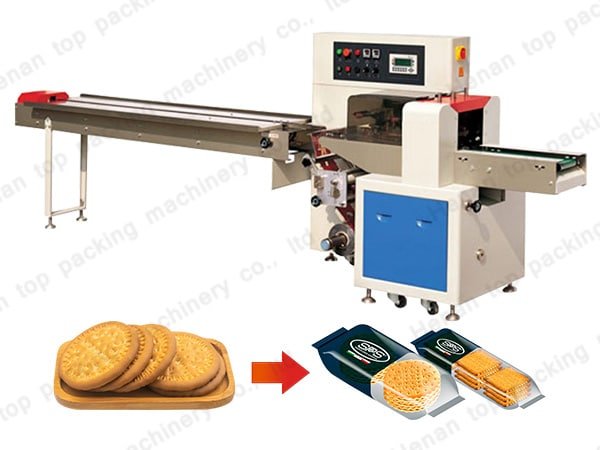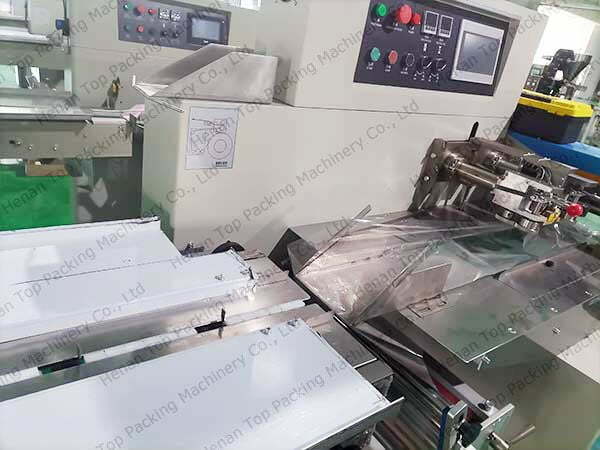 Parameters of pillow packaging machine for biscuits
| | | | | |
| --- | --- | --- | --- | --- |
| Model | TH-250 | TH-350 | TH-450 | TH-600 |
| Bag length | 100-600mm | 100-600mm | 100-600mm | 120-600mm |
| Bag width | 50-110mm | 50-160mm | 50-210mm | 50-280mm |
| Bag height | Max 40mm | Max 100mm | Max 100mm | Max 100mm |
| Packaging speed | 5-200bag/min | 5-200bag/min | 5-200bag/min | 30-180bag/min |
| Power | 220V, 50/60Hz, 2.4KVA | 220V, 50/60Hz, 2.4KVA | 220V, 50/60Hz, 2.6KVA | 220V, 50/60Hz, 3.4KVA |
| Machine size | (L)4020*(W)720*(H)1450mm | (L)4020*(W)720*(H)1450mm | (L)4020*(W)720*(H)1450mm | (L)4380*(W)970*(H)1500mm |
| Weight | 800Kg | 800Kg | 900Kg | 960Kg |
The equipment consists of conveying part and packaging part. The length of the machine size is its total size. Before shipping, we will use two wooden cases to pack them.
Type2: Multi-head combination scale packing machine
The types of multi-head weigher biscuit packaging machines are TH-420, TH-520, and TH-720, equipped with a PLC touch screen and servo film conveyor system, automatically completing the process of filling, weighing, forming bag, healing, and cutting. The equipment usually is suitable for many small biscuits in one pouch. It supports the back seal bag and is able to add a gusset device before sealing to make gusset pouches.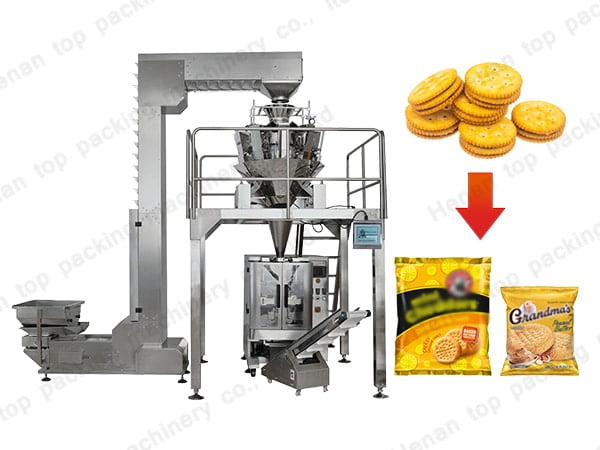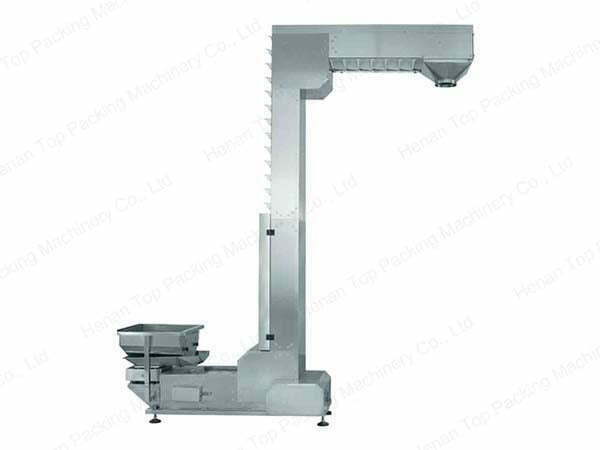 Technical data of multi-head weigher packing equipment
| | | | |
| --- | --- | --- | --- |
| Model | TH-420 | TH-520 | TH-720 |
| Packaging bag types | Back seal | Back seal | Back seal |
| Packaging speed | 5-30bags/min | 5-50bags/min | 5-50bags/min |
| Power consumption | 220V, 2.2KW | 220VAC/50Hz | 220VAC/50Hz,5KW |
| Dimension | (L)1320*(W)950*(H)1760mm | (L)1150*(W)1795*(H)2050mm | (L)1780*(W)1350*(H)2350mm |
| Bag length | 80-300mm | 80-400mm | 100-400mm |
| Bag width | 80-200mm | 80-250mm | 180-350mm |
| Air consumption | 0.65Mpa | 0.65Mpa | 0.65Mpa |
| Gas consumption | 0.4m3/min | 0.4m3/min | 0.4m3/min |
The parameters are the data of the multi-head weigher and lapel packing machine. The multi-head combination scale also can match the pre-made packing machine for biscuits if needed.
Features of biscuit pouch packing machine
PLC touch screen controls using language, packaging speed, bag length, and vertical and horizontal temperature.
The servo film conveyor system is sensitive to the length of objects, sealing and cutting more accurately.
304 stainless steel body, strong, durable, and high-temperature resistant.
The button "step" can click to test the machine, operating conveniently and saving film.
The protective device covers sealing and cutting parts as a kind of safety precaution.
Equipped with four wheels on the bottom of the machine, moving conveniently.
OEM service available
What affects the automatic biscuit packing machine price?
Biscuit packing machine price is involved on the types of packaging machine and matching devices you choose. A large biscuit packing machine is usually equipped with two-head scales, four-head scales, ten-head scales, or fourteen-head scales. The price changes in relation to the size and number of scales. While pillow packing machine for biscuits has two kinds of conveyor belts optional. One is linked with chain and lock catches, and the other one is a servo film conveyor system with a green flat belt. The latter is quite sensitive to the length of the object on the conveyor belt, intelligently sealing and cutting by detecting the length. The latter price is higher than the former.
Besides, we provide ribbon printers and inkjet printers for selection. You can choose according to your actual demands. All in all, the final price is closely concerned with which machine and device you select on the basis of your requirements.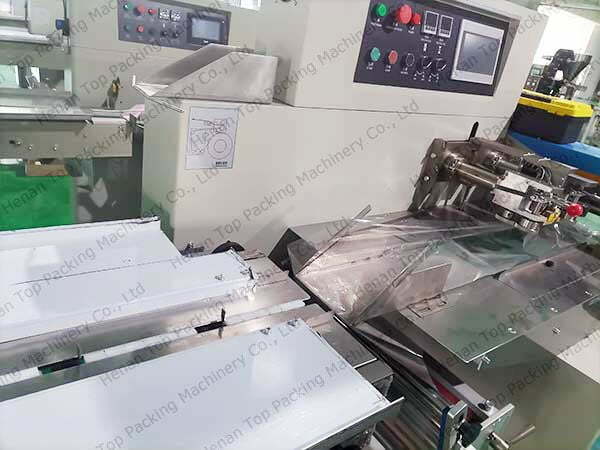 Various advantages of biscuit packaging equipment
The simple structure is easy to install and operate.
Run stably, sealing and cutting accurately, highly efficient
Easy to move with four wheels on the bottom
PLC's large-inch touch screen controls the language, vertical and horizontal temperature, packaging speed, bag length, etc.
The servo film conveyor system is intelligent to detect bag length, save the film, running highly accurately and efficiently.
Safety precautions on the STEP, EMERGENCY STOP button, and protective device around sealing and cutting parts
Customization service available
Applications of biscuit packing machine
Biscuit packaging equipment is widely applied to biscuit factories. Compared with totally manual operation, it highly improves work efficiency for biscuit packing. Besides, the biscuit packing machine can also apply to packaging other foods. For example, multi-head weigher biscuit packaging machine can be used for packing bakery, puffed food, peanut, melon seeds, popcorn, broad bean, red dates, etc. While biscuit wrapping machine could package regular pieces of food, such as bread, moon cake, vegetables, and so on.
If you want to pack several small bags with a box or not into one bigger bag, it's a good idea to choose a horizontal packing machine. However, the size of materials in the package is limited by the width of the conveyor belt, the packaging bag width, and the height passed through the sealing and cutting devices.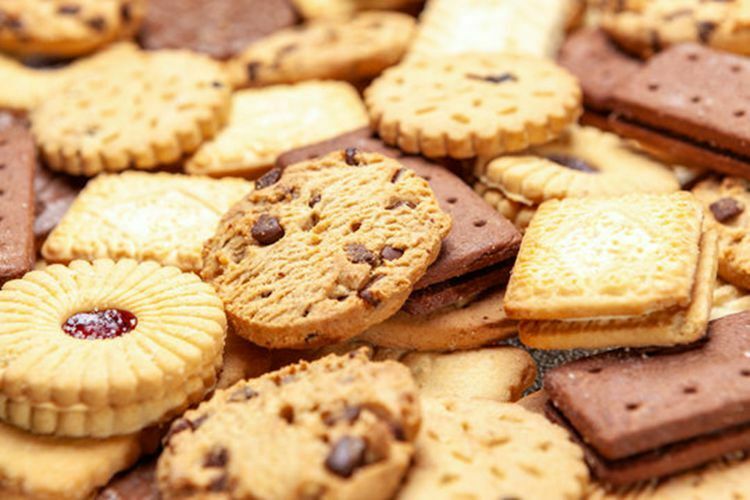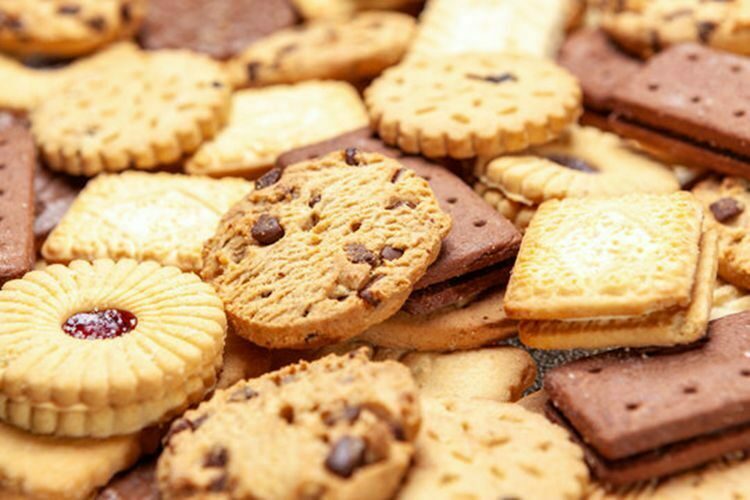 Why choose us as your top packing machine manufacturer and supplier?
Henan Top Packing Machinery has extremely professional staff engaging in packing machine manufacturing for almost 30 years, and factories directly delivering.
Our products have been widely exported to more than 80 countries, such as Indonesia, India, Canada, Italy, Pakistan, England, the US, etc., and obtaining great feedback from our clients around the world.
As an integrated manufacturer and supplier, we provide OEM service, customizing the voltage for your country. The machine is able to manufacture according to your actual requirements, and some devices are available to select for you, such as ribbon printers, inkjet printers, exhaust sponges, and so on.
We support video teaching and an English manual. If the machine has any problem when you use it, we will check what happened and provide a solution after receiving your feedback video to us. Throughout the process, a 24-hour online service is available.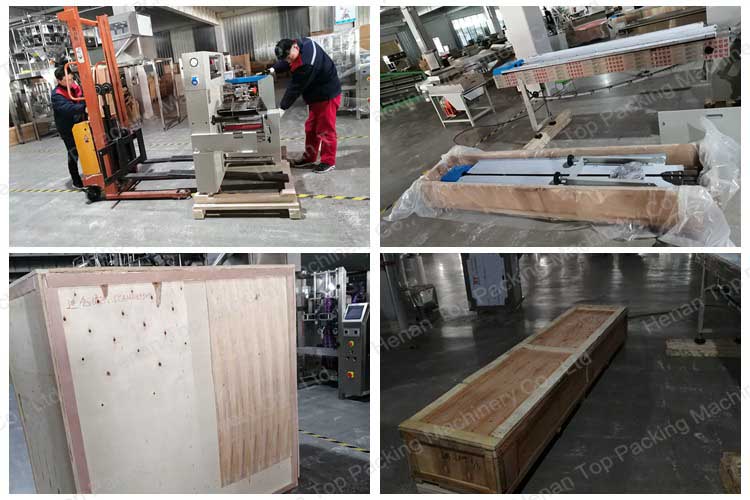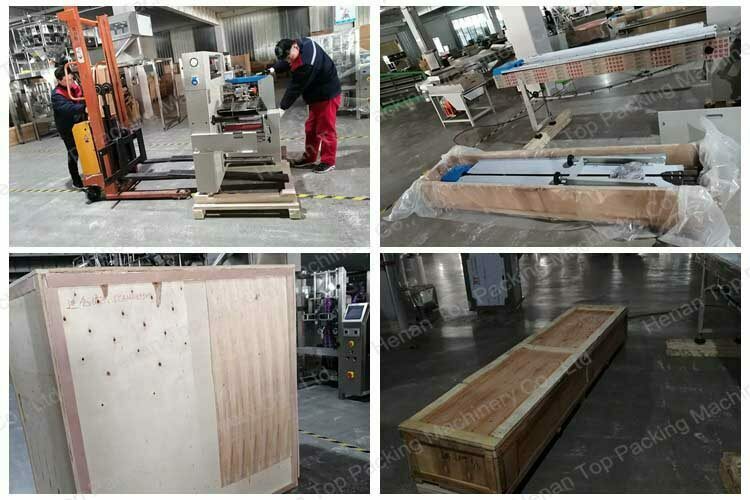 What packaging is best for biscuits?
The best packaging for biscuits depends on the intended shelf life, storage conditions, and desired consumer experience. Some common options include:
Foil-lined paper bags: Good for short-term storage and keeping biscuits fresh and crispy.
Plastic containers with tight-fitting lids: Good for keeping biscuits fresh and maintaining their shape, also suitable for longer-term storage.
Boxes with clear windows: Good for displaying the biscuits and for retail purposes, allowing consumers to see the product without opening the packaging.
Vacuum-sealed packaging: Good for keeping biscuits fresh and extending their shelf life, especially for more delicate or fragile biscuits.
Ultimately, the best packaging solution will depend on the specific needs and goals of the biscuit manufacturer, and may also be influenced by cost and sustainability considerations.
Ready to start your biscuit business?
Biscuit packing machine in Henan Top Packing Machinery mainly refers to multihead weigher biscuit packaging equipment and pillow packaging equipment. The former applies to small biscuit packing. The latter one is suitable for the regular shape of biscuits, and it makes several small bags packaging into a bigger bag come true. In addition, we also supply a vacuum packing machine for biscuits. Meantime, we offer a customization service on the basis of your requirements for packaging machines. Are you interested in them? Do you want to get more details?
Welcome to get in touch with us, we will provide good service for you, giving you helpful suggestions according to your actual needs and doing our best to facilitate your business.