Vegetable packing machine
| | |
| --- | --- |
| Model | TH- 350 |
| Bag length | 100-600mm |
| Bag width | 50-160mm |
| Bag height | Max 100mm |
| Packaging speed | 5-200bag/min |
| Power | 220V, 50/60Hz, 2.4KVA |
Vegetable packing machine is a type of commercial packaging machine that is widely used. Our vegetable packaging machine adopts advanced technologies and durable raw materials. With strong production capacity and excellent design, we have succeeded in manufacturing various types of vegetable packaging machines that meet international standards. We use advanced technology while saving costs, so you can purchase satisfactory products from us at the best price. Hope you can get a great vegetable packing solution here!
Vegetable packing machine for sale
Vegetable packing machine for sale mainly pillow packing machine and vacuum packing machine. Their packaging types are quite different.
Type1: Pillow packaging machine for vegetable
The pillow packing machine is a continuous packing machine with a strong packaging capacity. The long conveyor belt is designed to put material and convey objects. The film roller is placed above or under the platform. The underneath one is suitable for those that are easy to be folded. Besides vegetable packaging, it also applies to non-food packing.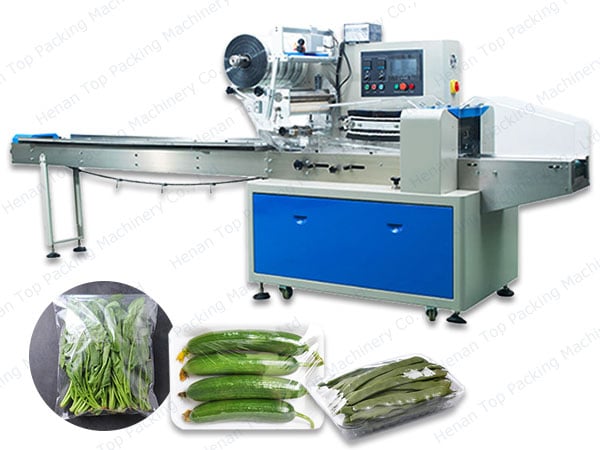 The design about vegetable packing machine
The vegetable pillow packing machine includes two motors, the small one controls film pulling and feeding and the large one is responsible for putting the material and cutting, so its working efficiency is quite high. The bags are equipped with different sizes of reels so that they can be adapted to different sizes of film. In addition, the machine is equipped with sponges and brushes in order to exhaust the excess air from the bags. The servo system and chain lock catches are optional according to your needs. The servo system is equipped with a sensor to detect the position of the material so that the bag material will not be wasted and there will be no empty bags.
Detailed parts of flow wrapping machine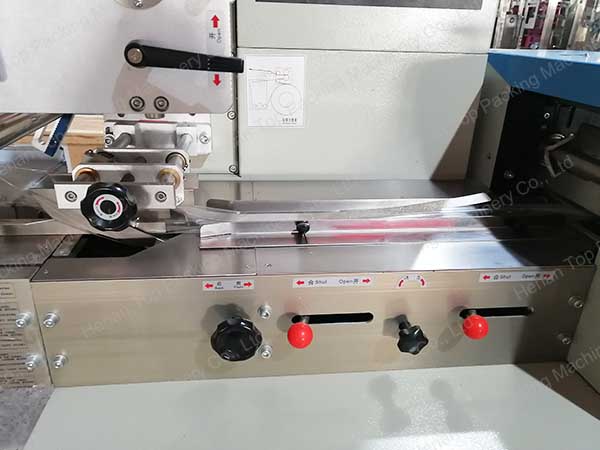 Technical data of the pillow packing machine
| | | | | |
| --- | --- | --- | --- | --- |
| Model | TH-250 | TH-350 | TH-450 | TH-600 |
| Bag length | 100-600mm | 100-600mm | 100-600mm | 120-600mm |
| Bag width | 50-110mm | 50-160mm | 50-210mm | 50-280mm |
| Bag height | Max 40mm | Max 100mm | Max 100mm | Max 100mm |
| Packaging speed | 5-200bag/min | 5-200bag/min | 5-200bag/min | 30-180bag/min |
| Power | 220V, 50/60Hz, 2.4KVA | 220V, 50/60Hz, 2.4KVA | 220V, 50/60Hz, 2.6KVA | 220V, 50/60Hz, 3.4KVA |
| Machine size | (L)4020*(W)720*(H)1450mm | (L)4020*(W)720*(H)1450mm | (L)4020*(W)720*(H)1450mm | (L)4380*(W)970*(H)1500mm |
| Weight | 800Kg | 800Kg | 900Kg | 960Kg |
All models have ordinary and servo film conveying types. The end sealing device needs to match different cutters according to the length of the bag length. Single cutter is for the long bag, double cutters for the medium pouch, and three cutters for the short bag.
How does the vegetable wrapping equipment work?
Type2: Vacuum packaging machine for vegetable
There are single chamber vacuum packing machines and double chamber vacuum packing machines for vegetable packaging. After vacuum packaging items can prevent oxidation, mold, moisture, and extend their shelf life. The machine is highly efficient, easy to operate, and convenient to move. The double chamber type works more efficiently than the single-chamber type. Vacuum packing machines can effectively extend vegetable shelf life and slow down food spoilage by exhausting air.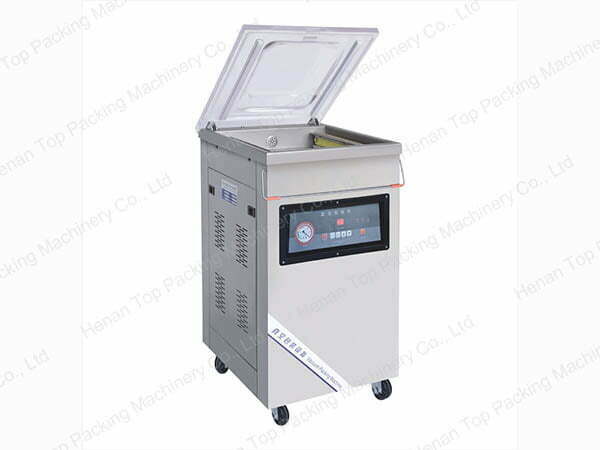 Double vacuum room sealer
| | | | |
| --- | --- | --- | --- |
| Model | DZ-400 | DZ-500 | DZ-600 |
| Voltage | 380/50HZ | 380/50HZ | 380V/50HZ |
| Vacuum pump power | 750w | 1500w | 1500w |
| Sealing power | 900w | 1200w | 1600w |
| Number of sealing strips | 2pcs | 2pcs | 2pcs |
| Sealing chamber size | 440*490*40mm | 570*540*40mm | 670*550*40mm |
| Length of sealing strip | 400mm | 500mm | 600mm |
| Width of sealing strip | 12mm | 12mm | 12mm |
| Dimension | 990*545*950mm | 1255*590*950mm | 1450*550*1000mm |
| Weight | 180kg | 230kg | 285kg |
The standard models are equipped with two pieces of sealing strips per vacuum chamber. We support adding sealing strips if the sealing object is small so as to improve production output.
Single vacuum room sealer parameter
| | | | |
| --- | --- | --- | --- |
| Model | DZ-260 | DZ-500 | DZ-600 |
| Voltage | AC220V/50HZ, 110V/60HZ | AC220V/50HZ, 110V/60HZ | AC220V/50HZ, 110V/60HZ |
| Vacuum pump power | 370W | 750W | 750W |
| Sealing power | 200W | 750W | 1000W |
| Number of sealing strips | 1 | 1 | 1 |
| Sealing chamber size | 330*270*50mm | 520*520*75mm | 650*620*100mm |
| Length of sealing strip | 260mm | 500mm | 600mm |
| Width of sealing strip | 8mm | 10mm | 10mm |
| Dimension | 405*320*340mm | 650*580*980mm | 750*710*960mm |
| Weight | 20kg | 110kg | 140kg |
How to seal vegetable in vacuum bag?
Features of vegetable flow packing machine
Our highly skilled technicians and the world's top equipment lead to the good reputation of our vegetable packing machine. As a reliable and international packaging equipment manufacturer and supplier, our products are designed and manufactured in accordance with international standards. The features are as follows:
PLC control system: It can set up parameters including using language, the sealing and cutting temperature, speed of conveyor, length of bags, etc.
Servo motor with inductor: It can detect the material, save time and packaging material, and have high stability.
It can add a brush above the packaging bag during the sealing process so as to exhaust the air from pouches.
Double electrical motor system: the two motors cooperate with each other to complete the process of bag pulling and material conveying, which greatly improves working efficiency.
Toolbox: The tools that may be used are included, which are very convenient and can be customized according to your needs.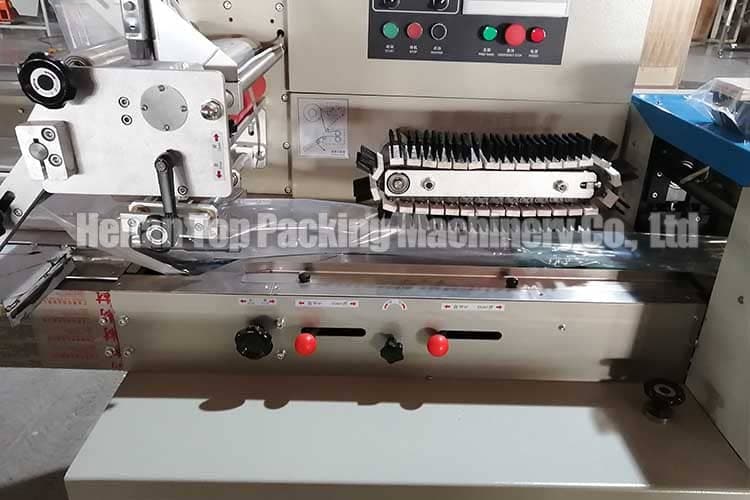 How about the vegetable packaging machine price?
Our vegetable packing machine has an extremely high degree of accuracy. Its induction system ensures the automatic operation process. What's more, some parts of the machine can be customized based on your needs, such as roller size, reel position, the width servo film conveyor, and so on. If you are interested in our vegetable packaging equipment, just contact us to figure out the most suitable parameters for your products. It's believed that our design team would tailor a set of machine composition plans for you. Following the principle of good quality and saving cost, we will manufacture the most durable equipment and the best price for you.
Vegetable packaging machine achieves high standards
Being equipped with advanced components, our vegetable packing equipment has many advantages. The PLC control system makes sure that the machine will automatically quit operating when a fault occurs. That shows its high security. Besides, it has much flexibility. The bag former, the chain length, and the exhaust sponge can be adjusted on the basis of the size and character of the material. At last, our machine is very maneuverable. The PLC viewing screen contains comprehensive operation instructions and the inductor ensures the automation. Through unremitting efforts, we have managed to break through our own standards and continuously improve our products to achieve such excellent results today.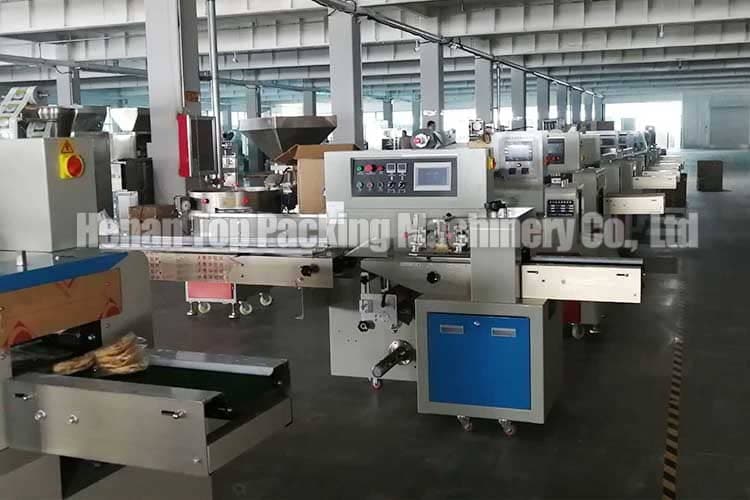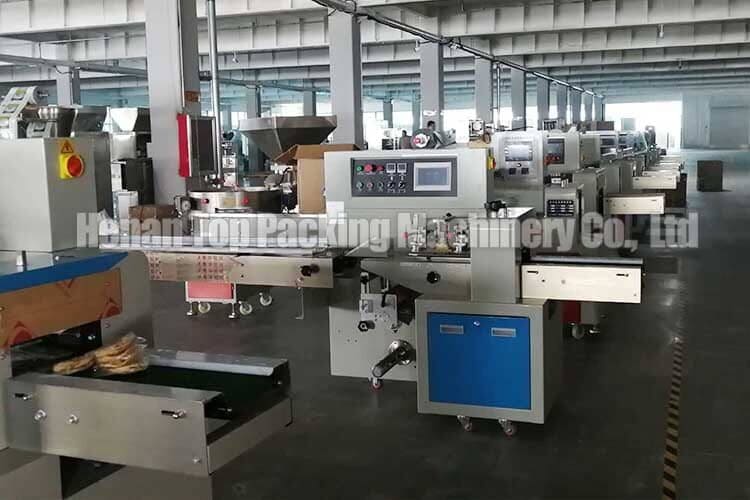 Why choose us as your top supplier?
Our company, Henan Top Packing Machinery Co., Ltd, has reached many outstanding achievements in the field of manufacturing pillow and vacuum packing machines, having been cooperated with hundreds of enterprises at home and abroad. We have a sound reputation for the quality of our products.
Rich experience: Having exported packing machines for almost 30 years, we know very well about the research of core hardware material technology and the fabricating of the whole equipment.
Affordable price: We adopt direct shipment from our factory, which is close to the port. Therefore, some unnecessary costs are cut down. So we can make sure the competitive price of our machines.
Considerate after-sales services: Detailed operating instructions are included with the product, and you can also consult us. Long-term supply of spare parts.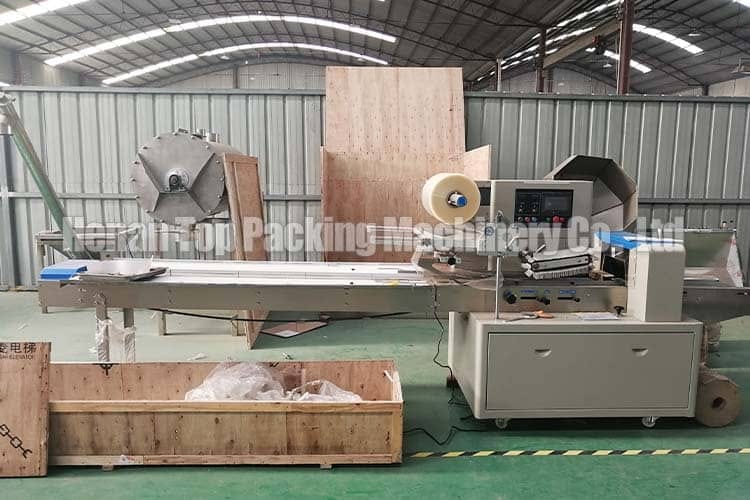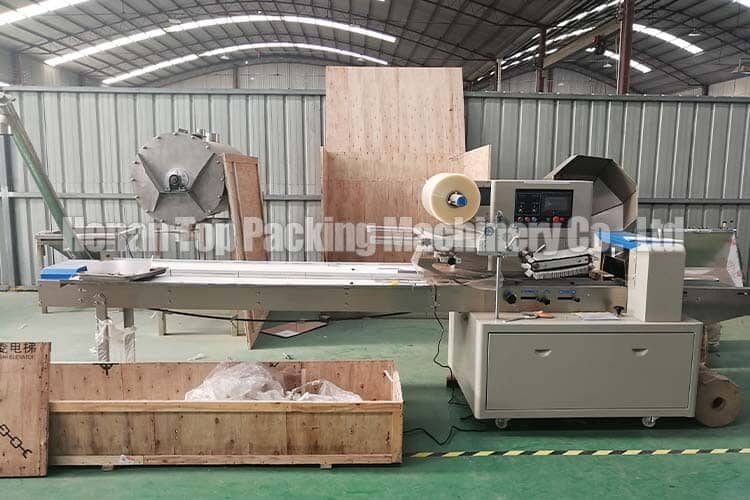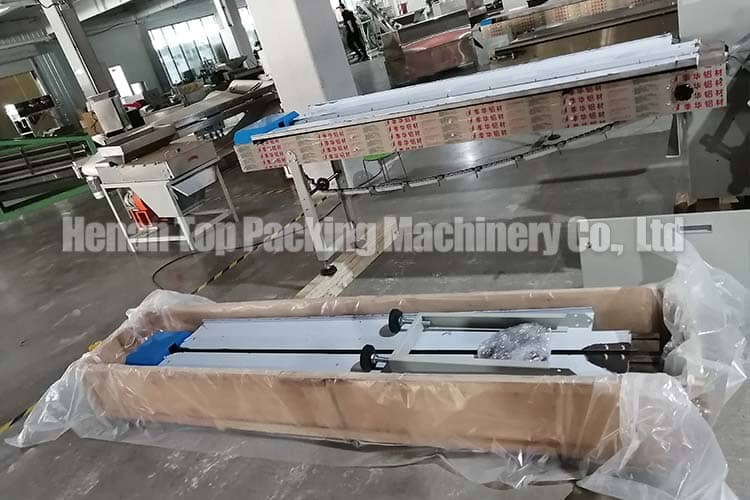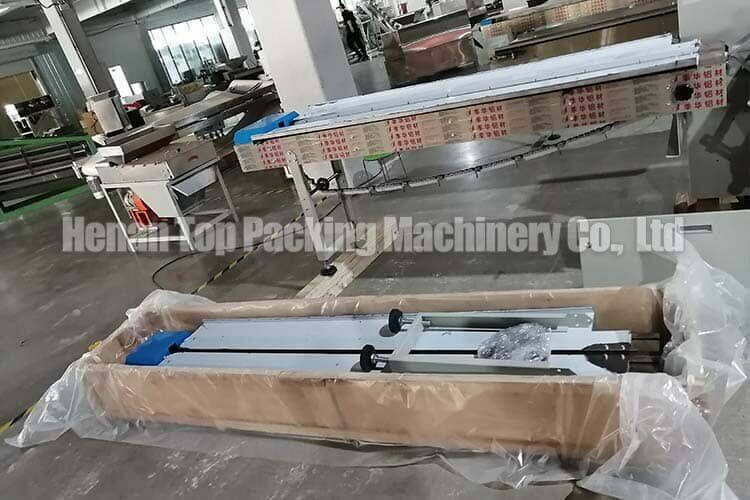 Get in touch with us for the best price
Since its foundation in 1992, we have made many great achievements in the design, research, manufacturing, and marketing of packing machines. We excel in designing humanized machines and would like to influence the yield style and efficiency of our customers. In addition, both the quality and the price of our products get praise within the packing machine industry. The information on the net is incomplete, so if you would like to learn more information about the packing machine, contact us and our enthusiastic staff can give you free and timely buying guidance. And we believe that our vegetable packing machine can greatly benefit your business.