Popcorn packing machine
| | |
| --- | --- |
| Model | TH-320 |
| Applications | Popcorn, potato chips, rice, nuts, sugar, salt, coffee beans, candy, etc |
| Bag style | Back seal/3-side seal/4-side seal |
| Packaging speed | 32-100bags/min |
| Weight | 250kg |
| Dimensions | 650*1050*1950mm |
Popcorn packing machine plays a highly important role in the popcorn manufacturing industry. In recent years, many people's lifestyle has changed. Purchasing those convenient to carry become a trend for a number of customers. The taste of popcorn is likely to become poor if covered in the air for a long time without packaging. Compared to totally manual work, a packing machine is more efficient and convenient for someone who has numerous popcorn needs to pack.
There are two kinds of popcorn packing machines in Henan Top Packing Machinery, granule packaging machine, the model TH-320 and TH-450, and lapel packaging machine, the model TH-420, TH-520, and TH-720. They can automatically complete the process of bag forming, filling, sealing, cutting, and bag counting, highly improving efficiency.
Full range of quality popcorn packing machine for sale
An excellent popcorn packing machine is beneficial for your business. Popcorn with packaging bags is easy to store or carry for customers in daily life for the bags to keep out the air. The substance in the air could not contact popcorn directly. It accords with people's attention to cleanliness and sanitation. Meanwhile, people can eat popcorn immediately. It is convenient for those who want to enjoy food no matter when and where. In addition, a fascinating packing bag is attractive to customers when they make a choice to buy something.
All of these rely on an excellent popcorn packing machine, which could promote the sale of popcorn to some degree. The popcorn packing machine types of Henan Top Packing Machinery are granule packing machine TH-320 and TH-450, and lapel packaging machine TH-420, TH-520, and TH-720. Contact us if you are interested in them.
Type1: Small vertical pouch packaging machine for popcorn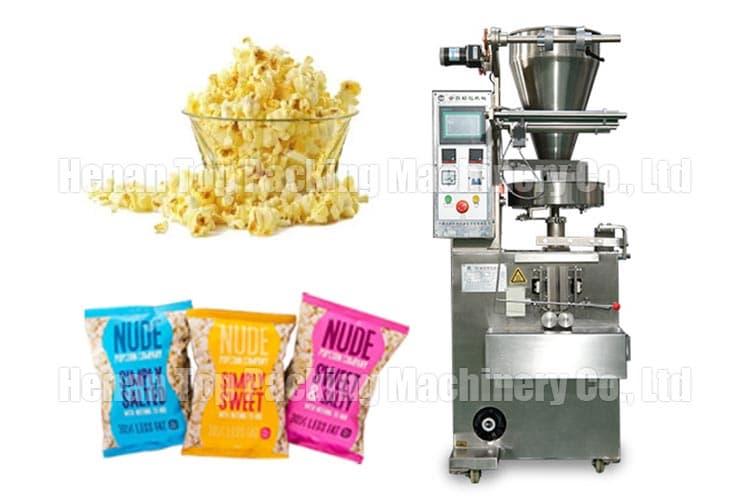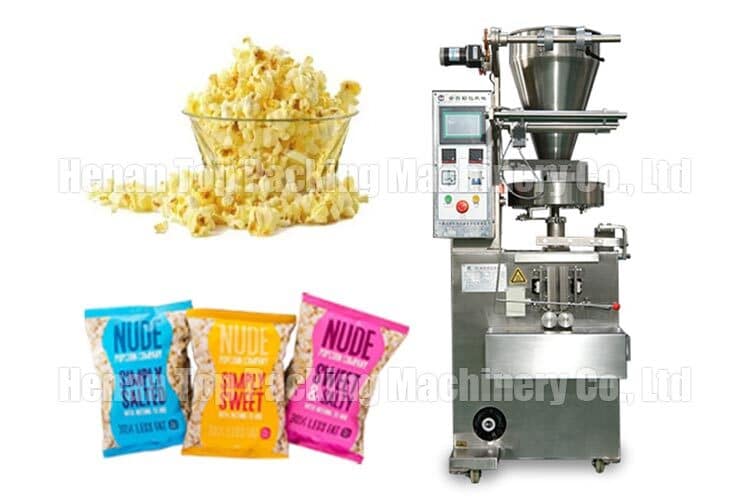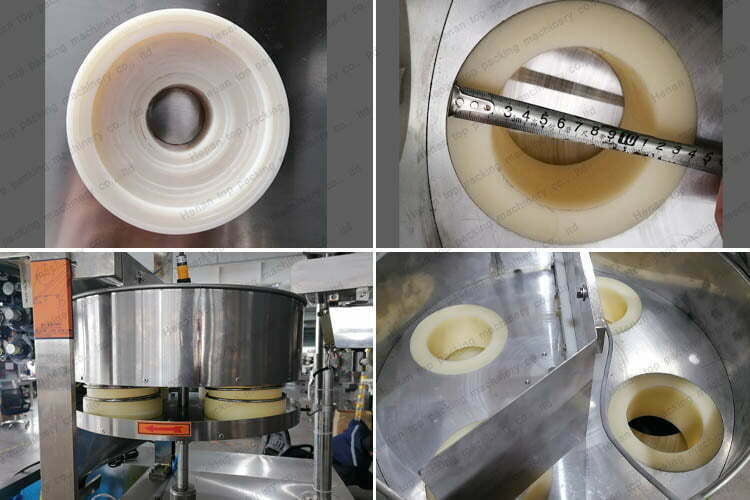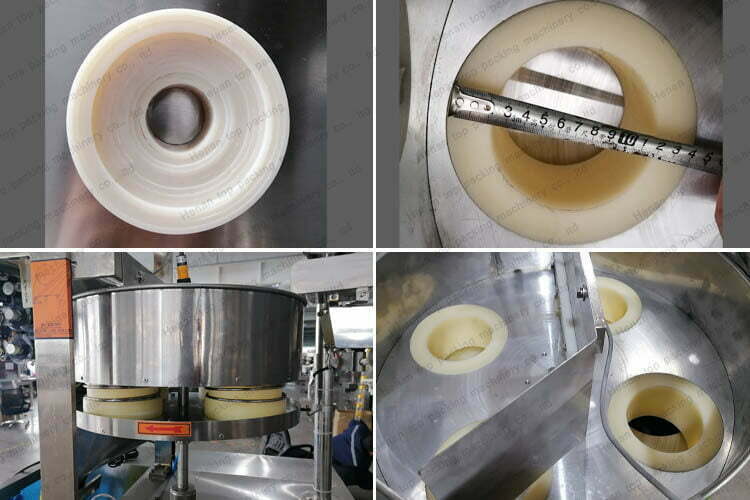 Small vertical type popcorn filling sealing machine parameters
| | | |
| --- | --- | --- |
| Model | TH-320 | TH-450 |
| Bag Style | back seal/3-side seal/4-side seal | back seal/3-side seal /4-side seal |
| Packing Speed | 32-72bags/min or 50-100bags/min | 20-80bags/min |
| Bag Length | 30-180mm | 30-180mm |
| Bag Width | 20-145mm(need to replace the former) | 20-200mm |
| Power Consumption | 1.8kw | 1.8kw |
| Weight | 250kg | 420kg |
| Dimensions | 650*1050*1950mm | 750*750*2100mm |
The model is named by the maximum width of roll film. Its actual packaging weight suitable depends on the width and length of the bags. A nitrogen filling device is available to match for keeping popcorn's taste.
Type2: Multi-head combination weigher packing machine for popcorn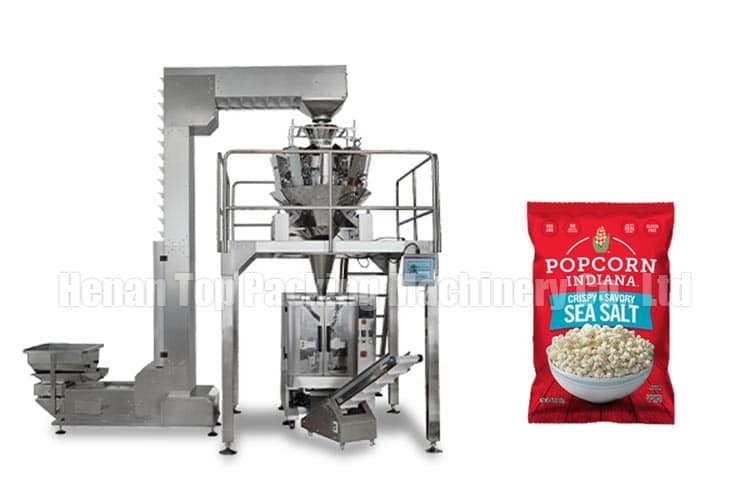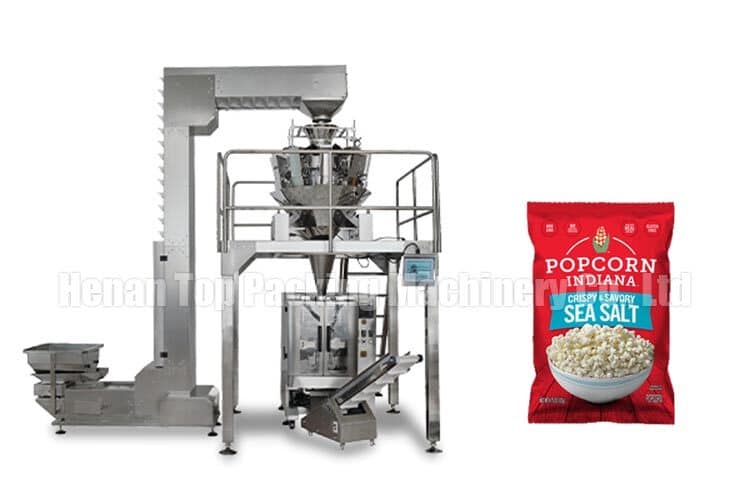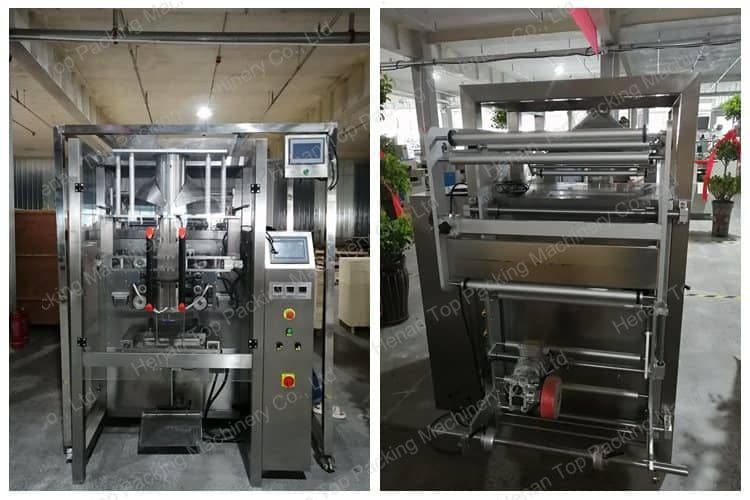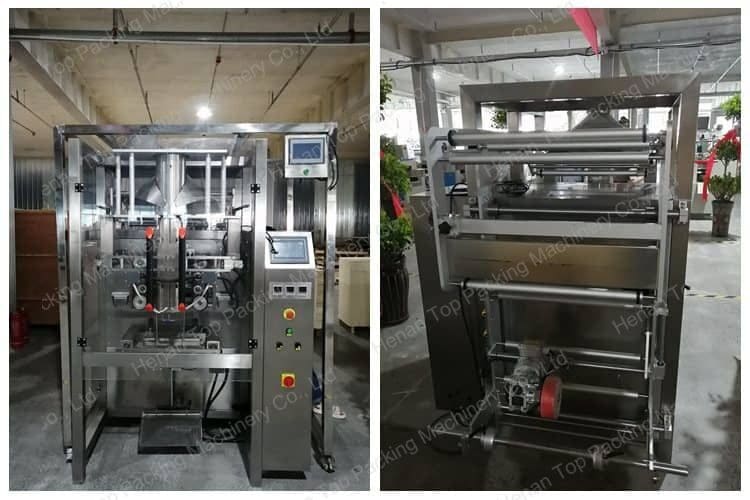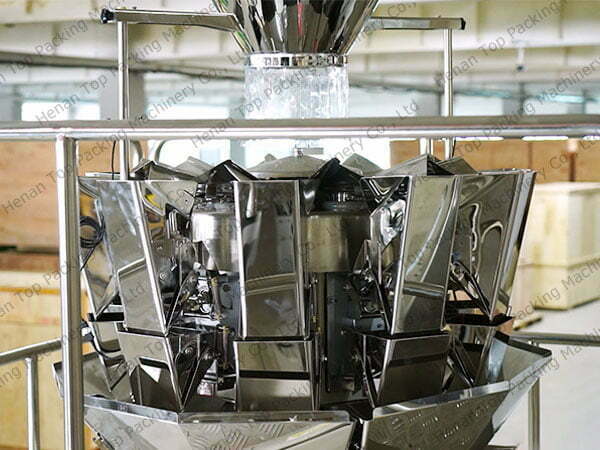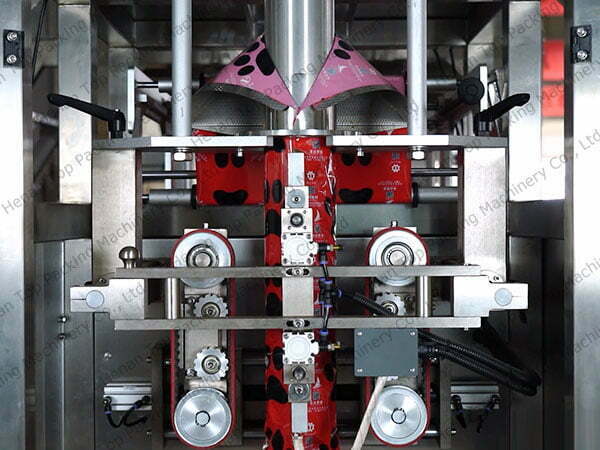 Muli-head combination scale packing machine technical data
| | | | |
| --- | --- | --- | --- |
| Type | TH-420 | TH-520 | TH-720 |
| Bag Length | 80-300mm(L) | 80-400mm(L) | 100-400mm(L) |
| Bag Width | 50-200mm(W) | 80-250mm(W) | 180-350mm(W) |
| Max Width of Roll Film | 420mm | 520mm | 720mm |
| Packing Speed | 5-30bags/min | 5-50bags/min | 5-50bags/min |
| Air Consumption | 0.65Mpa | 0.65Mpa | 0.65Mpa |
| Gas Consumption | 0.3m3/min | 0.4m3/min | 0.4m3/min |
| Power Voltage | 220VAC/50HZ | 220VAC/50HZ | 220VAC/50HZ |
| Dimension | (L)1150*(W)1795*(H)11650mm | (L)1150*(W)1795*(H)11650mm | (L)1780*(W)1350*(H)1950mm |
| Deadwight of Machine | 540KG | 600KG | / |
The numbers 420, 520, and 720 of models are the maximum width of roll film. This multi-head weight not only can match the lapel packing machine but also can combinate a pre-made packaging machine. And the final packaging volume is determined by the size of the pouches. It can add a nitrogen filling device to the sealing part.
Performance features of popcorn packaging equipment
Simple structure, simple to use, and clean
Run stably, low noise, and long life
PLC touch screen and large screen LCD
Sensitive photoelectric eye tracking and detection make the cutting position more accurate
Automatically complete the process of bag forming, filling, sealing, date printing, and bag counting
Multi-head weigher works accurately and efficiently
Servo film conveyor system, accurate positioning
Advanced microcomputer chip control and high efficiency
Adjustable bag length, cutting temperature, and packaging speed
Do you wanna know the popcorn packing machine price?
The popcorn packing machine price is concerned with different components of the equipment, technologies, and quality. One of the most important machine materials is stainless steel, which is strong, durable, and easy to clean. The stainless steel price in the market influences the price of popcorn packing machines in a way. Besides, usually the more advanced technologies are used, the price is higher. Popcorn packing machines with advanced technologies are more intelligent in operation.
Meanwhile, quality is an effect on the price of popcorn packing machines. Quality refers to the life of machines. It's not only the quality of the machine itself but the package system for it before shipment. Besides, the freight of machines is different. The specific price of the machine depends on your choice of machine and the freight to your address.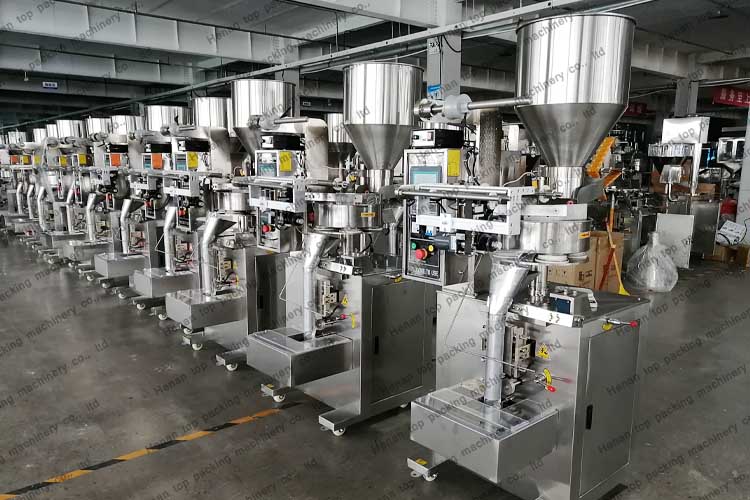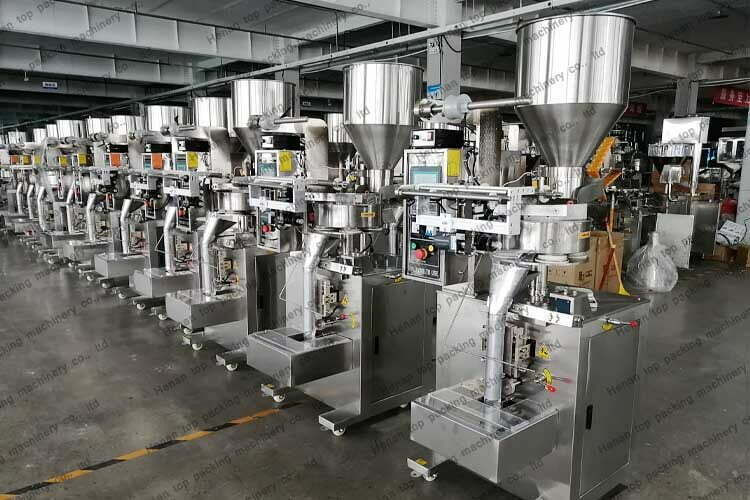 Benefits of popcorn packing solutions
Simple structure, easy to install, and friendly operation
Run stably, low noise, excellent performance
Strong and durable packing machine materials
Mass production of packing popcorn, highly improves efficiency and save manpower
Advanced technologies and automatic packaging process
Sensitive tracking and detection system and accurate operation
Bag length, width, and types are adjustable
Applications of popcorn packaging machines
With a simple structure and reasonable design, popcorn packing machines have widespread use in the popcorn industry. In order to store, deliver and sell popcorn more conveniently, a large number of popcorn factories choose packing machines for popcorn. It extends popcorn life greatly after packing. For purchasers, they could carry it freely if popcorn is packaged in the proper size. And they could enjoy popcorn no matter when and where. The machines to package popcorn is not only applied to popcorn but also could put used in packing other kinds of foods, such as broad bean, condiment, seeds, red dates, coffee beans, and so on.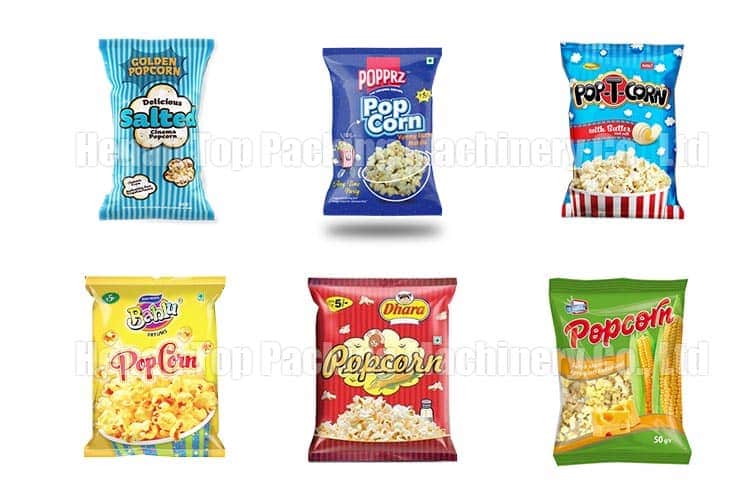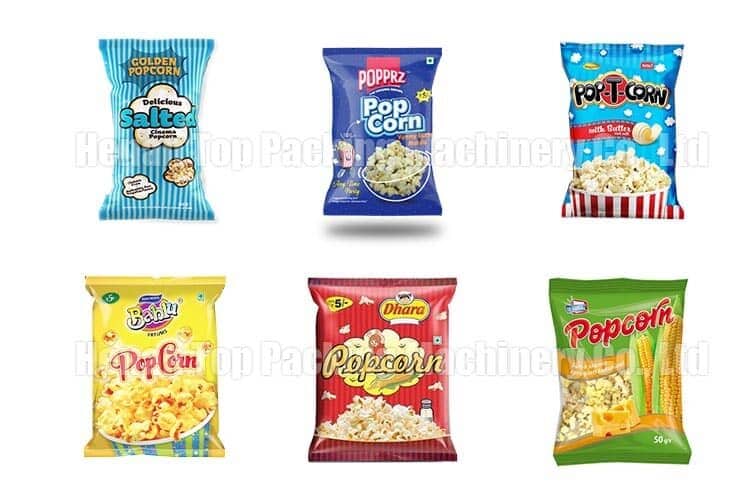 Why choose us?
We have had quite professional technical staff in the packing machine industry for nearly 30 years. Our packing machines have been exported to more than 80 countries, like Indonesia, India, Canada, Italy, Pakistan, England, the US, etc. Our packaging machines with advanced microcomputer chip control run stably, with low noise, long life, and high efficiency. Besides, the machines sold by us are strictly inspected time after time before shipment, taking photos and videos for you.
If you have any questions about the machine, we will get back to you, and solve them as soon as possible. And we provide a 24-hour online service to guide you on how to install and replace parts. In addition, we also have lifetime maintenance, an English manual, and video teaching. We will do our best to satisfy every client.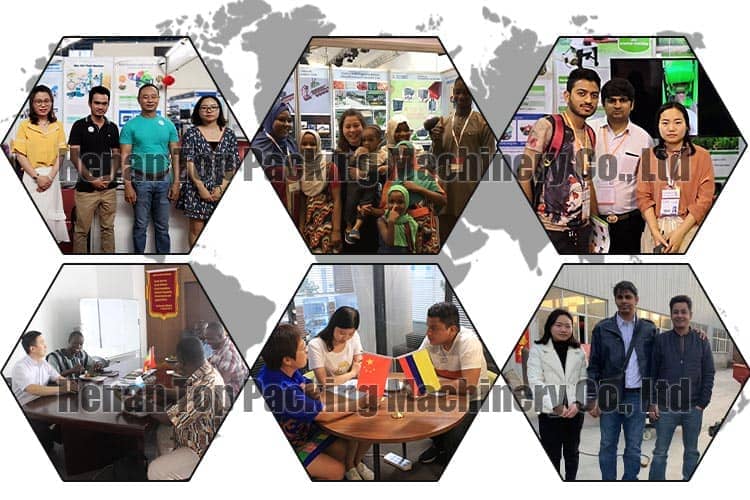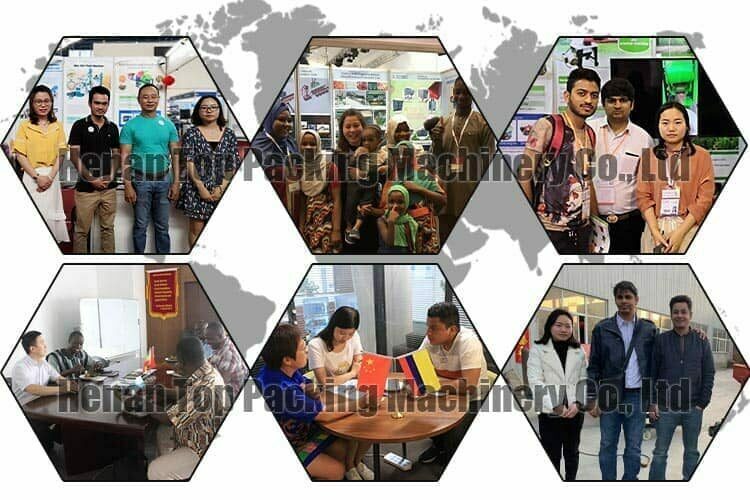 How do you package popcorn?
There are several ways to package popcorn, depending on the specific needs of the product and the preferences of the manufacturer. Here are a few common methods:
Foil pouches: Popcorn can be packaged in foil pouches, which are sealed using heat. These pouches are typically vacuum-sealed, which removes the air from the package and helps to extend the shelf life of the popcorn.
Boxes: Popcorn can also be packaged in boxes, which are typically made of cardboard or paperboard. These boxes can be plain or printed with graphics and information about the product.
Bags: Popcorn can be packaged in bags, which can be made of a variety of materials including paper, plastic, or foil. These bags can be heat-sealed or closed with a twist tie or other closure mechanism.
Cans: Popcorn can also be packaged in cans, which are typically made of metal or plastic. These cans can be sealed with a lid or a pull tab for easy opening.
Regardless of the packaging method, it is important to ensure that the popcorn is protected from moisture, light, and other factors that could affect its quality.
Contact us to get the best quote!
Popcorn packing machine is in accord with most customers' attention on hygiene and health. Using a popcorn packing machine could save manpower, making mass production come true. Compared with manual work, packaging machines run efficiently. In other words, packing machines could complete more packaging work. And a wonderful packaging bag design attracts more people to purchase, which is also a great solution to spread your popcorn brand.
If you are interested in our machines, contact us today for a more useful product profile. Besides, we support custom services to meet any specific demands. All in all, we would try our best to help your business.