Snacks packing machine is widely applied in packaging peanuts, melon seeds, broad bean, chocolate, popcorn, oatmeal, rice crust, plum candy, red dates and coffee bean, nimko garri, etc. Snack packaging machine plays a highly important role in packing all kinds of snacks. There are granule snack packaging machine, pillow snack packaging machine, and lapel snack packaging machine, which could apply to packing snacks. And various bag packaging snacks packing machine is offered, such as pillow bag, pillow bag with a hole, pillow bag with slot, three-side seal, four-side seal, stick bag, pyramid bag, gusset bag, and chain bag. 
Besides, we support custom services according to your actual requirements. If you are looking for a reliable snacks packaging machine manufacturer, it is a good idea for you to contact us for the best price. 
Various types of snacks packing machine for sale
Henan Top Machinery has a highly professional staff engaged in manufacturing packing machines for almost 30 years. We provide granule packaging machine, pillow packaging machine, and lapel packaging machine applied to packaging snacks. The main types are the model's granule packaging machine TH-320, TH-450, and TH-420, the models pillow packaging machine TH-250, TH-350, TH-450, and TH600, and the models lapel packaging machine TH-420, TH520, and TH-720. In addition, we also have vacuum packing machines for some food requiring vacuum packing. And customization is available. If you are interested in the snack food packaging equipment, contact us to know more details.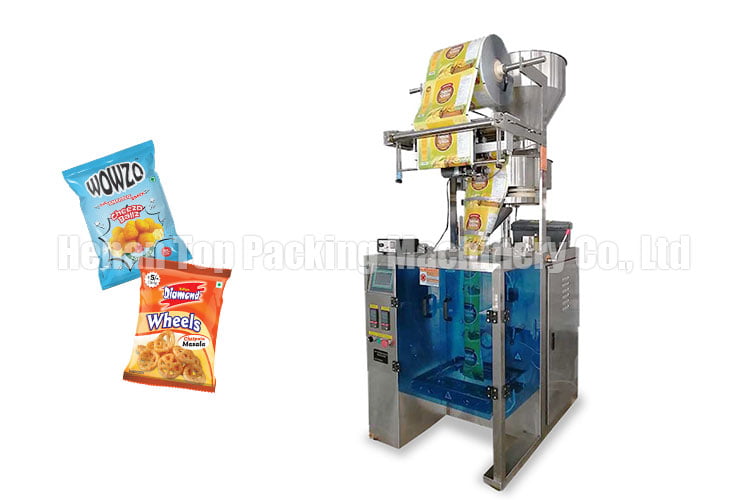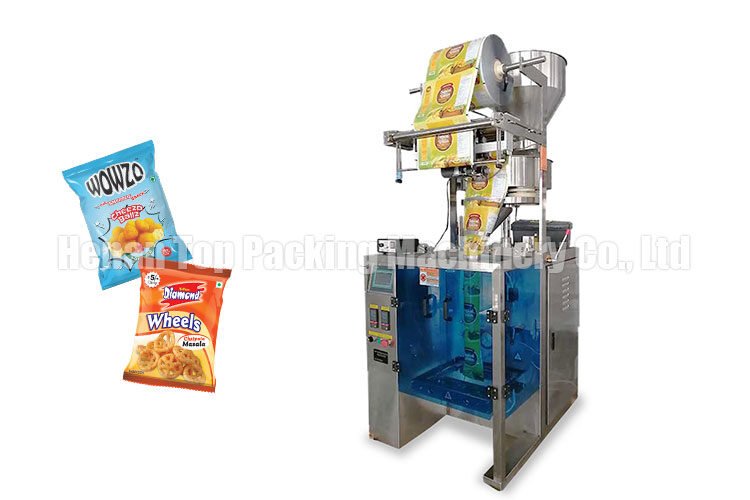 Features of TOP snacks packing machine
Simple structure, easy to install, operate, and clean
Strong and durable stainless steel material
PLC control screen with setting bag length, cutter temperature, and packaging speed
Large screen LCD is convenient to adjust the parameters.
Advanced microcomputer chip control with sensitive photoelectric eye tracking and detection makes the cutting position more accurate.
Servo film conveyor system, accurate and highly efficient positioning
Adjustable bag length, cutting temperature, and packaging speed
Customization service available
Detailed components of the vertical granule packing equipment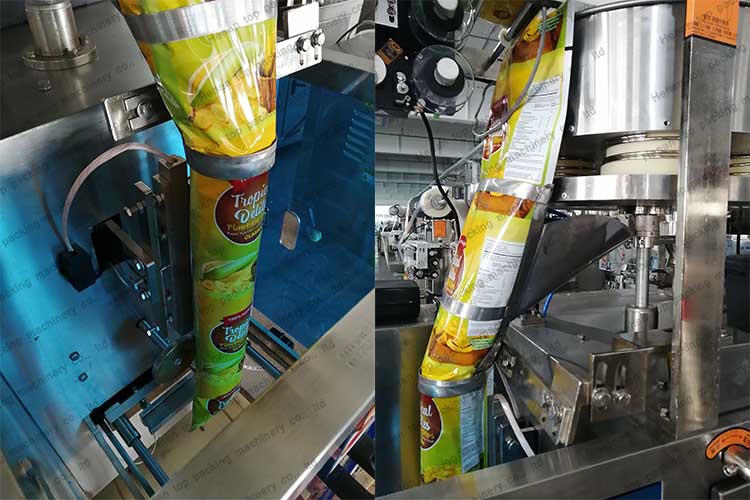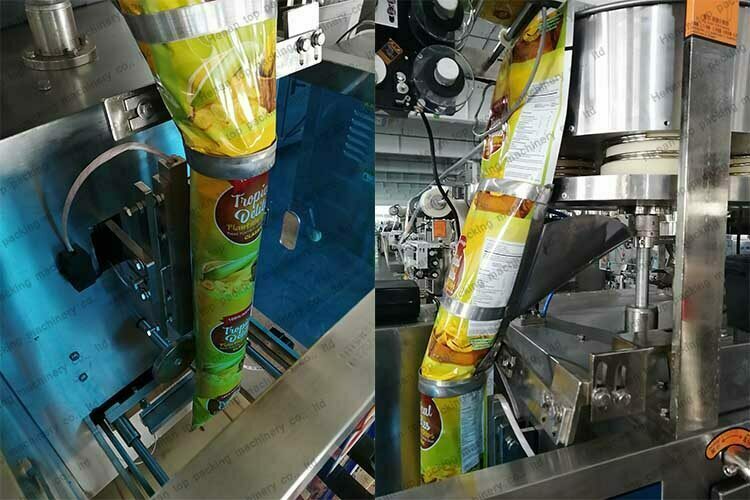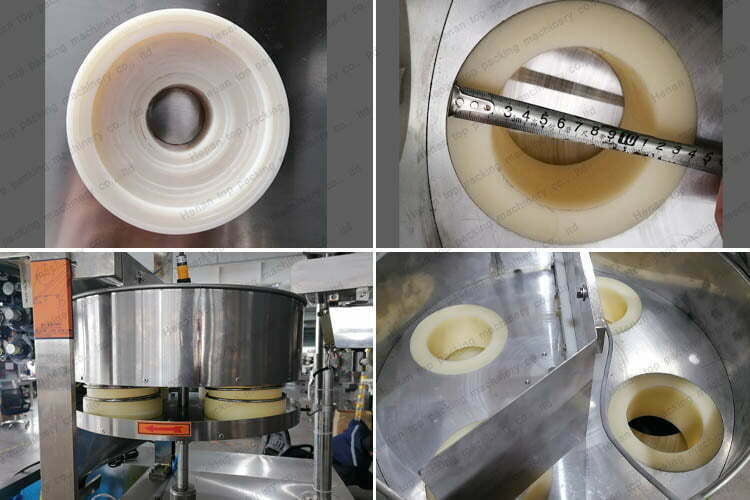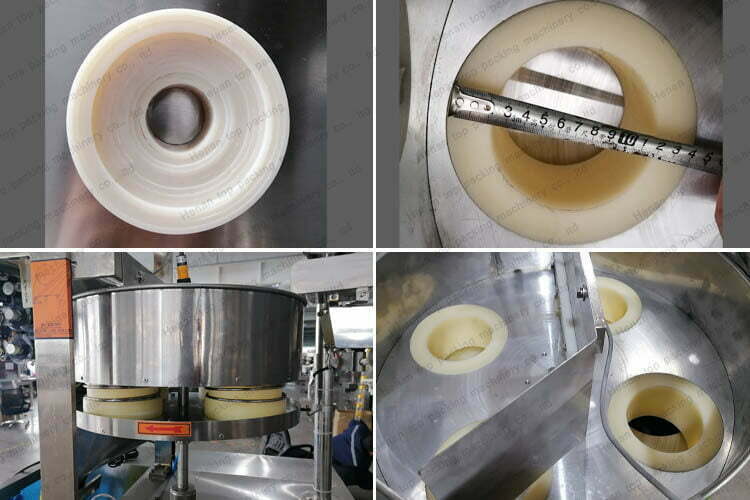 What is snacks packing machine price?
Granule packaging machine, pillow packaging machine, and lapel packaging machine all could be applied to packaging snacks. Their internal structures and devices are diverse, and the price of them are greatly different. The filling process of granule packaging machine is controlled by a photoelectric detector through shaking. Pillow packaging machine has a feeding platform and heat seal cutter. Feeding platforms are automatic and semi-automatic options. And the cutter including single cutters, double cutters, and third cutters could be chosen. Lapel packaging machine use double-belt servo control making operation more accurate. And all of them run with different packaging speeds.
In addition, there is a date printer, chain bag equipment, nitrogen inflation device, and hole puncher with heal seal and cutter options if you have the requirements about them. In brief, the price of snacks packing machine depends on what equipment you choose. Contact us to get more details.
Main parts of multi-head weigher packing machine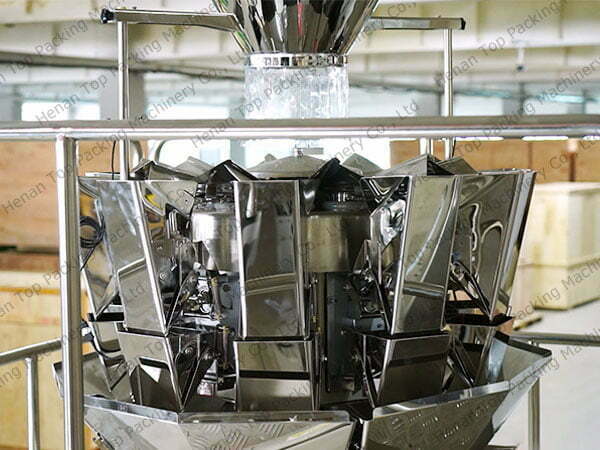 Applications of snacks packing equipment
Snacks packing machine has a widespread application in diverse foods, such as peanut, melon seeds, broad bean, chocolate, popcorn, bread, Swiss roll, moon cake, oatmeal, rice crust, candy, red dates, and coffee bean, nimko garri, etc. Granule packing machine is suitable for granular food, like peanuts, melon seeds, broad beans, popcorn, oatmeal, rice crust, coffee bean, granulated sugar, etc. Pillow packaging machine usually pack pieces of foods with regular shapes, such as bread, Swiss roll, moon cake, and so on. If several small bags of food need to pack into one big bag, pillow packaging machine also can make it possible. While lapel packaging machine can pack puffed food, peanut, melon seed, dried fruit, biscuit, granulated sugar, tea, and so on. In addition, something not feed can also be packaged by pillow packing machine, like clothes, towel, mask, spoon, etc.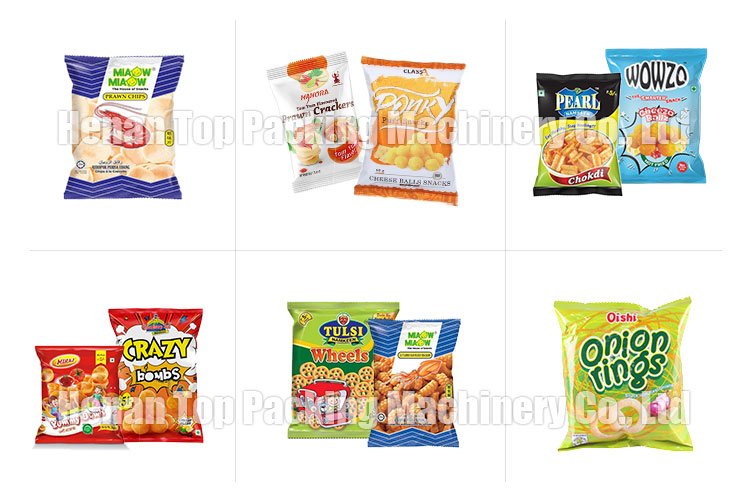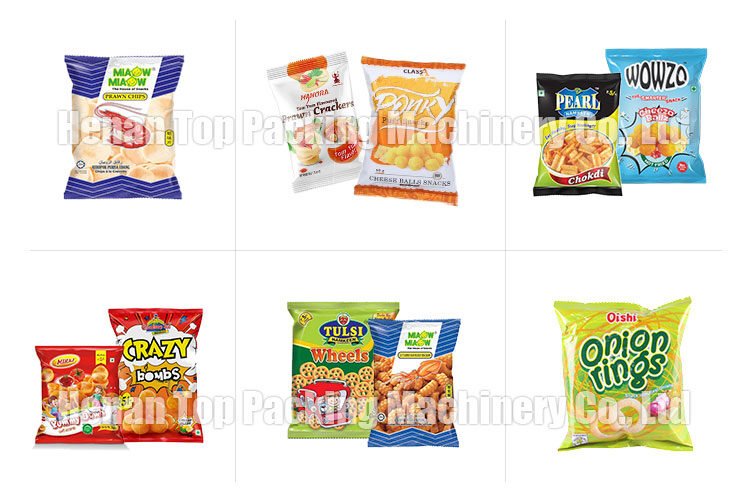 Why choose us as your top packing machine supplier?
Henan Top Machinery has a highly professional staff who have devoted themselves to manufacturing packing machine for a long time. Relying on excellent quality, advanced packaging technology, competitive price, and satisfactory service, we have completed a lot of orders from all over the world. Furthermore, our products have passed extremely strict inspection before shipment, in order that our customers get machines with high quality and good performance. And in regard to the installation, operation, and maintenance of equipment, we provide English video teaching and manual guidance. Meantime, there is a 24-hour online service preparing for you. Contact us, and we will give helpful suggestions according to your requirements. And we also have a customization service.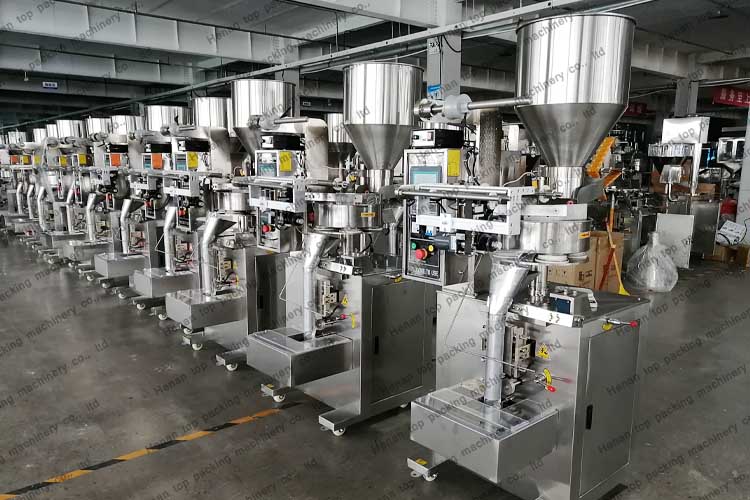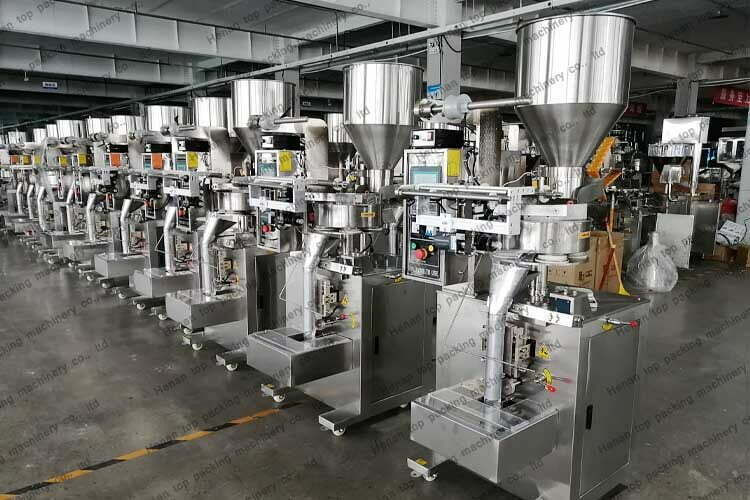 Benefits of TOP snacks packaging machine
Simple to install, clean, operate, and replace bag former
PLC touch screen controls the language, heat seal device temperature, bag length, packaging speed, the switch of photoelectric device, etc.
The button "step" can click to test machine, saving film and convenience.
Four wheels are equipped in the bottom of machine, easy to move.
Photoelectric detectors cut more accurately, with high efficiency.
Cutter protective cover is used around of cutter, more protective.
The measuring cap could be adjustable according to your needs.
Custom service available
Contact us
Snacks packing machines for sale in Top Packing Machinery Co., Ltd have snacks granule packaging machine snacks pillow packaging machine, and snacks lapel packaging machine. Their internal structure, devices, and external appearance are different. Which kind of packing equipment to choose closely depends on your needs, such as the food to package, bag length and width, bag types, sealing and cutting methods, etc. Besides, some equipment that could match with snacks packing machine is available, such as labeling machine, Nitrogen filling equipment, conveyer belt, etc. If you are interested in our packaging machines and need more details about them, get in touch with us and tell us your requirements. We will do our best to help your business.