Food packaging machine is a quite significant part of packing machine. It can handle various food packaging of powder, granule, liquid, pieces, paste, etc. The packing machine highly improves production efficiency and saves labor. The automatic packing machine for food can independently complete the whole process of bag forming, weighing, filling, sealing, cutting, counting, and so on. Packaging styles about the back seal, 3-side seal, 4-side seal, and pyramid bag are optional. Besides, some devices that can match with food packing machines are available, such as loading conveyor, output conveyor, date printer, nitrogen filling device, the mould of sealing and cutting device with a puncher, etc. You can choose and purchase based on your needs. Furthermore, we support customization service according to your specific requirements. Contact us soon to get more details and get useful suggestions.
Various types of food packaging machine for sale
Food packaging machine for sale in Henan Top Packing Machine mainly includes powder packing machine, granule packing machine, liquid packing machine, vacuum packing machine, pillow packing machine, vertical packing machine, automatic packing machine, etc.
Powder packing machine can pack the weight of 0-80g, 0-1kg, 1-3kg, 1-5kg, or 5-50kg per bag.
Granule packing machine is involved in granule packaging machine for small granules, multi-head weigher packaging machine, chain bucket packaging machine, etc.
Liquid packing machine is suitable for liquid with good fluidity.
Vacuum machine for food packaging includes single chamber vacuum packaging machine, double chamber vacuum packaging machine, and stretch film vacuum packaging machine.
Vertical packing machine includes packing machine for powder, granule, and liquid, occupied a small floor space.
Pillow packing machine, also named horizontal packaging machine, applies to pieces of food with definite shapes.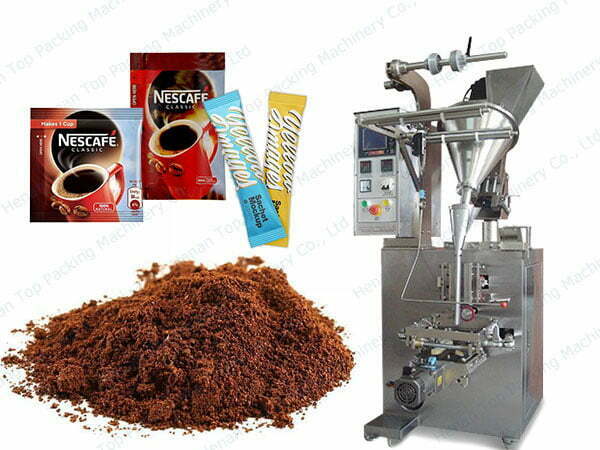 0-80g pouch powder packing equipment parameters
Packing style (Bag style): 3-side seal /back seal / 4-side seal
Packing speed: 20-80 bags/min
Power Consumption: 1.8kw
Weight: 250kg
Dimensions: 650*1050*1950mm
Packing weight :0-80g
Bag width :20-150mm ( replace bag former)
Bag length:30-180mm adjust
Note: custom service available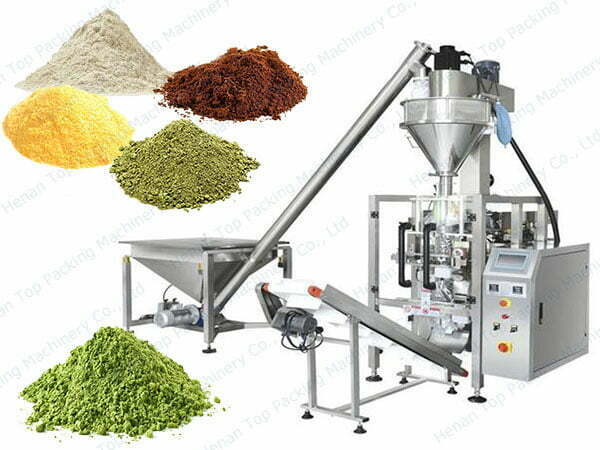 1kg-3kg powder packaging equipment parameters
Bag length: 80-400mm(L)
Bag width: 80-250mm(W)
Max width of roll film:520mm
Packing speed:5-50bags/min
Measuring range: 3000ml(Max)
Air consumption:0.65Mpa
Gas consumption:0.4m³/min
Power voltage: AC220V/50HZ
Dimension: (L)1150×(W)1795×(H)11650mm
Deadweight of machine:600KG
Note: OEM available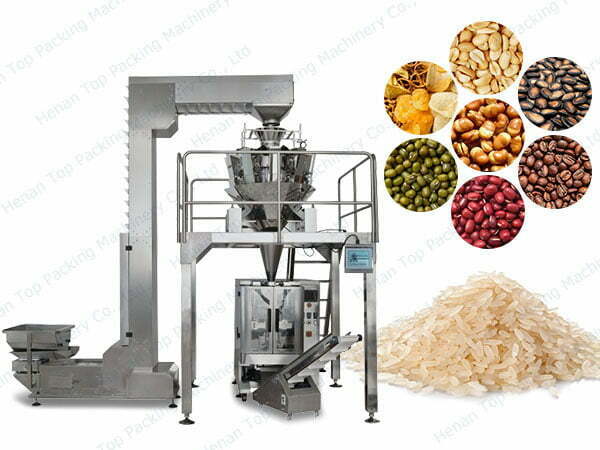 TZ-520 multi-head weigher packing machine parameters
Film width: Max.520
Bag length (mm):80-350
Bag width (mm):100-250
Film diameter (mm): Max.320
Packing speed (P/min):5-60
Measuring range:2000
Power(220v 50/60HZ):3KW
Dimension (mm):1488*1080*1490
Note: OEM service available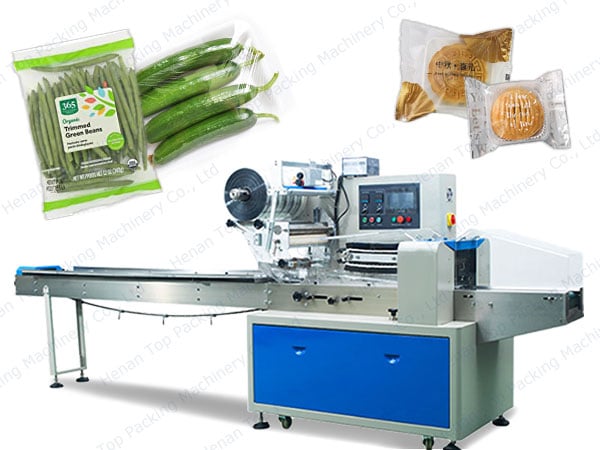 TH-450 pillow packing equipment parameters
Film width: Max 450 mm
Bag Length: 130-450 mm
Bag Width: 50-80 mm
Product Height: Max.70 mm
Packing speed: 30-180 bag/min
Power:220V,50/60HZ,2.6KVA
Weight:900 kg
Dimension: 4020*745*1450 mm
Note: can be customized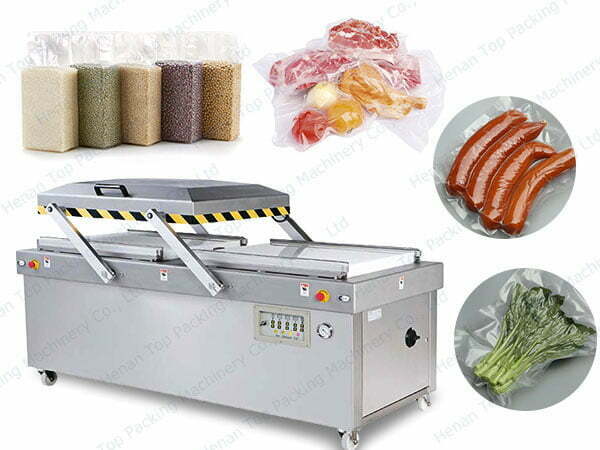 Double chamber vacuum packing machine parameters
Voltage: 380V/50HZ
Vacuum pump power: 1.5 KW
Sealing power: 1.17KW
Absolute pressure: 0.1pa
Number of sealing strips: 2
Sealing strips size: 500mm*10mm*2
Chamber material: 304 stainless steel
Cover material: organic glass
Chamber size: 560*525*160(mm)
Machine size: 1260*605*960(mm)
Machine weight: 150kg
What are the benefits of a food packing machine?
Simple structure to install, operate, maintain and replace parts;
Run stably, working efficiently and accurately, saving labor;
Adopt food-grade material to contact with food, health and easy to clean;
PLC touch screen control using language, packaging speed, bag length, sealing temperature, etc.;
Bag former can make back seal, 3-side seal, 4-side seal, or pyramid bag;
Various kinds of food packing machine are optional, fully automatic or semi-automatic;
Emergency button is designed as a safety precaution;
OEM service is available.
Wide application of packing machine for food products
Food packaging machine has a wide application in all kinds of food. Packaged food can effectively prolong storage time with a good appearance.
Powder packing machine: coffee powder, cocoa powder, milk powder, flour, cornflour, chilli powder, rice powder, spice powder, curry powder, matcha powder, etc.
Granule packaging machine: coffee bean, tea, broad bean, melon seed, snacks, sugar, peanut, cashew, seed, rice, biscuit, nut, and so on.
Liquid packing machine: water, milk, juice, soy milk, yogurt, soda water, wine,beer, etc.
Vacuum packing machine: sausage, bacon, dried tofu, beef, pork, chicken, vegetable, fruit, rice, tea, peanut, nuts, dried fruit, biscuit, corn, flour, grain, etc.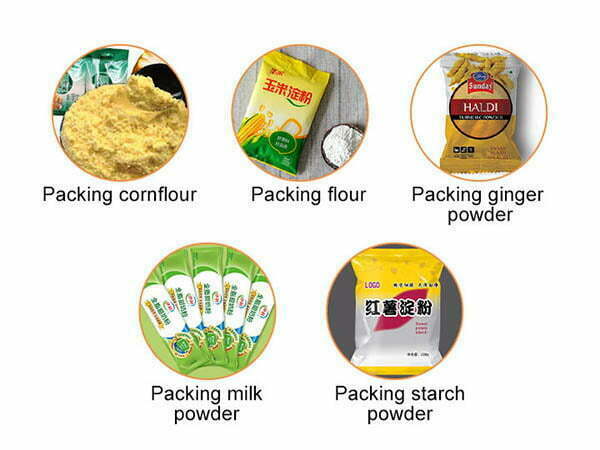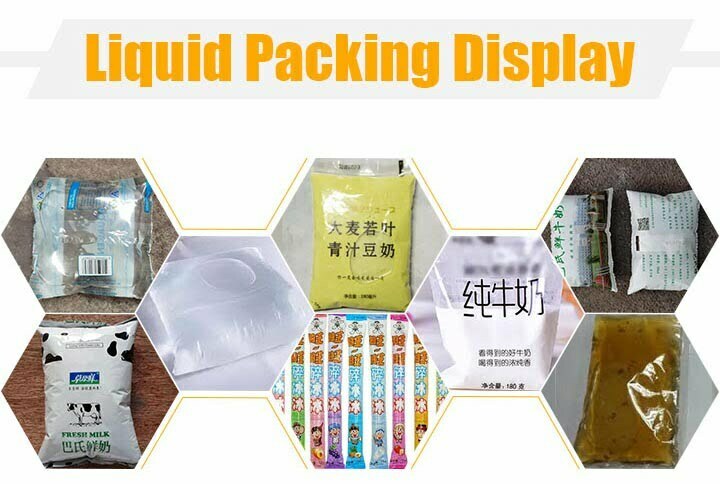 Categories of food packing equipment
For the status of food, powder packing machine, granule packing machine, liquid packing machine, etc;
On the basis of automation, fully automatic food packaging equipment, semi-automatic packaging equipment;
From the shapes of food packaging machine, vertical packaging machine, pillow packaging machine;
According to vacuum or non vacuum, food vacuum packing machine and others;
Based on the dimension of machine, there are small packaging equipment for food and large food packaging equipment.
Do you know these about food packaging machine price?
Food packaging machine price is closely related to the types of machine, the manufacturing material, the efficiency of equipment, and so on. Firstly, our food packing machine for sale includes the equipment for powder, granule, liquid, pieces, etc. Different types of food packaging equipment differ in price. Secondly, the body material of the machine also is a factor in price because food packing equipment needs high quality of food-grade material for people's health. Thirdly, the efficiency of equipment has an influence on price. For instance, compared with the single chamber vacuum packaging machine, the double chamber vacuum packaging machine works more efficiently and more expensive. Besides, customized machine price depends on your requirements for equipment. If you want to know more information about our products, contact us today to get a free quotation.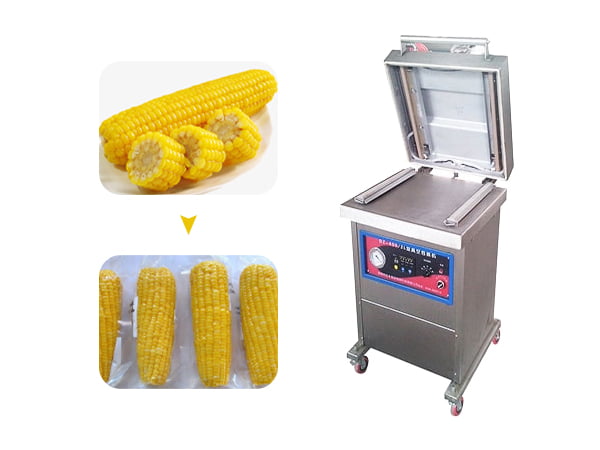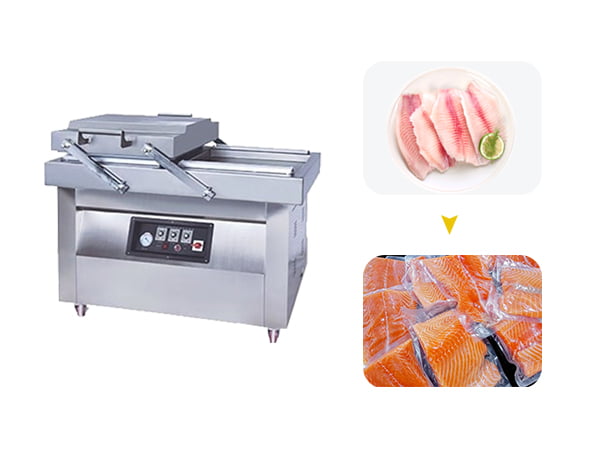 Why is a food packing machine important?
Packaged food has become an important part of our life because it's convenient to carry, store, and deliver, such as packaged biscuits, bread, chips, popcorn, snacks, coffee, spice, milk, yogurt, dried fruit, dried tofu, sausage, corn, etc. An excellent food packaging machine can highly improve working efficiency and accuracy. And there are various kinds of food packing machines optional. You also can choose according to the packaging sizes and styles. Besides, food packing equipment can match with pretty film patterns about your products to attract more customers to purchase, which is also beneficial to spread your brand. Furthermore, the machine adopts food-grade material which is healthy and easy to clean. All above are the reasons why food packing machine is quite important.
Some tips about how to choose a suitable food packaging machine
Lots of food packing machines are for sale in the market. Do you know how to choose a suitable one according to your actual situation? Firstly, make sure the material you want to package. Powder, granule, liquid, pieces or other? Secondly, where do you use the machine, home or factory? The voltage should be taken into account. Thirdly, what are the packaging size and sealing styles when you choose a bag packing machine? Pouch, middle, big, or large? Back seal, 3-side seal, 4-side seal, or pyramid? You can select one according to your needs. Last but not least, consider your budget and the price of the machine but don't ignore quality. High-cost performance is the best choice. If you are ready to invest in a food packaging machine to start your business, contact us soon and we will do our best to provide good service for you.
Contact us for the best price
As a food packaging equipment manufacturer and supplier, established in 1992, we have extremely rich experience in the design, research, manufacturing, and marketing of packing machines. There are various types of food packaging machines available from us, such as powder food packing machine, granule food packing machine, liquid food packing machine, pillow packing machine, vacuum packing machine, etc. All our products have been passed international CE, ISO9001, GMP certificates. Besides, we have skilled staff to make sure the good performance and fast delivery of our machines. If you are looking for an excellent food packing machine, it is a good idea for you to contact us for more product profiles or the best price.