Sugar Sachet Packing Machine
| | |
| --- | --- |
| Model | CF-300 |
| Applications | Sugar, grains, nuts, tea, oatmeal, rice, dried fruit, peanuts, etc |
| Power | 800W |
| Packaging speed | 650-1000bag/h |
| Machine size | 56*63*168cm |
Sugar sachet packing machine is specially designed for packaging sugar. It can automatically finish the process of sugar weighing, filling, and sealing. The sugar sachet packaging machine can be adjusted to accommodate different packet sizes and shapes, as well as different sugar granule sizes. It also has safety features to prevent accidents and malfunctions.
There are lots of types of sugar pouch packaging machines for sale in Henan Top Packing Machinery, including electronic vertical packing machine, vertical granule packaging machine, horizontal pouch feeding machine, small quantitative filling machine for powder and particles. They all are able to package sugar into bags. Their structures, characteristics, and functions are different. And each of them has its own packaging scope for different packaging volumes. We support the customization service if you want to customize the equipment.
Type 1: Small electric sugar sachet packing machine for sale
Electric vertical sugar packaging machine consists of a feeding system and packaging system. It adopts an electric quantitative scale to weigh the material the operator wants to pack. The filling volume or weight can be adjusted on its control panel. The electric vertical packing machine for sugar can automatically complete weighing, bag forming, coding(optional), filling, sealing, cutting, and counting.
Packaging bag types have a back seal and side seal optional. The back seal sugar pouch packaging machine has four models, and the side seal one has three models available. The equipment not only can package sugar but also applies to various particles and powders, such as grains, nuts, tea, oatmeal, rice, dried fruit, peanut, coffee powder, milk powder, condiments, etc.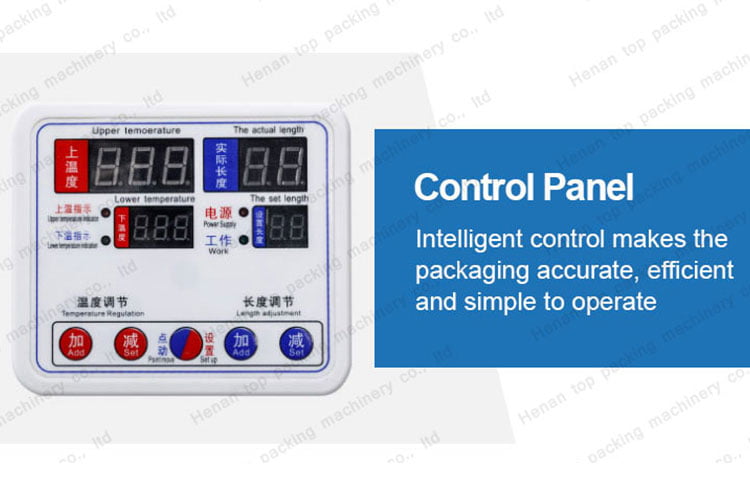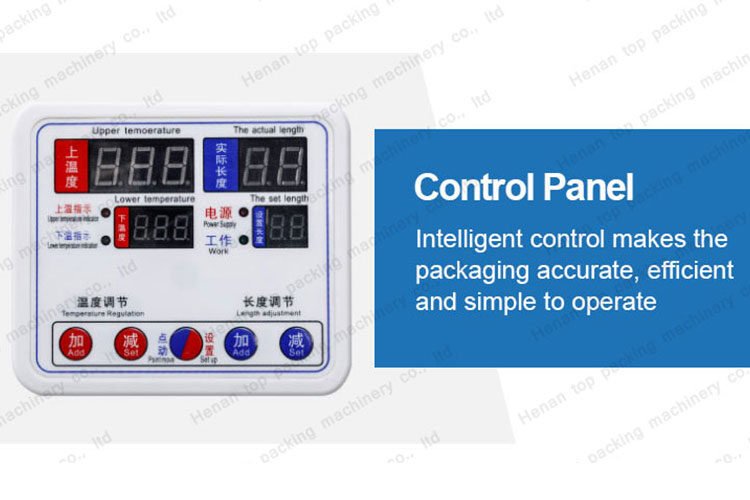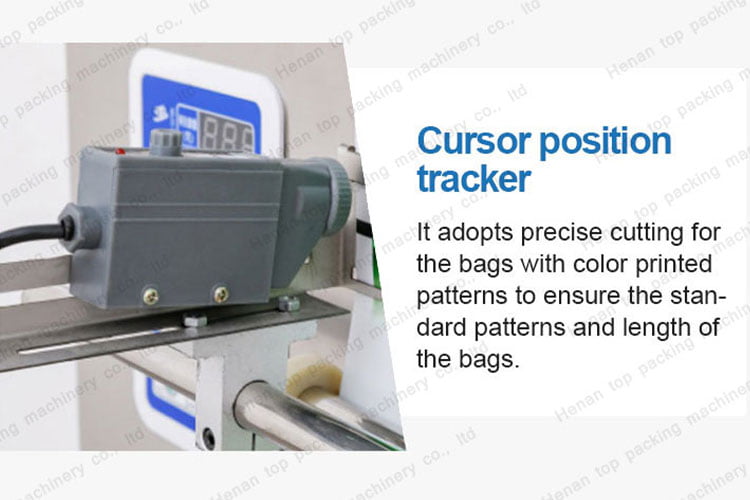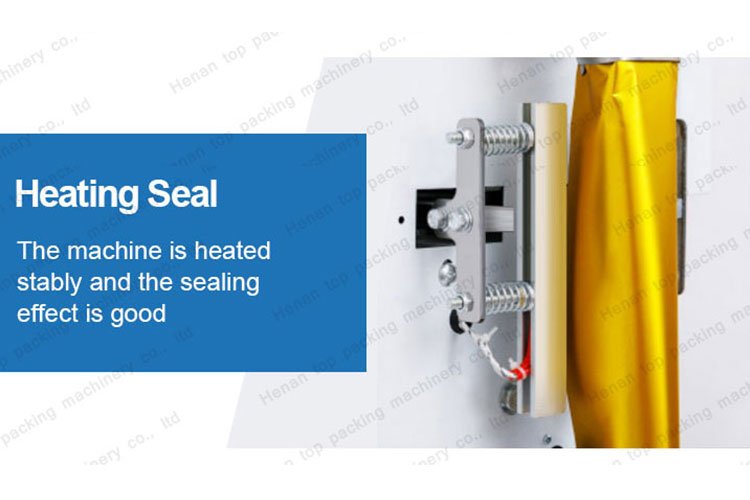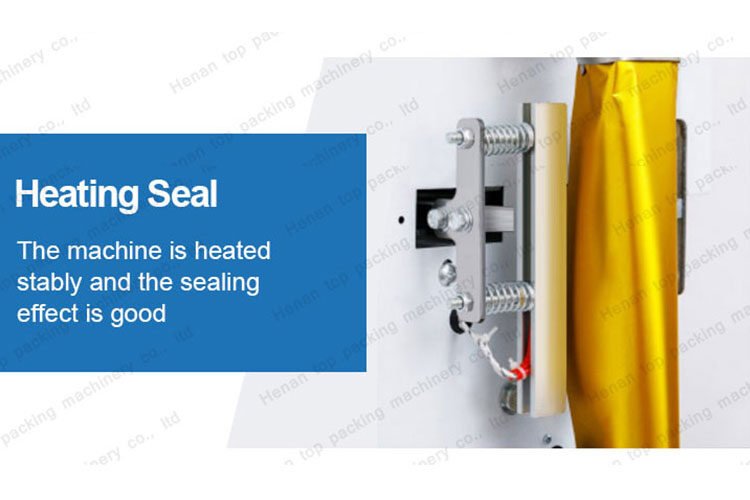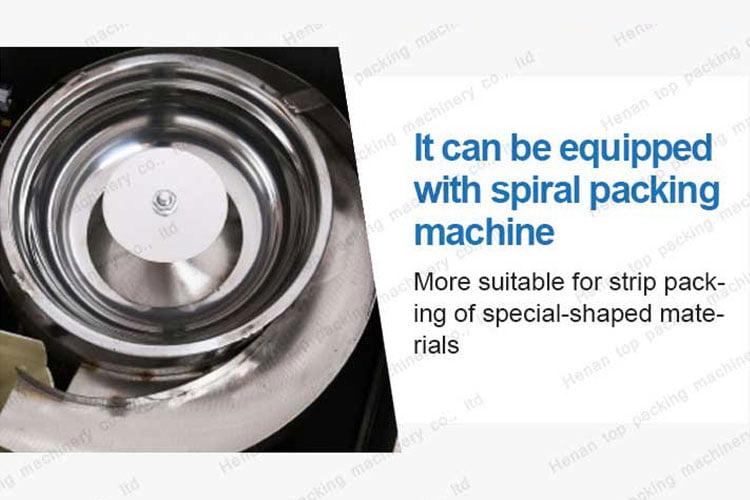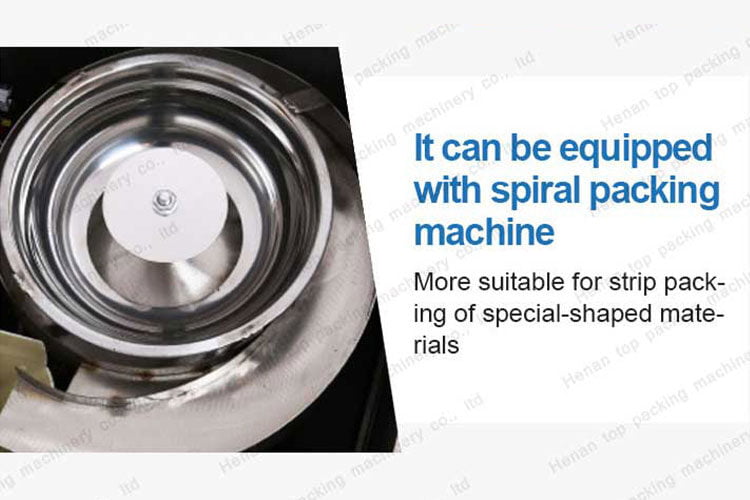 Technical data of electric packing machine for sugar
Here CF means 3-side seal packaging type, and BF is back seal type. For different requirements regarding packaging styles and sizes, people can choose the most suitable according to their actual situations.
| | | | | | |
| --- | --- | --- | --- | --- | --- |
| Model | CF-200/BF-200 | CF-260/BF-260 | CF-300 | BF-340 | BF-440 |
| Power | 600W | 700W | 800W | 800W | 900W |
| Packaging speed | 700-1200 bag/h | 650-1000 bag/h | 650-1000bag/h | 650-1000 bag/h | 600-950 bag/h |
| Packaging film width | 5-20cm | 21-26cm | 27-30cm | 27-34cm | 35-44cm |
| Bag length | 3-17cm | 3-22cm | 3-22cm | 3-22cm | 5-27cm |
| Machine size | 45*55*148cm | 56*63*168cm | 56*63*168cm | 56*63*168cm | 66*77*180cm |
Type 2: Vertical type sugar sachet packing machine for sale
Vertical granule packaging machine for sugar is composed of a hopper, tray, control panel with a PLC touch screen, bag maker, vertical heat sealing device, and horizontal sealing device with cutter. The equipment controls the volume of filling material by measuring cups in the tray. Two standard models are available. And both of them can make packaging bags of back seal, 3-side seal, or 4-side seal. You can select the suitable one based on your demands.
Furthermore, we provide OEM service as well according to your specific requirements for the sugar sachet packing machine. If you are interested in it, you can get in touch with us today, and we will reply to you as soon as possible.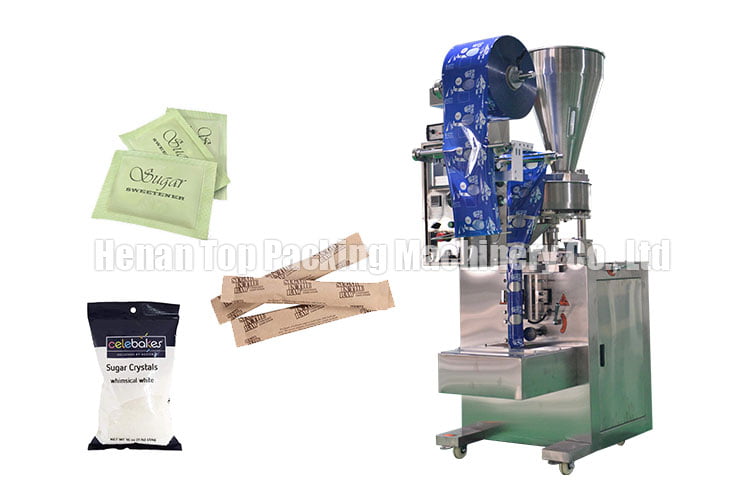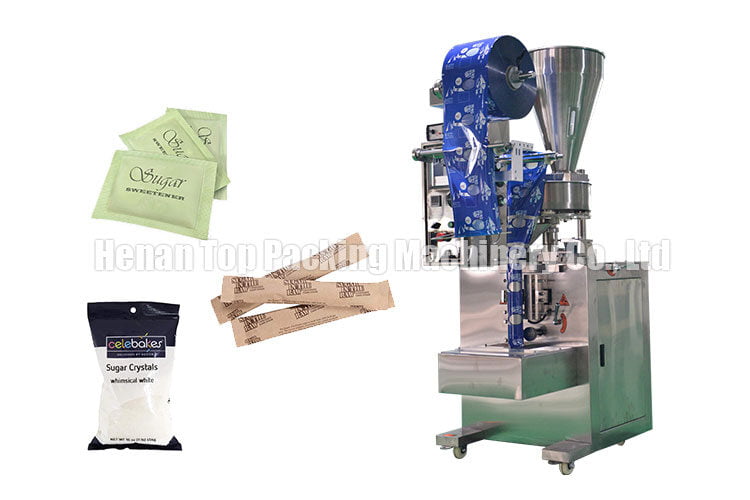 The packaging effects available from the vertical granule packing equipment


Vertical sugar sachet packaging machine parameters
For white sugar, the maximum packaging weight usually is 200g per bag for the TH-320 type and 600g per pouch for the TH-450 type. The real packaging weight may be different for other raw materials because the packaging volume and weight are closely related to the size of the packaging bag. If there is no machine model you want, we also support a customization service.
| | | |
| --- | --- | --- |
| Model | TH-320 | TH-450 |
| Bag Style | back seal/3-side seal/4-side seal | back seal/3-side seal /4-side seal |
| Packing Speed | 32-72bags/min or 50-100bags/min | 20-80bags/min |
| Bag Length | 30-180mm | 30-180mm |
| Bag Width | 20-145mm(need to replace the former) | 20-200mm |
| Power Consumption | 1.8kw | 1.8kw |
| Weight | 250kg | 420kg |
| Dimensions | 650*1050*1950mm | 750*750*2100mm |
Type 3: Horizontal sugar bag feeding machine for sale
Horizontal pouch feeding machine for sugar is one kind of pre-made sugar sachet packing machine. The equipment can package powder, granule, liquid, or paste when matching with the correspondent material feeding system. It's suitable for a variety of pre-formed bags, including stand-up bags, zipper bags, back 3-side seal sachets, 4-side seal ones, etc. The sugar pouch feeding machine delivers packaging bags to fill and seal horizontally by the inline bag feeding system. After filling and before sealing, it can add a brush to clean the mouth of the packaging bag so as to seal it with a good effect. The width of the bag is less than 20cm.
Besides, some supporting devices are optional, like ribbon printer, ink-jet printer, puncher, zipper opening device, brush for cleaning bag mouth, and so on.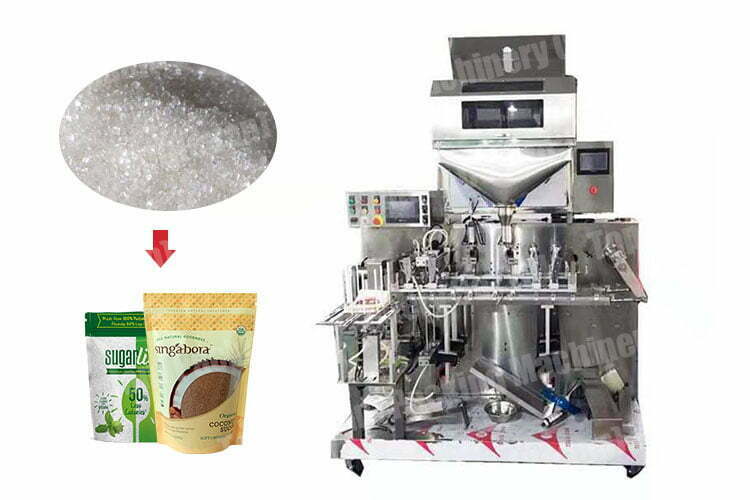 Type 4: Small desktop sugar sachet filling machine for sale
Desktop quantitative sugar bag filling machine is popular for small businesses because of their features of small, low cost, and high precision. It can be used alone or equipped with a packaging system to become an electric vertical sugar sachet packing machine. It's simple to operate. The operator only needs to set up parameters on its control panel and put bags or other containers on the outlet if using it alone. The small filling machine for sugar adopts an electronic scale that weighs sugar accurately.
Besides, the machine is made of stainless steel, durable, and easy to maintain. For those who want to be our distributor, we will provide a more competitive price if purchasing lots of machines.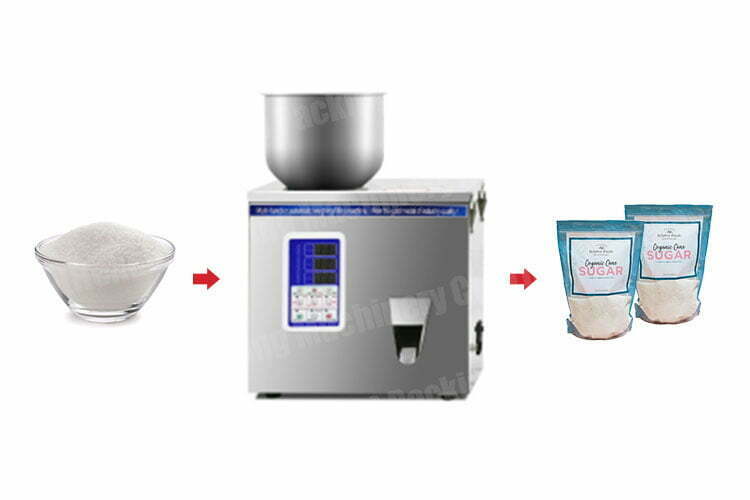 How to choose a sugar sachet packing machine?
When we want to invest in a sugar sachet packing machine, we usually need to consider three aspects. Firstly, it's the sugar packing machine price. High-cost performance is the best choice for most buyers. If the budget is small, you can choose the desk quantitative sugar filling machine or electric vertical sugar sachet packaging machine. Secondly, production output is a factor that can be taken into account. For small output, a small sugar sachet packing machine can satisfy the demands.
While large outputs require a bigger automatic packaging machine. And it's better to think about its potential in the future. Thirdly, what is the packaging bag you want to use? Stand-up bag, zipper bag, back seal, 3-side seal, or 4-side seal bag? You can choose from this perspective as well.
What can you get if cooperate with us?
Henan Top Packing Machinery Co., Ltd is a company that has rich experience in the packaging industry. As a packing machine manufacturer and supplier, we provide a variety of packaging machines with good quality and the best price. Our professional staff will take extremely strict quality testing for the equipment before delivery. And we will send photos and videos to the buyer before shipping. Besides, we also have an English video and manual to help the purchaser to install the machine. If you have any questions about the machine, 24 online service is available. In addition, we support customization services according to your specific requirements.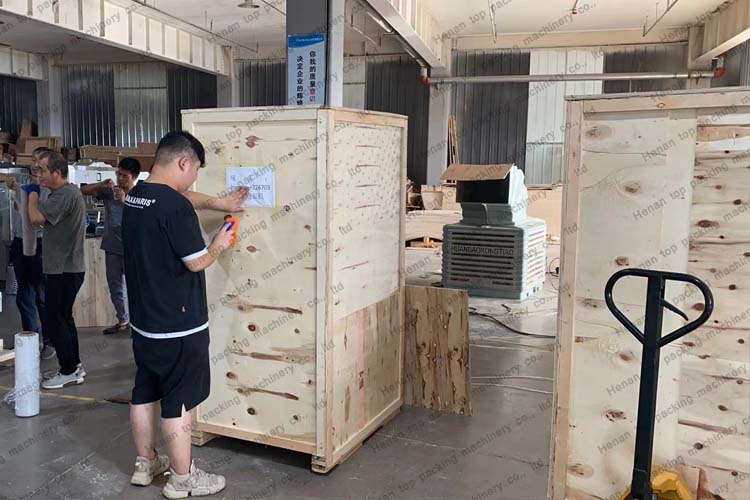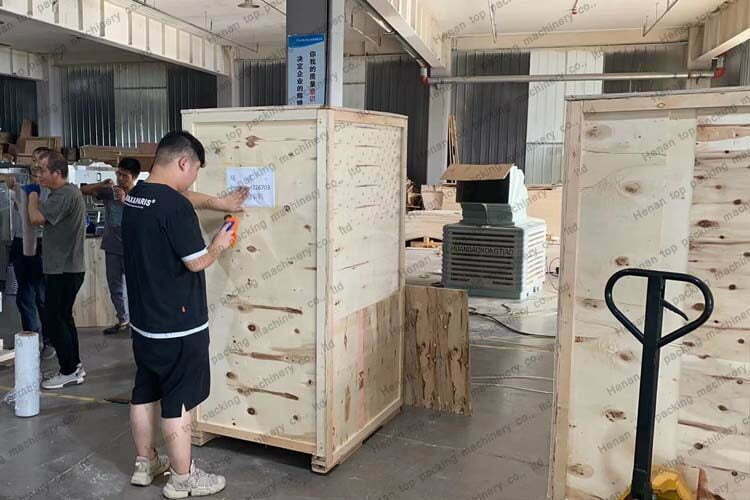 Conclusion
Sugar sachet packing machine is a useful tool for packaging sugar into convenient, single-serve portions. With its ability to produce high volumes of accurately weighted sachets, it is an essential piece of equipment for the food and beverage industry. And choose what type of sugar packaging machine should according to your actual situation. Therefore, it can greatly benefit your projects. if you do not know what kind of machine you choose, contact our expert for more useful guidance.
Get in touch with us
Sugar sachet packing machine for sale in Henan Top Packing Machinery mainly includes electric vertical packing machine, vertical granule packing machine, horizontal pouch feeding machine, and small desktop sachet filling machine. You can select the model according to the actual situation, or get in touch with us to tell us your needs. Our professional staff will give you useful suggestions based on the packaging effect you want to receive. Besides, we also provide other packing machines, filling machines, capping machines, sealing machines, labeling machines, and so on. Do you need these machines to compose a production line? Furthermore, OEM service is available if you want to customize equipment. Looking forward to your contact information.