Horizontal pouch feeding machine
| | |
| --- | --- |
| Model | D-150 |
| Power | 380V/50-60HZ (3-phase) |
| Packaging speed | 25-45bags/min |
| Packaging size | W60-160mm, L100-250mm |
| Packaging capacity | 800ml |
| Machine size | L1700*W1050*H1100mm |
Horizontal pouch feeding machine is one kind of pre-made bag packing machine, mainly consisting of a material feeding system and a bag feeding system. The equipment can package different statuses of material, powder, granule, liquid, paste, etc., by changing different feeding systems. The packaging bag needs to be prepared and put in a certain place before starting the machine. It's suitable for various types of bags, such as stand-up pouches, zipper bags, three-side-seal bags, four-side-seal bags, paper bags, and so on. The packaging speed is closely related to filling speed and the capacity of the packaging bags. Furthermore, we also supply rotary bag feeding machines. All sizes of machines can be customized according to your needs.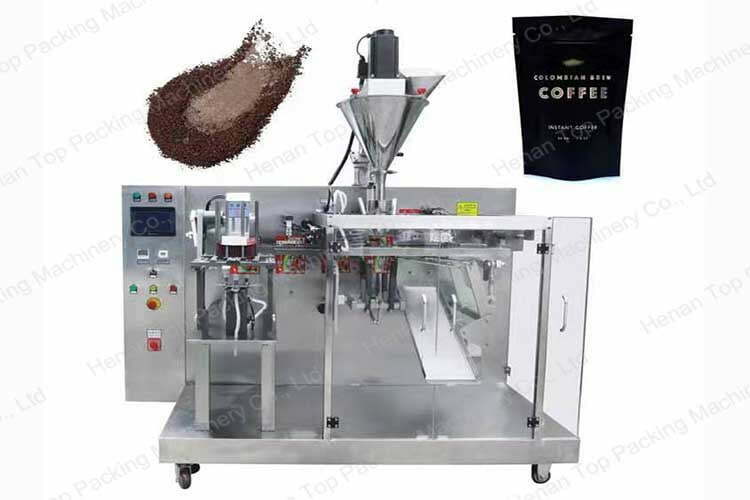 Horizontal pouch feeding machine for sale
Premade pouch filling & sealing machines can be equipped with different feeding devices to fill different status of materials. For instance, if you want to package powder, the feeding part is a hopper with a spiral auger to control the volume of filling. Similarly, a turntable with measuring cups is used for small granules packaging, multi-head weigher for bigger granules, liquid pipes for liquids, paste barrel for pastes. The horizontal pouch feeding machine adopts a horizontal pouch feeding system, passing several working positions for filling and sealing. Besides, we also provide the rotary pouch feeding machine. In addition, OEM service is available according to your requirements. Contact us to get more details, and we will reply to you as soon as possible.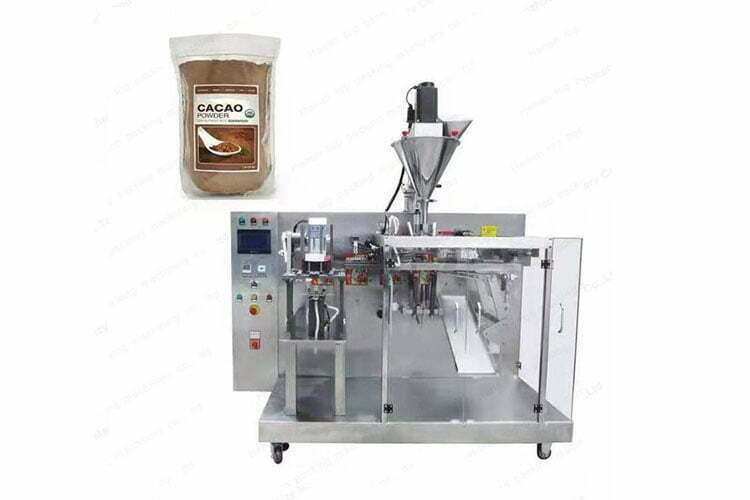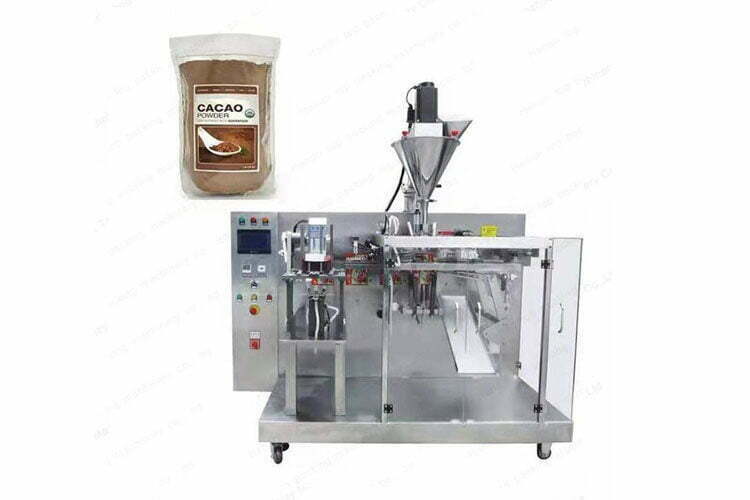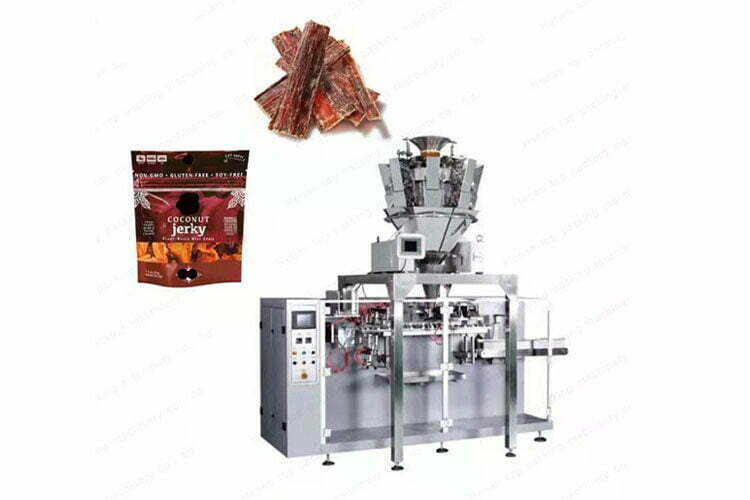 Horizontal pouch feeding machine parameters
| | | | | |
| --- | --- | --- | --- | --- |
| Type | TH-200 | D-150 | D-200 | D-250 |
| Power | 380V/2.5KW | 380V/50-60HZ (3-phase) | 380V/50-60HZ (3-phase) | 380V/50-60HZ (3-phase) |
| Packaging speed | 20-50bags/min | 25-45bags/min | 25-45bags/min | 25-45bags/min |
| Packaging size | 100-210mm/110-320mm | W60-160mm, L100-250mm | W80-210mm, L100-320mm | W100-260mm, L110-350mm |
| Packaging capacity | 20-1000g(depends on the filling material) | 800ml | 1200ml | 2000ml |
| Air consumption | 0.7m3/min | 0.3m3/min | 0.3m3/min | 0.3m3/min |
| Machine weight | 600kg | / | / | / |
| Machine size | / | L1700*W1050*H1100mm | L2150*W1350*H1300mm | L2450*W1200*H1200mm |
Features of horizontal premade pouch filling machine
Reasonable design, automatic packaging, simple operation, wide applications
Suitable for various kinds of pre-made bags in the scope of packaging sizes for the machine
Equipped different feeding devices according to the status of material, such as powder, granule, liquid or paste, etc.
PLC color touch screen with multi-functional design, multi-language support, setting up packaging parameters conveniently
Adopt imported detector, no filling material no sealing, saving packaging bag, ensuring working process going smoothly
The position for placing preformed bag is convenient, equipped with automatic pressing bag device.
The long dragging plate at the seal plays a role in buffering the packaged items to a certain extent.
The horizontal pouch feeding machine meets the sanitary standards of food processing machinery, and its parts in contact with materials are 304 stainless steel or other materials that meet the requirements of food hygiene to ensure the hygiene and safety of food.
Customization service available
Wide applications of premade pouch filling & sealing machine
The horizontal pouch feeding machine has a wide application in food, spice, chemical products, detergent, sauces, snacks, cosmetics, beverages, daily necessities, and so on.
Powder: milk powder, coffee powder, nutrition powder, condiment, cocoa powder, curry powder, vanilla powder, jaggery powder, masalajat powder, chilli powder, dyes, detergent powder, flour, cornflour, chemical powder, etc.
Granule: candy, peanut, green beans, cereal mix, tea, chips, melon seeds, monosodium glutamate, salt, corn granule, pistachio nuts, puffed food, grains, popcorn, etc.
Liquid: milk, juice, beverage, sauce, water, edible oil, peanut oil, soda, rice vinegar, detergent liquid, cosmetics, antiseptics, etc.
Paste: tomato sauce, salad dressing, peanut butter, honey, jam, shampoo, cosmetics, hand sanitizer, etc.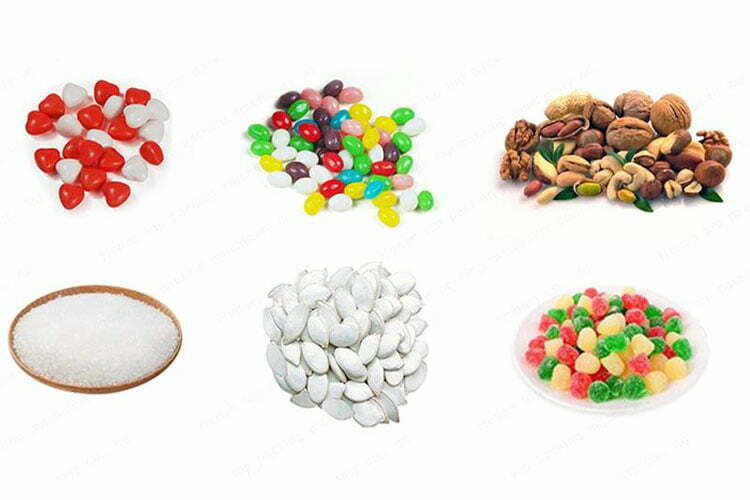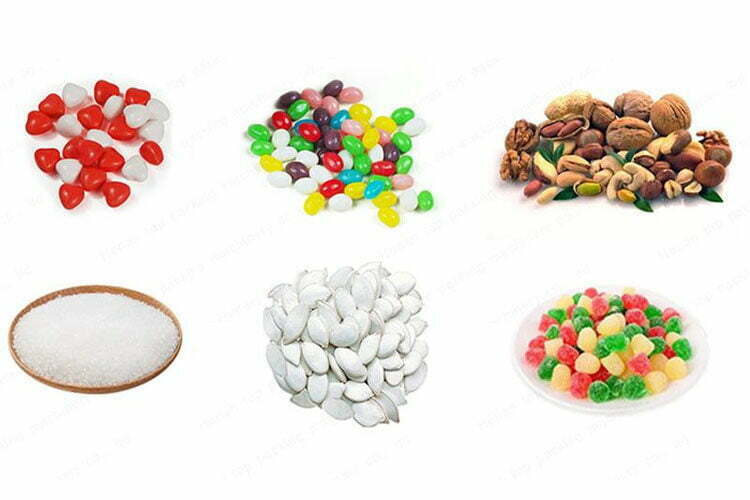 Horizontal pouch feeding machine structure
A horizontal pre-made bag packing machine is mainly composed of a material feeding device and bag feeding device. Material feeding system includes the devices for powder filling, granule filling, liquid filling, paste filling, etc. The bag feeding system has the functions of taking the bag, date printing(optional), opening the bag to fill, holding the bag, clear material around bag mouth(optional), sealing bag, etc. If the material is not easy to fill, it's better to add a lower vibration device to help to fill the material into bags. The zipper bag needs an additional zipper opening tool. Besides, the equipment needs to match with an air compressor when it works. The width of the bag is less than 20cm. Besides, there are some devices optional, ribbon printer, ink-jet printer, brush for cleaning bag mouth, puncher, zipper opening device, etc. Get in touch with us to get more information.
The functions of photoelectric eye detectors on the equipment
Detect whether the mechanical arm takes the bag or not. If not, the material feeding machine will not fill the material, and the bag will be conveyed out directly.
Check whether the bag is open or not. If the bag is not open, it still will transport the bag out directly.
Check the feeding system, if the bag does not fill material, then the sealing step will not conduct.
The plastic bag is easy to melt in high temperatures. If the plastic stick to the heat copper block, it will alarm automatically to ensure processing stably and avoid the waste of the bag.
Electric components brand list
| | | |
| --- | --- | --- |
| Item | Brand name | Production place |
| PLC | Siemens | Japan |
| Touch screen | Wenview | Taiwan |
| Temperature controller | Omron | Japan |
| Sealing air cylinder | Airtac | Taiwan |
| Vacuum Solenoid valve | Airtac | Taiwan |
| Vacuum pressure meter | SMC | Japan |
| Power switch | Mingwei | China |