Grocery packing machine is also regarded as a food packing machine. It is suitable for all food products bag packaging, involving powders, granules, pieces, and so on. Different shapes and sizes of groceries need different grocery packaging machines. Besides, there are vacuum packing machines and pre-made bag packing machines as well. From the perspective of automation, automatic packing equipment and semi-automatic one are available. You can choose the suitable food packaging machine according to the specific product you want to package, the packaging bag size, and the production output. Furthermore, you are able to contact us to get more detailed suggestions and the best price, and we also support a customization service.
Grocery packing machine for sale
Grocery packaging machine in Top(Henan) Packing Machinery for sale includes powder packing machine, granule packaging machine, multi-head weigher packing machine, pillow packing machine, vacuum packaging machine, pre-made pouch feeding machine, etc. No matter the food size is or how much you want to pack per bag, you can find corresponding packaging equipment to package it. The article will introduce these types of grocery packing machines one by one. Following it can help you know a lot of useful information about packing equipment for food products. If you want to know more details and the best price, welcome to get in touch with us.
Powder food packing machine
As the name implies, the food powder packaging machine is used to package powdery foods, like flour, cornflour, starch, wheat meal, rice flour, milk powder, coffee powder, and so on. We supply the powder packing machine for 0-80g, 20-200g, 500-1000g, 1-3kg, 1-10kg, and 5-50kg per bag. Among them, the former four are automatic packers, and the latter two are semi-automatic ones. An automatic bag packing machine for powder can complete metering, bag forming, filling, sealing, and counting. While semi-automatic ones need to match with a plastic bag sealing machine or sewing machine to seal the packaging bag. Most powder packaging machines are equipped with augers. Replacing screws can change the filling scope of material.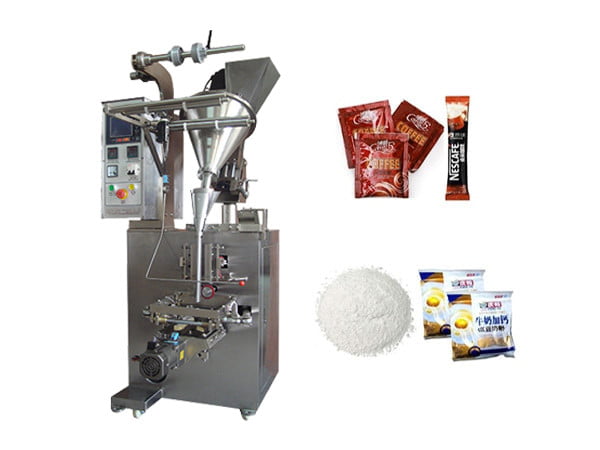 Vertical packaging machine for granular food
Particle grocery packing machine consists of PLC touch screen, sealing temperature display, hopper, turnable tray with measuring cups, bag maker, vertical sealing device, and horizontal sealing device. The packaging process is fully automatic after loading the materials into the hopper and setting up various packaging parameters, referring to measuring, bag making, filling, sealing, and counting. Four wheels on the bottom of the equipment make it convenient to move. The granule packing machine is suitable for small granules, such as rice, millet, red bean, green bean, soybean, sesame, barley, melon seeds, sugar, salt, monosodium glutamate, etc. Besides, the equipment also can add a date printer, chain bag device, nitrogen filling device, punching machine, output conveyor if needed.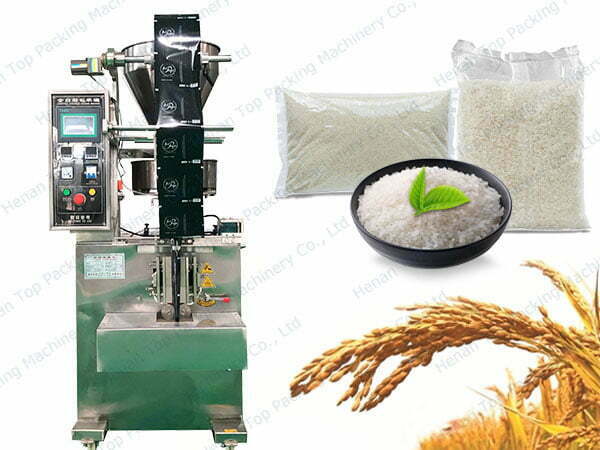 Multi-head combination packing machine
Multi-head weigher grocery packaging machine mainly includes three models, TH420, TH520, and TH720, named by the maximum width of roll film. Compared with vertical granule food packing machines, the multi-head scales packing equipment works more efficiently with wider applications. It applies to grains, snacks, puffed food, candy, peanut, nuts, chips, popcorn, oatmeal, shrimp strip, dried vegetables, biscuits, and so on. Generally, the common multi-head weigher has 10 head weigher and 14 head weigher. The packaging system is driven by pneumatic force, so it needs to match with an air compressor when it runs. Furthermore, we provide OEM service in accordance with your specific requirements, such as voltage and the number of weighers.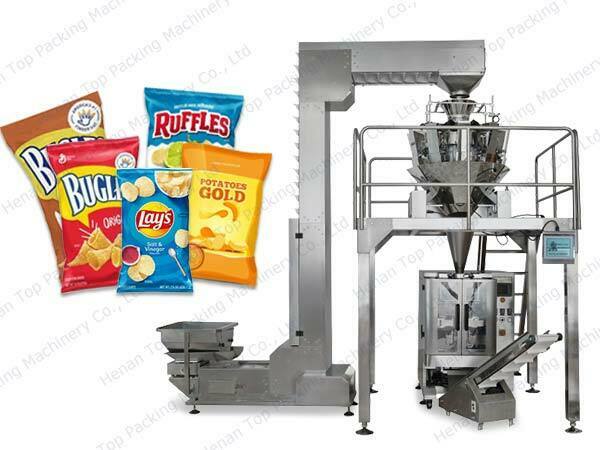 | | | | |
| --- | --- | --- | --- |
| Type | TH420 | TH520 | TH720 |
| Bag length | 80-300mm | 80-400mm | 100-400mm |
| Bag width | 50-200mm | 80-250mm | 180-350mm |
| Max width of roll film | 420mm | 520mm | 720mm |
| Packing speed | 5-30bags/min | 5-50bags/min | 5-50bags/min |
| Air consumption | 0.65mpa | 0.65mpa | 0.65mpa |
| Gas consumption | 0.3m³/min | 0.4m³/min | 0.4m³/min |
| Power voltage | 220V | 220VAC/50HZ | 220VAC/50HZ |
| Dimension | (L)1320*(W)950*(H)1360 | (L)1150×(W)1795×(H)1650mm | (L)1780×(W)1350×(H)1950mm |
Pillow grocery packing machine
Pillow food packaging machine is one type of horizontal packing machine. It's equipped with a long conveying device to transport objects to the packaging bag. The common conveying device and servo conveyor belt are optional. The former requires people to put the object between two lock catches, and these lock catches are placed evenly, so the food packaging length is limited. While the latter does not have the limit. For horizontal sealing devices, two types of roll film holders are optional, above or under the platform. If the food is easy to change shape, it's better to choose the pillow packing machine with a horizontal sealing device under the platform. Besides, the cutting device includes a reciprocating cutting device and spinning cutter with the single cutter, double cutter, or three cutters. With the spinning cutting device with more cutters, the packaging length is shorter.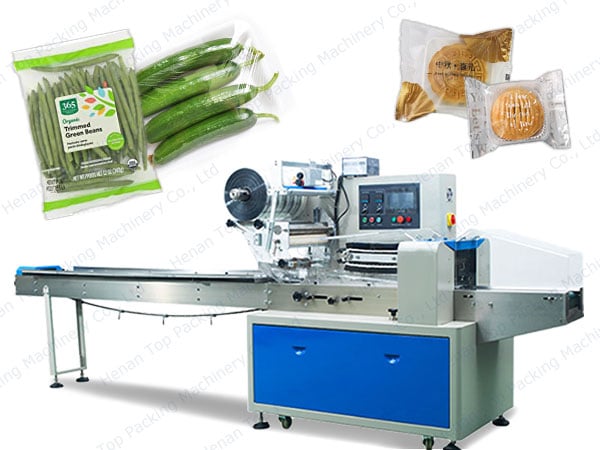 Vacuum packaging machine for food
Vacuum grocery packing machine for sale includes desktop vacuum packing machine, single chamber vacuum packaging machine, double chamber vacuum packing machine, and stretch film vacuum packing machine. All of them apply to meat, fruit, vegetables, rice, flour, sausage, corn, dried fruit, peanut, etc. The desktop vacuum packer is small in size, low cost, portable. The capacity of a single vacuum room packer is bigger than a desktop one, being able to package more groceries. The vacuum packing machine with a double chamber works more efficiently than one chamber. Stretch film vacuum packaging equipment is suitable for mass production of sachet vacuuming food, like dried tofu, quail eggs, sausage, cooked meat, and so on.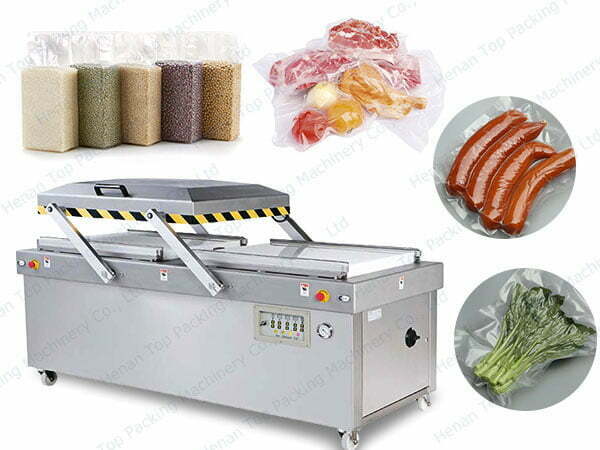 Pre-made bag grocery packing machine
The preformed bag packaging machine, also named pouch feeding machine, is composed of a material filling system and bag feeding system. The filling system can be matched according to the food you want to package. There is a powder filling system, granule filling system, double head scales, multi-head combination weigher optional. The bag feeding system includes the horizontal type and rotary type. The pouch feeding machine applies to various pre-made bags, such as stand-up bags, zipper bags, 3-side seal bags, 4-side seal bags, and irregular shape bags, etc. Before using the equipment, you need to prepare the packaging bags.
Why choose us to cooperate?
Our company is a packing machine manufacturer and supplier with rich experience in research, design, manufacturing, and selling. We provide various grocery packing machines at a reasonable price, involving the packaging of powder, granule, solid, pieces, liquid, paste, etc. And we supply whole production line on the basis of customer's needs, such as loading machine, coding machine, filling machine, packaging machine, sealing machine, labeling machine, carton sealing machine, conveyor belt, output conveyor belt, and so on. In addition, we support customization service according to your actual requirements. Welcome to contact us to get more details and the best price.