Granule packing machine
| | |
| --- | --- |
| Model | TH-320 |
| Applications | Rice, sugar, biscuit, nuts, seed, grains, popcorn, candy, potato chips... |
| Warranty | 12 months |
| Note | Custom service available |
Granule packing machine is very significant packaging equipment used in various food and non-food industries. Actually, it is a vertical type fill and seal machine for granular. Granule pouch packing machine is ideal for packaging products with good fluidity, such as rice, sugar, biscuit, nut, peanut, cashew nut, seed, grains, popcorn, grains, teas, potato chips, snacks, chocolates, pills, candy, coffee, cereal mix, etc. Granule packaging machine for sale in our company enjoys an absolutely good performance and affordable price. Besides, there are various types of granule packaging machines available, such as fully automatic granule packing machine, semi automatic granule filling machine, super-efficient multihead weigher packing machine, etc. And we support intimate OEM/ODM services to meet your unique requirements. Welcome to get in touch with us for the best price.
3 types of automatic granule pouch packing machine for sale
Granule packing machine for sale with absolutely good quality and factory price in Henan TOP Packing Machinery. Our granule packing machine is suitable for various granular materials, such as tea, potato chips, snacks, chocolate, rice, popcorn, candy, sugar, etc. There are all sorts of granule packaging machines available from us. Automatic granule packing machine with high efficiency, stable performance, and easy to operate. Semi automatic granule filling machine and manual granule packing equipment enjoy an affordable price. Besides, you can choose a small granule vertical packing machine or a high-efficiency multihead weigher packing machine according to the material you packaging. Furthermore, there are different bag styles(back sealing and three sides sealing), packing speeds, voltages, and powers available in Henan Top Packing Machinery Co., Ltd. Therefore, we can provide the most suitable packing machine in accordance with your actual situation. Leave us a message and we will send you the best price.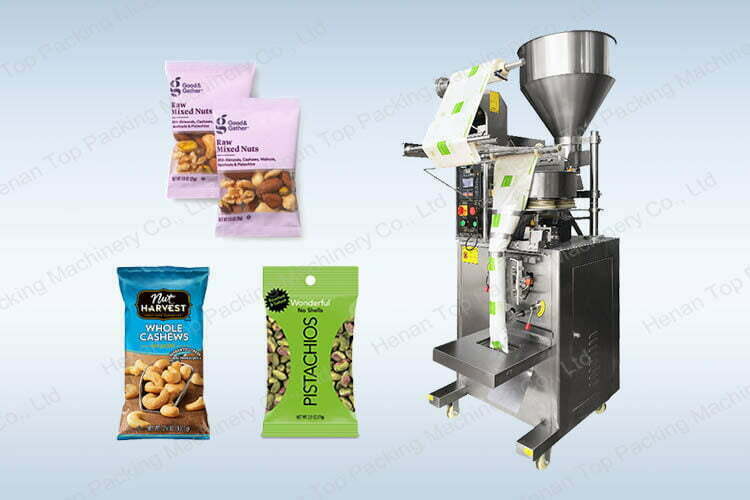 Features and benefits of the granule packing equipment
It can automatically complete the functions of bag-making, measuring, feeding, filling, sealing, cutting, counting, and printing, and can increase the function of easy tearing.
Step-less frequency adjustment can install different feeding systems and can be used for packing granule, liquid, and powder products.
The top granule packaging machine has a simple structure and reasonable design. Therefore, it is easy to install, operate, and maintain.
With an advanced PLC control system and 5-inch color touch screen, easy operation, and efficient performance.
Full 304 stainless steel machine housing.
Backside sealing/ 3 sides sealing available.
Detailed components of granule vertical packaging machine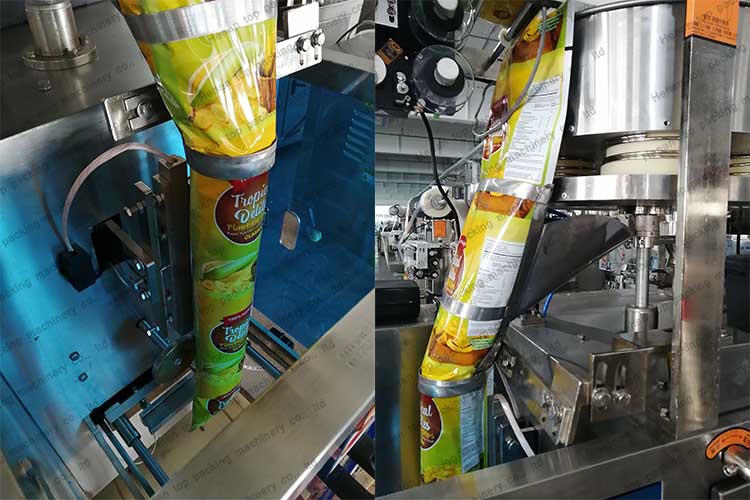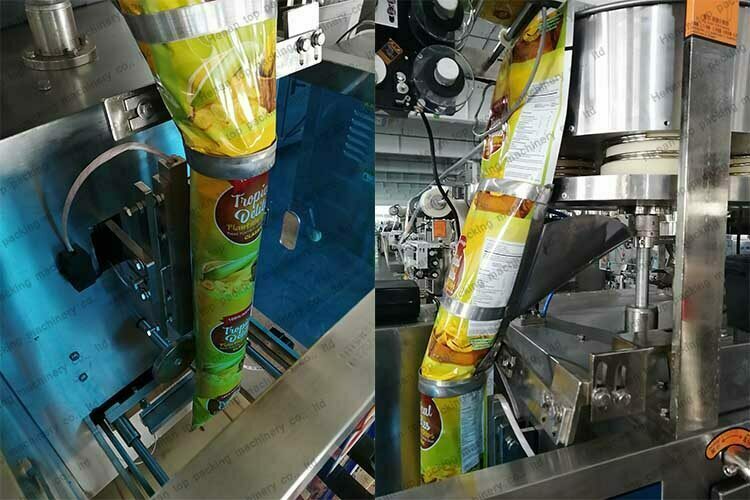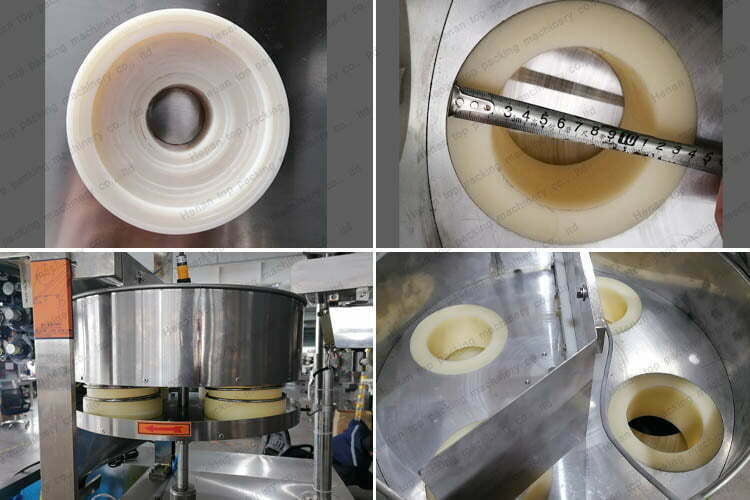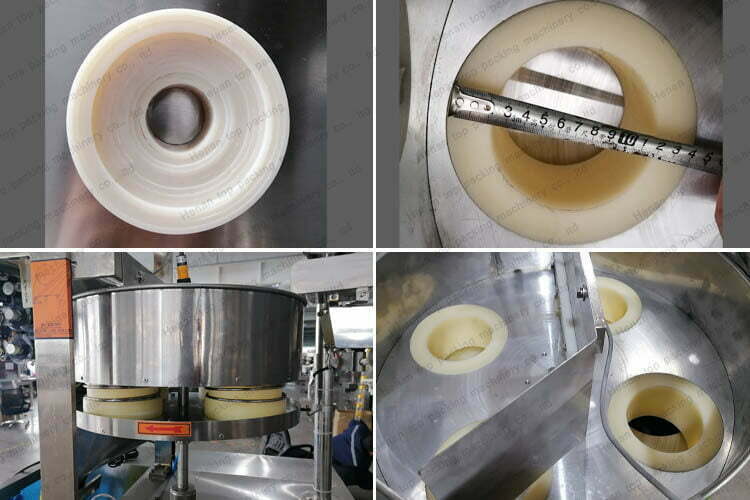 Main parts of multi-head weigher packing machine for particles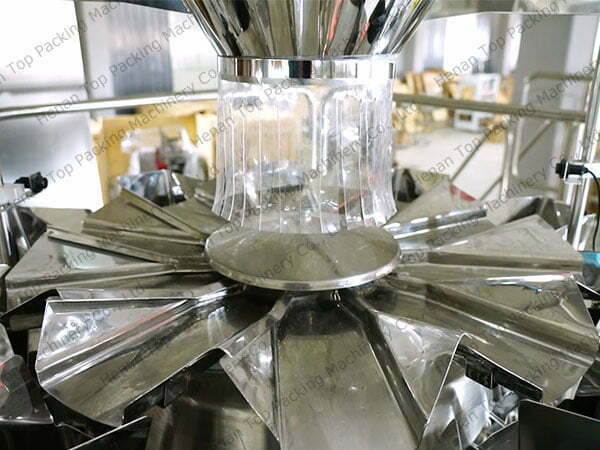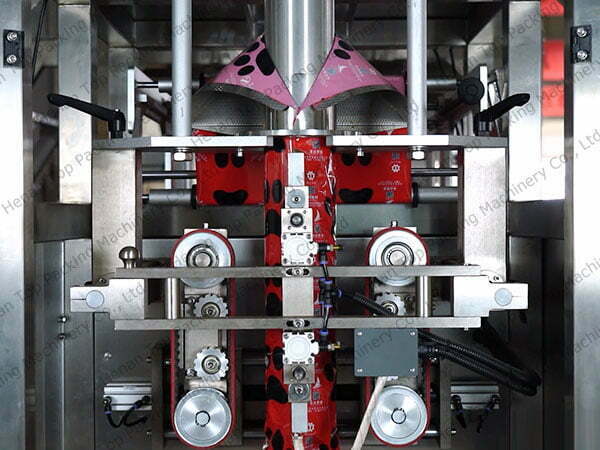 Applications of the automatic granule packaging machine
With reasonable design and advanced structure, the granule packaging machines have a very wide range of applications. It can apply to packaging puffed food, shrimp strip, peanut, melon seed, seed, monosodium glutamate, corn, jelly, sugar, salt, cereal mix, and so on. The pellet packing machine can finish automatic measuring, filling, bag-making, expiration date printing, and product output at one time, convenient and cost-saving.




Packing material
Polyester/aluminizing/Polyethylene, polypropylene/polyethylene aluminum foil/Polyethylene, nylon/Enhanced polyethylene, tea-leaf filtering paper, paper/Polyethylene, etc.
What is the granule packing machine price?
Granule packaging machine price is closely related to lots of factors, such as material, transportation cost, tax cost, parameters, etc. Every factor can greatly affect the granule packing equipment cost. For example, the shipping cost increases hugely in 2021. In addition, the cost of the packing machine is definitely related to your requirements. Because packaging equipment with different specifications(material, bag style, packing speed, etc) has totally different prices. For instance, the automatic packing machine price is much higher than the manual packing machine price. And large packing machine cost is more expensive than small packing machine cost. Therefore, if you want to purchase a quality granule packaging machine, please tell us your detailed requirements, and we can give you the best quotation.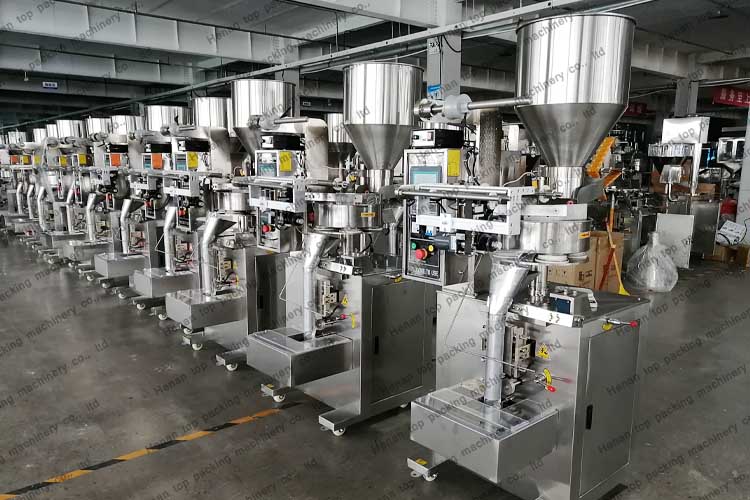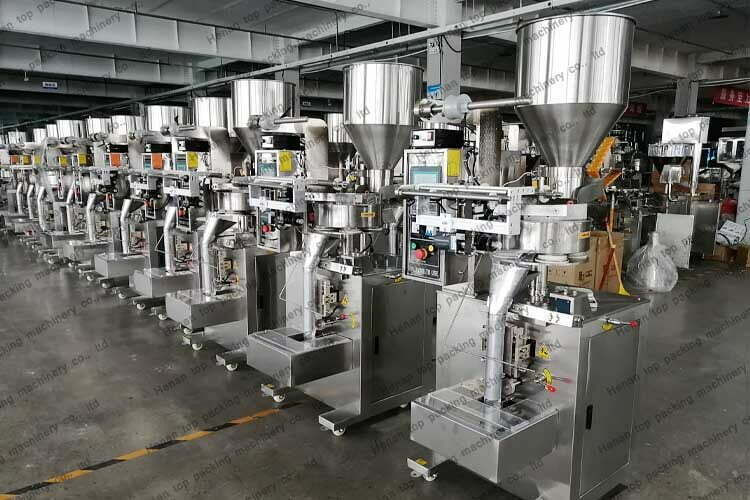 How to maintain a granule packaging machine?
Check the parts regularly, check whether the parts rotate flexibly, and repair the defects in time once found.
When the machine is stopped for a long time, it is necessary to wipe the whole body of the machine.
Pay attention to the electrical parts of the waterproof, moisture-proof, and anti-corrosion, the electric control box and terminal should be kept clean. In case of electrical failure.
When the equipment is not in use, it is significant to flush the residual liquid in the pipeline with clean water in time, wipe the machine and keep it dry and clean.
How granule packing machines work?
The packing process begins when granules are fed into the machine via a hopper or feeder. The granules are then dispensed into a package or container using a filling mechanism, which can be a valve, spout, or chute. The packed product is then sealed and labeled, if necessary.
A granule packing machine consists of several components, including:
Control panel: This component controls and monitors the operation of the machine.
Weighing system: This component measures the weight of the granules being dispensed into the package.
Filling mechanism: This component dispenses the granules into the package or container.
Packaging material handling system: This component handles the packaging material, such as bags or containers, during the packing process.
Advantages of using automatic granule packaging machine
There are numerous advantages to using granule packing machines, including:
Increased speed and accuracy of packing: These machines can significantly increase the speed and accuracy of the packing process, resulting in improved efficiency and productivity.
Improved consistency and uniformity of packed products: Using a granule packing machine can improve the consistency and uniformity of packed products.
Reduced labor and material costs: Using a granule packing machine can reduce labor and material costs associated
Maintenance and troubleshooting of granule weighing packing machine
Proper maintenance and troubleshooting of granule packing machines are essential to ensure their smooth operation. Common issues that may arise include malfunctions in the control panel, weighing system, or filling mechanism. It is important to regularly inspect and clean these components, as well as follow the manufacturer's recommendations for maintenance. In the event of a problem, it is recommended to follow the troubleshooting guidelines provided by the manufacturer or consult a trained professional.
Granule pouch packing machine manufacturers China
As one of the leading granule packaging machine manufacturers in China, our products are highly competitive both in quality and price. Firstly, we have rich experience in the design, research, manufacture, and marketing of packaging machines. We have established a mature supply chain system and quality control system. Secondly, factory direct features make our product more competitive. Our granule packaging equipment price is more favorable than many other packing machine manufacturers. Thirdly, Henan Top Packing Machinery has a strong capability to offer OEM service to accurately fit your special needs. Looking for a reliable packaging equipment manufacturer? Contact us today and start your successful business.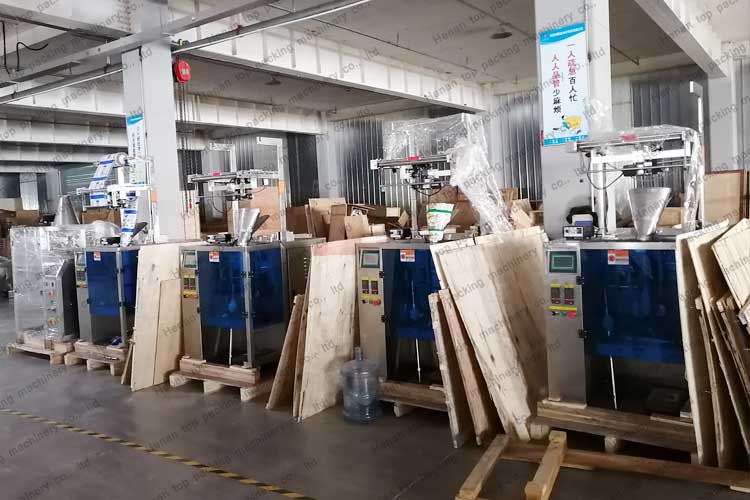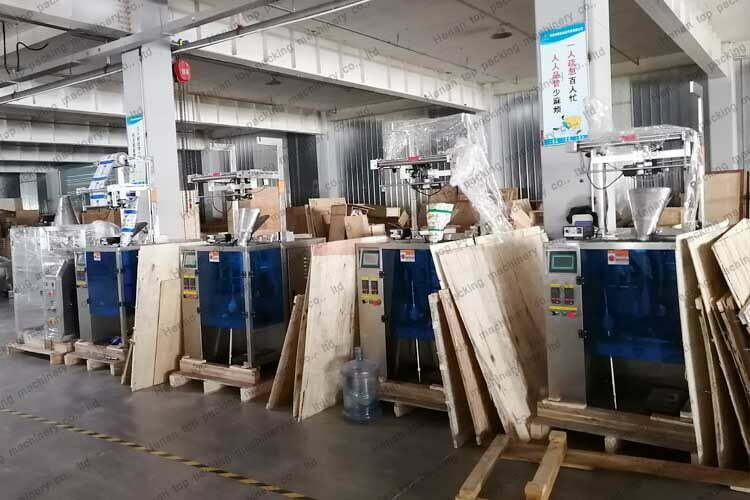 Get in touch with us for the best price
As one of the leading packing machine manufacturers in China, we provide a complete range of granule packing machines with excellent performance and affordable prices. Besides, there are also various kinds of liquid packing machines and powder packing machines available in the Henan TOP Packaging Machinery. Furthermore, we have highly skilled staff to make sure the rich products and fast delivery of our equipment. Are you looking for a reliable granule packing equipment manufacturer? Contact us today for more information and the best prices.