Sunflower Seed Packing Machine
| | |
| --- | --- |
| Model | TH-320 |
| Applications | Sunflower seed, nuts, sugar, salt, popcorn, potato chips, grains, etc |
| Power Consumption | 1.8kw |
| Weight | 250kg |
| Dimensions | 650*1050*1950mm |
Sunflower seed packing machine is significant and essential for the sunflower seed manufacturing industry. Sunflower seed packaged not only can extend the life but is also easy to store and transport. Besides, it can attract more consumers to your business. Sunflower seed packaging machine for sale here is a kind of automatic pouch packing machine for granule food products. With food-grade body material and stable performance, it is suitable for packaging sunflower seeds, peanut, cashew nuts, grains, teas, snacks, rice, biscuit, beans, sugar, etc. As a strong packing machine manufacturer, we provide various sunflower seed packing machines to meet your specific production needs. If you any interested, please contact us for a free price list.
What is sunflower seed packing machine?
Sunflower seed packing machine is great packing equipment to highly improve sunflower seeds packaging efficiency. It can fully automatically complete the process of weighing, filling, bag making, date printing, sealing, cutting, and counting.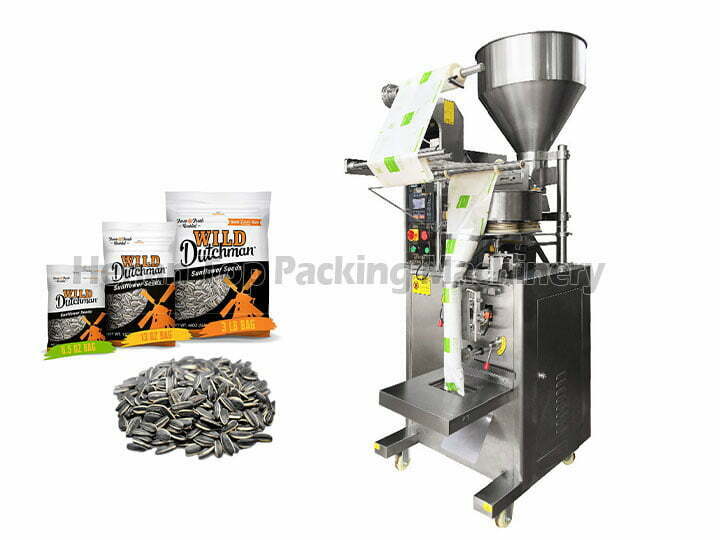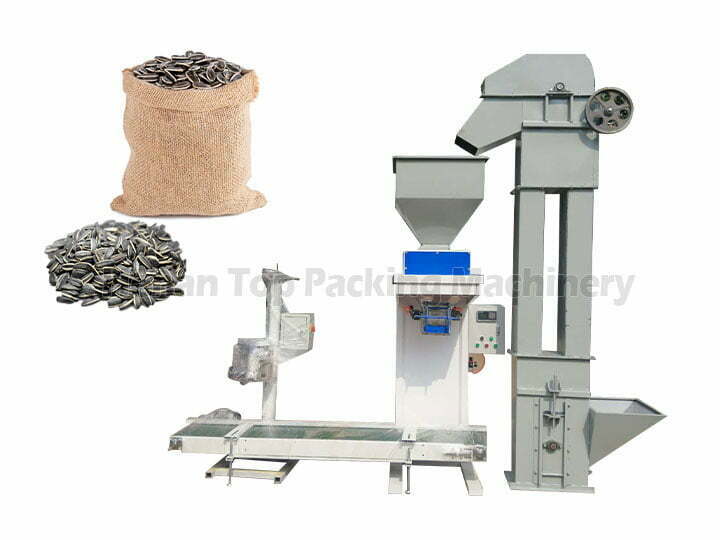 3 different types of sunflower seed packing machine for sale
For different production requirements of our consumers, we research and manufacture 3 totally different types of sunflower seed packing machines. They have different advantages and features. And they can meet different production demands, packaging efficiency, and budgets. Have a peek at these machines below to choose the best for your project.
Type 1: Small vertical sunflower seed fill and seal machine
This sunflower seed filling sealing machine is a fully automatic packaging machine. It has a small size, affordable price, and good performance. The small sachet packing machine is ideal for small production requirements. Back-seal, three-side sealing, and four-side sealing are available from this machine.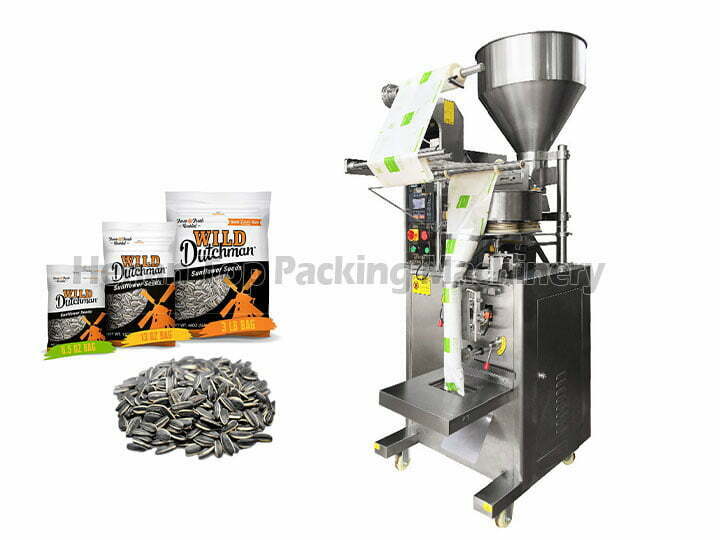 Small vertical type filling sealing machine parameters
| | | |
| --- | --- | --- |
| Type | TH-320 | TH-450 |
| Bag Style | back seal/3-side seal/4-side seal | back seal/3-side seal /4-side seal |
| Packing Speed | 32-72bags/min or 50-100bags/min | 20-80bags/min |
| Bag Length | 30-180mm | 30-180mm |
| Bag Width | 20-145mm(need to replace the former) | 20-200mm |
| Power Consumption | 1.8kw | 1.8kw |
| Weight | 250kg | 420kg |
| Dimensions | 650*1050*1950mm | 750*750*2100mm |
Type 2: Super-efficiency multihead weigher machine for sunflower seed
This multihead weigher packing machine for sunflower seed is also an automatic packaging equipment. It has super efficiency and excellent performance. The multihead weigher packaging machine is suitable for large production requirements. The machine mainly consists of a z-type elevator, vertical packing machine, multi head weigher, and a conveyor.
Multi head weigher packing machine parameters
| | | | |
| --- | --- | --- | --- |
| Model | TH-420 | TH-520 | TH-720 |
| Packaging bag types | Back seal | Back seal | Back seal |
| Packaging speed | 5-30bags/min | 5-50bags/min | 5-50bags/min |
| Power consumption | 220V, 2.2KW | 220VAC/50Hz | 220VAC/50Hz,5KW |
| Dimension | (L)1320*(W)950*(H)1360mm | (L)1150*(W)1795*(H)1650mm | (L)1780*(W)1350*(H)1950mm |
| Bag length | 80-300mm | 80-400mm | 100-400mm |
| Bag width | 80-200mm | 80-250mm | 180-350mm |
| Air consumption | 0.65Mpa | 0.65Mpa | 0.65Mpa |
| Gas consumption | 0.4m3/min | 0.4m3/min | 0.4m3/min |
Type 3: Semi-automatic sunflower seeds filling machine
This semi auto sunflower seed filling machine is different from an automatic packaging machine. It has the function of filling and sealing. And it needs pre-made bags. The sunflower seeds filling machine is suitable for packaging products from 5 kg to 50kg. It has a good performance and high efficiency. Meanwhile, the sunflower seed filling machine has a favorable cost.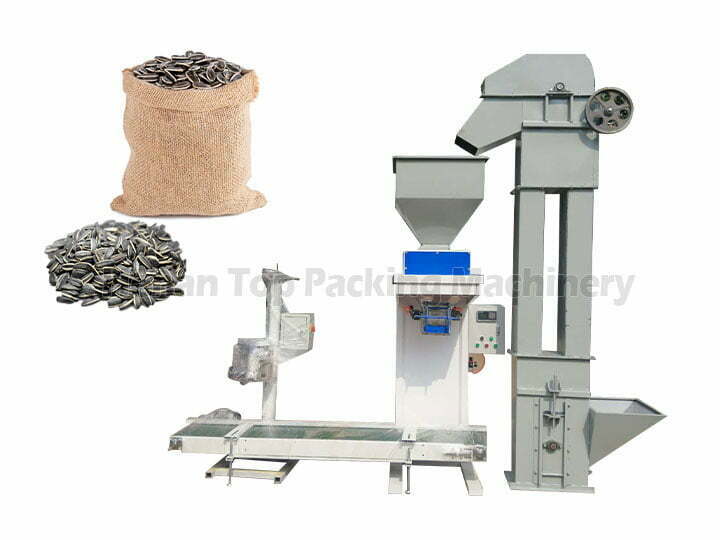 Why do you need a sunflower seed packing machine?
Different from traditional seed packaging method, automatic packaging is a trend and can greatly benefit your business. An automatic sunflower seed packaging machine has many advantages.
High efficiency. It can finish the task that human can not. The efficiency of the machine may 10 times of a human.
Save your cost. With high efficiency, it can replace 10 workers or more. Besides, it can packaging for several hours without stopping. Therefore, it can save much labor costs.
Attract more consumers. Excellent packaging design can make your products unique and attractive.
Besides, a right and good sunflower seed packaging can extend its service life. And it is easy to store, move, and transport.
What is the sunflower seed packaging machine cost?
To be honest, sunflower seed packaging machine cost is affected by many factors. That is why we do not state detailed price in the website. Because the sunflower seed packing machine price is not stable. For example, machine models, materials, motor brands, and even international currency exchange rate can greatly impact the cost. However, sunflower seeds packaging machine for sale from us has good quality and competitive price. Welcome to contact us for free sunflower seeds packing machine price list.
How are sunflower seeds packaged?
Sunflower seeds are dry roasted before packaging. After a series of processes, snack food sunflower seeds are packaged in containers to keep taste and hygiene. Containers can be pouches, sachets, bags, cans, bottles, etc.
How to choose the right sunflower seed packing machine?
When you want to start a sunflower seed packing machine business, it is important for you to choose the correct and reliable one to benefit your project. There are 3 tips as follows.
Bag size. Different bag sizes require different packing machines. For example, if your bag length is from 30mm to 100mm, and bag width is from 25mm to 80mm, it is ideal for you to select a small vertical type granule packing machine.
Production requirements. If you have a large project with high production demand, a multi head weigher machine for sunflower seeds is suitable for you.
Budget. Different packing machines have a different cost. A limited budget will determine what types of machine you will choose.
All in all, whether you are a newcomer or quite familiar with the industry, please follow this rule: choose the correct sunflower seed packaging machine actually according to your specific situation.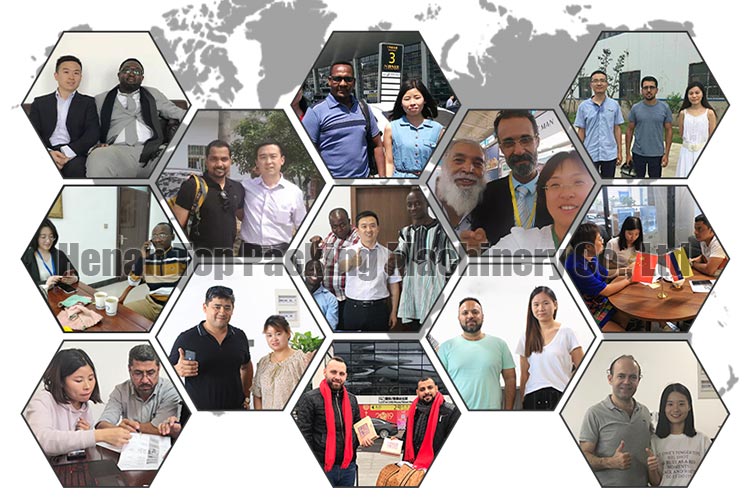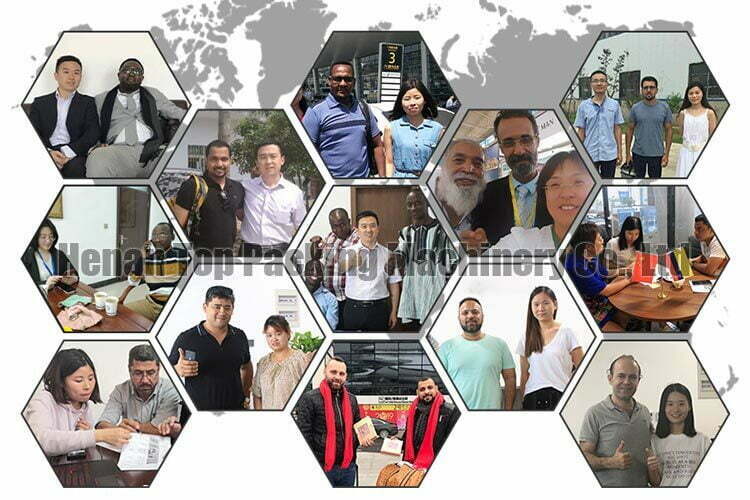 Sunflower seed packaging machine buy online
As a leading packing machine manufacturer and supplier, Henan Top Packaging Machinery Co., Ltd provides a complete range of sunflower seed packaging machine. All our machines enjoy standard and custom specifications. Besides, we offer patient and intimate service to help your project. Sunflower seed packaging machine buy online, contact us for a free price list.