5-50kg granule filling machine
5-50kg granule filling machine is equipped with a sealing device, mainly including two parts, filling system, and sealing system. The filling system adopts quantitative weighing, accurately and efficiently. It can preset the weight of packaging materials, which fills quickly. The sealing one refers to two sorts of machines, the sealing machine for plastic bags and the sewing machine for woven bags. You can choose one of them or both of them based on your needs. The filling equipment widely applies to rice, wheat, millet, corn, grains, cat food, dog food, chemical fertilizer, etc. Besides, we supply customization services according to your actual requirements.
5-50kg granule filling & sealing machine for sale
Granule filling machine within 5-50kg per bag is for sale in Top(Henan) Packing Machinery. The packaging machine can automatically weighing, filling, and sealing( or sewing). It adopts an electronic weighing system, intelligently and precisely. The discharge outlet is equipped with a large clamp to fix the bag for filling. The standard equipment is one filling hole, but we also support a double filling outlet if you need it. People usually purchase a material elevator as well when they buy the 5-50kg granule weighing packing machine because the material inlet is high, inconvenient to load manually. In addition, we also provide OEM service. Get in touch with us to get more details.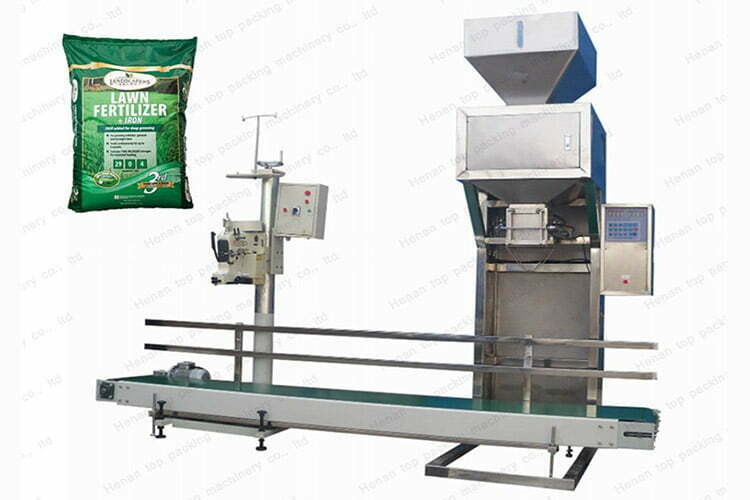 Features & benefits of 5-50kg granule filling equipment
Reasonable design, intelligent control system, multiple language optional, wide applications
Run stably, weighing accurately, operating conveniently, sealing(or sewing) firmly
Improve production efficiency,saving labor and packaging time
Detector is equipped on the discharge outlet in order to control fill or not.
A large clamp is used to fasten the packaging bag for filling.
It's support to preset weight of packaging objects, filling quickly and accurately.
Customization service is available.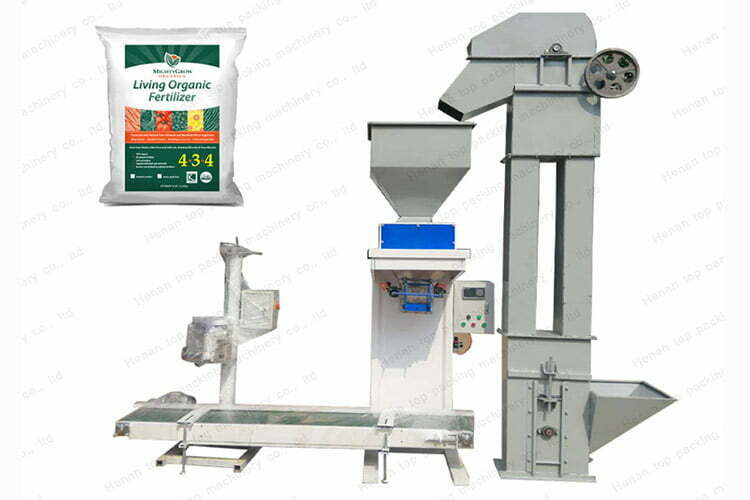 Wide applications in food and non-food
The 5-50kg granule filling machine is widely applied to various kinds of granules, such as rice, wheat, millet, corn, peanut, mung bean, red bean, soybean, sesame, buckwheat, melon seeds, red dates, dried chilies, walnut, grains, nuts, cat food, dog food, chemical fertilizer, and so on. It's suitable for 5-50kg per bag. Plastic bags and woven bags are optional. Plastic bags use the heat sealing machine, while woven bags need the sewing machine.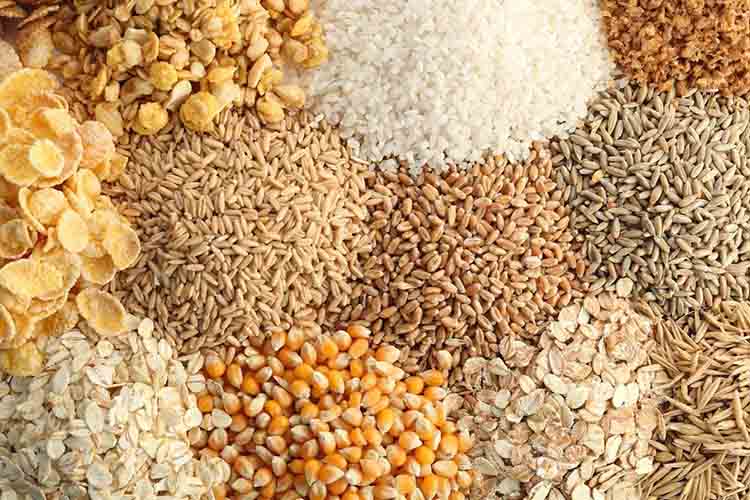 Contact us for more information
As one of the granule filling machine manufactures and suppliers, Henan Top Packing Machinery Co., Ltd provides various packing machines, filling machines, sealing machines, capping machines, etc. You can choose suitable devices in accordance with your needs. Get in touch with us to get more details and we will reply to you as soon as possible.