Yogurt cup filling machine
| | |
| --- | --- |
| Name | Yogurt cup filler |
| Power | 220V 1200W |
| Packaging speed | 800-900cups/h (single outlet) 1600-1800cups/h(double outlet) |
| Dimension | 100*80*120cm |
| Weight | 350kg |
Yogurt cup filling machine, as the name implies, is a kind of equipment for cup filling and sealing. Compared with the inline liquid filling machine, this yogurt packaging machine for cups is equipped with a rotary plate. The yogurt cup filling and sealing machine can automatically complete the whole process of feeding cups, filling, sealing, and pulling out finished products. It applies to pre-made cups and cup covers.
Single outlet and double filling heads are common types. Besides, this kind of machine requires to customize according to the sizes and shapes of cups and covers, so we suggest our customer tell us the details of the product's shape and capacity when getting in touch with us.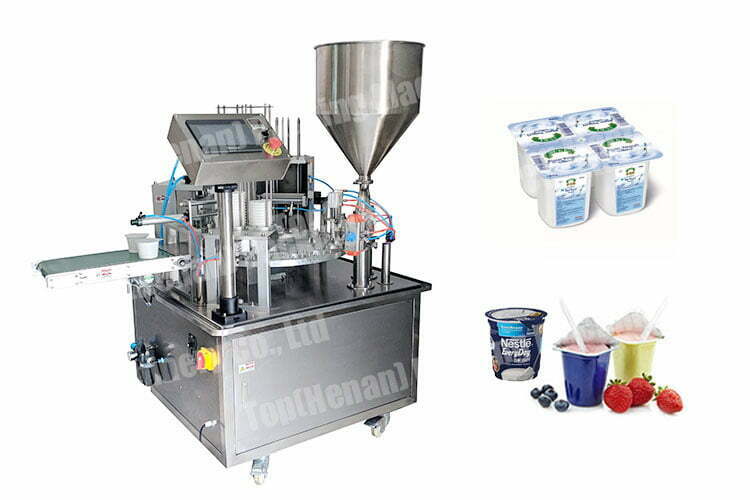 Features & benefits of yogurt cup filling machine
Rotary structure, reasonable design, high efficiency and precision, full functions.
Touch screen to set up various parameters of the machine, easy to operate.
High automation: automatic cup-feeding, filling, sealing, and pulling finished products out.
Occupy small space, running stably, using independent temperature control.
The machine will stop if no cup fall, restarting after cup feeding.
It's made of stainless steel and aluminum alloy, stable and durable, and convenient to clean.
Adopt world famous control system and pneumatic components, good quality, and long service life.
Customization service available.
How does a yogurt cup filling and sealing machine work?
Yogurt cup filler structure
Yogurt cup filling machine is composed of an automatic touch screen, cup dropping system, gearing and pulling system, filling system, film putting device, sealing system, and cup discharging device with an output conveyor belt. The touch screen controls the switches of cup falling, filling, film putting, sealing, discharging, and displaying finished product counting. Performed cup falling device is driven by pneumatic power, running stably and precisely.
The gearing and pulling system includes a drive motor, speed reducer, stable gearing device, and conveying cups to the filling system. The filling device includes a single outlet and double head for filling, and the latter is more efficient. Cup cover putting system places accurately. The equipment seals the cup rim firmly and pushes them into the output conveyor belt.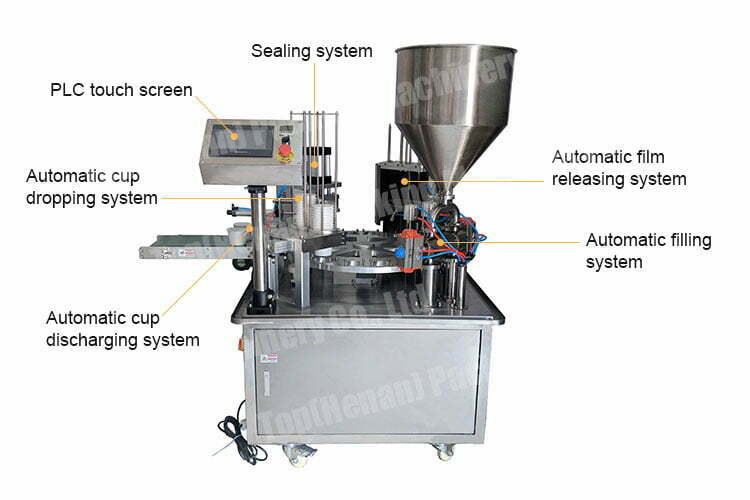 Yogurt filling equipment parameters
| | |
| --- | --- |
| Power | 220V 1200W |
| Packaging speed | 800-900cups/h (single outlet) 1600-1800cups/h(double outlet) |
| Air pressure | 0.5-0.75Mpa |
| Maximum air consumption | 0.45m3/m |
| Dimension | 100*80*120cm |
| Weight | 350kg |
The actual technical will be some differences based on the real situation because the yogurt cup filling machine usually is customized.
Applications of yogurt filling machine
Yogurt cup filler not only can fill and seal yogurt cups but also can apply to beverages, milk, coffee, juice, coffee creamer, ice cream, jelly, soy milk, syrup of plum, rice wine, jam, sauce, chili sauce, beef paste, etc. by equipped with different filling systems. It's suitable for plastic cups, paper cups, aluminum cups, etc. For the filling device, various volume of filling is optional, referring to 1-10ml, 10-100ml, 5-50ml, 50-500ml, 30-300ml, etc.(up to 500ml). You can choose according to your actual needs.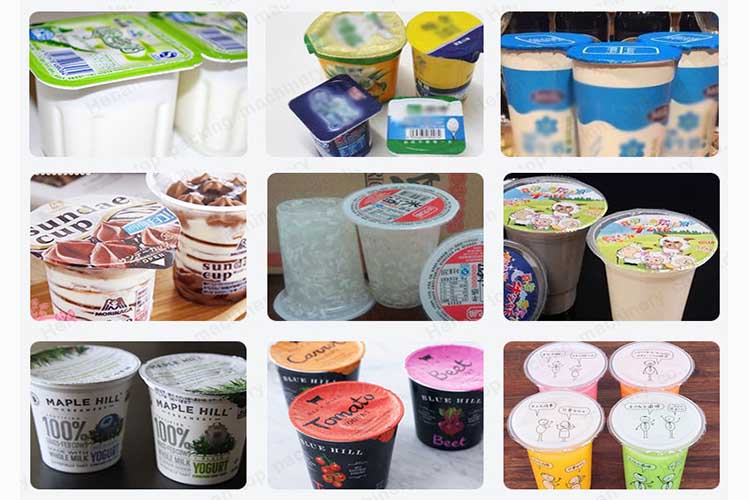 Do you need a yogurt cup filling and sealing machine for larger output?
If yes, you can take a look at the continuous cup filling and sealing machine. It is the ideal equipment for cup packaging for assembly lines and large mass production. This cup packing machine applies to yogurt, jelly, juice, ice cream, pudding, porridge, other liquid or paste, etc. The equipment can automatically complete the process of falling cups into models, filling material into cups, feeding film, sealing, and cutting the packaging film.
It has the advantages of a compact structure, a high degree of automation, convenient use, simple maintenance, and high production efficiency. And the equipment has stable quality and long service life, advanced performance, and reliable quality. The cup number per row can be customized according to the customer's production requirements.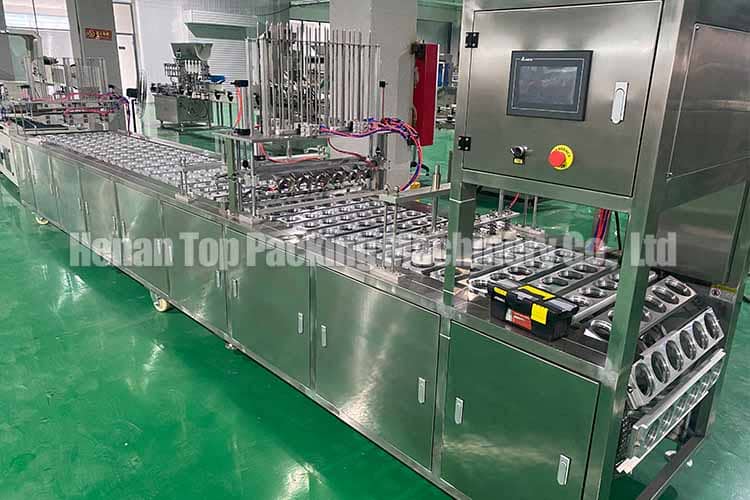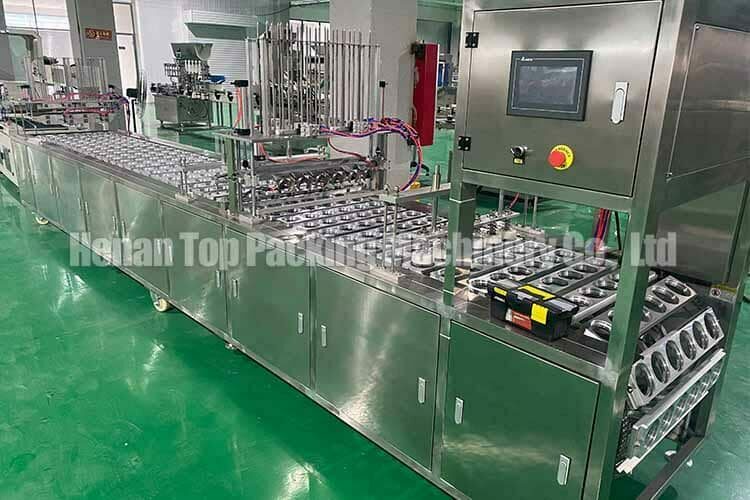 What are characteristics of the continuous yogurt cup filling and sealing machine?
Advanced design, reasonable structure, high automation, and reliable performance.
Simple operation improves work efficiency and reduces human labor.
The whole machine is made of stainless steel, aluminum alloy, copper, and other anti-corrosion materials in line with food hygiene and safety standards
The cup placing mold can be customized. Round and square molds are common types available.
Photoelectric eye detectors ensure filling and sealing precisely and accurately.
The production speed and sealing pressure are adjustable based on actual needs.
The seal is firm, and the edges are smooth and flawless.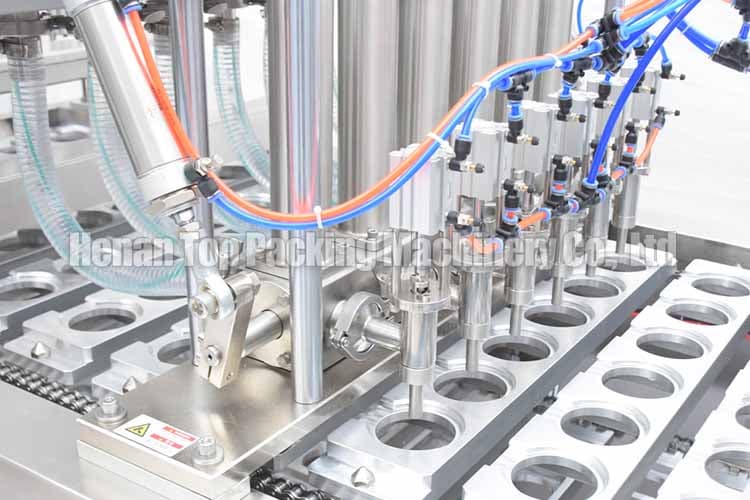 Multiline linear automatic cup packing machine parameters
| | | |
| --- | --- | --- |
| Type | XBG60-4 | JXS-1680 |
| Power | Three-phase four-wire, 380V/50HZ, 2.4Kw/h | 380V, 2.2Kw |
| Temperature control range | 0-400℃ | / |
| Air consumption | 0.6m3/s | / |
| Air pressure | 0.65-0.85Mpa | 0.6-0.8Mpa |
| Packing speed | 1800-2000cup/h | 1200-7200cup/h |
| Weight | 700kg | 1050kg |
| Dimension | 3000mm*600mm*1600mm | 3200*1350*1720mm |
The actual technical data will adjust according to the real situation and requirements.
Get in touch with us to get more information
Rotary automatic yogurt cup filling & sealing machine usually is customized in order to match the size and shape of your cup and cup cover well. In Henan Top Packing machinery, there are lots of packaging machines for sale, such as liquid packing machine, powder packaging machine, granule packing machine, vacuum packaging machine, pillow packing machine, labeling machine, date printer, carton sealing machine, and so on. Are you looking for equipment like these? Contact us to get more details and the best price.