Liquid packing machine
| | |
| --- | --- |
| Type | automatic liquid packing machine |
| Model | TH-420 |
| Bag length | 80-300mm(L) |
| Bag width | 50-200mm(W) |
| Packing speed | 5-30bags/min |
| Measuring range | 5-1000ml |
| Dimension | (L)1320mm×(W)950mm×(H)1360mm |
Liquid packing machine is suitable for packing various types of products, such as water, oil, juice, detergent, sauce, vinegar, wine, can beer, soda, carbonated, coffee, antiseptic, ghee, etc. With a simple structure and great design, the automatic liquid pouch packaging machine is very easy to install, operate, and maintain. Besides, Henan Top Packing Machinery includes also provides the semi-automatic liquid filling machine and multi-head liquid bottle filling machine.
The automatic packing machine for the liquid pouch can automatically finish the packaging process of weight measuring, bag maker, filling, sealing, cutting, and bag counting. It has very good performance, long service life, and high efficiency. All our products have passed a strict quality inspection system. Our packing machines are quality guaranteed. Furthermore, our automatic liquid packing machine price is absolutely affordable and competitive. Do you want to buy the best liquid packaging machine? Email us or just give us a call.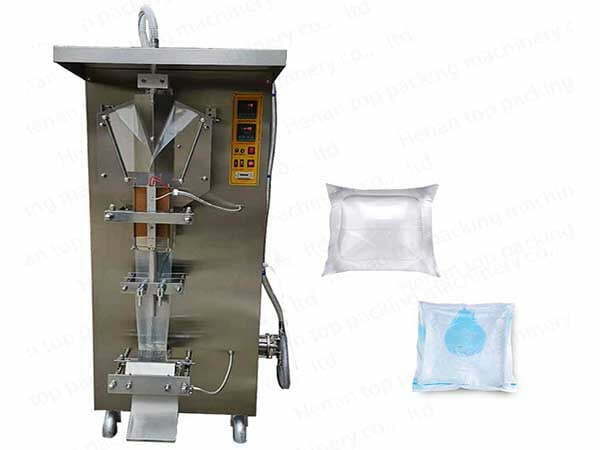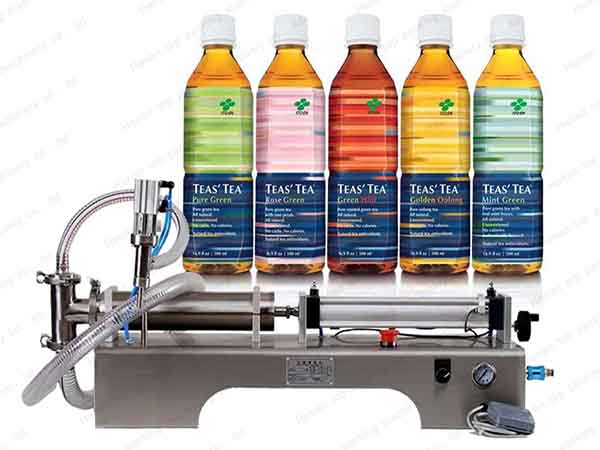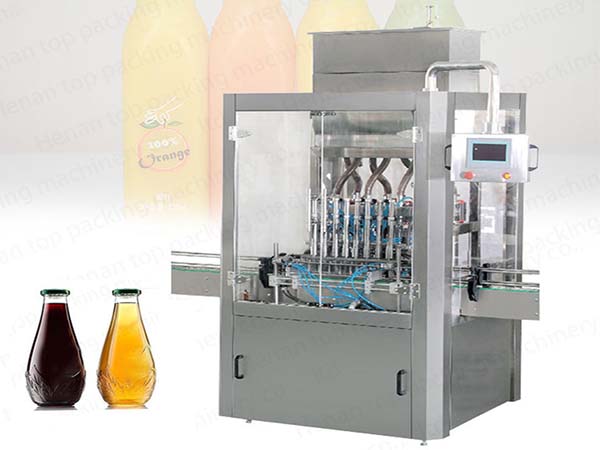 Liquid packing machine for sale
Liquid packing machine is a very important packaging solution for lots of industries, especially for the food and beverage industry, chemical industry, pharmaceutical industry. It can greatly improve your production efficiency, and save your cost. And compared with human manual packing, an automatic liquid packaging machine is more reliable, safe, and healthy. Besides, there are various types of powder packing machine and granule packing machine available from us. With extremely high-cost performance, our packing machine for sale has been successfully exported to more than 80 countries and regions, such as the US, Australia, United Kingdom, Malaysia, India, Pakistan, Indonesia, Russia, Nigeria, Kenya, etc. Any interests you can contact us anytime.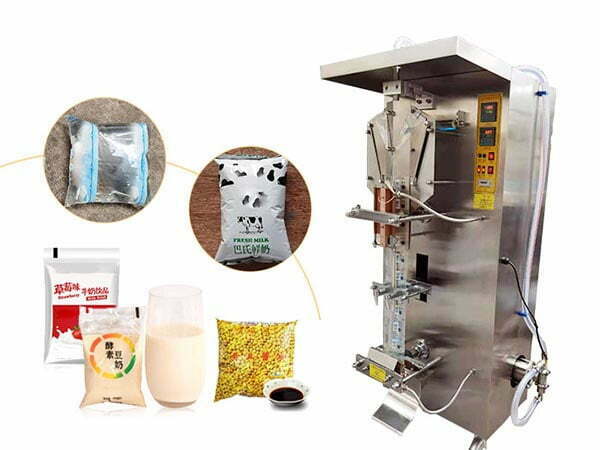 TH-420 Liquid Packaging Machine Parameters
Type:TH-420 liquid packing machine
Bag length:80-300mm(L)
Bag width:50-200mm(W)
Packing speed:5-30bags/min
Measuring range:5-1000ml
Air consumption:0.65mpa
Gas consumption:0.3m³/min
Voltage:220V
Power :2.2KW
Dimension:(L)1320mm×(W)950mm×(H)1360mm
Weight :540Kg
Note: Custom available
Features of TOP Machinery liquid packing machine
Simple structure, reasonable design, easy to install, operate, and maintain
Automatic alarming function and intelligent PLC control system
Famous motors and other components, quality and durable
Can automatically complete the packing process of weight measuring, bag making, filling, sealing, cutting, and bag counting.
Multifunctional packaging, ideal for various liquid products
Stainless steel material of the machine body, is safe and reliable
Adjustable packing speed, flexible packing machine
Material, size, accessories, etc. All can be customized according to your specific requirements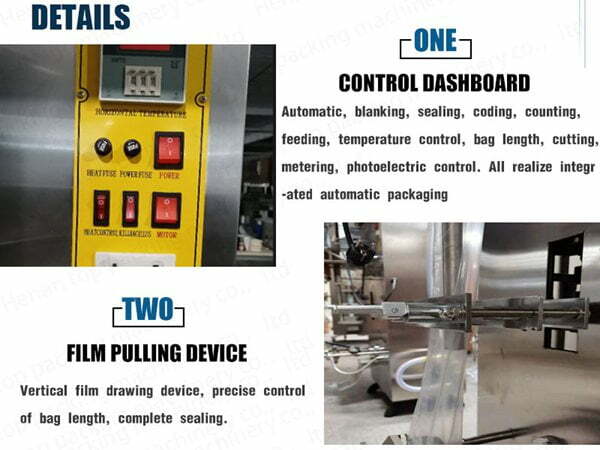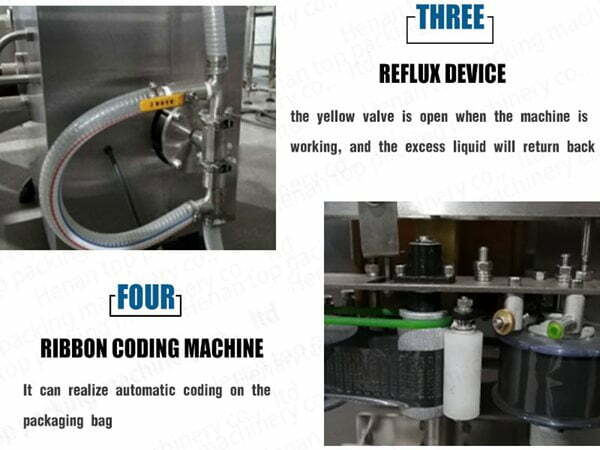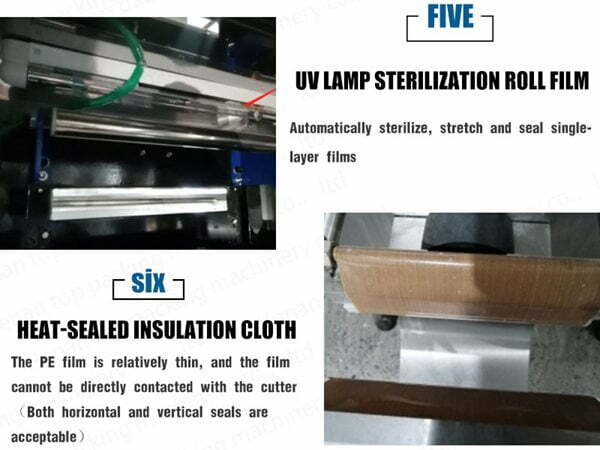 What products can liquid packaging machines handle?
You can use a packing machine for the liquid to handle nearly any type of liquid from the product. The following we list below are only some of the common liquid products.
Beverage industry
water, milk, juice, wine, beer, soda, coffee, carbonated, ghee…
Chemical industry
Detergent, edible oil, peanut oil, soybean oil, hand sanitizer, shampoo, various cosmetics…
The pharmaceutical industry, antiseptic
Various liquid medicine
If you have other liquid products that want to package but do not belong to the products listed above. Do not hesitate to ask us for professional guidance. Different products require different packing machines. Before buying liquid packing equipment, it is better for you to make sure what kind of packing machine is best suitable for your products. This is important and necessary. Any problem you can contact us for professional guidance.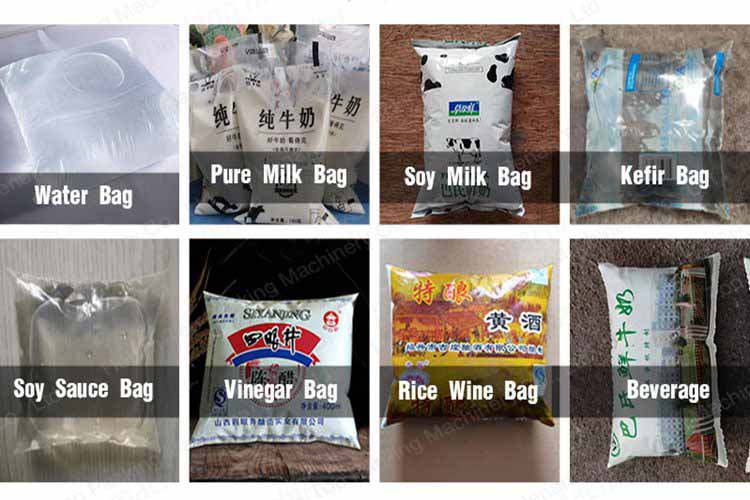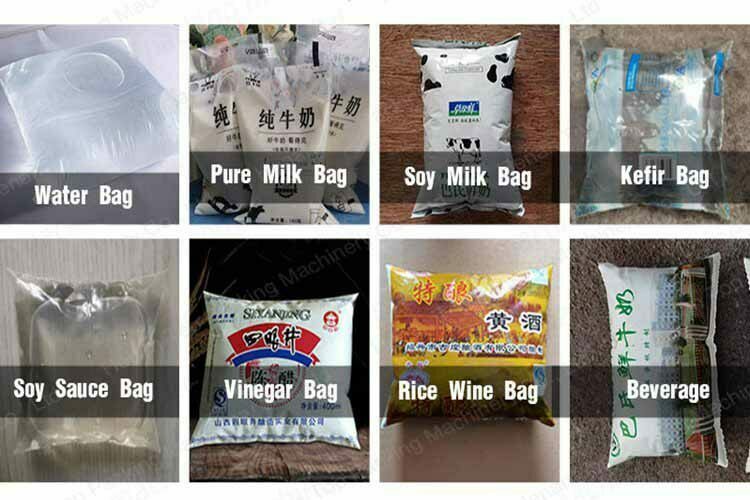 Major components of liquid packaging equipment
Liquid packing machine consists of a lot of important parts in the packaging process. But today, we just concentrate on the major components. Please note that the detailed situation of each component will vary according to the different types of machines.
Driving mechanism: This is the power system of the machine. Without it, liquid packing equipment will not be running. Power system, motor system, and some other parts drive the machine running successfully.
Control system: Liquid packaging machine adopts a PLC control system to command the mechanical parts of the machine. Besides, Liquid packing machine for sale in TOP Machinery also uses a big touch screen for easier operation.
Conveyor belt: Our liquid packaging equipment uses a fully automatic output conveyor for moving the filled products from one place to another.
Bag maker: We can custom the bag maker according to the width of different bags to meet your specific requirements.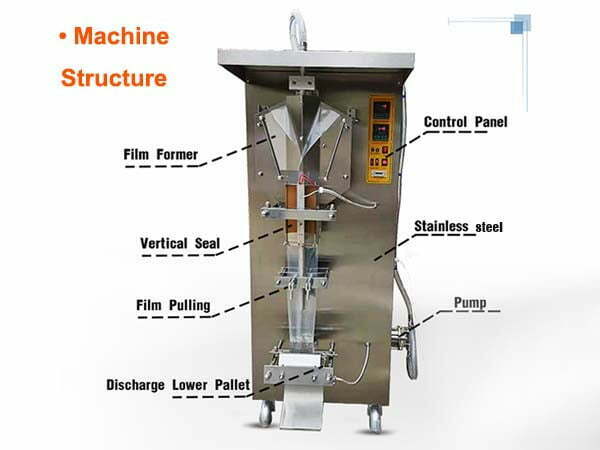 What is the liquid packing machine price?
Different liquid packaging machines have different prices. Their prices are determined by lots of factors, such as material, structure, parameters, dimensions, transportation cost, etc. Because the influencing factors are unstable like transportation costs, the cost of liquid packing equipment is variable. Besides, price is absolutely an important factor you need to consider before purchasing a packing machine. But the price is not the only decisive factor. Product quality must be taken into account. An excellent liquid pack machine will be a great saving of your energy and money. Because an inferior machine will take you much time to replace or maintain. Contact us for a free price list.
Why choose us as your top packing machine supplier?
Founded in 1992, we are a professional liquid packing machine manufacturer. And we have rich experience in the design, research, manufacturing, and supply of various kinds of packing machines. Due to high quality and competitive price, our products are widely praised by people around the world. What is more, we have established an excellent after-sales service system. We provide long-term quality assurance and free professional technical guidance. Furthermore, there is strong custom service available from us. We can design and manufacture liquid packing equipment according to your actual requirements. Are you looking for a reliable liquid packaging machine supplier? Get in touch with us to start your successful business.
Other types of liquid bag packaging machine – OEM service support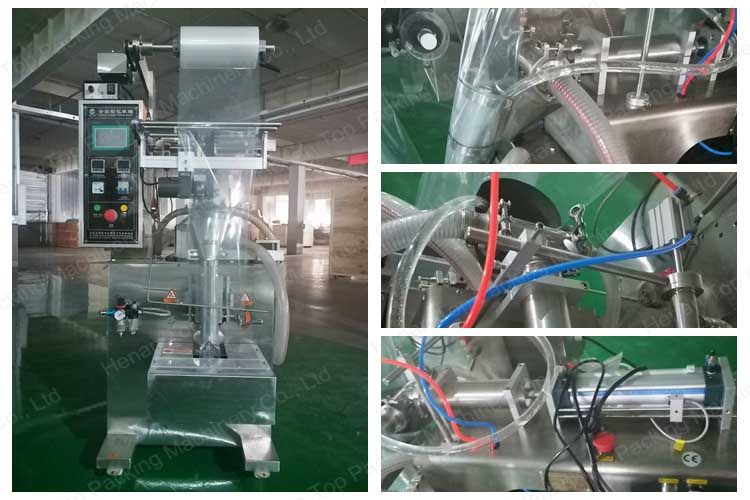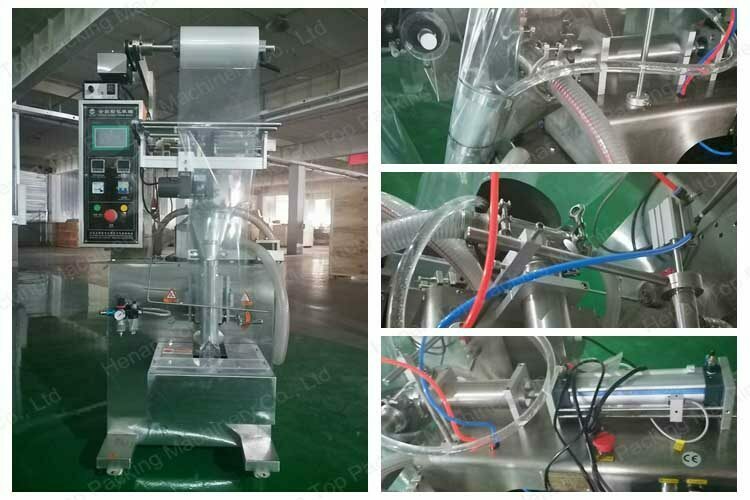 How can a packing machine benefit your business?
In an increasingly competitive market, each company needs to improve the efficiency and quality of its products. Only in this way, their brand can stand out from the products of their competitors around the world. Besides, consumers prefer products with beautiful, attractive, and creative packaging designs. Therefore, they need an excellent packing solution to help their business. That is why liquid packaging equipment is so popular. Apart from improving efficiency and saving energy, an automatic packing machine also give you these benefits as follows:
Reliability and functionality increasing: Liquid packaging machinery can complete various tasks automatically, such as filling, capping, and labeling. Because controlled by PLC, it is more accurate than human operation. Therefore, automation machines are greatly increased reliability and functionality.
Cost saving: In the short term, buying a liquid packing machine may be a huge investment for you. However, in the long run, it will highly benefit your business and reduce labor costs. An automation packing machine can help you reach your required production quickly.
Improved your brand value: A flexible and smart packaging machine can help your products be noticed by more consumers. So an attractive packing design can improve your brand value.
Extended product shelf life: Liquid packaging equipment is significant in keeping the freshness of your products. So it can extend the products' shelf life.
Contact us for the best price
Choosing a trustworthy liquid packing machine supplier is usually difficult. So that is why we are here. Henan TOP Packing Machinery Co, Ltd, is a professional packing equipment manufacturer. Nearly 30 years of packing solutions industry experience. All our liquid packing machines have obtained ISO9001, CE, GMP, etc international certificates. Besides, affordable prices and intimate service are also our unique advantages. Choose us is choosing reliability and high-cost performance. Do you want to boost your business this month? Contact us today and start with a free price list.