Juice packing machine is divided to package juice into bags, bottles, or cans. Different packaging forms needs different packaging machines. Juice packaging equipment mainly includes the automatic juice pouch packing machine and juice filling machine. The automatic juice bag packaging machine can automatically finish the process of metering, filling, sealing, and counting. Lots of packaging styles are optional, such as a back center seal, three-side seal, four-side seal bag, stand-up bag, pouches with a spout, and irregular bag. While juice filling machine is used to fill juice into bags, bottles, cans, or other containers. The number of filling outlets can be customized. Four, six, and eight spouts are common. More nozzles mean higher output available.
Juice packaging machine for sale
There are mainly four types of juice packaging machines for sale in Henan Top Packing Machinery, automatic vertical juice bag packing machine, horizontal bag feeding machine for juice, semi-automatic single outlet desktop juice filling machine, and multi-head juice filling machine. The first two of them are automatic bag packaging machines, which can finish metering, filling, sealing, and cording(optional). The latter two are filling machines, applying to pouches, bottles, or cans. Besides, they can only package the juice without granules. Their brief introductions are as follows.
Type1: Automatic juice pouch packaging equipment
The automatic juice bag packing machine is the equipment that can automatically complete the whole process of metering, filling, bag making, sealing, cutting, and counting. It not only can package juice in bags but is suitable for water, beverages, milk, vinegar, soy sauce, edible oil, chili oil, etc. The pouch packing machine for liquid is composed of the control panel, bag former, vertical seal, film pulling, horizontal sealing device, pump, and discharge lower pallet. The control panel is equipped with many switches to control the machine. Bag former is used to shape packaging film into the bag. Vertical and horizontal devices seal packaging film in case of the liquid out. The discharge lower pallet is as a cushion under the output place. During the filling process, it delivers liquid through pipes.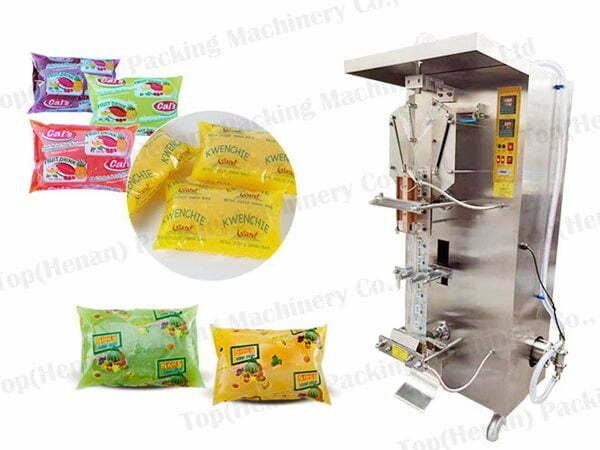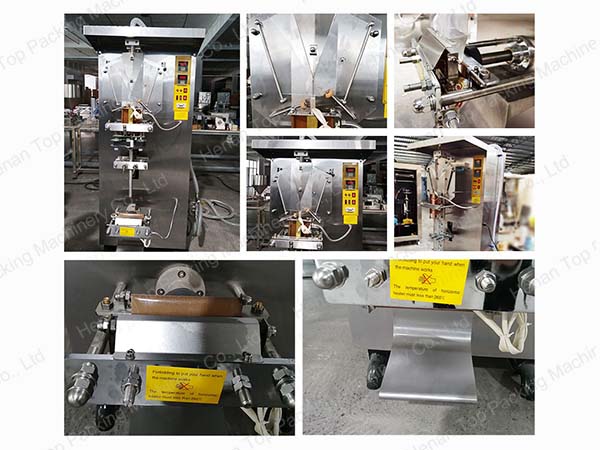 Type2: Horizontal bag feeding machine for juice
The horizontal pouch feeding machine for juice is one kind of pre-made bag packing machine. It is suitable for various preformed bags, such as stand-up bags, zipper bags, 3-side seal bags, 4-side seal bags, irregular-shaped bags, spouted bags, etc. It needs you to prepare the packaging bag before using the machine. The premade bag juice pouch packaging equipment consists of a liquid filling part and a packaging part. The number of filling outlets can be customized according to the customer's actual needs. The more outlets the working efficiency higher. What's more, the juice packing machine adopts anti-dripping technology so as to realize a good sealing effect.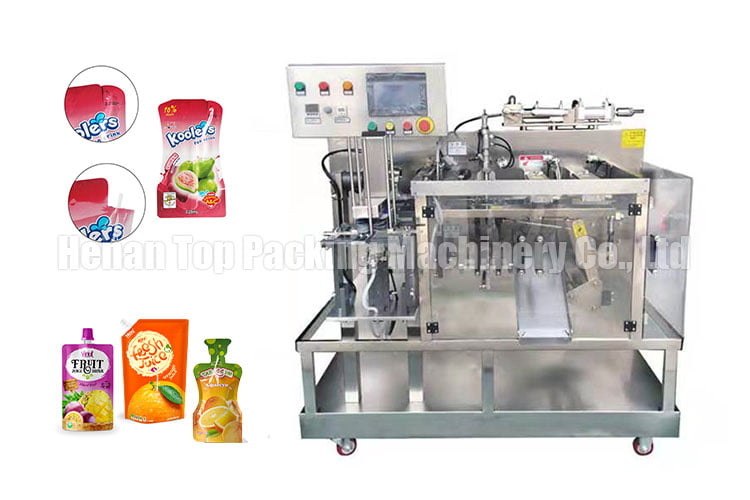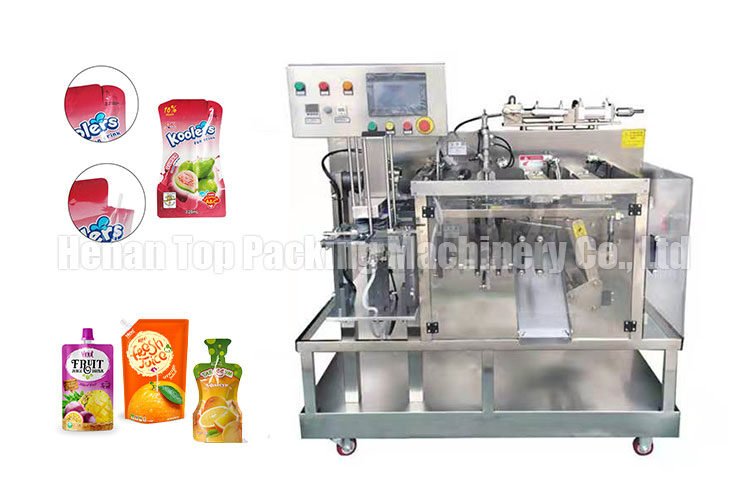 How to package juice by the pre-made bag packing machine?
Type3: Semi-automatic single outlet juice filling machine
The semi-automatic juice filling machine consists of an outlet, feeding pipe, cylinder, emergency switch, barometer, foot switch, hand crank, etc. The filling nozzle is anti-drip, and made of stainless steel. The cylinder adopts scale measurement, making the filling volume more precise. An emergency switch is a stop button if you want to stop the machine immediately. The footswitch is convenient to operate because the semi-automatic machine requires the operator to put a container under the outlet. Rotating the hand crank can adjust the filling volume at will. However, the small liquid filling machine with a feeding pipe can not fill the juice with particles, it needs to use a paste filling machine with a U-type hopper.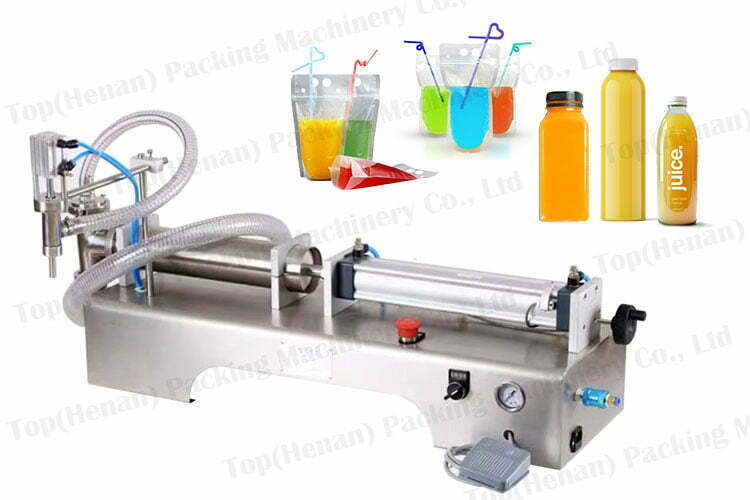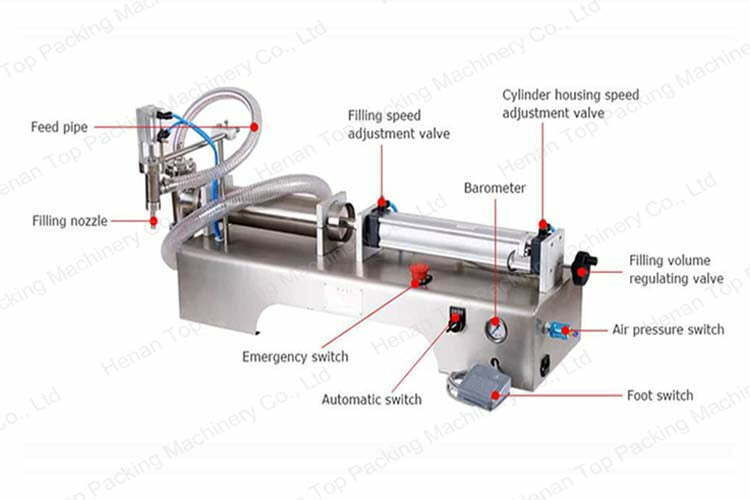 Paste filling machine with a U-type hopper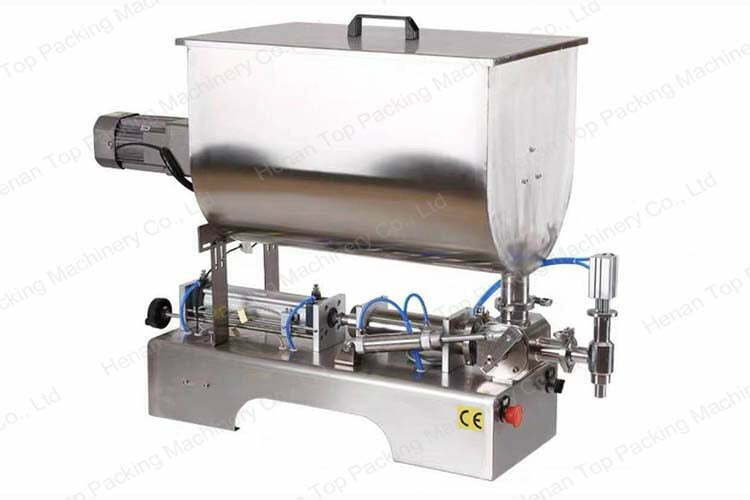 Type4: Multi-head juice bottling machine
Compared with the single outlet juice filler, the multi-head juice filling machine is more efficient. It can fill multiple bottles simultaneously. The filling scope models includes 10-100ml, 50-500ml, 100-1000ml, 500-3000ml, 1000-5000ml, etc. The number of filling nozzles can be customized, and the double filling heads are minimum. The 12-head liquid filling machine can fill 3000bottles per hour. The equipment not only can work independently, but also can match with other machines to compose a whole production line to realize full automation, such as bottle unscrambler, capping machine, cording machine, labeling machine, carton sealing machine, and so on. Are you interested in it? Welcome to get in touch with us to obtain more information.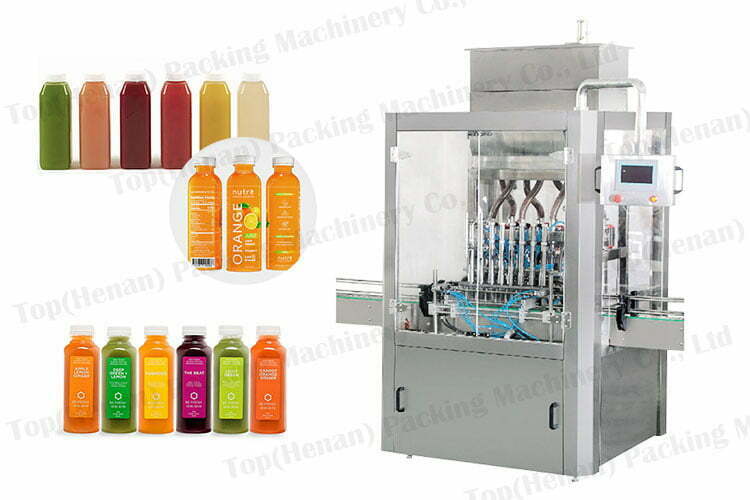 Juice filling, capping, and labeling production line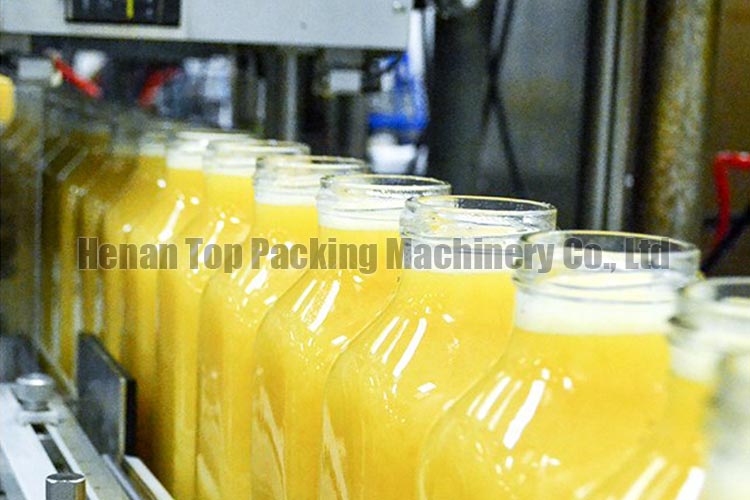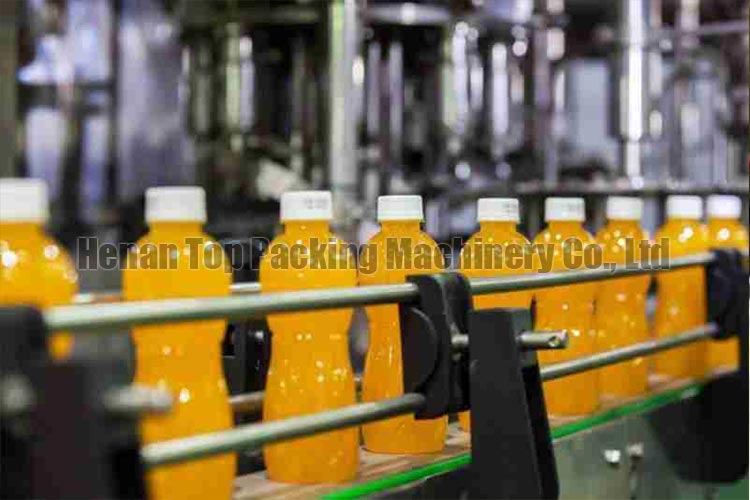 Liquid filling assembly line working video
Bottled juice display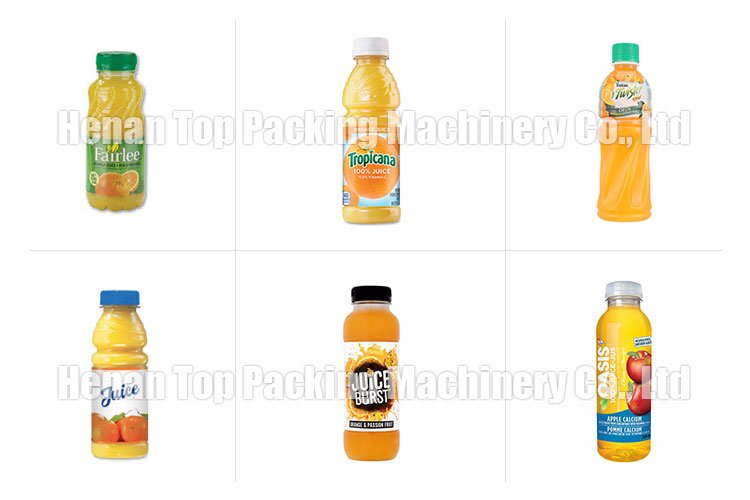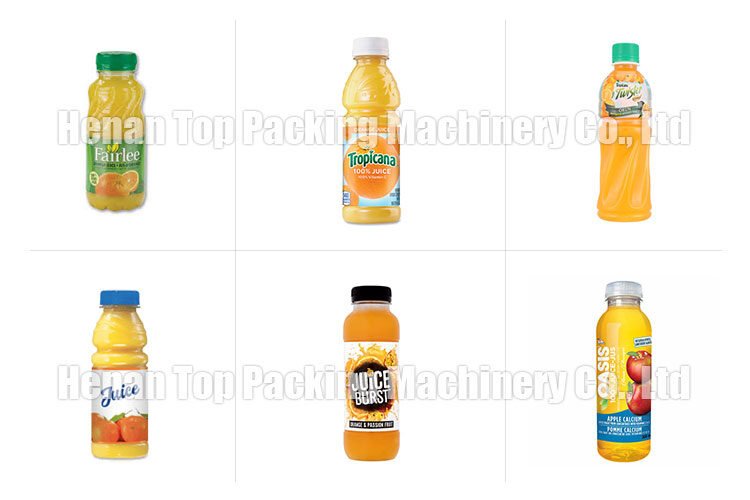 Juice packing machine price
The price of juice packaging machines is closely related to cost, the degree of automation, and working efficiency. Generally, in order to manufacture more advanced juice packing machines with higher working efficiency, it mainly requires more material cost, technology cost, and human cost. Firstly, good material can not only makes machines have good performance, but also extend service life, health, and safety. Secondly, more advanced technology is able to make packaging machines more automatic and intelligent. Last but not least, high working efficiency can reduce labor so as to save human costs. All above are the factors that can affect juice packing equipment price.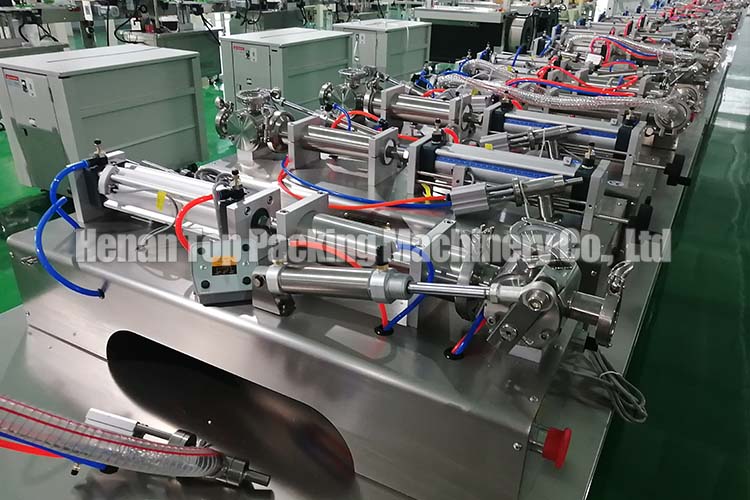 What can you consider when choosing a juice packing machine?
There are lots of questions that can be considered when you want to choose and purchase a juice packaging machine. Thinking about them may be able to help you to select a suitable packing machine for juice.
What container do you want to package? Bag, bottle, or cans.
What is the filling volume? 15ml, 80ml, 100ml, 150ml, 200ml, 500ml, 1000ml, or others.
What kind of juice do you want to package? Does it contain particles or not?
How about the degree of automation? Semi-automatic or fully automatic.
How much is the budget?
How about the production output?
Do you have the idea to extend your business?
Or you can get in touch with us, we will provide the packaging solutions according to your needs.