Carton sealing machine
| | |
| --- | --- |
| Model | FXJ-4030 |
| Power | 220V/50Hz/180W |
| Capacity | 1000boxes/h |
| Tape width | 45mm |
| Sealing width | 80-300mm |
| Sealing height | 90-400mm |
| Machine size | 1060*660*1010mm |
Carton sealing machine or box packing machine is the equipment to seal cardboard boxes with tape. It widely applies to packing various kinds of objects into cartons, such as foods, beverages, wines, medicines, books, furniture, lamps, spices, kitchenware, hardware, woodwork, chemicals, clothes, ceramics, glass caps, etc. It has two methods of usage, just using a single machine, or as one part of the carton packing production line. This machine is usually matched with the unpacking machine, labeling machine, coding device, heat shrink film wrapping machine, etc.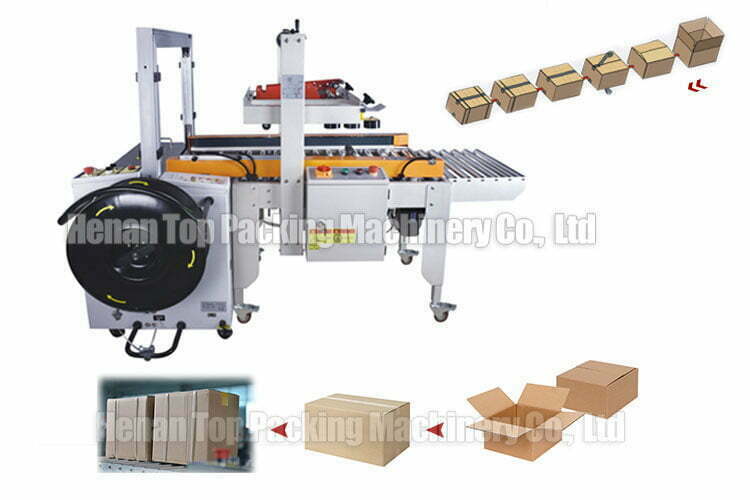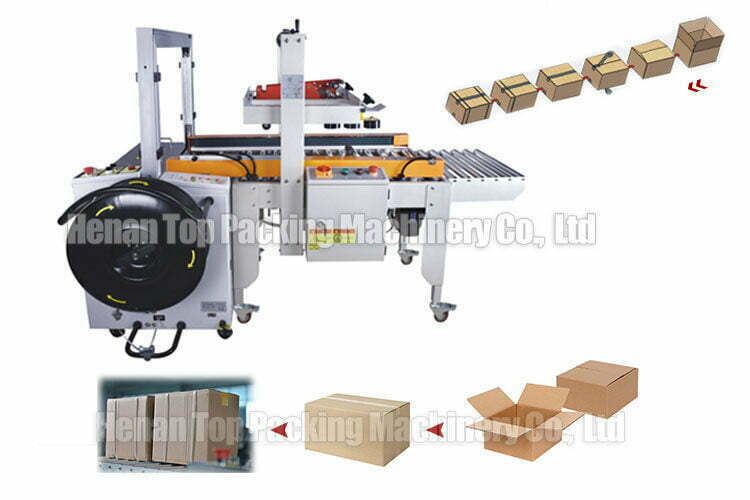 Carton sealing machine structure
The carton sealing machine consists of a conveyor platform with turning rollers, left and right conveyor belts, carton positioning rollers, hand shanks for adjusting the height of the conveyor platform and the top sealing device, a long metal plate, a supporting frame with scale, power switch, emergency button, four wheels on the bottom of the machine, etc. The turning rollers are arranged closely, suitable for transporting various sizes of cartons. Left and right conveyor belts take the carton forward automatically for sealing. The sealing height and width can be adjustable through hand shanks. The long metal plate flattens the top of the box, sealing smoothly.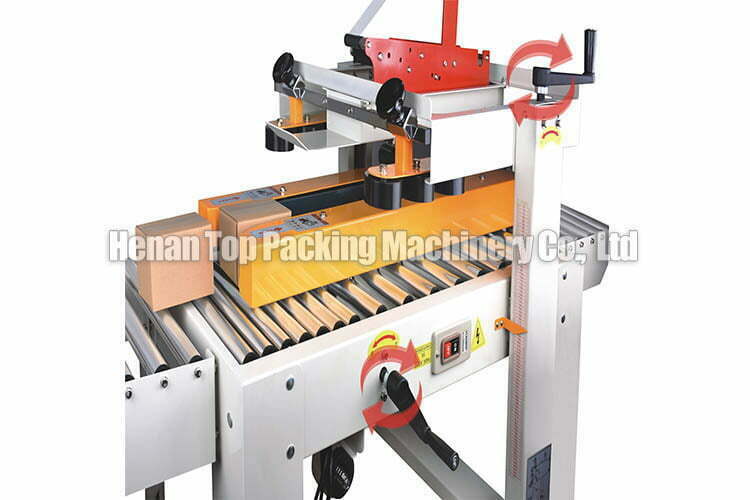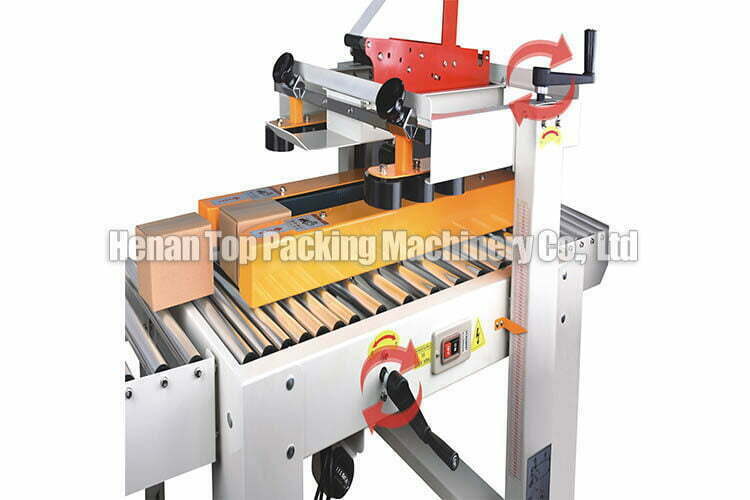 Carton packing machine working video
Features of the carton sealing machine
Reasonable design, durable material, running smoothly, working efficiently
The height of conveyor is adjustable according to your needs
Wide applications for different sizes of cartons
Rollers arrangement closely, suitable for different sizes of cartons, especially small box
The component for fixing tape is detachable, and convenient to replace tapes.
Finish bottom sealing and top sealing operation one time, seal firmly and smoothly with a pretty appearance
An emergency button is designed as a safety precaution.
Customization service is available.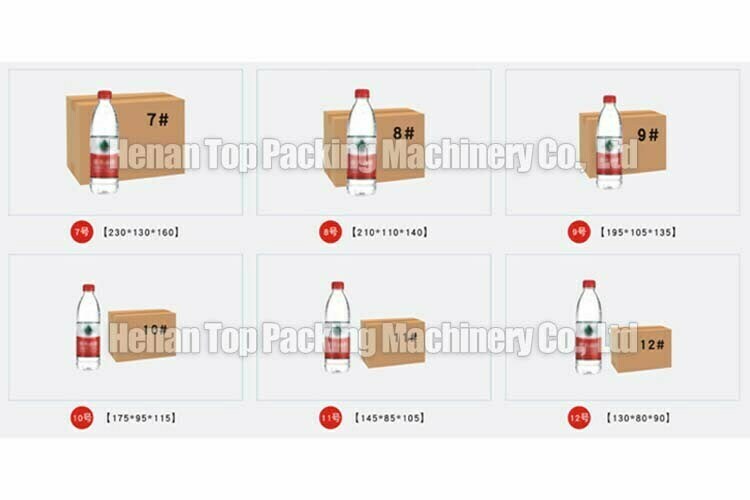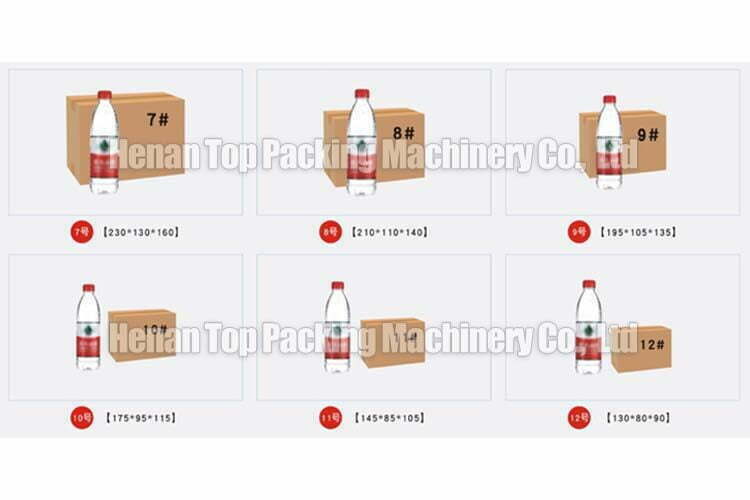 Operation procedure of the single machine
Install the two sticky tapes on sealing devices
Adjust various parameters and start the machine
Open the cardboard boxes
Putt objects into the case
Place the box on the conveyor
Push the carton and the sealing device
The machine will tape the top and bottom of the carton automatically.
Various machines waiting for you
As a packing machine manufacturer and supplier, we provide lots of packaging machines. Carton sealing machine is one of our hot products. We also supply powder packing machines, granule packaging machines, liquid filling and packing machines, vacuum packaging machines, pillow packing machines, automatic capping machines, vacuum capping machines, continuous bag sealing machines, etc. Are you interested in them? Get in touch with us to get more details and we will reply to you as soon as possible.
Parameters of Henan Top carton packaging machine
| | | |
| --- | --- | --- |
| Type | FXJ-4030 | FXJ-6050 |
| Power | 220V/50Hz/180W | 220V/50Hz/180W |
| Capacity | 1000boxes/h | 1000boxes/h |
| Tape width | 45mm | 45mm |
| Sealing width | 80-300mm | 250-500mm |
| Sealing height | 90-400mm | 180-600mm |
| Table height | min550mm/max730mm | min570mm/max730mm |
| Machine size | 1060*660*1010mm | 1000*830*1350mm |
Fully automatic carton sealing machine for sale
Fully automatic carton sealing machines are equipped with sensors that detect the presence of a box and automatically adjust the machine's settings to match the size and shape of the box. The machine then applies pressure sensitive tape to the top and/or bottom flaps of the box, sealing it securely. The speed and efficiency of the machine can be adjusted to match the needs of the user.
Conclusion
In conclusion, a carton sealing machine is a valuable tool for improving efficiency and streamlining the packaging process in various industries. With its ability to quickly and securely seal boxes, it can significantly reduce the amount of time and manual labor required for packaging. Henan Top Packing Machinery is a professional box packaging machine manufacturer. Are you interested in this machine? Contact us for a quick quote.