Flat label applicator includes desktop flat labeling machine and a vertical flat labeling machine. It's an automatic labeling machine, suitable for various flat surfaces, such as flat bags, boxes, or cans with flat covers, cartons, etc. The machine can be used alone or matched with other machines to compose a whole production line, like filling machine, sealing machine, packaging machine, capping machine, loading machine, conveyor belt, date printer, and so on. You can choose according to your needs about the size of labels, the sizes of labeling objects, labeling speed, etc. Furthermore, you also can contact us to get useful suggestions based on your requirements.
Flat label applicator for sale
The automatic labeling machine for the flat surface in Top(Henan) Machinery for sale is referred to as vertical flat labeling applicator and desktop one. The former is higher than the latter. A vertical machine is convenient to operate in a proper height. And the desktop machine is portable, and friendly to small and medium businesses. For flat pouches, it can match with filling machines for powder, granule, liquid, or paste, and continuous bag sealing machine to compose a production line. While if you want to label cans, you can choose a liquid or paste filling machine and capping machine to compose a production line. Get in touch with us for more details.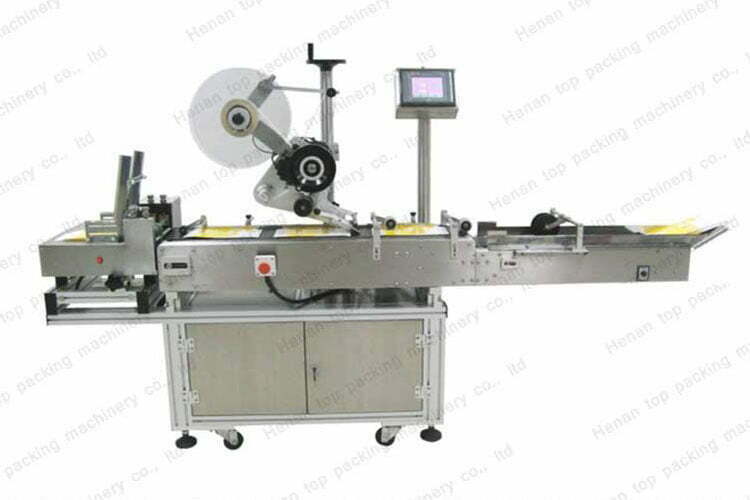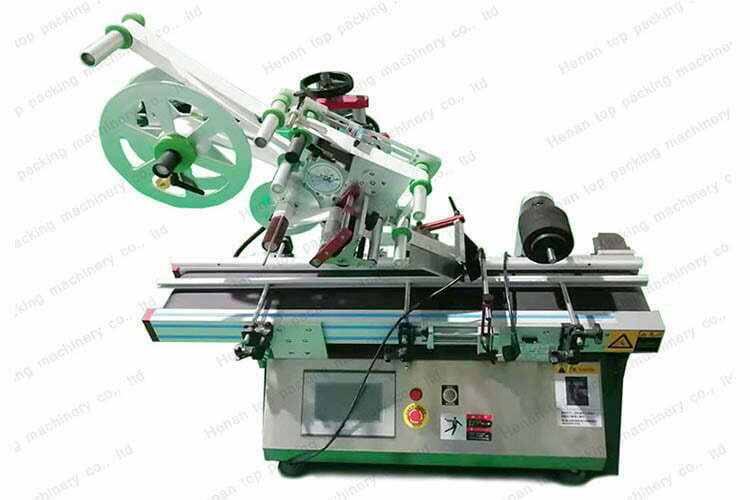 Features of flat surface labeling machine
Reasonable design, simple structure, high efficiency, wide application, low noise
Run stably, working efficiently, labeling well, completing automatically
Vertical flat surface label applicator and desktop one are available.
Adjustable the height of label, the width of conveyor belt, and the revealing length of label
Intelligent control panel can set up many parameters to complete labeling.
Labeling speed is automatically synchronous with the speed of conveyor belt speed.
Emergency stop button is designed as a safety precaution.
Customization service available
Applicable objects of flat label applicator
A flat surface label applicator is suitable for all kinds of objects with flat surfaces in various industries, such as food, delivery, toy, cosmetic, daily necessaries, stationery, medicine, and other industries. The labeling machine widely applies to the flat sachet, boxes, and cartons for package snacks, nuts, candy, fruit, vegetable, clothes, shoes, aloe vera gel, cosmetics, shampoo, shower gel, laundry detergent, paper, file pocket, lunch boxes, gift boxes, etc.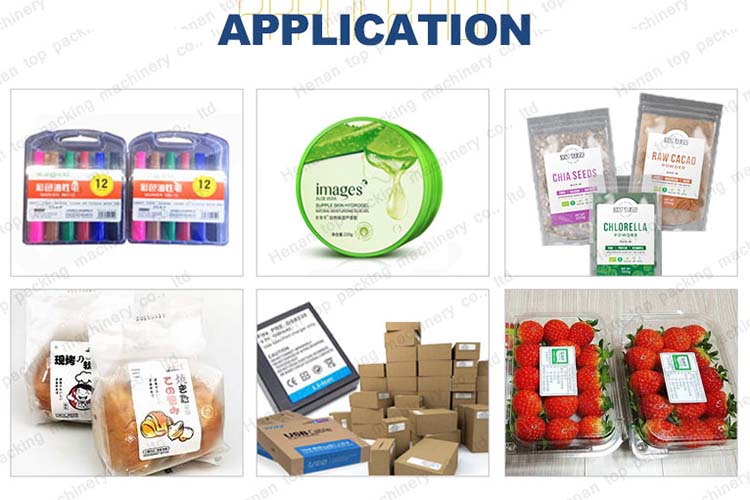 Automatic flat labeling machine structure
The label applicator for flat surface consists of labeling structure, label holder, rotary knob, operation panel, electric eye, motor, emergency stop button, etc. The labeling structure is the place to label objects, label holder to fix roll label, rotary knob to adjust the height of labeling, control panel to set various parameters. The electric eye is sensitive to detect material, improving working precision. A standard flat labeling applicator is equipped with a label holder, but the OEM service is available in accordance with your needs. For instance, if you want to label the top and side part of a round can, an integrated label applicator can realize it.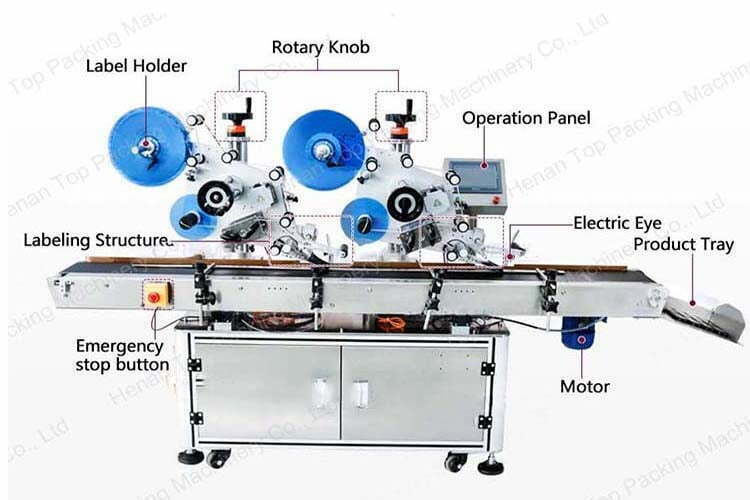 Related machines
For labeling machines, there are automatic round bottle labeling machines and semi-automatic round bottle labeling machines for sale in Top(Henen) Packing Machinery as well, except flat label applicator. These labelers can use alone or match with other machines to compose a production line, like filling machines, capping machines, sealing machines, heat shrink wrapping machines, vacuum sealers, packing machines, etc. If you want to know more information, you can get in touch with us and we will reply to you as soon as possible.