Food Grinding Machine
| | |
| --- | --- |
| Model | TZ-30 |
| Processing fineness | 5-120 mesh |
| Capacity | 100-200kg/h |
| Power | 5.5kw/h |
| Machine size | 600*700*1450mm |
Food grinding machine is a grinder used for various dry food, like grains, rice, soybean, sugar, chili, spice, black pepper, herbs, peanut, etc. Negative pressure conveying causes the heat generated in the machine cavity to be continuously discharged during the grinding process, so it is also suitable for the milling of heat-sensitive materials. Local using the relatively high-speed operation between the movable toothed disc and the fixed sprocket wheel, the material is subjected to impact by the toothed disc, friction, and material collision with each other to obtain the powder.
Types of food grinding machine for sale
The dry food grinding machine for sale in Henan Top Packing Machinery includes blade type, cross hammer type, turbo type, sprocket type, and sieve. For sieve types, there are 40mesh, 60mesh, 80mesh, 100mesh, and 120 mesh available. The mesh refers to the number of holes per inch. The higher the mesh number per inch, the more holes, and the smaller the particle size passing. Therefore, you can choose the sieve type with more mesh if you want to get finer powder.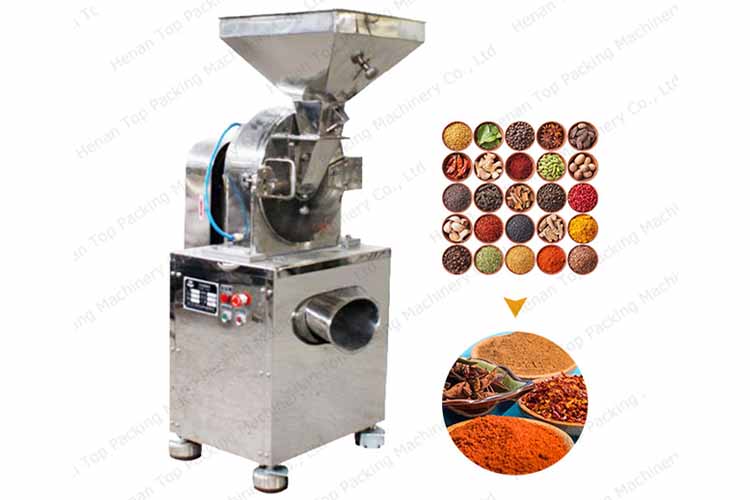 Food grinding machine working video
Parameters of food grinding machine
| | | | | | |
| --- | --- | --- | --- | --- | --- |
| model | TZ-18 | TZ-20 | TZ-30 | TZ-40 | TZ-60 |
| Processing fineness | 5-120 mesh | 5-120 mesh | 5-120 mesh | 5-120 mesh | 5-120 mesh |
| Capacity | 5-60kg/h | 6-150kg/h | 100-200kg/h | 160-800kg/h | 500-1500kg/h |
| Power | 2.2kw/h | 4kw/h | 5.5kw/h | 7.5kw/h | 15kw/h |
| Size | 550*600*1000mm | 550*600*1250mm | 600*700*1450mm | 800*900*1550mm | 1000*900*1680mm |
Features of food grinder machine
Reasonable design, compact structure, simple operation
Run stably, working efficiently, grinding with high speed
Be made of stainless steel, durable, convenient for cleaning and maintenance
Suitable for a variety of materials, such as rice, soybean, sugar, chilli, grains, condiments, etc.
Many types of food grinder are optional
Applications of grinding miller
The commercial food grinding machine is mainly used in all kinds of cereals, seasonings, Chinese herbal medicines with roots, branches, block material, and other low-oil dry hard, or brittle materials. The applicable materials include bean, wheat, rice, millet, barley, black rice, buckwheat, sorghum, corn kernel, black pepper, chili, cocoa bean, ginger, fennel seeds, and so on. Besides, it also can be applied in chemical materials, pharmaceutical, and pesticide industries.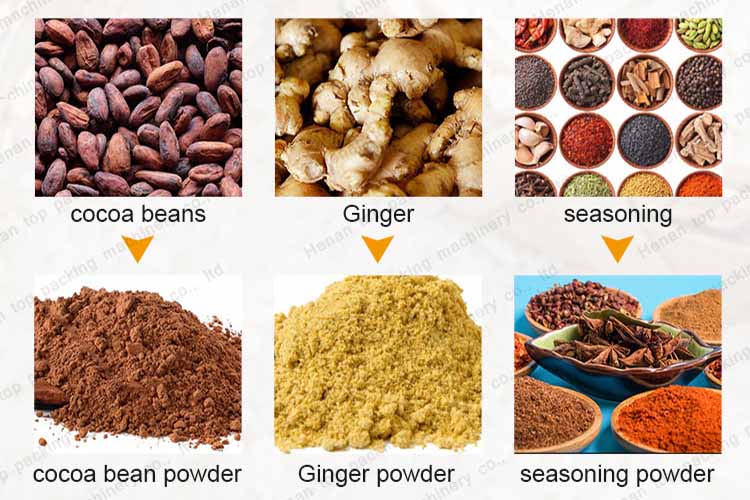 Structure of food grinder equipment
Food grinding machine consists of inlet, speed adjustment device, locking screw, crushing cavity, switch button, outlet. Before using the machine, it must be sure that the crushing cavity is closed and the screw locking. The main working process is placing material into the miller by inlet, then the material will flow into the crushing cavity to grind into powder, finally getting the correspondent powder from the outlet. You had better prepare a clean bag to fix on the outlet, which not only can collect powder easily, but also keep the working place neat better.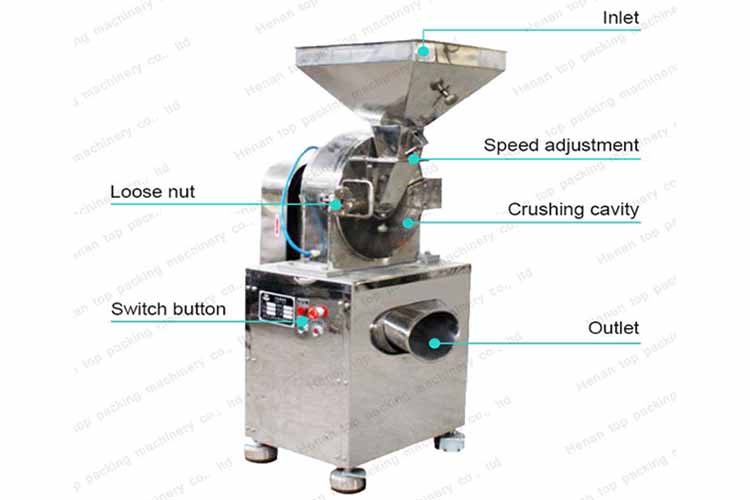 Related machines
The food grinding equipment can not only be used alone, but also match with a blender (drum mixer, horizontal mixer optional), and powder packing machine to compose a whole fully automatic production line. The line can complete the process of grinding, mixing, wrapping, sealing, and counting. If you are interested in it, you can get in touch with us soon to obtain more details and the best price.