Small filling machine is a kind of small quantitative machine for weighing and filling materials. It has the advantages of small occupied place, accurate weighing, low cost, wide applications, etc., suitable for various granule, powder, liquid, or paste, no matter bags or bottles. This machine can be used individually or as a part of a packaging line. It can match with a packaging part to complete the whole packing process. For example, a common match is a chain bucket packing machine with several small quantitative granule filling machines to package scented tea. Besides, customization service is available according to your needs.
Small filling machine for sale
Small desktop quantitative filling machine in Top(Henan) Packing Machinery for sale includes granule quantitative filler, powder quantitative filler, granule and powder quantitative filler in one, liquid filler, paste filler. All of them have the features of small occupied space, quantitative filling, low cost, ease to operate. Lots of filling volumes are available. You can choose according to your needs. Are you interested in them? Do you want to be our distributor? If yes, we will provide more competitive prices when you purchase more. Welcome to get in touch with us to get more details.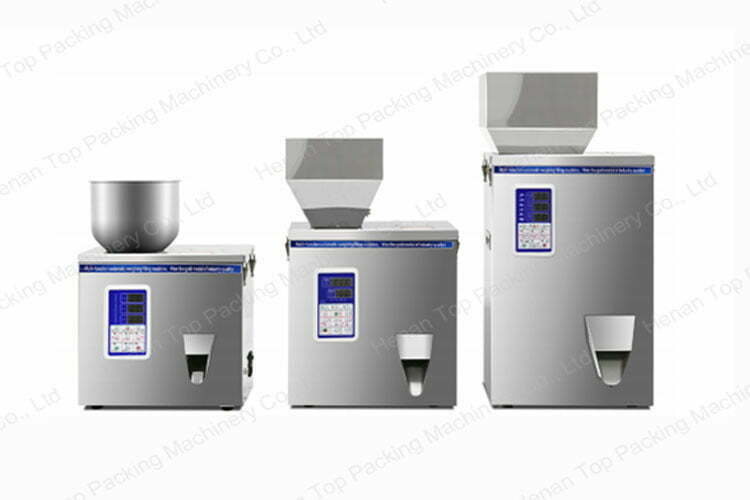 Small granule filling machine
Desktop granule filler is low cost, occupied a small place, portable, suitable for various granules, such as grains, tea, trinkets, rice, cereal, seeds, dried fruits, scented tea, rock candy, rose tea, jasmine, chrysanthemum tea, green bean, red bean, peanut, melon seeds, nuts, etc. The quantitative filling scope includes 0.3-20g, 0.5-50g, 0.5-99g, and 1-200g.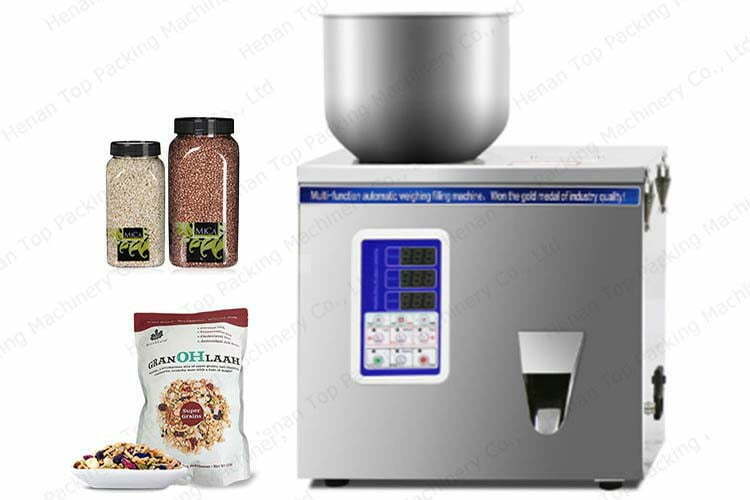 Desktop granule filler parameters
| | | | | |
| --- | --- | --- | --- | --- |
| Model | KL-20 | KL-50 | KL-100 | KL-200 |
| Power | 100W | 100W | 100W | 120W |
| Filling scope | 0.3-20g | 0.5-50g | 0.5-99.9g | 1-200g |
| Deviation | ±0.1-0.3g | ±0.1-0.3g | ±0.1-0.3g | ±0.1-0.5g |
| Machine size | 38*24*49cm | 38*24*49cm | 38*24*51cm | 38*24*51cm |
Desktop powder filling machine
Small powder filling machine applies to a variety of powders, such as flour, milk powder, coffee powder, spice powder, cornflour, rice flour, dyes powder, nutrition powder, condiment, cocoa powder, chemical powder, chili powder, black pepper powder, herb powder, etc. The filling scopes of 0.3-20g, 0.5-50g, 0.5-99.9g, and 1-200g are optional. The filling error is±0.1-0.3g.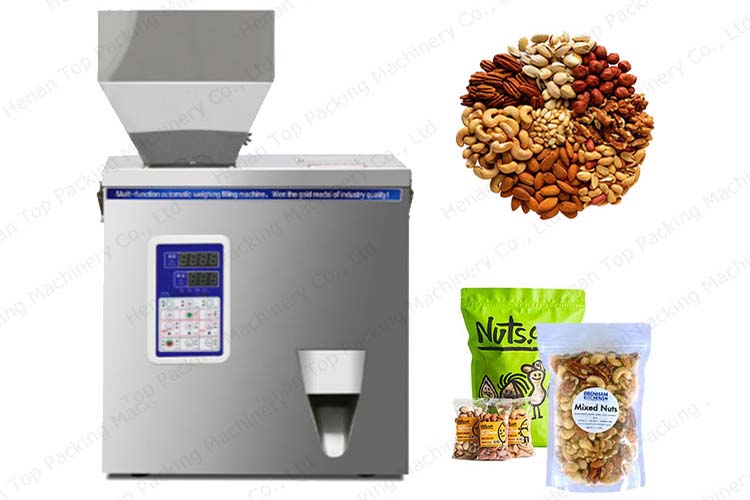 Small powder filler parameters
| | | | | |
| --- | --- | --- | --- | --- |
| Model | F-20 | F-50 | F-100 | F-200 |
| Power | 100W | 100W | 100W | 120W |
| Filling scope | 0.3-20g | 0.5-50g | 0.5-99.9g | 1-200g |
| Deviation | ±0.1-0.3g | ±0.1-0.3g | ±0.1-0.3g | ±0.1-0.5g |
| Machine size | 38*24*51cm | 38*24*51cm | 38*24*51cm/38*24*56cm(square hopper) | 42*26*62cm |
Desktop granule and powder filling machine in one
This type of machine is the two-in-one filling machine for granules and powders. It not only can weigh and fill powders but also granules. If the filling material is flour, the maximum filling weight can be 500g. While for rice, it can reach 999g. Among these three desktop quantitative filling machines, they all are supported customization, and voltage can be changed.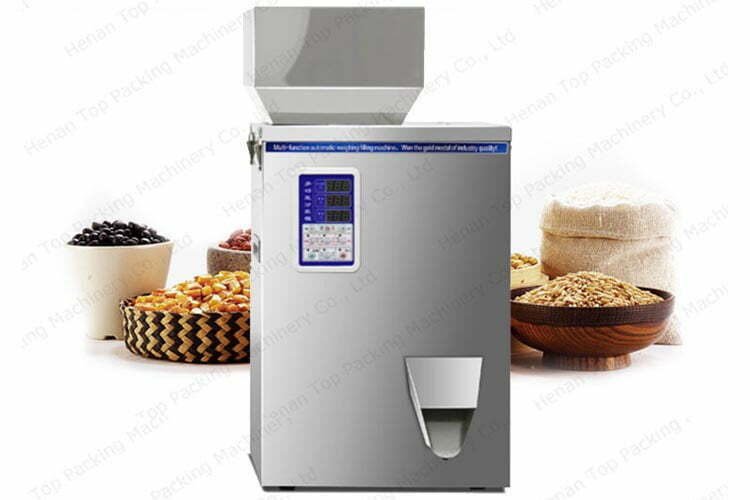 Desktop powder and granule filler parameters
| | |
| --- | --- |
| Model | F-500 |
| Power | 200W |
| Filling scope | 1-500g(flour)/1-999g(rice) |
| Deviation | ±1-3g |
| Machine size | 40*27*80cm |
Desktop quantitative liquid filling machine
The desktop liquid filling machine is driven by a cylinder to extract and eject material. Many sizes of liquid pumps optional, and the scope of filling models include 1-10ml, 10-100ml, 100-1000ml, 5-50ml, 50-500ml, 500-5000ml, 30-300ml, 300-3000ml, 1000-5000ml, etc. It's suitable for the liquid that can flow smoothly. This machine is popular for small and medium businesses because of its small occupied space, portable, simple operation, and low cost. The standard desktop liquid filling machine is one outlet filler. If you need a double nozzle liquid filler, it can be customized based on your needs.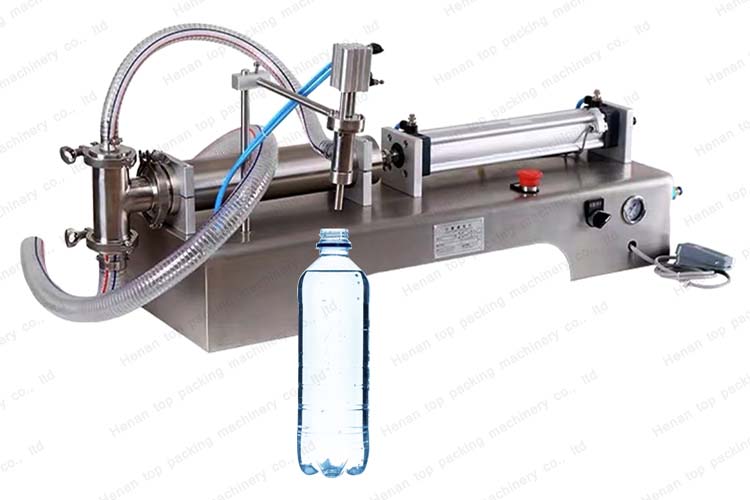 Desktop paste filling machine
Small paste filler includes two types of them, cone-shaped hopper paste filler, and U-type paste filler. As the names imply, they differ in feeding hoppers. The former is equipped with a cone-shaped hopper, suitable for paste with good fluidity and no granules or sediments. If the filling material is vicious, it's better to match a stirring device and heating function to help to fill. While the latter applies to paste with particles or sediments. A stirring device in the U-type hopper makes material with particles or sediments mix well and evenly.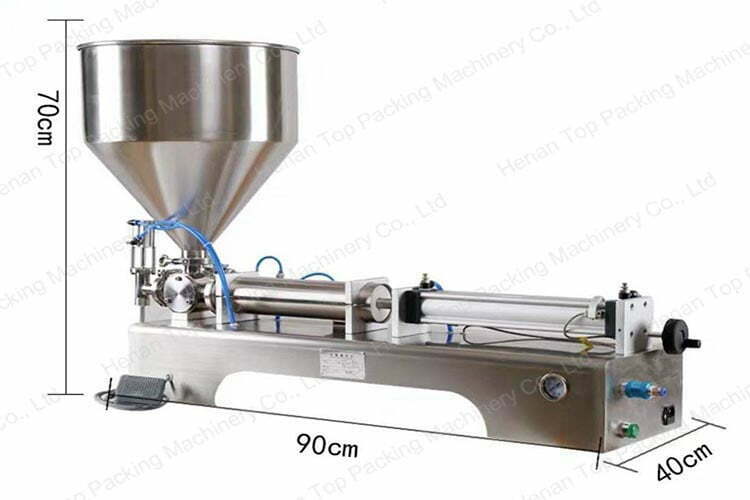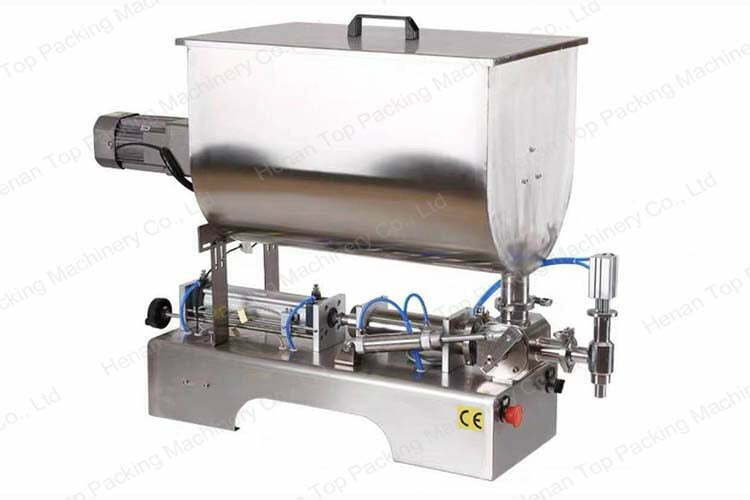 Semi-automatic paste filler parameters
| | |
| --- | --- |
| Model | 500 (8 models in total) |
| Filling material | Paste |
| Filling range | 50-500ml (8 ranges in total) |
| Air pressure | 0.4-0.6Mpa |
| Tolerance scope | 0.50% |
| Filling head | Single |
Characteristics of desktop filling machine
Small occupied space, portable, low cost, affordable price, wide applications
Run stably and smoothly, low noise, minimal power, lightweight, energy conservation
Microcomputer control, high precision, accurate weighing and filling
Quantitative weighing and filling, low deviation, decreasing material waste
Many kinds of filling scopes are optional for different demands
Adopt stainless steel for the contact material parts, durable and easy to clean
Support OEM service, including changing voltage based on your needs
Structure of small filler for powder and granules
Desktop granule and powder desktop filling machine structure include storage hopper, intelligent control panel, foot pad, outlet, infrared sensor, data port. The storage hopper can load lots of materials, saving feeding time. An intelligent control panel is easy to operate, convenient to set up various parameters, highly precise, and accurate. The contact material part is made of durable stainless steel, hygienic and clean. The product power cord is highly insulated to prevent leakage. Customized voltage is available.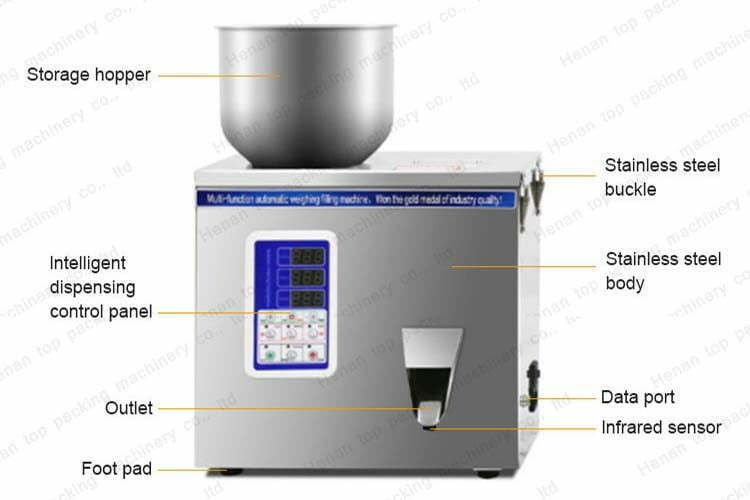 Why choose us as your top supplier?
Firstly, our company, Top(Henan) Packing Machinery Co., Ltd is a manufacturer and supplier. The machine is delivered from the factory directly, and we can provide customers a good price. Before shipment, we will send the buyer photos and videos. For the operating machine, we will provide an English manual and video. If our customers have some trouble when using our equipment, 24 online service is available. Besides, we support OEM service according to your specific requirements.
Related machines
All above are small filling machines for powder, granule, liquid, or paste. In addition, we also provide 5-50kg powder filling machines, automatic powder packaging machine, 5-50kg granule filling machine, fully automatic granule packing machine, multi-head weigher packing machine, chain bucket packaging machine, multi-head nozzle paste filling machine, multi-head outlet liquid filling machine, liquid bag packing machine, sauce sachet packaging machine. Lots of filling volume are optional. You can choose according to your needs, or contact us to get useful suggestions.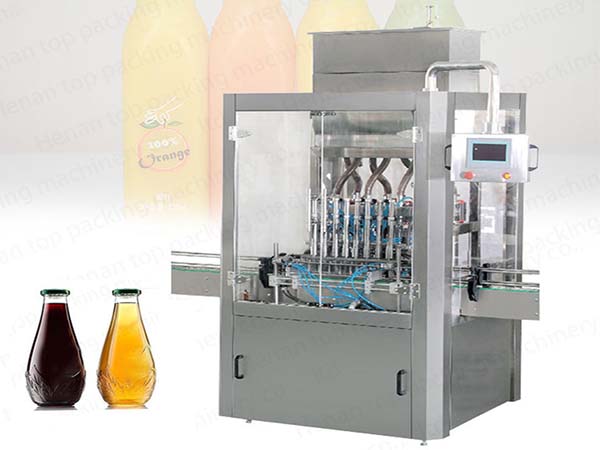 Conclusion
As packaging machines manufacturer and supplier, Top(Henan) packing machinery provides all kinds of packing machines, sealing machines, filling machines, capping machines, labeling machines, shrink wrapping machines, etc. Besides, lots of supporting machines are in the sale, such as loading machines, conveyor belts, coding printers, and so on. Furthermore, we support customization service based on your requirements. We will do our best to meet your needs for machines. Do you want more information and the best price? Contact us for further communication, and we will reply to you as soon as possible.