1-10kg powder filling machine
1-10kg powder filling machine is a kind of equipment to fill powder within 1-10kg. The same as other powder packing machines, it's equipped with an auger that measures the volume of filling material. The equipment is suitable for various kinds of powders, such as milk powder, flour, starch, condiment, chili powder, detergent powder, chemical powder, farm, and sideline products, additive powder, dyes powder, fodder powder, etc. In order to pack more efficiently, you can use it by matching it with some devices. For instance, it's better to buy a bag sealing machine together if you also want to seal the bag. While if you use bottles for packaging, you can purchase a conveyor belt to save labor. Furthermore, OEM service is available according to your needs.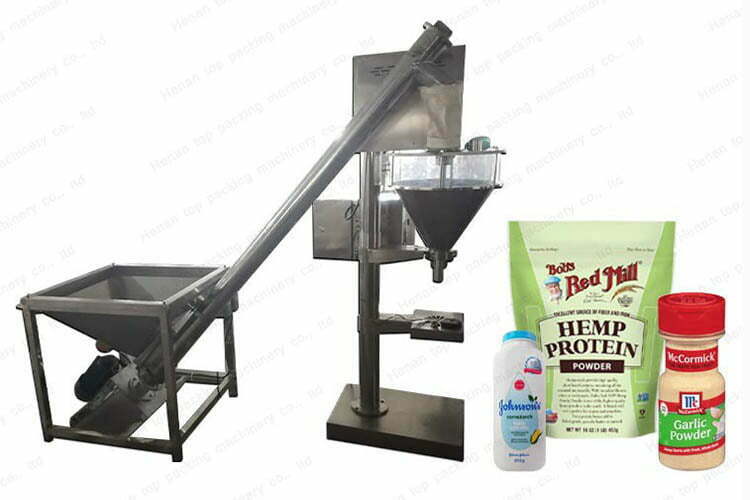 Semi-automatic 1-10 kg powder packing equipment parameters
| | |
| --- | --- |
| Power | AC380V 900W |
| Packaging specifications | 1-10kg |
| Packaging accuracy | ±1% |
| Packing speed | 500-1500bags/h (according to the packaging size and products) |
| Dimension | 1000*850*1850mm |
| Weight | 280kg |
Features & benefits of 1-10kg powder filling machine
Reasonable design, simple structure, easy to install, operate and maintain
Automatic quantitative weighing, filling, and adjusting metering error
Keys and PLC touch screen are optional based on your needs
Add a big clamp on the discharge port to fix packaging bag for filling big volume
Changing different sizes of auger can control to package different volume of material
Adopt quantitative weighing system, accurately, efficiently, and conveniently
Use stepper motor and electronic weighing technology, high precision
Suitable for filling packaging bag, bottle, and cans
Customization service available
1-10kg powder auger filler structure
The auger filler consists of a material hopper, the discharge outlet, electronic control panel, tray, screw conveyor with hopper, and a motor. The material hopper is used for storing powder for filling. A discharge outlet with an auger is to control filling volume. For large bag filling, it will be equipped with a clamp device to fasten the bag. The tray has a supporting function for bags, bottles, or cans. There are two kinds of control panels optional, keys and a PLC touch screen. Screw conveyor transports material into filling machine's hopper by the power of its own motor. In addition, we support customized machines according to your needs. You can get in touch with us to get more details by filling the form at the bottom of this article.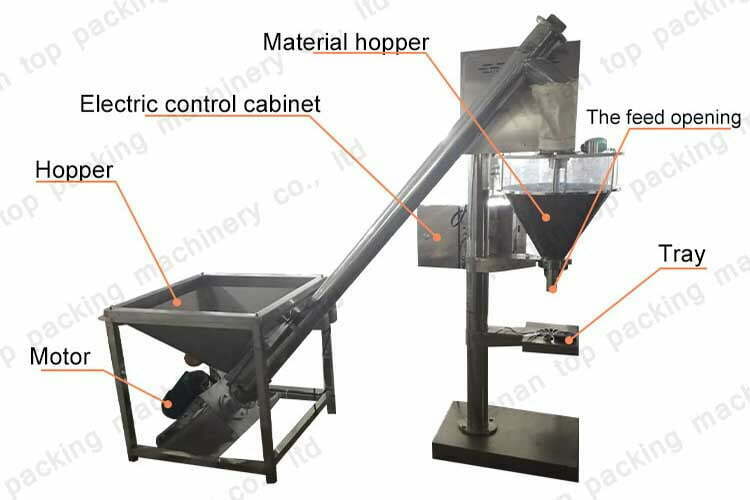 Screw conveyor parameters
| | |
| --- | --- |
| Power | AC380V 1100W |
| Elevating capacity | 1000-3000kg/h |
| Capacity of hopper | 100-300kg |
| Height of filling device | 2000mm( support custom service) |
| The material of the equipment | Stainless steel |
| Weight | 150kg |
Wide applications in food & non-food, bags, bottles, or cans
The powder filling machine for 1-10kg is suitable for a variety of powder, such as milk powder, coffee powder, flour, cornflour, rice flour, milk-tea powder, albumen powder, starch, spices, matcha powder, cocoa powder, pepper, chilli powder, black pepper, cumin, curry, masala, dyes powder, pesticide powder, additive, fodder powder, etc. And the filling equipment applies to bags, bottles, and cans.
Related machines in Top Packing Machinery
If you want a production line with the 1-10kg powder filling machine, there are many machines optional in TOP(Henan) Packing Machinery, such as conveyor belts for bottles or cans, continuous bag sealing machine, capping machines, vacuum sealing machine, date printer, carton sealing machine, and so on. Besides, we also provide powder packing machines for 0-80g/bag, 20-200g/bag, 500-1000g/bag, 1000-3000g/bag, 5-50kg/bag, etc. Furthermore, we support customization services. Contact us for more information and the best price.