Spice packing machine has a quiet influence on packing a variety of spices, such as black pepper, cinnamon, cumin, nutmeg, ginger, cloves, saffron, cardamom, masalajat powder, etc. Here is mainly spice powder packaging machine, fully automatic packing equipment, and semi-automatic packing equipment alternative. And the weight of packing powder is not more than 50kg all can be packed through different types of spices powder packaging equipment. The packaging speed, types, length, and width could be chosen according to your needs. Besides, an auger is usually used in powder packaging equipment, which controls the volume of spice powder, making the powder more fine and smooth. Furthermore, we provide custom services based on your actual requirements.
3 types of automatic spice packing machine for sale high quality
There is a fully automatic and semi automatic spice packaging machine for sale. A fully automatic spice pouch packing machine applies to 0-80g, 20-200g, 200-1000g, 1000-3000g per bag. They fill seasoning powder into the bag by pushing at an angle, horizontally, or vertically. All of them can automatically finish metering, date printing(choosable), bag making, filling, sealing, cutting, and counting. For weigher spice powder packaging, the semi-auto ones for 1-10kg and 5-50kg are optional. The semi-auto powder packaging equipment needs the operator to place prepared bags on the filling hole one by one.
In addition, some other devices, like screw conveyors and discharge conveyor belts, are alternatives to match with packing machines according to your practical needs. And we also support customization services. And we mainly discuss automatic spices pack machines here.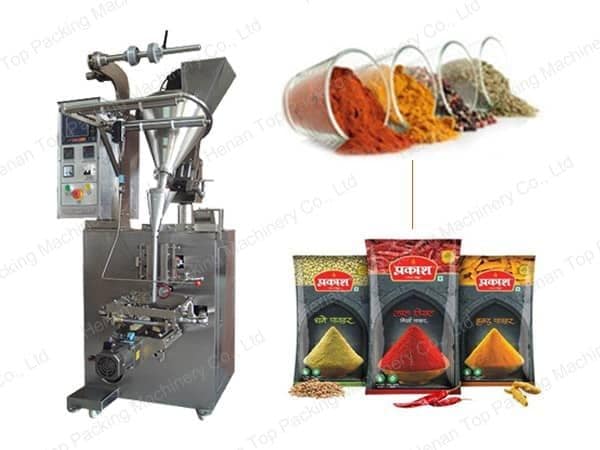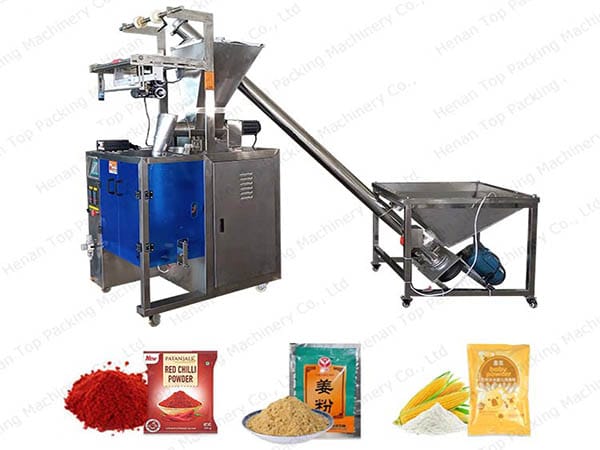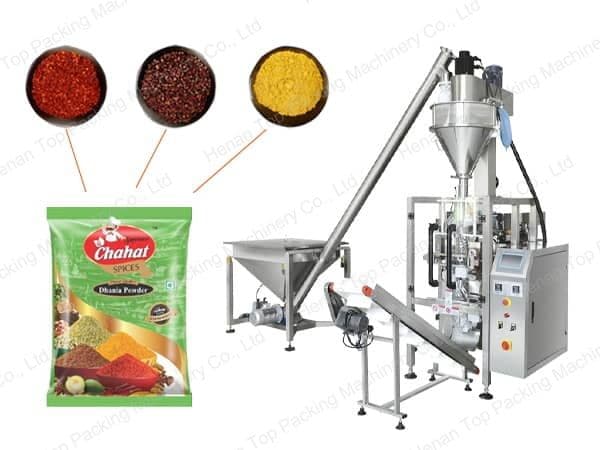 Working videos of 3 types of spice powder packaging equipment
The structure of small vertical type filling sealing machine for spice powder
Spice powder packing machine is widely applied to spice packaging within 80g/bag, automatically completing the whole process of filling, weighing, bag forming, sealing, cutting, and counting. Its body with 304 stainless steel, consists of a PLC touch screen, hopper, screw, packing film holder, bag former, sealing, and cutting device. PLC touch screen controls language, packaging speed, the vertical and horizontal temperature. The hopper is slanted, and equipped with a small transparent window in order to see its internal situation clearly. The screw measures the weight of spice powder by spiraling. Bag former is optional according to your needs, and it's simple to replace one.
Besides, heat sealing and cutting devices are covered by protective devices. Usually, a lot of clients purchase date printers and link bags to match the spice powder packing machine.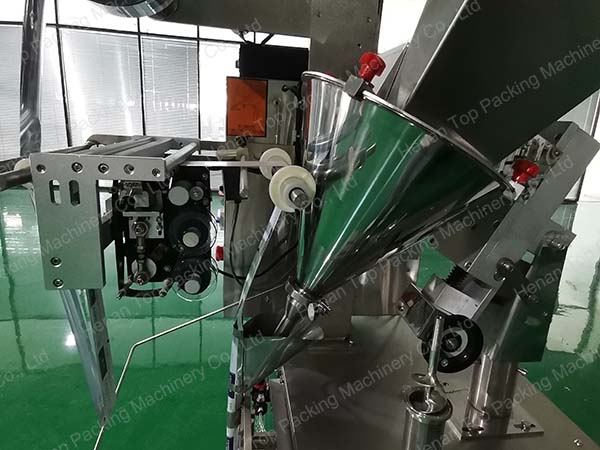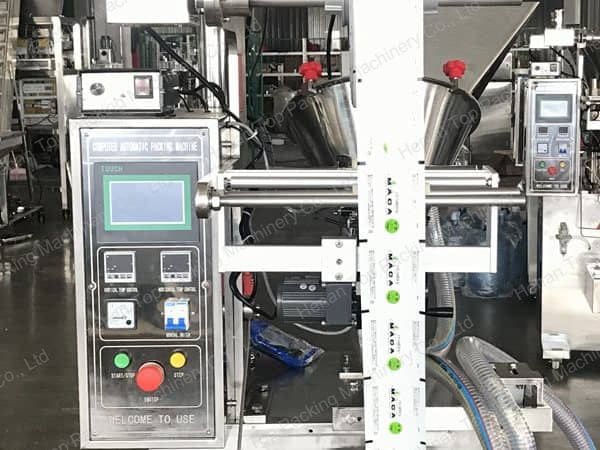 Automatic spices powder packing machine parameters
| | | | | | |
| --- | --- | --- | --- | --- | --- |
| Model | TH-320 | TH-450 | TH-420 | TH-520 | TH-720 |
| Packaging bag types | Back seal/ 3-side seal/ 4-side seal | Back seal/ 3-side seal/ 4-side seal | Back seal | Back seal | Back seal |
| Packaging speed | 20-80bags/min | 20-80bags/min | 5-30bags/min | 5-50bags/min | 5-50bags/min |
| Power consumption | 1.8kw | 2.2kw | 220V, 2.2KW | 220VAC/50Hz | 220VAC/50Hz,5KW |
| Dimension | (L)650*(W)1050*(H)1950mm | (L)650*(W)1050*(H)2150mm | (L)1320*(W)950*(H)1760mm | (L)1150*(W)1795*(H)2050mm | (L)1780*(W)1350*(H)2350mm |
| Bag length | 30-180mm | 30-300mm | 80-300mm | 80-400mm | 100-400mm |
| Bag width | 20-150mm | 20-210mm | 80-200mm | 80-250mm | 180-350mm |
| Air consumption | / | / | 0.65Mpa | 0.65Mpa | 0.65Mpa |
| Gas consumption | / | / | 0.4m3/min | 0.4m3/min | 0.4m3/min |
The model is named by its maximum diameter of roll film. For example, TH-320 applies to the roll film with 320mm. The 1-3kg lapel powder packing machine of TH-420, TH-520, and TH-720 for seasoning powder are pneumatic equipment, working stably, reliably, and efficiently.
Features & benefits of spice pouch packing machine
Stainless steel body, strong, durable, and easy to clean
Simple to install, operate, and replace bag former
Photoelectric eye-tracking, accurate position for sealing and cutting
Microcomputer chip controller, highly intelligent
Protective cover around sealing and cutting device
Equipped with four wheels is convenient to move.
Servo film conveyor system, accurate and highly efficient positioning
OEM service provided
Do you know these things about spice powder packing machine price?
Spice packing machine cost is closely associated with the materials of the machine, technologies, and the devices alternative. Our machine's body mainly adopts strong and durable stainless steel, which is an effect the cost of the spice packaging machine. Besides, technology is also a factor in price decisions. For instance, fully automatic equipment and semi-automatic equipment are quite different. Furthermore, some devices are optional to match with spice packaging equipment in order to package efficiently and accurately, such as a date printer, screw conveyor, vacuum feeder, output conveyor belt, etc. The spice packing machine price is strongly connected to the device you choose. To consider various factors involved comprehensively is the final price.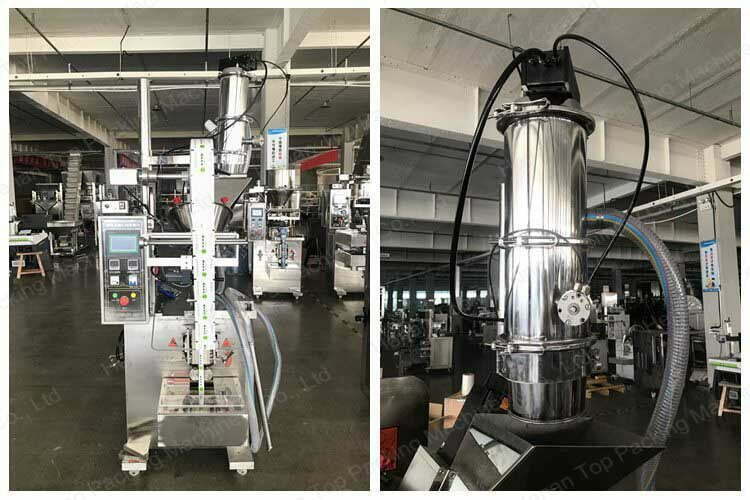 Benefits of spice packaging equipment
Simple structure to install, operate and replace bag former;
Strong, durable 304stainless steel adopted, easy to clean;
Microcomputer chip controller controls the heat sealing temperature, language option, packing speed, and switch of photoelectric eye tracking.
Photoelectric eye-tracking and servo film conveyor systems highly improve running accuracy and efficiency.
The screw is usually used in spice powder packing machine to control the packaging weight of materials.
The button "step" can click to test the machine, saving film and convenient.
Cutter protective device covers around the cutter, improving security.
Four wheels are equipped at the bottom of the machine, easy to move.
Customization service is available.
Applications of spice packing machine
Spice packaging machine has been widely applied to packing a variety of spices, with different bag types, lengths, and widths. The popular spices powder mainly are black pepper, cinnamon, cumin, nutmeg, ginger, masala, cloves, chili powder, saffron, cardamom, vanilla powder, etc. Our automatic powder packing equipment can highly improve production efficiency and output. And three kinds of bag styles for small pouches are available, 3-side seal, back seal, and 4-side seal. The size of the packaging bag depends on the bag former on the spice packaging machine, so you can select a suitable bag former according to your needs. Besides, we also have packing equipment for big capacity of spices packaging. Furthermore, we provide custom service according to your actual requirements.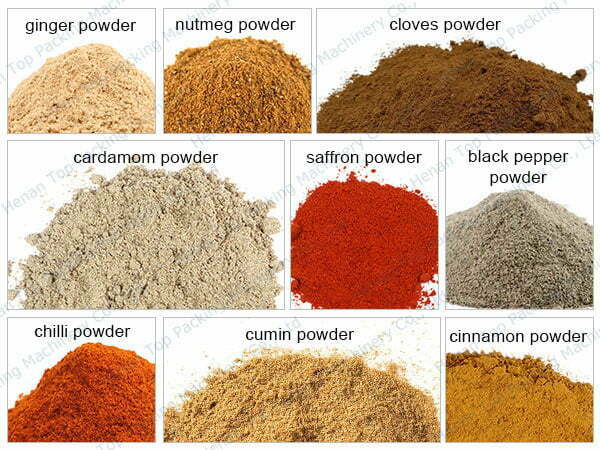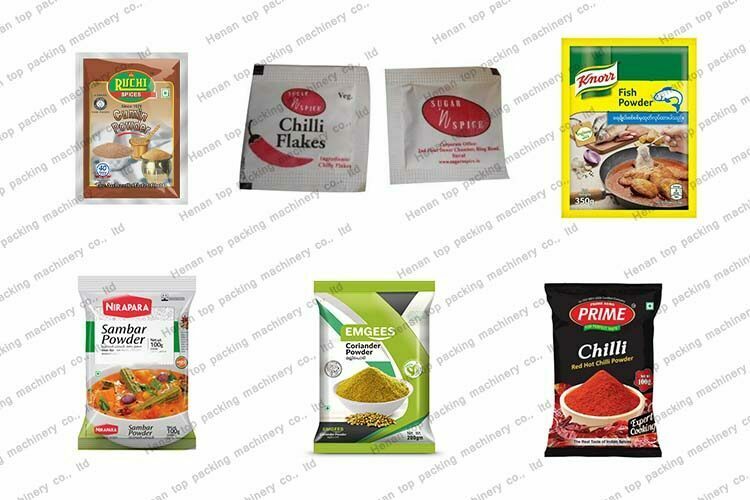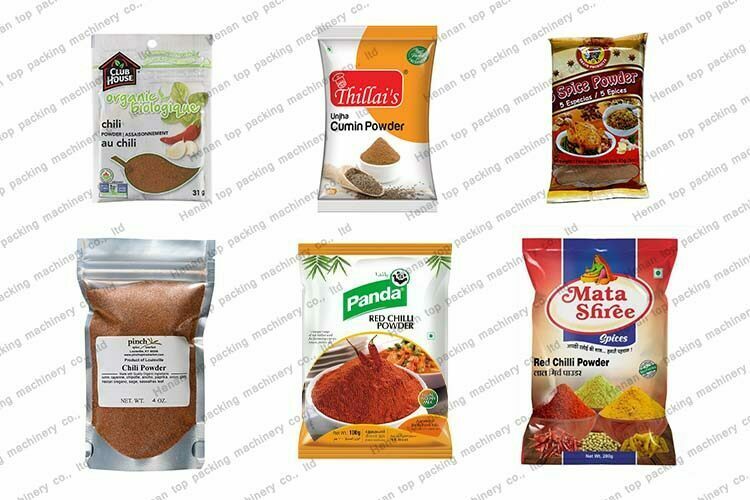 Why choose us to – Henan Top Packing Machinery Co., Ltd?
Henan Top Packing Machinery Co., Ltd has a highly professional staff engaged in packaging machine manufacturing for almost 30 years. Relying on excellent quality, advanced technologies, competitive price, and reliable service, our spices packing machines have been exported to foreign countries all over the world. Firstly, our products inspection has been strictly carried out before shipment in order that our customers could get machines of excellent quality and good performance. Secondly, there is a fully automatic spice packing machine with a PLC touch screen, servo film conveyor system, and photoelectric eye tracking. These technologies make machines simple to operate and run accurately and efficiently. Thirdly, we will provide the best price for you by taking various factors into consideration.
Finally, our reliable services are throughout the process of our cooperation. We will take photos and videos for you before shipment, and provide 24-hour online service, English video teaching, and a manual for you. In addition, customization is also available.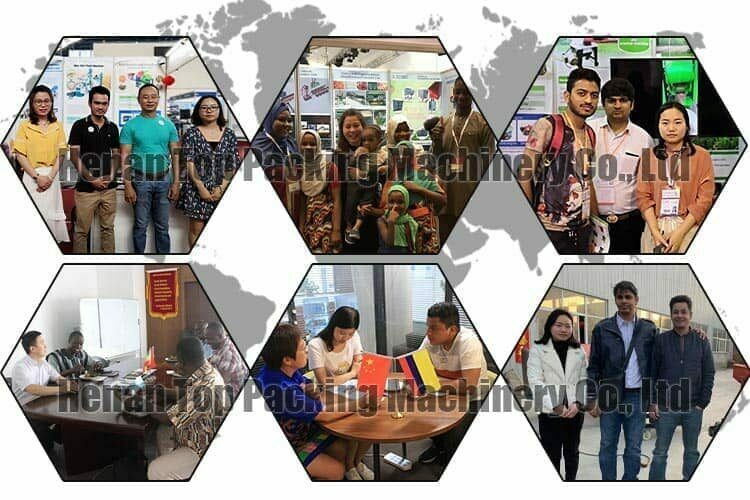 Contact us to boost your business
Spice packing machine for sale in Henan Top Packing Machinery has full-automatic and semi-automatic types for you to choose from. The full-automatic spice packing equipment is applied to small bag packaging, by pushing materials horizontally, vertically, or pushing at an angle. And there is full-automatic lapel spice packing equipment providing for bigger bags of spice packaging. But a large amount of spice packaging uses a semi-automatic spice packaging machine. All the above can highly improve efficiency and save manpower for packaging spice powder. Besides, the date printer, linking bag device, bag former, and conveyor belt are available to match the spice packing machine.
Furthermore, we accept customization services according to your actual requirements. If you want to know more details or a free quotation, welcome to get in touch with us. We will give you helpful suggestions for spice packing equipment to facilitate your business.