1-3kg powder packing machine
| | |
| --- | --- |
| Brand | Henan Top |
| Name | Fully automatic powder packing machine |
| Warranty | 12 months |
| Note | OEM service available |
1-3kg powder packing machine is suitable for various kinds of powder items, applying to coffee powder, food powder, spice powder, laundry powder, dyes powder, desiccant powder, chemical powder, ginger powder, etc. Packaging capacity can be reached at 3kg per bag. It mainly includes two parts, the material falling system, and the packaging system. The falling material part controls the volume of packaging material by a spiral auger. While the packaging part wraps the powder, sealing packaging film back, bottom side, and the top side.
In brief, the powder packing equipment can automatically finish bag making, coding, metering, filling, sealing, and cutting. Furthermore, customization service is available in accordance with your requirements.
1-3kg powder packing machine for sale
There are three types of automatic 1-3kg powder packaging machines in Henan Top Packing Machinery for sale, TH-420, TH-520, TH-720. They all can automatically complete the whole process of bag forming, coding, metering, filling, sealing, and cutting. Their models are related to the maximum width of packaging film. The bigger number means the maximum packaging bag is bigger. You can choose the most suitable one based on your needs.
Compared to other powder packing machines, its packaging part is closed, clean, hygiene, preventing dust from entering it. Pneumatic power makes the packing process more stable, using a long time. If you want to package more powder per bag, we also provide the 1-10kg powder filling machine, and 5-50kg powder filling & sealing machine. Get in touch with us to get more useful details.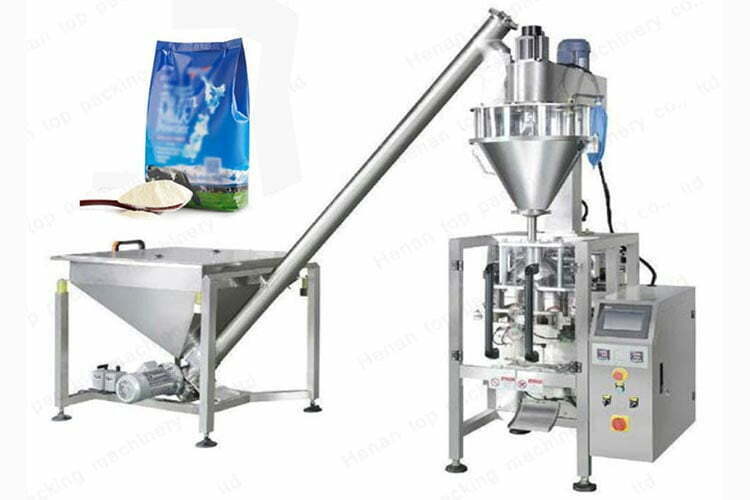 Features of automatic powder packing machine for 1-3kg
Reasonable design, intelligent control panel, high production efficiency, simple operation
Independent electricity boxes of pneumatic control and circuit control, running stably, low noise, fully automatic packaging
PLC touch screen controls using language, packaging speed, packaging length, etc.
Double belt film pulling with big wheels shapes good packing bag appearance
Servo film conveying, high precision positioning
Film roll holder device is on the back of the machine, easy to install
Closed packaging structure, keeping dust from packaging system
OEM service available
Wide applications of automatic powder packaging equipment for 1-3kg
1-3kg powder packing machine has a wide application in food, seasoning powder, dyes powder, desiccant, additives, chemicals, etc. It is suitable for milk powder, flour, spices powder, cornflour, rice flour, tapioca flour, coffee powder, cocoa powder, herb powder, matcha powder, chili powder, powder of black pepper, cinnamon, cumin, nutmeg, ginger, cloves, saffron, cardamom, detergent powder, and so on. It usually can be up to the maximum packaging weight of 3kg per bag.
1-3kg powder packing machine structure
Automatic powder packaging machine for 1-3kg consists of the control panel with PLC touch screen, material tank, film roller conveying device, bag maker, code printer, vertical sealing device, double belts film pulling device, horizontal sealing & cutting device, discharge lower pallet, etc. Set parameters on the touch screen which will display various parameters. Like other powder packaging machines, it also adopts screw filling and heat sealing. For the 1-3kg powder packing machine, the coding device is standard. Low pallet output is equipped on the bottom of the machine as a cushion.
Besides, the place of horizontal sealing can add a gusset device. In addition, the equipment can work with a screw conveyor, and output conveyor belt together to improve production efficiency and save labor.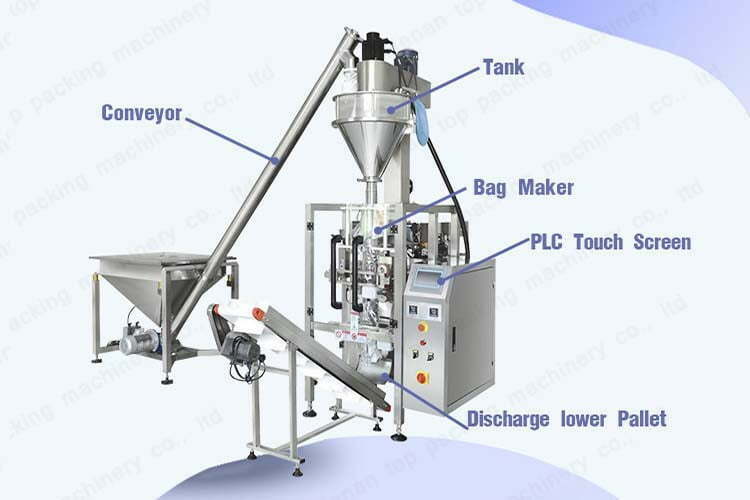 Detailed parts of the powder lapel packing equipment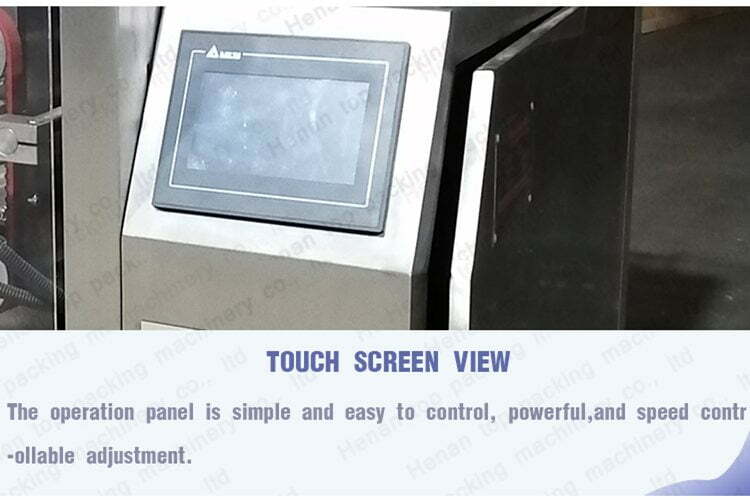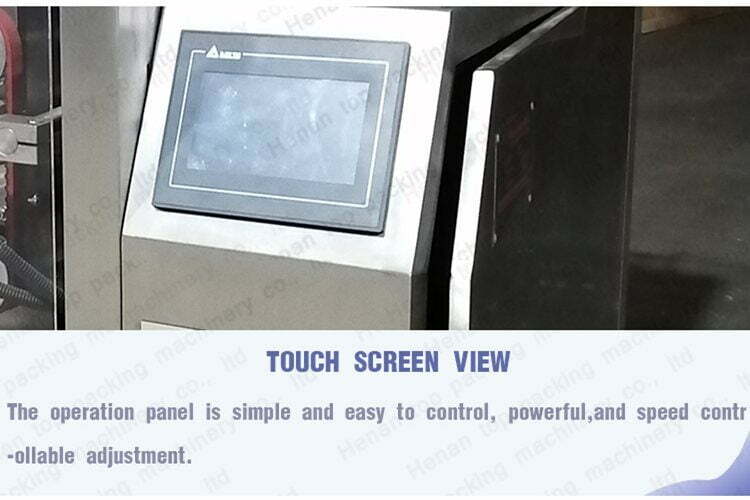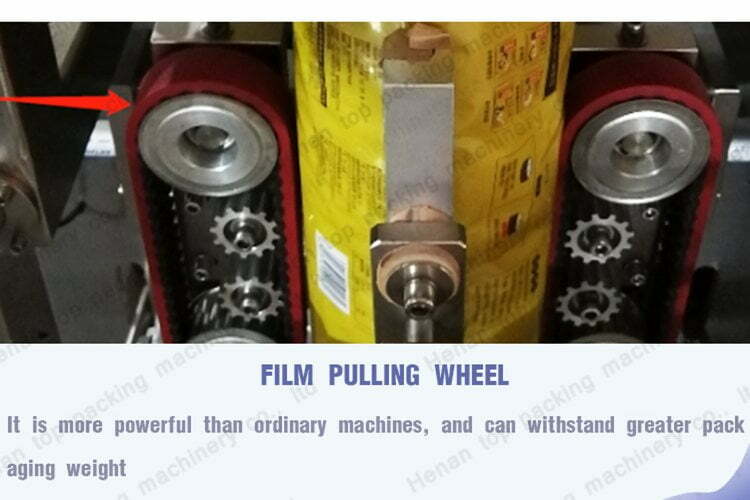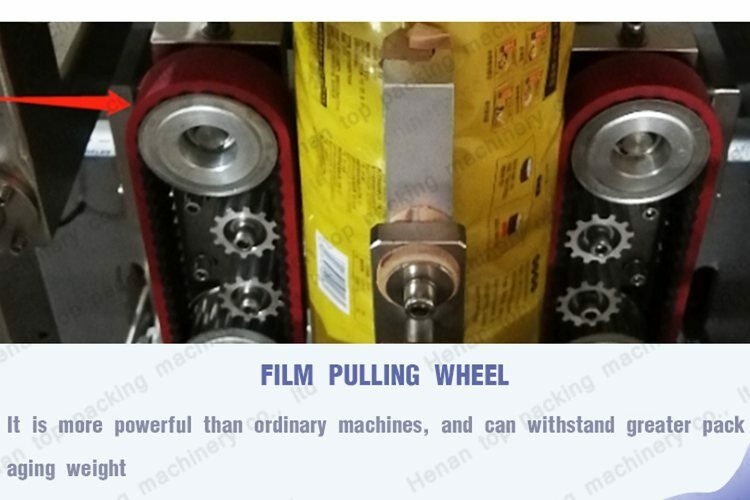 Why choose us as your top supplier?
As a packaging machines manufacturer and supplier, Henan Top Packing Machinery Co., Ltd have rich experiences in various packing machines for long years. We always do our best to provide equipment with good quality, professional service, best price to our customers. Before shipping, we will send photos and videos to them. After-sale, we attach importance to feedback from our customers. Nowadays, we have received lots of orders from all over the world. For customers' requirements about machines, we also support specific customization services. Welcome to get in touch with us to get more details. Looking forward to cooperating with you.