Counting packing machine is suitable for single kind or several kinds of small parts packaging by matching different numbers of bowl feeders. It mainly consists of a counting system and a packaging system. The counting system has two types. One is an infrared ray induction sensor, and the other one is a customized device for a certain number per bag. The packaging system can automatically complete the process of bag making, filling, sealing, and cutting. It has the advantages of high automation, intelligence, efficiency, precision, and so on. The counting feeder is customized according to the size and number of objects. If you want to improve packing speed or package different kinds of materials into one pouch, adding vibratory feeders is a good idea.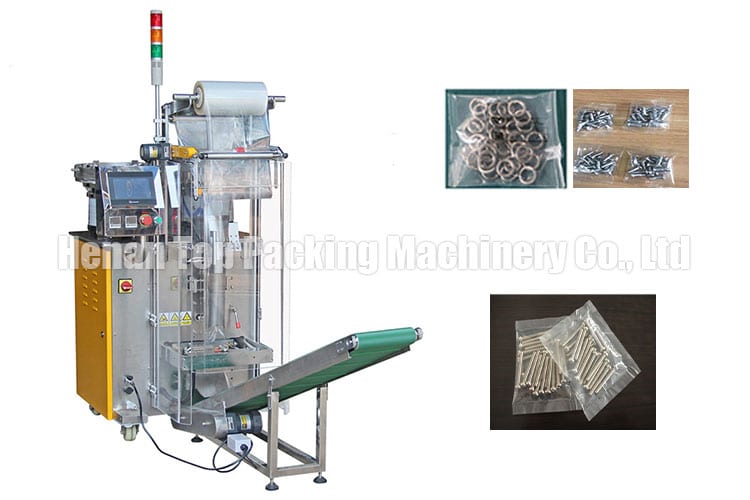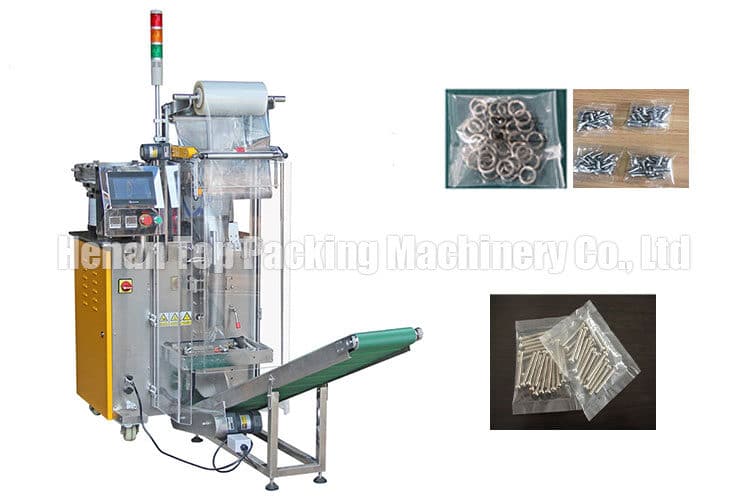 What are the characteristics of the counting packing machine?
Simple structure, easy for installation, operation, and maintenance
Packaging effect excellently, heat sealing firmly, smoothly, and neat
High production speed, quality, efficiency, and durability,
The nail packing machine uses a PLC control screen that is convenient to set various related running data.
Customized screw feeding disk in accordance with the parts, filling them into bag one by one
Be equipped with safety protection device for dangerous parts, such as a cover around the cutter.
Vibrating feeding design ensures materials are in array for counting automatically
It can match a different number of screw bowl feeders according to customer's needs.
Be able to match with date printer, labeling machine, output conveyor, and other supporting devices.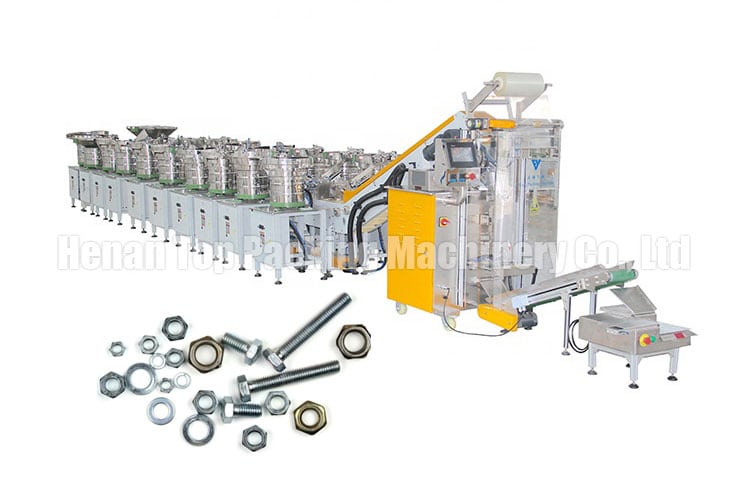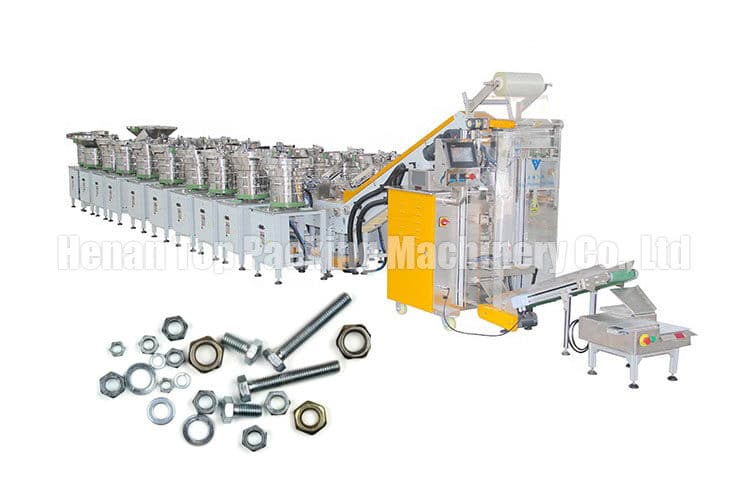 Main components of screw nail packing machine
The bolt packing machine is composed of a screw vibrating feeder, packaging film conveying system, bag maker, control panel, sealing device, cutter, double wheels for pulling the film, a pallet, and so on. A spiral vibration feeder is used to make items in order. Like bucket chain packaging machines, it's able to match multiple screw feeders for packing different kinds of objects in one pouch. The packaging film transportation system includes several rollers and pulling film devices, beneficial for packaging continuously. PLC touch screen, heat sealing device display, emergency button, and start and stop switch are on the control panel. Similar to other packing machines, it is equipped with horizontal sealing, and end sealing and cutting devices. In order to protect the final product, there is a pallet on the bottom of the equipment. Besides, many customers will match an output conveyor under the pallet.
Wide applications of counting and packaging equipment
The counting packing machine with screw feeder applies to a variety of non-food and food industries. Common packaging items have fastener kit, furniture wood screw, plastic plug, bolt, plastic bottle cap, rubber O-ring, hardware, trinkets, washer, nail, small accessories, toys, building blocks, button, medicine, candy, milk tablet, nut, and other small items, etc.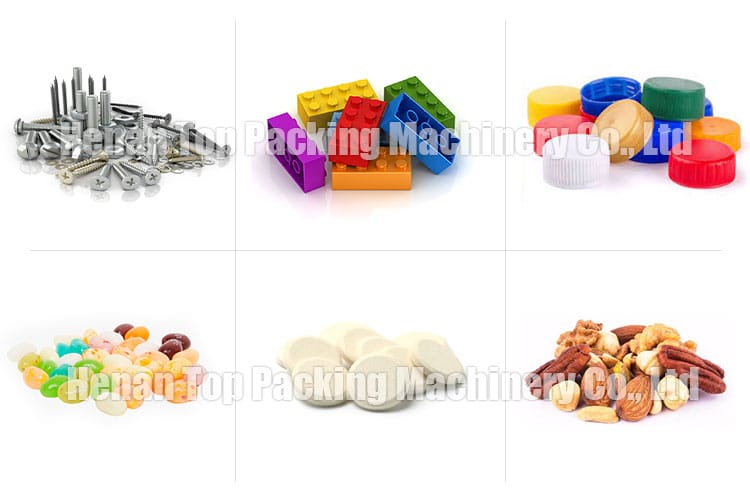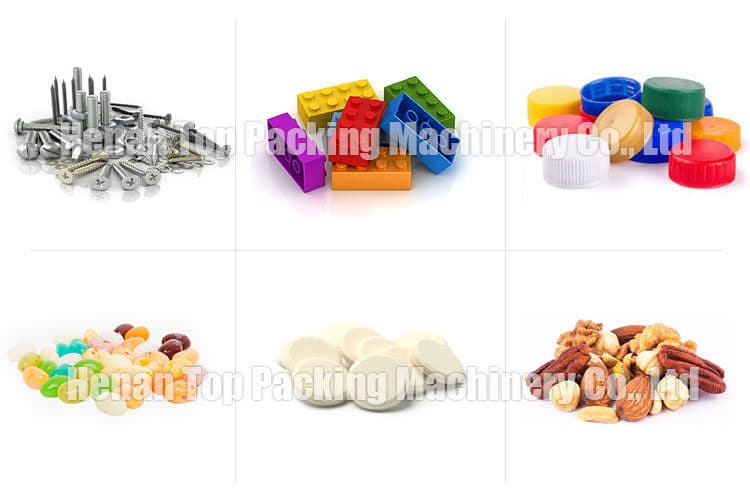 How does the hardware counting packing machine work?
Install each part of the autoamtic counting and packaging machine and connect to power.
Make sure the packaging film have been installed and place packaging objects into vibratory feeder.
Set up packing parameters on the control panel, such as using language, bag length, sealing temperature, etc.
Starting the equipment, it will automatically finish transporting packaging items to outlet, shaping the packaging bag, falling items into pouches, sealing and cutting.
The touch screen will display the number of the products finished.
Turn off the packing machine if finishing working.
Maintain it in a regular period.
Automatic counting packaging equipment working video
Technical data of automatic counting packaging machine
| | |
| --- | --- |
| Model | TH-320 |
| Power | 220V, 50/60Hz, 2KW |
| Packaging speed | 30-60bag/min |
| Bag length | 50-180mm |
| Bag width | 40-150mm |
| Max width of the packaging film | 320mm |
| Weight | 300kg |
| Dimension | 1200*1000*1600mm |
The parameter is just a reference for the standard TH-320 counting packing machine. The final equipment depends on the customer's requirements. And its screw bowl feeder usually is customized according to the size packaging things and the number per bag.