Chain bucket packing machine
Chain bucket packing machine is a kind of equipment that does not weigh the material when during the packaging process. It widely applies to various granules, such as peanuts, potato chips, banana chips, prawn crackers, bugles snacks, onion rings, biscuits, broad beans, green beans, red dates, cereal, etc. Besides, it can make it possible to package different materials into one bag, like scented tea. You can choose manual putting material into chain buckets or matching with weighing filling machine to realize fully automatic, highly improving production efficiency, and saving labor and time.
Chain bucket packing machine for sale
Bag packing machine with chain bucket for sale in Top(Henan) Packing Machinery includes 2 models, TH-320 and TH-450. They are named by the maximum packaging film width. They all can finish bag making, filling, sealing, cutting, and counting automatically. When it works, it packages the materials from the chain bucket one by one, no matter how much material is.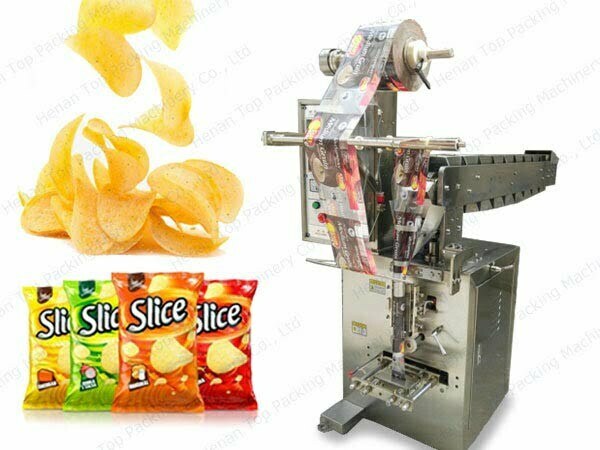 Chain bucket granule packaging machine parameters
| | |
| --- | --- |
| Power | 2.2kw |
| Packaging bag length | 50-300mm |
| Packaging bag width | 80-200mm |
| Packing speed | 20-60bags/min |
| Packaging capacity | Manual putting material or match filling machine |
| Sealing style | Back seal |
| Weight | 400kg |
| Dimension | 820*1220*2000mm |
(The parameters can be adjusted according to customer's requirements)
Bucket chain packing machine working video
Features of chain bucket packaging machine
Reasonable design, simple structure, horizontal chain bucket, easy to operate
Advanced microcomputer chip control, on touch screen to set up using language, packaging speed, bag length, etc.
It can complete the whole process of bag forming, filling, sealing, cutting, and counting Automatically.
Equipped with photoelectric eye to ensure positioning accurately and cutting precisely
A large screen display is easy to see various parameters on the screen.
It's easy to see vertical and horizontal sealing temperature
Intelligent fault diagnosis, displaying the fault position, convenient to maintain
The emergency button is designed as a precaution safety
Customization service available
Wide applications of chain bucket packing equipment
Back seal packaging machine with chain buckets is suitable for all kinds of non-stick granules, such as scented tea, coffee bean, peanut, broad bean, melon seeds, puffed food, oatmeal, rice crust, green beans, red beans, popcorn, candy, apple chips, potato chips, french chips, banana chips, prawn cracker, bugles snacks, onion ring, biscuit, snacks, jelly, dried fruit, dried vegetable, etc.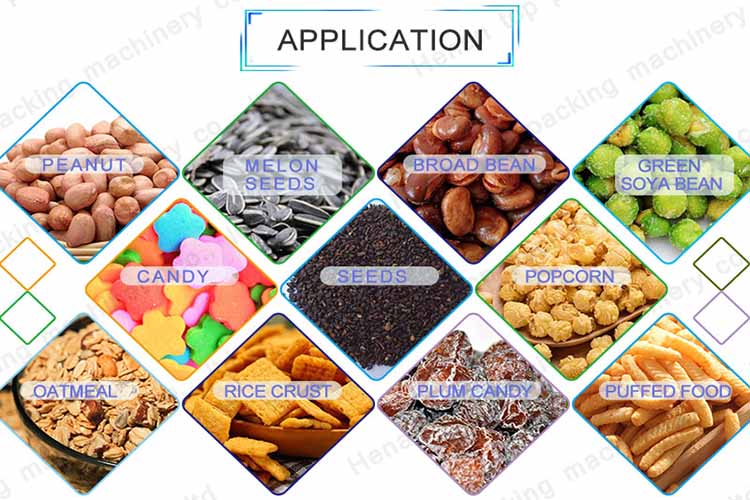 Chain granule packing machine structure
The equipment is composed of a touch screen, chain buckets, bag former, film roll fixing device, vertical sealing device, horizontal sealing, and cutting device, etc. The operator can set up using language, packaging bag length, packing speed, etc. The chain bucket for materials is used to convey and feed granules into the packaging bag. And the size of the chain bucket for material is a few differences based on different customer's requirements. If you want to pack different sizes of bags, you need to replace the coordinating bag maker. Besides, we also provide nitrogen-filling devices if you want. Furthermore, OEM service is available.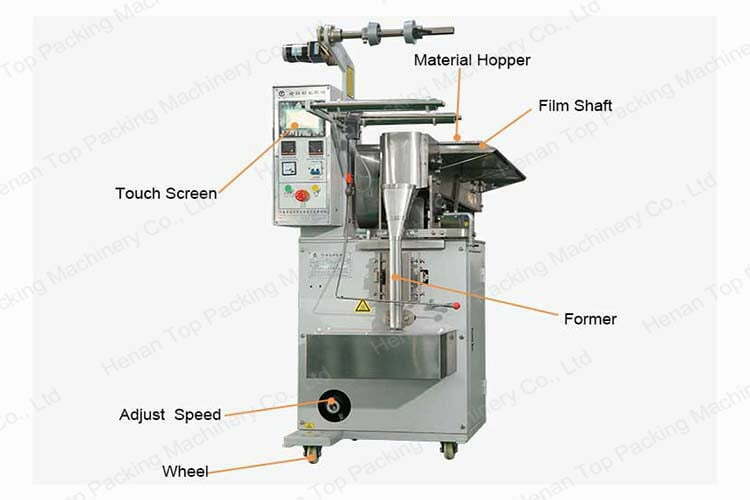 Do you know these about chain bucket packing equipment price?
Chain granule packing machine price is closely related to manufacturing material, technology, and other optional devices to match with. The better making material for the machine, the material cost is higher. More advanced technology needs more labor costs to realize it. For optional devices, it depends on your choices. If you need a feeding device to fill material into the chain bucket, you can choose to match one or several quantitative weighing and filling devices that are low-cost. Besides, there is a coding printer, output conveyor, nitrogen filling device, etc. Therefore, the final price is decided by the specific machine. Are you interested in it? Get in touch with us to get more details and the best price.
Contact us to learn more information
Compared with other granule packing machines, it can package various sizes of granules in the scope of the chain bucket and packaging bag. When it works with quantitative feeding devices possible to package different materials in a certain proportion. The common models in Top(Henan) Packing Machinery are TH-320 and TH-450, but we can customize machine size according to your requirements. Besides, we also supply packaging machines for liquid, paste, pieces, powder, or granule, vacuum sealer, capping machines, sealing machines, pillow packaging machines, etc. Looking forward to your contact information and further communication.