Vacuum capping machine
| | |
| --- | --- |
| Model | TZ-40 |
| Power | 0.87kw |
| Suitable cap Diameter | 45-80mm |
| Capping Speed | 10-20bottles/min |
| Machine Size | 750*650*1400mm |
| Machine Weight | 160kg |
Vacuum capping machine is a screw capper that can exhaust the air of bottles or cans through a vacuum pump so that the food in a vacuum circumstance extend storage time. The equipment body adopts durable stainless steel material. This vacuum bottle sealer is equipped with a PLC touch screen, four moulds. The mould is designed based on the size and shape of the bottles or cans. It needs the user to put the bottle with a cap in the mould by hand. It's suitable for glass bottles and cans with iron covers. Besides, we supply customization service according to your requirements. Do you want to get more details? Contact us and we will reply to you as soon as possible.
Various applications of vacuum capping equipment
Vacuum packing machine is suitable for glass bottles or cans with iron covers, such as milk, yogurt, juice, jam, peanut butter, tomato sauce, salad dressing, chilli sauce, fruit cans, etc. The shapes of bottles or cans include round, square, flat, hexagonal, octagonal, polygonal, irregular, etc. This machine screw caps by pneumatic driving, so it's a good idea to match with an air compressor. Besides, you had better be equipped with an oil-water separator so as to avoid the water that produces during the production process flowing to the machine by the pipe.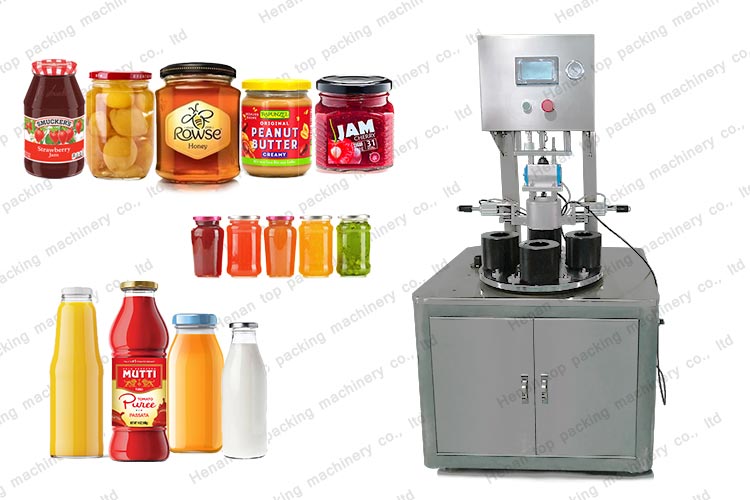 Vacuum capping machine parameters
| | |
| --- | --- |
| Model | TZ-40 |
| Power | 0.87kw |
| Suitable cap Diameter | 45-80mm |
| Bottle Diameter | 40-80mm |
| Bottle Height | 60-130mm |
| Capping Speed | 10-20bottles/min |
| Machine Size | 750*650*1400mm |
| Machine Weight | 160kg |
Semi automatic vacuum capping machine working video
Features & benefits of vacuum capping machine
Simple structure and reasonable design to install, operate, and maintain;
Run stably, low noise, and small space occupied;
Four fixed foot or four wheels optional; fixed foot is more stable;
The mould can be customized according to the size and shape of your bottles or cans.
Glass bottle with iron cover is the best choice for vacuum capping.
Customization service is available.
The structure and details of the vacuum capping machine
Vacuum capping machine consists of PLC touch screen, rotary cylinder, screw cap mould, vacuum pump, etc. The PLC touch screen can set up lots of parameters, such as using language, vacuum time, the delay of screw capping, the time of lifting, etc. A set of screw cap moulds is four with the same size and shape. The capping speed is 10-20 bottles or cans per minute. Each set of moulds is customized on the basis of the size and shape of the bottle or cans. Vacuum pump exhausts air when bottles or cans are in the mould through a pipe.
Why a glass bottle or can with an iron cover is the best choice?
The vacuum capping machine will exhaust the air in the bottle so as to make a vacuum circumstance. If using a plastic bottle, it's likely to deform when vacuum capping. If the cap is not iron, the capping and sealing may not be tight. While the glass bottles or cans with iron caps can be well sealed and keep vacuum time long time on the basis of the property of the glass and iron materials. In order to prolong storage time, a glass bottle or can with an iron cover is the best choice. The vacuum capping will effectively slow down food spoilage.
Related machines
As a packing machine manufacturer and supplier, we also provide bag packing machine, powder packaging machine, granule packaging machine, liquid packing machine, vacuum packing machine, pillow packaging machine, automatic bottle filling and packaging machine, automatic round bottle labeling machine, etc. Various packaging machine are optional. Furthermore, conveyor belt, date printer, air compressor are available. Meanwhile, we support OEM service. Contact us to get more details and we will reply to you as soon as possible.