Automatic packaging machine
Automatic packaging machine has been applied to food, drink, medicine, hardware, woodwork, etc. We can see packing products everywhere in our daily life. Different packaging types and sizes have greatly satisfied people's needs. People will not only notice the product itself but also consider its packaging when they purchase something. A pretty and neat packing would attract a lot of customers. Furthermore, an excellent automatic packaging machine can highly improve efficiency and save manpower. According to the degree of automation, the packing equipment is divided into fully automatic packaging machine and semi-automatic packing machine. You can choose a suitable packing machine on the basis of your needs. And we provide custom service. Contact us to get more information.
Various types of automatic packing machine for sale
Automatic packaging machine for sale in TOP Packing Machinery mainly are powder packing machine, granule packaging equipment, liquid packaging equipment, vacuum packing machine, vertical packaging equipment, pillow packaging machine, etc. Powder, granule, liquid packing machines usually are vertical packaging equipment. A vacuum packing machine is used for packaging perishable food, like fresh meat, fruit, vegetable, etc. While pillow packaging machine is suitable for regular shapes of products, such as bread, moon cake, biscuit, mask, clothes, and so on. If you want to pack several small bags into one bag, it's a good idea to select pillow packaging equipment. Besides, we also provide specific automatic packing machine, like an automatic tea bag packing machine which can complete the whole process of the inner bag and outer bag packing automatically. Meanwhile, customization service is available. If you are interested in our products, contact us for more details.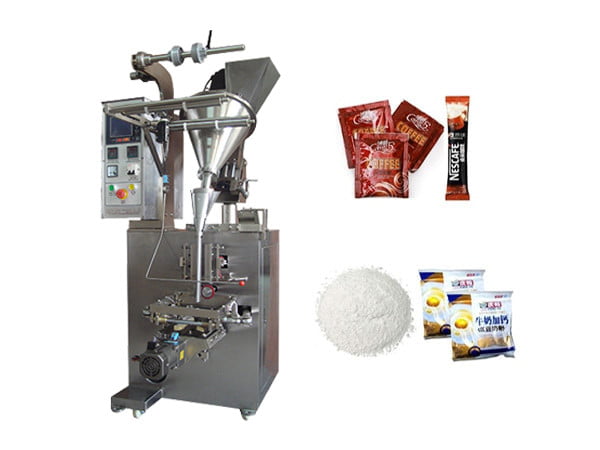 1-80g automatic powder packing machine parameters
Packing style (Bag style): 3-side seal /back seal / 4-side seal
Packing speed: 20-80 bag/min
Power Consumption: 1.8kw
Power Consumption: 1.8kw
Weight: 250kg
Dimensions: 650*1050*1950mm
Packing weight :0-80g
Bag width :20-150mm ( replace bag former)
Bag length:30-180mm adjust
Note: custom service available
TH-320 Granule Packing Machine Parameters
Bag style: Back-seal
Packing speed: 32-72 bag/min or 50-100 bag/min
Bag length: 30-180mm
Bag width: 25-145mm(Need to replace the Former)
Filling range: 22-220ml
Power Consumption: 1.8 KW
Weight: 250kg
Dimensions: 650*1050*1950mm
Carton size: 1100*750*1820mm
Note: OEM seivice available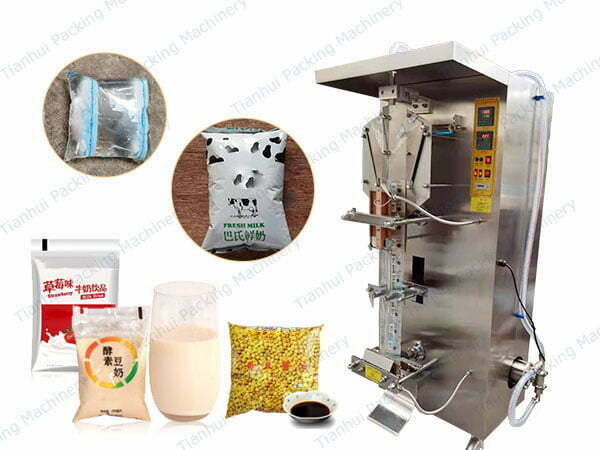 TH-420 Liquid Packaging Machine Parameters
Type:TH-420 liquid packing machine
Bag length:80-300mm(L)
Bag width:50-200mm(W)
Packing speed:5-30bags/min
Measuring range:5-1000ml
Air consumption:0.65mpa
Gas consumption:0.3m³/min
Voltage:220V
Power :2.2KW
Dimension:(L)1320mm×(W)950mm×(H)1360mm
Weight :540Kg
Note: Custom service available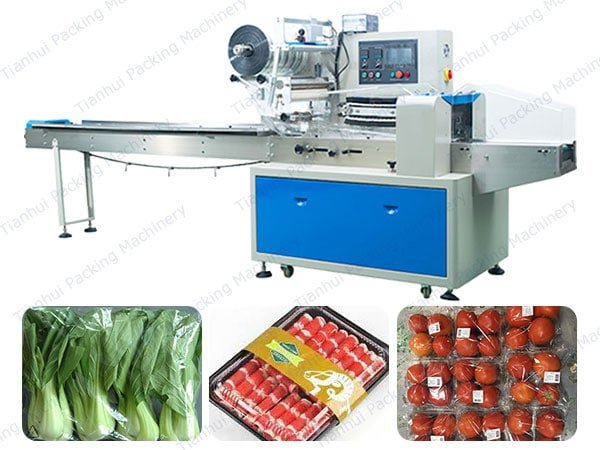 TH-450 Pillow Packing Equipment Parameters
Film width: max 450 mm
Bag Length: 130-450 mm
Bag Width: 50-80 mm
Product Height: Max.70 mm
Packing speed: 30-180 bags/min
Power:220V,50/60HZ,2.6KVA
Weight:900 kg
Dimension: 4020*745*1450 mm
Note: Customization available
Fully automatic packaging machine VS semi-automatic packing machine
There are similarities and differences between full-automatic packaging equipment and semi-automatic packing equipment as follows. Firstly, no matter fully automatic or semi-automatic packing machines, compared with fully manual work, they both improve work efficiency to some degree. Secondly, their weighing and filling are quite accurate and convenient. Thirdly, a fully automatic packing machine can complete the whole process of bag forming, date printing, weighing, filling, sealing, cutting, and counting. While semi-automatic packaging equipment requires staff to put the bag on the machine for filling and sealing. In brief, fully automatic packing equipment saves more time, manpower, and working more efficiently than a semi-automatic packaging machine.
Wide applications of automatic packing machine
Automatic packing equipment has a widespread application in various kinds of industries, such as the industries of food, daily use chemical, cosmetic, pharmaceutical, tobacco, tea, hardware, bakery, apparel, beverage, sauce, etc. According to the status of filling materials, automatic packaging equipment includes powder, granule, paste, and liquid packing machine.
Powder packing machine applies to milk powder, coffee powder, black pepper powder, cumin powder, masala powder, pharmaceutical powder, flour, cornflour, etc.
The granule packaging machine is suitable for packing coffee beans, snacks food, popcorn, chips, prawn crackers, rice, candy, seeds, cereals, tablets, small steel balls, detergents, etc.
The liquid packing machine had better package the liquid with good fluidity, like water, milk, coffee, juice, beer, wine, edible oil, vinegar, soy sauce, and so on.
While paste packing equipment applies to chocolate sauce, tomato sauce, spaghetti sauce, salad dressing, peanut butter, jam, etc.
Furthermore, solid with regular shapes can be packed by pillow packing machine, such as towel, mask, clothes, bread, biscuits, etc. And it's a good idea to use vacuum packaging machine for perishable food, like fresh meat, fruit, and vegetables, extending their shelf lives.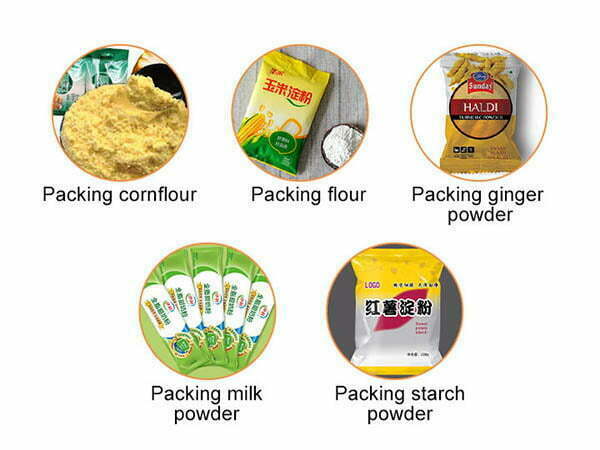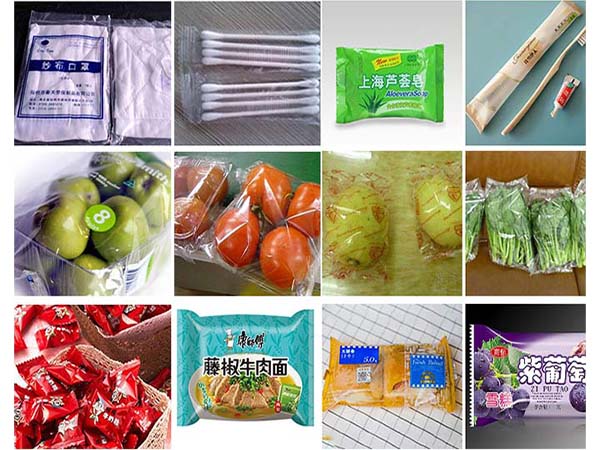 How to choose a satisfactory automatic packing machine?
When you choose and purchase an automatic packaging machine, you should consider these points as follows. Firstly, what filling materials are you prepare to package? You could select from its status, powder, solid, liquid, or paste. Secondly, what packing speed and size do you want? Different types of automatic packaging machines are diverse packing speeds and sizes. You had better choose the best suitable for your products. Thirdly, which packaging style do you choose? There is back seal, 3-side seal, 4-side seal, pyramid bag, etc. Make a choice among them. In addition, you also can find a reliable manufacturer and supplier to customize equipment according to your actual needs.
What's the automatic packing equipment price?
Automatic packaging machine is affected by a lot of factors, mainly the types of packing machine. For instance, powder packing equipment, granule packing machine, liquid packaging machine are vertical packing machine. The powder filling needs a screw, granule with measuring cup, and liquid equipped with pipe and pump. Besides, the vacuum packaging equipment adopts a single chamber or double chamber. The pillow packing machine offers two kinds of conveyor belts optional, a kind of conveyor belt with chain and lock catches, and a type of servo film conveyor belt. These differences make the price differ. In addition, we provide custom service for you. The price depends on your actual requirements.
Different structures of automatic packing equipment
Semi-automatic packing equipment is equipped with a hopper, weighing device, filling device, sealing and cutting device. While fully automatic packaging machine offer PLC, hopper, packing film holder, bag former, film-drawing wheels, sealing and cutting device. Among the full-automatic packing equipment, the powder packaging machine uses a screw to control the volume of filling. Granule packing machine adopts measuring cup in the platform for filling. Liquid packaging machine fills the materials with a pump. While vacuum packing machine is divided into single chamber vacuum packaging equipment and double chamber vacuum packaging equipment. And there are two kinds of conveyor belts optional for pillow packing machine, one is a conveyor belt with chain and lock catches, and the other one is a servo film conveyor belt. The latter is more intelligent than the former.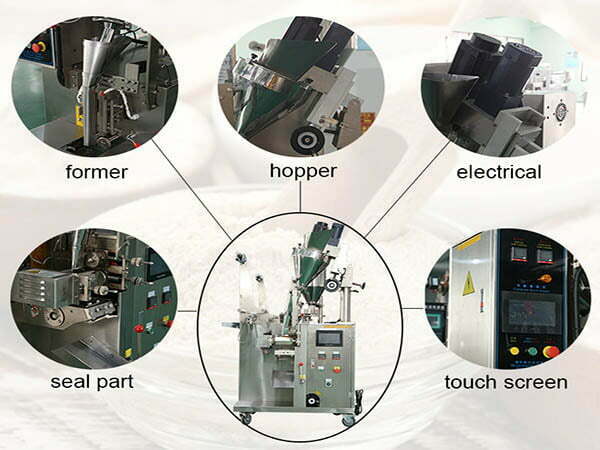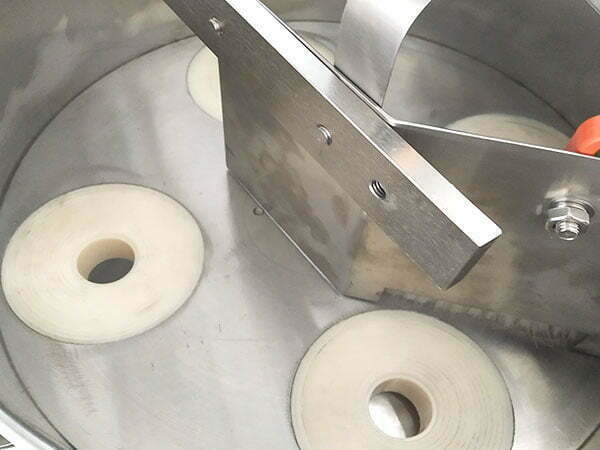 Features & benefits of automatic packing equipment
Simple structure, easy to install and operate;
Electric motors control components of machine separately, running stably and efficiently;
Full-automatic packing machine adopts PLC to set up packaging speed, bag lengths, sealing temperature, etc.;
Automatic packaging equipment is equipped with a transparent glass cover around sealing and cutting devices a safety precaution;
The emergency stop and step buttons are designed for the special situation;
The screw is used in an automatic powder packing machine to control the volume of filling materials;
Two film-drawing wheels pull the film to seal, ensuring the movement of the film;
Various packaging styles are optional, such as back seal, 3-side seal, 4-side seal, pyramid, etc.;
Four wheels on the bottom of the vertical packing machine, conveniently to move.
OEM service available
Contact us and get a custom automatic packing machine
An excellent automatic packaging machine would protect products from damage, attract a number of customers buying, highly improve work efficiency and accuracy. Seeing those automatic packing machines, do you find one or several machines that you are interested in? Contact us and get more details about our products. If you want to customize your own automatic packaging equipment, we will manufacture it according to your actual requirements. Welcome to contact us, and we will do our best to meet your needs.