What is a capping machine?
In our daily life, there are a variety of bottled products, such as beverages, pure water, mineral water, milk, yogurt, oil, sauce, snacks, liquid detergent, shampoo, shower gel, hand sanitizer, cosmetics, etc. During their packaging production line, a capping machine is necessary equipment. For different kinds of caps, different capping machines are available. For example, glass bottles or cans with iron caps need a vacuum capping machine, while an automatic capping machine with four-jaw frictional wheels is used for plastic round caps with screw threads.
A simple introduction of vacuum capping machine
The vacuum capping machine is a kind of semi-automatic capping equipment. It needs the operator to place the bottles or cans with caps into the mold by hand, then the four molds will spin to vacuum capping device. A set of mold is customized for the size of a bottle or can. If you want to cap different sizes of bottles or cans, you need to customize different sets of molds. The vacuum process is pneumatic force, so it should match an air compressor when it works. The capping speed is 10-20 bottles or cans per minute, involving manual speed, the size of capacity, and the speed of exhausting air.
What is an automatic capping machine?
The automatic capping machine with four frictional wheels widely applies to plastic bottles with plastic round caps. It can automatically complete caps arranging, falling, fixing, screwing, conveying, etc. It's adjustable for the height of the capping, the width of and conveyor belt. And the size of the conveyor belt can be customized according to your needs. The equipment can use alone or match with a multi-head liquid filling machine, automatic labeling machine, and carton sealing machine to compose a production line, which can finish the whole process of filling, capping, labeling, coding(optional), and boxing. The automatic capping machine applies to mass production.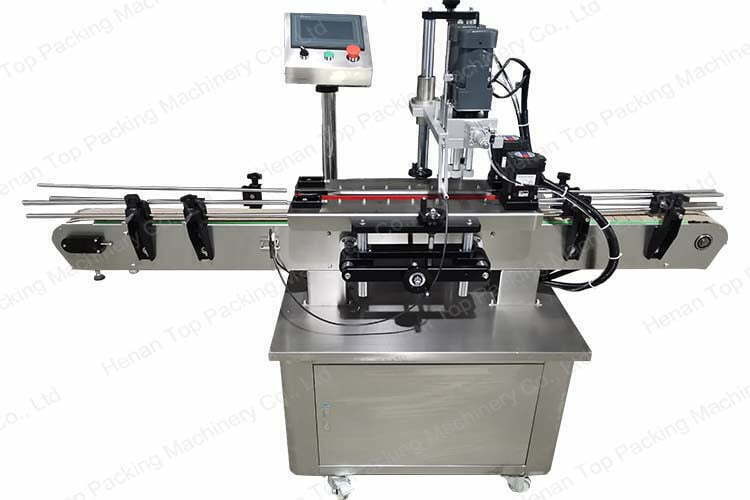 How to choose a suitable capping machine?
The majority of people will be confused when they choose and purchase the capping machines in the market. Here are some useful suggestions as follows.
What's the capping effect do you want? Vacuum capping or not? If yes, the vacuum capping machine is a good idea. For plastic cover capping, it's better to choose the automatic capping machine.
Make sure what bottles and caps are you want to cap, plastic or glass, small or big, round or square. Choose correspondent equipment in accordance with your actual needs.
Consider it from your production output. For small business, it's enough to choose a machine that can meet the output. If it's large, you can add more multiple working devices to improve working efficiency.
Think about the budget. Generally, high-cost performance equipment is the best choice, but it's better not to ignore its quality.
Choose a professional packaging machinery manufacturer to customize a capping machine according to your requirement. Though the customized price is higher than ordinary machines, it can satisfy different customers' various requirements.
[contact-form-7 id="17″ title="Contact"]