How Does a Powder Packing Machine Work?
Powder packing machine is widely applied to various powders, including milk powder, spice powder, flour, additives, bean flour, rice flour, etc. When we choose and purchase a powder packaging machine, it's better to learn how it works. Before this, it's necessary to know some basic information about powder packaging equipment, such as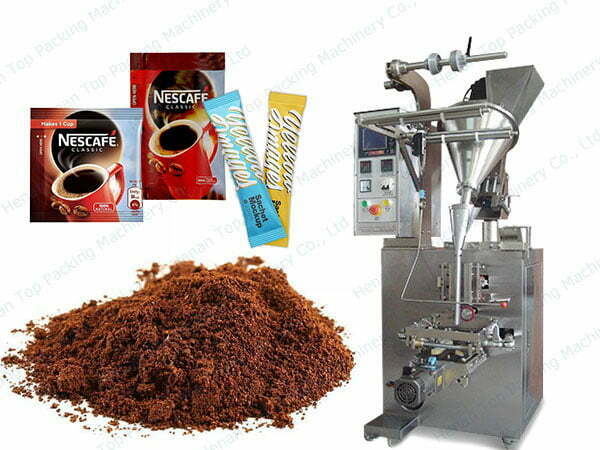 What is a powder packing machine?
The powder packaging machine is the packing equipment to package powder. It is suitable for various powders, referring to food, condiment, beverage, chemical, additives, fodder, cosmetic, pharmaceutical industry, and so on. Applicable packaging types are pouches, cans, and bottles. Packaging bag styles are back seal, 3-side seal, 4-side seal, pyramid bag, gusseted bag, premade bag, stand up pouch, or woven bag, etc.
Categories of powder packaging machine
On the degree of automation, the equipment includes automatic powder packing machine and semi-automatic powder packaging machine
For the packaging container, there is pouch, can or bottle powder packing equipment
From the prospective of filling way, it has auger filling powder packer, and quantitative weighing powder packer
Besides, many people classify machine due to its packaging volume or weight. For example, Top(Henan) Packing machine provide powder packing machine for 0-80g, 20-200g, 500-1000g, 500-5000g, 1-3kg, 5-50kg, etc.
Applicable materials
Milk powder, coffee powder, spice powder, rice powder, flour, cornflour, rice flour, amylum, lotus root starch, saffron powder, black pepper powder, curry powder, matcha powder, cocoa powder, chili powder, vanilla powder, masalajat powder, dyes powder, medicine, detergent powder, chemical powder, etc.
Components of auger powder packing machine
Hopper
It's the container to store powder during the packaging process before filling material into packaging bags, cans, or bottles. A stirring device in the hopper whisks the material in order to fill powder quickly.
Packaging film fixer
The rolling device is used to fix roll film, making them smooth.
PLC touch screen
On the touch control screen, the operator can set up various parameters, such as using language, packaging bag length, packaging speed, etc.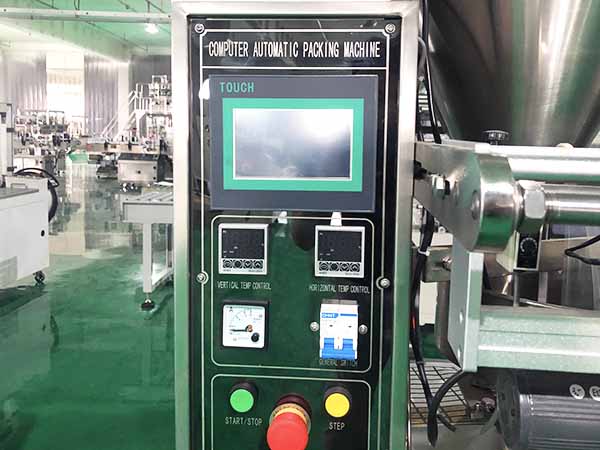 Screw/auger
It is installed on the filling outlet. When the machine runs, the auger will spin with powder and fill material into a packaging bag or other containers. Replacing the size of the screw can change the maximum filling volumes of material.
Bag maker/ bag former
As the name implies, the bag former is the device to shape a packaging bag. For the back seal, 3-side seal, and 4-side seal, the bag maker is a little different.
Vertical sealing device
The vertical sealing device is used for side seals, such as back seal, 3-side seal, and 4-side seal. Double wheels pull the packaging film forward.
Horizontal sealing and cutting device
The horizontal sealing device with cutter seal the top and bottom of the packaging bag and cut according to preset parameters.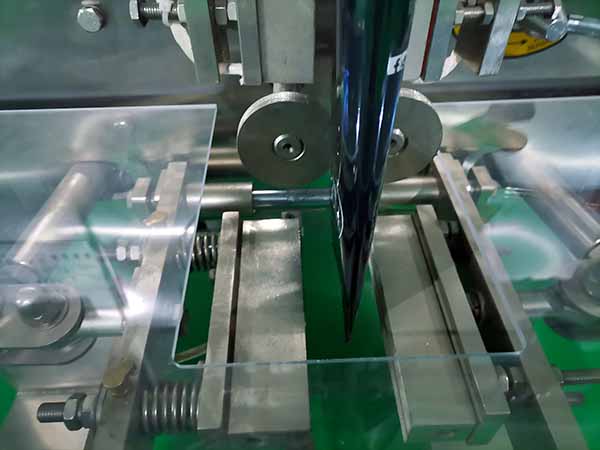 Operation procedure
Install the packaging film on the roller film fixer, making it smooth.
Check the machine and connect the power.
Load the material into the hopper manually or by loading conveyor.
Set up various parameters based on your specific needs, like using language, sealing temperature, packaging bag length, packing speed, etc.
Test the machine. If it works well, start the machine and continuous use it.
How does a powder packing machine work?
Different types of powder packaging machines have some differences during the working process. Generally, automatic powder packers can complete the process of stirring, measuring, date coding(optional), bag making, filling, sealing, cutting, and counting. The packaging film is installed on the roller film fixer, conveying smoothly, passing through the position of the coding device(optional). The photoelectric eye detects the black anchor on the roll film and positions it. Then packaging film is rolled into the bag maker, shape the bag, and seal its vertical side. The bottom of the bag is sealed horizontally by a heat sealing device.
While for premade bag powder packing machine, it does not make bag when the machine runs. The pouch feeding machine includes a powder filling system and a bag feeding system. The powder filling system is a hopper with a stirring device and an auger. The bag feeding system has the functions of taking the bag, date printing(optional), opening the bag, filling material, cleaning the powder around the bag's mouth(optional), sealing the bag, etc. The packaging bags are those that are prepared before using this kind of machine.
Advantages of powder packing machine
Improve working efficiency
The automatic powder packaging machine is higher efficient than manual work. It means the machine can package more finished products, extremely shortening the packaging time.
2. Add brand value
Nowadays, when people choose and buy objects in supermarkets, a pretty packaging design is a very important factor to draw buyers' attention. Furthermore, it's beneficial to improve your brand value.
3. Extend storage time
Powder packing equipment adopts heat sealing device, sealing effect well. Packaged powder usually has a long shelf life, and it's popular for its advantages of being easy to store, transport, and sell.
What is the price of a small packing machine for powder?
The price of the packaging machine is closely related to the manufacturing material, automation of the equipment, and the type of the machine. For different powder, it may have different requirements about making material. If you want to package food powder, it needs to choose food-grade material whose cost is high than an ordinary one. Automation of the equipment depends the technology is advanced or not. Generally, the more advanced, the cost is more. Different types of machines have different scopes of price. For example, a pouch feeding machine is a more expensive ordinary vertical packing machine.
Related machines
Top(Henan) Packing Machine supplies a variety of packaging machines, filling machines, bag sealing machines, capping machines, carton sealing machines, etc. Besides, there are a lot of supporting machines, such as loading conveyors, date printers, output conveyors, chain bag devices, air compressors, nitrogen filling devices, grinder devices, and so on. In addition, customization service is available. if you want to get more details, you can contact us and we will reply to you as soon as possible.
[contact-form-7 id="17″ title="Contact"]