Things you need to know about vacuum packing machines
The vacuum packing machine has a very wide range of applications. It is suitable for packing various food and non-food materials, such as fruits, fresh meats, cheeses, candies, chocolates, grains, seeds, chemicals, pharmaceutical, electronic products, and aquatics, etc. A vacuum packaging machine can greatly extend the life of food, and highly reduce the bulk of non-food items. Next, we will discuss the characteristics and strengths of vacuum packing equipment in more detail below.
What is a vacuum packing machine?
Vacuum packing is a packaging method that removes air from the packaging before sealing. This method involves(manually, semi-auto, or fully automatically) placing the item in a plastic film package, expelling the air inside, and sealing the package. Shrink film is sometimes used to fit tightly to the contents. The purpose of vacuum packing equipment is usually to remove oxygen from the container to extend the shelf life of the food, adopting flexible packaging forms, to reduce the volume of the contents and packaging.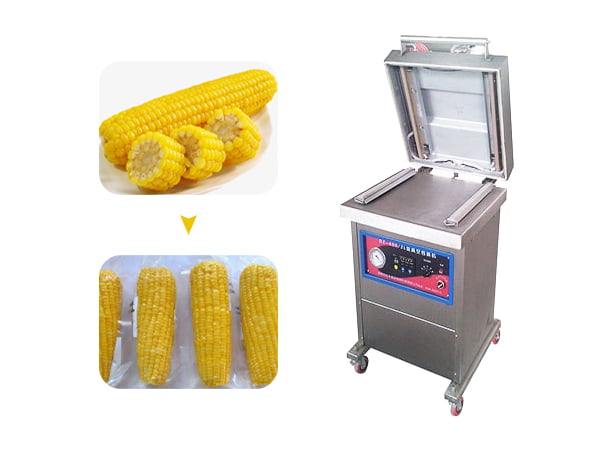 Why should we choose a vacuum packing machine?
Obviously, we know that vacuum packing equipment can greatly improve productivity, extend the shelf life of food, and highly reduce the bulk of non-food items. And it has lots of other benefits.
# Hotel and catering
Vacuum packaging is also widely used in the hotel and catering industries, where food is prepared and given a transparent film until the time of consumption. For these purposes, a vacuum packing machine can be used. At home, where food is kept longer in temporary: vacuum packing" than in the fridge alone. But it`s not just a matter of keeping the air out, it`s also about improving hygiene.
# Retailing
So we have answered the question, "what is a vacuum packing machine?" What is it good for? Vacuum packaging is everywhere, but not limited to the food retail industry: in the greengrocers or the fruit and vegetable section of the supermarket. Items packed in this way won`t scratch easily. Shelf-life has been also extended in other ways. Like bacon, it removes oxygen and nitrogen from the atmosphere, keeping it fresh. Similarly, in the case of cheese, air entering the product can make it dry faster, making it moldy. Vacuum packaging is generally believed to prolong shelf life by three to five times.
# Climate change
Significantly, all of these actions reduce food waste. Millions of food are dumped and rotted each year, releasing huge amounts of methane and carbon dioxide. This contributes to global warming, so the vacuum packing machine plays an important role in reducing this modern phenomenon – and its consequences – and its consequence for climate change.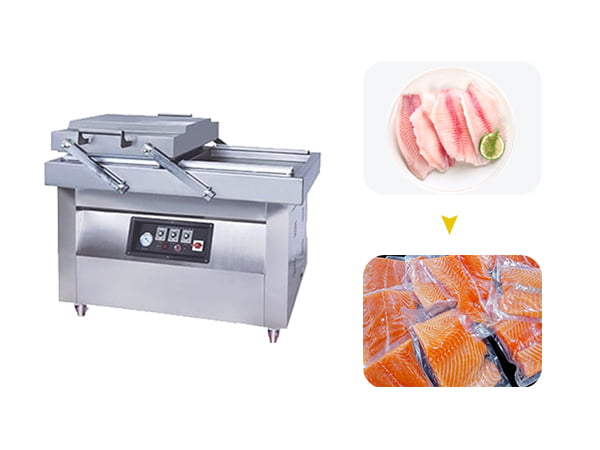 How vacuum packaging machine can save your money?
Vacuum packaging machines have recently become more popular and mainstream around the world. When people hear the word vacuum machine, they usually think of something related to space. There are usually two different types of vacuum packing processes. The first model of vacuum sealers was not efficient. You could almost package anything you want. But the packing speed is slow. The new models become more advanced and intelligent. With PLC system, it has the ability to custom seal designs and pressure. All of these can be set up in a matter of minutes. As the size of the food we buy increases, the demand for vacuum packaging is growing all the time.
Vacuum sealing machine is usually a steel structure machine. You need to set a time, the sealing time, pressure, temperature, and close the lid. Then the machine will vacuum the air out and seal the product in few seconds. This will help to ensure that the food you store will keep for years. Vacuum packing machine prices range from $200 – $10000, depending on the application of the products. Vacuum packaging machine cost is not cheap. And TOP Packing Machinery provides affordable and quality packing machines for customers all over the world. Buy vacuum packing machines from us can help you save a lot of money by buying in bulk.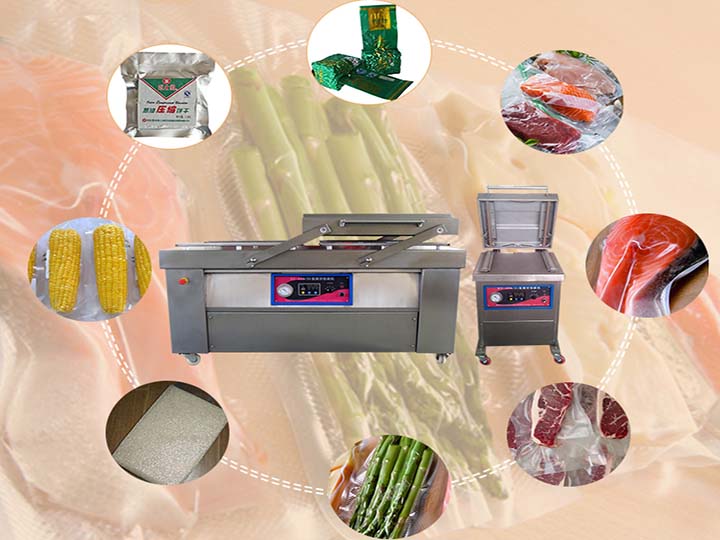 What should we consider when buying vacuum packing machines?
Vacuum packaging machine plays a very important role in keeping a long period of time of food. But it is not easy for us to choose a suitable vacuum sealer for your business or home. So what should we consider when purchasing vacuum packing equipment. Here are some useful tips as follows:
When you have much perishable food that you need to store and use later, you should buy very thick bags/covers. It should be dense with the bag material, for it can provide extra protection for your food. The bag is denser, it will be more durable. If you want to ultimately protect your food from external particles and moisture, you should choose thick bags for your food.
First of all, the most important thing to concentrate on while buying vacuum packers is the quality of their seal. Sealing is the primary reason you buy these. So check the sealing factor first. Foo will be exposed to oxygen, water, and other particles in the air if the function is not functioning well.
There are various kinds of vacuum packing machines. They are used for home and commercial purposes. Some in the form of lids/bags, some as rolls, some come in the form of cans/bottle stoppers, some as zipper patterns. Choose a sealing method that can exactly meet your requirements.
Vacuum packing machines for sale in TOP Packing Machinery
There are mainly three kinds of vacuum packing machines available from our company, single chamber vacuum packing machine, double chamber vacuum packing machine, and stretch film vacuum packing machine. Different packing machines for different applications. All our products have been passed strictly quality inspection system. Besides, we have highly skilled staff to make sure good performance and fast delivery of our products. Any questions about the vacuum packaging machine feel free to contact us.
Do you have questions about the vacuum packing machine? Or it is difficult for you to choose a suitable one, get in touch with us for professional buying guidance.