The Truth about Multihead Weigher Packing Machine in 3 Minutes
Multi-head weigher packing machine(also known as combination scales packing machine), is widely used for all walks of life. With this machine, you can greatly improve the productivity of your projects. Besides, it can help you gain profit in a very short time and keep competition for your products. Generally, there are 10 head multihead weigher machine and 14 head multihead weigher that is commonly used. In fact, the multihead weighing machine is suitable for large and medium production requirements. And maybe a little expensive for small factories. Therefore, it is important for you to choose the right packing machine to suit your business. After reading this article, you will have a complete overview of multihead weigher packing machine.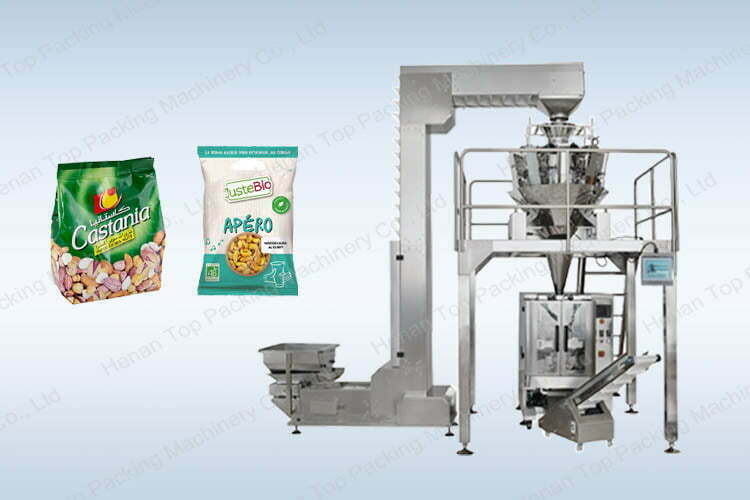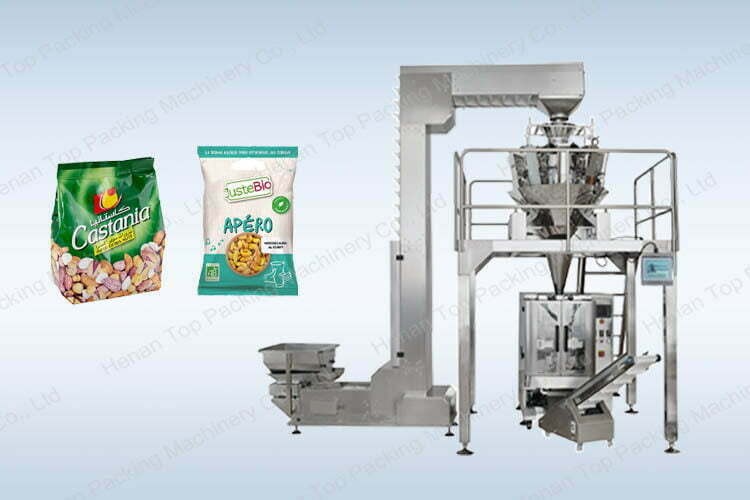 What is a multiead weigher packing machine?
A multihead weigher packing machine is a type of automatic packaging machine. It mainly consists of a multihead weigher, elevator, packing machine, machine platform, products conveyor. A multihead weighing packing machine can fully automatically finish the process of items feeding, weighing, filling, bag making, sealing, cutting, and coding. It is super-efficiency equipment here for packaging various granular products, such as beans, nuts, grains, candy, tea, snacks, salt, sugar, bread, chocolate, fish, etc.
How does a multi head weigher packing machine work?
Generally, a multi-head weigher packing machine takes the bulk products and weighs them into smaller increments based on the weight programmed in its software. Bulk product enters the scale through a feed hopper at the top. The top cone and feed pan vibrate and gently move the product towards the weighing buckets around the edge of the scale, which continuously weigh the product contained within. To reach the target weight, the software selects the sum of the correct number of barrel combinations that add up. Standard multihead scales range from 10 heads to 24 heads. The more weighing heads a system has, the higher the speed and accuracy possible.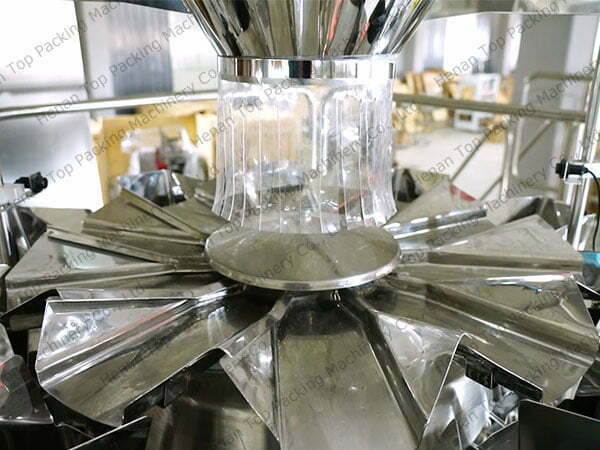 Unique advantages of Henan Top multi head weigher machine
Multi head weigher packaging machine for sale has unique advantages compared with other automatic packing machines.
User friendly. All our multihead weigher machines are equipped PLC program system and a large touch screen. A range of operator safety protection options is available to ensure sensitive parameter settings are not adjusted. And the self-diagnostic RCU interface for immediate and clear troubleshooting.
Easy to clean and hygienic. Henan Top company combines its development resources with its growing hands-on experience to eliminate food traps and use standard methods to make key components more accessible and more efficient to clean. Each hopper can be simply lifted by hand and placed on the wash wall or in the washing machine.
Excellent weighing accuracy. The advanced technology behind the speed and efficiency of the multihead scale also brings greater accuracy. This ensures that each weigh-in has a greater chance of approaching the target weight, maximizing yield, and reducing giveaways to fractions of a gram.  
Wide applications of multi head combination weigher
With stable performance and high efficiency, the multi head weigher packing machine has been applied in so many industries, like food & beverage industry, pharmaceutical industry, chemical industry, etc. And Food & Beverage industry leads the multihead weighing machine market with over 50% revenue share in 2020. The growth of the market is driven by the widespread adoption of multihead scales across the industry to accurately weigh food quantities and reduce excess product giveaways. In addition, the growing global demand for packaged food is driving the demand for multi-head scales across the industry. Furthermore, changing consumer preferences and lifestyles are also major forces driving market growth.
Global multi head weigher market analysis 2022
Globally, the multihead weighing machine market is expected to grow at a CAGR of 3.3% during the forecast period from 2022 to 2029 and is expected to reach USD 286.6 million by 2029. The growth of the market is driven by the increasing demand for weighing accuracy and efficiency. Organizations are utilizing multihead combinations scales to automatically and accurately weigh a variety of products used in multiple verticals. Technological advancements in weighing equipment have further accelerated the adoption of multihead weighers. Market players are constantly working to improve product functionality and quality. The companies are working to improve weighing accuracy and response time for delicate and fragile products in the food and beverage industry, including biscuits and wafers. This further accelerates the growth of the market. In addition, the growing demand for multi-head scales to meet specific production outputs to reduce overall product giveaways is also contributing to the growth of the market.